Joe's Lucha Libre Weekly: News & Analysis (5/7/19)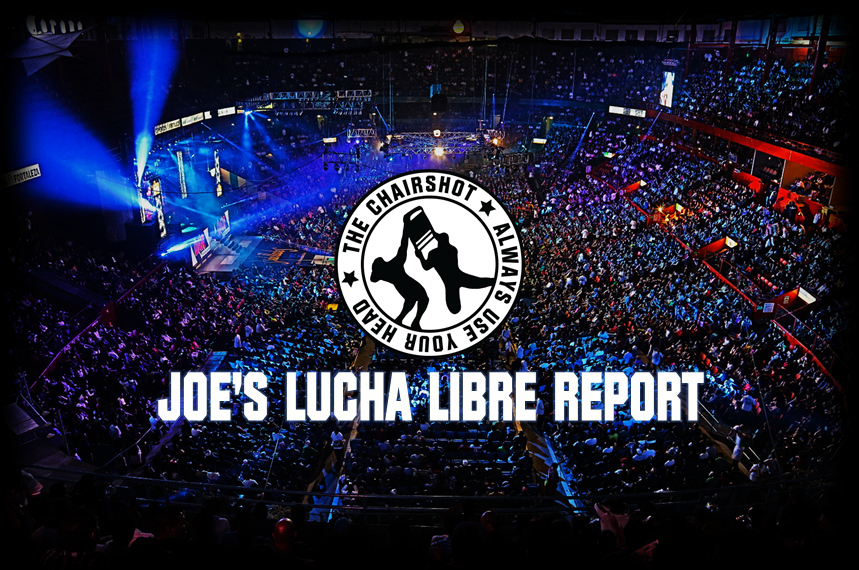 Joe Dinan gets you up to date on the world of Lucha Libre!
CMLL
Read Joe's CMLL Report for the week!
Arena Puebla
Caristico, Sanson, and Cuatrero faced Volador, Mephisto, and Ephesto in this Lucha Libre showdown. It was really a nothing match which saw Volador's team win in two very falls. Caristico wants to wrestle him one on one. The co-main event was Atlantis, Soberano, and Diamante Azul facing Ultimo Guerrero, Hechicero, and Gran Guerrero. This match probably didn't go how they wanted it to go because Atlantis Jr was billed for the match but not in it. Atlantis, Soberano, and Diamante Azul won though. Marcela defended her title against Metalica tonight also.
Arena Mexico Tuesday
Caristico faced Ultimo Guerrero in a good match that saw Caristico winning with a Fujiwara arm bar. It was a good match and Caristico won two falls out of three. The co-main event was Atlantis, Stuka, and Soberano facing Sanson, Cuatrero, and Forastero in a match that saw the latter winning. It was an alright match.
Arena Mexico Friday
The main event of this show was Caristico, Volador, and El Valiente faced Rush, Terrible, and Bestia del Ring. The former won this match and it was actually a pretty good match considering who's in it. The co main event was a very fun match with Los Guerrero's facing Mascara Ano, Sanson, and Cuatrero. This was a really good match and set up a potential hair vs hair match with Mascara Ano 2000 and Ultimo Guerrero. Angel de Oro and Niebla Roja faced a team from The Crash, Adam Brooks and Mecha Wolf 450. This was a really fun match and a good one. Find it on youtube and watch it. It starts around the hour mark. This match was so good. They convinced you the Crash team would win but team CMLL just barely won.
More Lucha Libre coverage after the ad–buy a shirt!
---
Elisa looks great in her Chairshot gear.
You can, too!
Be like Elisa and get yours at:
https://www.prowrestlingtees.com/related/thechairshot.html
---
AAA
Read Joe's AAA Report for the week!
AAA tickets for Madison Square Garden went on sale on Cinco de Mayo. I've checked up on the tickets and the ticket chart looks as if 40 percent of the arena is grayed out, or unavailable. It could be extra tickets held if the show sells quick, or it could be a big ass stage. I can't imagine they'd have to block off as much as they are but we'll see. I'm gonna guess right now they can only fit 12,000 in there. Regardless of the number it's going to be a chore for AAA to sell out. I'd be shocked if there were just little over 1000 tickets sold today. I will be going but floor seat prices are pretty high while mid level seats are comfortably affordable and anything about section 100 is actually very cheap. I'm guessing they're banking on Mexican locals or visitors from Mexico to sell out the super cheap seats and hope there's enough hardcores who will buy all the floor seats and VIP gimmicks. Naturally there will be some cross over of Mexican and hardcore fan but I'd suspect the average is low considering hardcore American fans tend to know very little about lucha libre if it doesn't involve Rey Mysterio, Albert el Patron, or the Lucha Bros. Maybe LA Park too. Anyway, buy some tickets. AAA is always fun.
Before we talk about the TV tapings let's just make some Lucha Libre notes. On the May 5th show they announced for the June 16th show that Cody has challenged Taurus to a match and that the Young Bucks will defend their tag team titles. Which is news in a sense because they are booked on the show after Double or Nothing. So I'm presuming the Bucks win that match. No word on Omega. I wouldn't be shocked if he shows. Jericho obviously won't because he's challenging Okada for the IWGP World Heavyweight Championship. Other news is La Mascara said on a indie show in Mexico that he was a free agent. So that is why it looks like they're setting up two new members for the Mercenarios.
Twitch Tapings
The tapings saw all the heels, or rudos win every match. So 12 matches. So they're setting up heat to facilitate tecnicos over coming adversity. Or that's what normal wrestling would dictate. Blue Demon Jr and Texano Jr beat Dr. Wagner and Pagano in the main event of the first show. Rey Escorpion surprisingly defeated Psycho Clown even though there was a lot of interference. Lady Maravilla and Arez beat Big Mami and Nino Hamburguesa to continue that story.
In the next taping Konnan was a noticeable heel on the show. Psycho Clown, Dr. Wagner Jr, and Pagano faced Rey Escorpion, Texano, and Chessman in the main event. The heels won and then Vikingo and Myzteziz come out to help. Poder Del Norte comes out to help the rudos and then Parka comes out. The rudos win this battle in the end and steal everyone's mask. There wasn't as much storyline progression other than Nino Hamburguesa and Maravilla. It was a pretty sloppy show.