Kofi Kingston Will Prove His Championship Worth vs. Kevin Owens at WWE Money in the Bank
Is KO the perfect feud to prove Kofi is a great champion?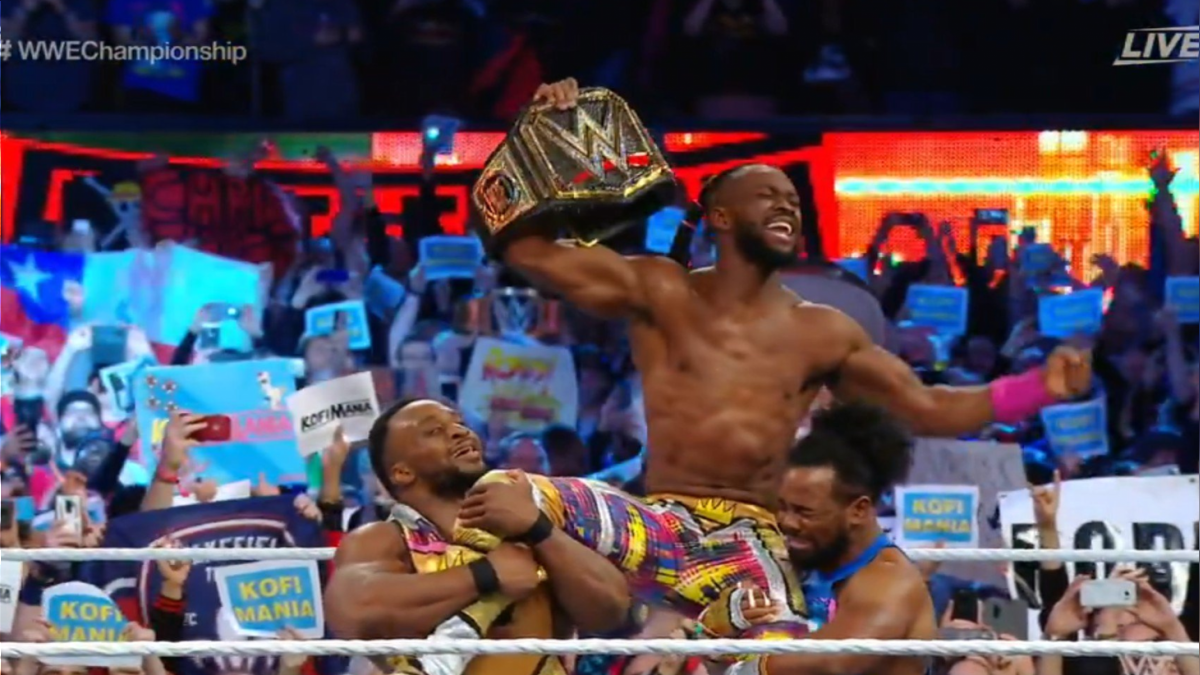 Kofi Kingston will defend the WWE Championship against Kevin Owens at Money in the Bank on Sunday, May 19. The New Day's most successful Superstar finally has his first championship feud and many fans could not be happier about it. At least he's getting started.
However for some, the honeymoon of Kingston's title win at WrestleMania 35 has ended. The novelty of Kofi's improbable run to the top is wearing off and what's left is the real test of his title reign. The fact that Kofi has the title is more than a little surreal. After all, no one really expected he would get this far. 
But now that he has, the focus is back on WWE. The company is responsible for Kofi's direction of course, as he's only going to follow their lead. But is WWE already dropping the ball when it comes to Kingston?
Kofi Kingston is still as happy as he ever was in The New Day. Big E is on the shelf right now, but Kingston and Xavier Woods are continuing on without him. They're still smiling, they're still dancing and they're still slinging pancakes to the crowd. But is that a problem?
It's as if everyone expected that Kofi Kingston would immediately drop the multi-colored unicorn motif and move to three-piece suits after winning the WWE Championship. Hurling breakfast food at the audience wasn't something that Harley Race or Ric Flair ever did. They embraced the role of world champion and took it very seriously. So why doesn't Kofi?
But even as critics complain, they seem to be missing the point. Had Kofi Kingston dropped The New Day gimmick and adopted a highly intense demeanor, he would likely have disappointed fans as well. They would surely have claimed that WWE was doing damage to Kofi by changing him and not allowing him to just be himself.
Of course there could be some middle ground when it comes to Kofi's style and the way he carries himself. Maybe he could continue on in The New Day, but perhaps tone down his performance to a certain degree. But if that happened, would fans buy it?
Then there's the fact that WWE is not a traditional old school pro wrestling company. This is the same organization that put its top title on a beer swilling, foul-mouthed redneck who wore denim shorts and hated everyone. Was Stone Cold Steve Austin not a legitimate World champion because of his image?
Perhaps it's the humor that bothers fans the most. Kofi is just way too happy to be the top guy. It's as if he doesn't have respect for himself, or the championship. But is that a fair assessment of his work, both in and out of character? 
How many times did The Rock make the audience howl with laughter, while he insulted one Superstar after another? The People's Champion was as vulgar as The Texas Rattlesnake and the fans loved him for it. They couldn't get enough. The Rock was an entertainer delivering one-liners and comedy like no one else. But Kofi Kingston has to be serious?
This is obviously not The Attitude Era and today's stars do not have as much freedom as before. Fans are well aware of this. So it's entirely possible that Kofi has simply not had enough time as WWE champion for anyone to make an educated opinion on his progress thus far. But now the time has come to answer some of those concerns, as Kofi moves to Kevin Owens.
Now the fans will see exactly what Kingston is capable of, both in the ring and on the mic. The time has come for him to turn the volume up and focus more than he ever has before. He's being handled by WWE of course, just as every Superstar is, but the way Kingston handles himself in the ring with Kevin is entirely up to him.
Top guys deliver on the big stage. That's what they do. Kevin Owens has proven time and again that while he doesn't necessarily have a championship body, he definitely has a championship mindset. It's about much more than just being a heel and bringing the intensity. It's about the switch that he flips from comedy to chaos and he will do just that at Money in the Bank.
This is the perfect test for Kofi Kingston's first championship rivalry. He's facing a former World champion with a history of big matches under his belt. Kofi Kingston, after 11 years in WWE, has more to prove than Owens, who only has six years more in the business. KO has never really stood on his own in WWE, because he's always had a partner in crime. But that makes no difference now because in many ways, Kofi is actually the underdog in this match.
The fact is that Kofi Kingston worked hard to earn his spot. It was time for him to get to the next level and now that he's there, he's surely ready to prove he belongs. Kingston has every reason to walk into Money in the Bank with the single goal in mind of proving the critics wrong. He has a story to tell and more importantly, he has a championship run to continue. 
Kofi will be on his game because he has to be and because he wouldn't have it any other way. How WWE chooses to book him is unfortunately out of his hands. Kingston has an opportunity to deliver his part in the athletic drama that is WWE and it's hard to believe he won't do exactly that on May 19. He is dialed in and he's most certainly ready. This is his time and he doesn't need a suit to prove it.