(NOAH) WEEKLY NEWSLETTER VOL.33~ 6TH MAY 2019
A little delayed, but still filled with all the Pro Wreslting NOAH goodness. Hisame gives us all the previous week's NOAH information we love!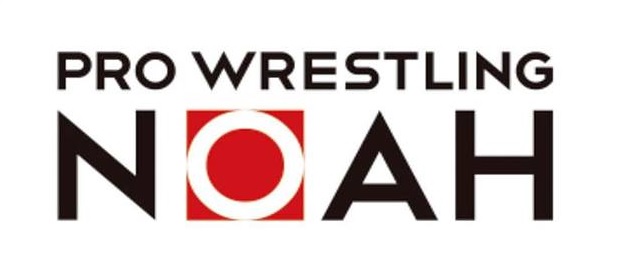 A little delayed, but still filled with all the Pro Wreslting NOAH goodness. Hisame gives us all the previous week's NOAH information we love!
CURRENT TOUR RECAP
NOAH held the last three dates of "Global Tag League 2019" in Yokohama on the 29th and 30th April, with the final night being on the 4th May, and an event "Navigation to a New Era" to celebrate the new Reiwa era on the 2nd May.
It had been a grueling tour with two injuries, and four consecutive days in a row, with a day off and then a day on. Not surprisingly when they returned home after the event on the 30th April, their Twitters went dead (aside from Masa Kitamiya who had slept on the bus, couldn't sleep afterwards, and ate a double helping of a rice and curry dish at 4am).
Happily, NOAH managed to sell out both nights in Yokohama, the event in Fuji Messe, and had the greatest crowd at Korakuen Hall (sold out too), with the best crowd they had ever had since 2015.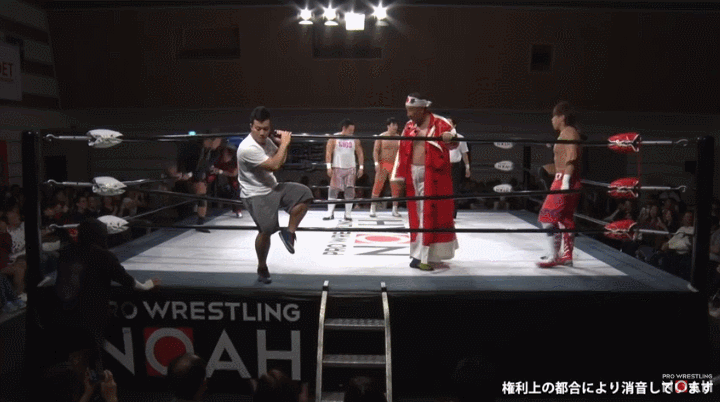 True to his new persona, Naomichi Marufuji took to winding up Kenoh (by holding the ropes open for him, and also pretending not to see him when Kenoh decided to menace him by holding his fist in his face), but saved most of it for Daisuke Harada on the 30th April.
Marufuji and Harada decided that they were both going to climb on the same turnbuckle to do Tadasuke's pose and they got into a tussle (which made them look like Sideshow Bob and Sideshow Cecil fighting over the bunk-bed), and later in the match, Harada refused to tag in Marufuji. Harada tagged in HAYATA, who (not being bothered by such pettiness), tagged in Marufuji. However, Harada wasn't finished being childish, and wouldn't let Marufuji join in with the RATELS handshake at the end of the match and kept turning his back on him, or else kicking him away. Eventually Harada threw him out of the ring, and Marufuji (after slapping the apron in an anger), went over to where the belts where, and lightly touched the IPW Junior Heavyweight title.
Later RATELS had to find another way back to the locker room, as Marufuji had decided to stand in the doorway to one of the exits.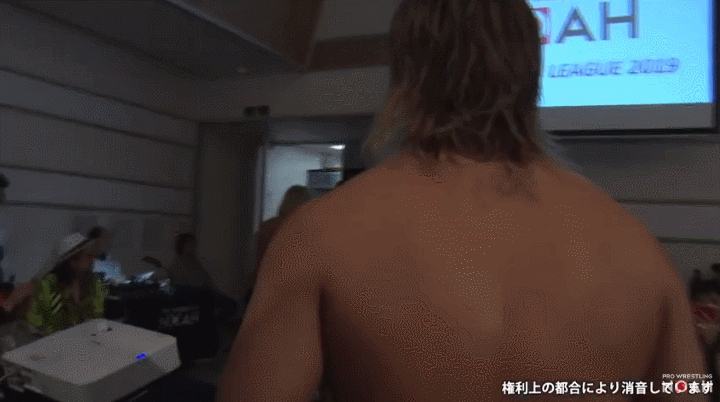 Naturally, with YO-HEY being injured in Yokohama (see the entry below), whatever was meant to happen between RATELS and Stinger at Korakuen Hall didn't, with Atsushi Kotoge taking YO-HEY's place in the subsequent card change. A nice set up was made for Global Junior Tag League though, with Tadasuke pinning Yoshinari Ogawa.
Hideki Suzuki and NOSAWA Rongai ("The Sugiura Army") took on Naomichi Marufuji and Junta Miyawaki at the final night of Global Tag League at Korakuen Hall. Although Miyawaki lost (albeit to some very near falls), he said he wants a singles match with Hideki Suzuki.
Suzuki, however, is far more interested in facing Naomichi Marufuji, or as he put it, someone with a belt.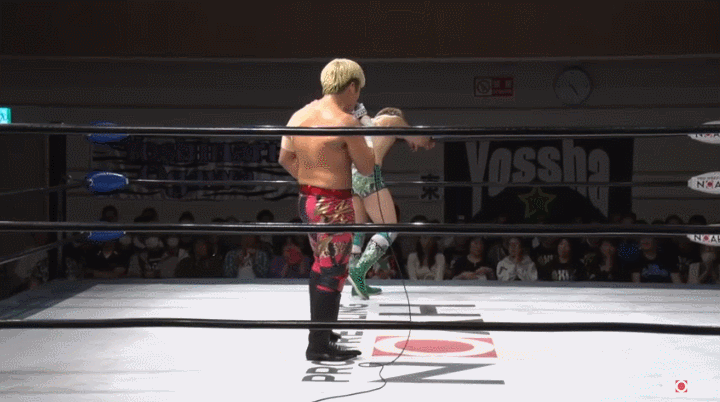 Kenoh's simmering resentment and jealously finally boiled over in Yokohama on the 30th April when Kaito Kiyomiya was counted out by Masao Inoue clinging on to him and preventing him from getting in the ring, meaning that Kaioh were knocked out of Global Tag League 2019. The Dark Agents actually did better than anyone expected in the league, especially compared to previous years.
Kenoh grabbed Kiyomiya's hair and screamed at him before getting on the microphone and screaming at him that "tonight, we are done" among other paranoid ramblings about Kiyomiya only speaking words that the company had told him, and that he wasn't going to do that, no he was not going to be "the company dog" to bark, wag and fetch when the company demanded. Then, in true Kenoh fashion, he finished his tantrum by throwing the microphone at Kiyomiya before stalking off.
Kiyomiya (although he had said they were never friends and probably wouldn't be, looked upset) and said that the words he spoke were his own and told Kenoh not to be "silly", and if Kenoh wanted to fight him, instead of stand by him and create a new NOAH, then so be it.
On the 2nd May in Fuji Messe, after the match with THE TOUGH, Kenoh seemingly formed an alliance with them when the three of them stood staring at each other, and Kenoh backed off still staring and pointing his fingers, backstage he hinted at a possible alliance.
At the final night of Global Tag League, this was confirmed when Kenoh announced the formation of a new unit called "Kongō" (the name means "Diamond"), and called out the wrestlers who were dissatisfied with the new company. Yoshiki Inamura (who is only joining as he cannot be separated from Masa Kitamiya at the moment just like Kaito Kiyomiya was with Go Shiozaki this time last year), and the aforementioned Masa Kitamiya were already in the ring, but Atsushi Kotoge came out. Kotoge's participation is a little bizarre considering that he has joined with Mitsutya Nagai as "The Revolutionary Cloak Heroes", but this could be the meaning of his vague "Revolution". Kotoge, however, says he will do things his own way.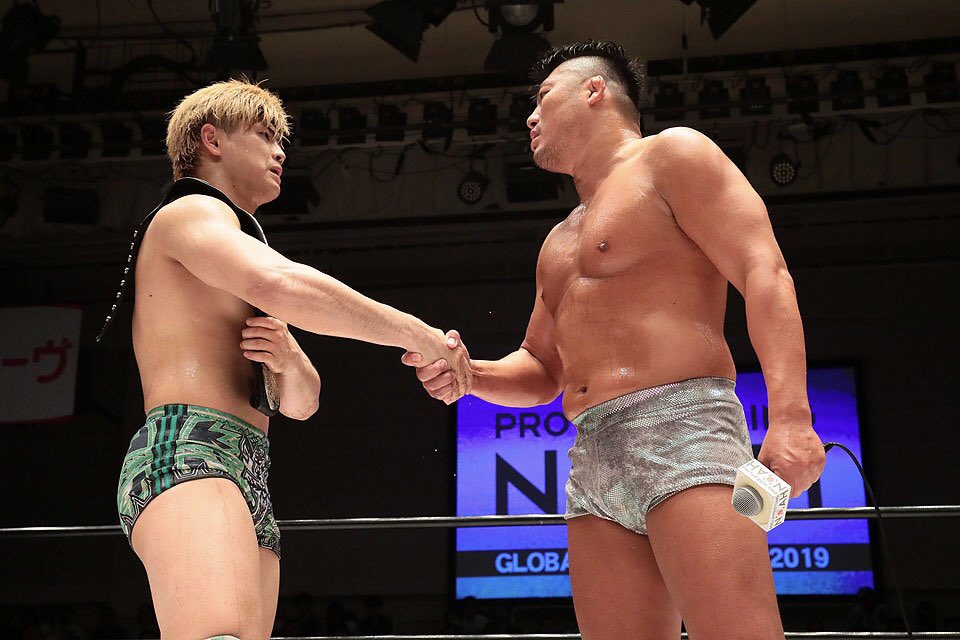 After he and Kenoh had yelled at each other from the ring and apron, Kaito Kiyomiya, started an alliance with Maybach Taniguchi, who had now "rebooted" himself as he said he would on the 2nd May, and had gone back to his old name and persona of "Shuhei Taniguchi".
Fans have cautioned Kiyomiya not to trust him, as (somewhat like Kenoh), Taniguchi has betrayed pretty much every partner he has ever had…but for now Taniguchi seems to be pretty faithful, warning Kongō that he is going to show them "what a company slave can do". 
Masa Kitamiya (who fell to Taniguchi's new submission of a chicken wing camel clutch), said that between them, it isn't over….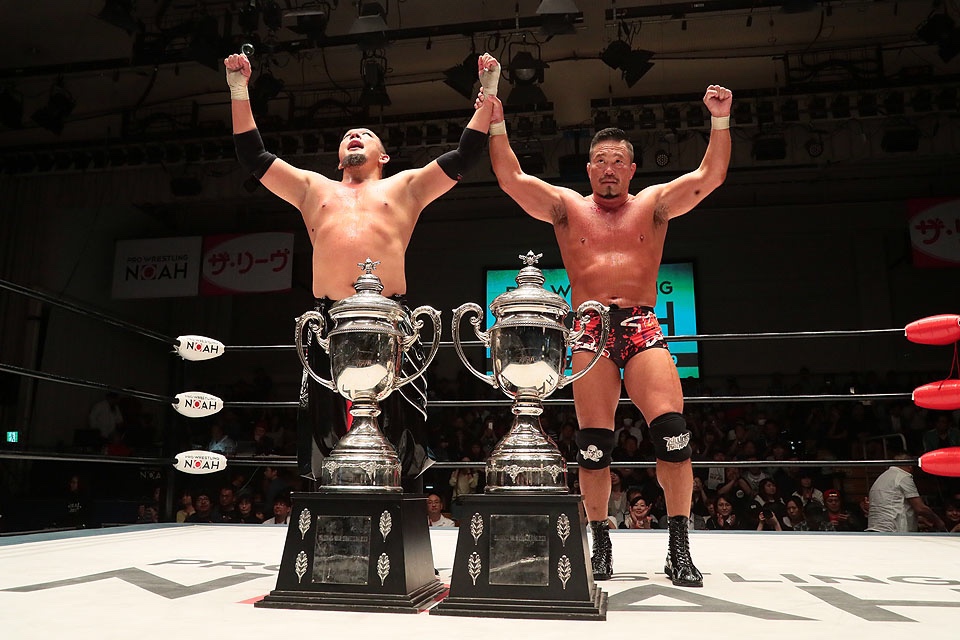 AXIZ & The Sugiura army clashed twice, first in Yokohama on the 29th April in a vicious match, which started with Takashi Sugiura standing and staring at them and not moving a muscle (Kaioh had the sense to back off when they saw him do it at the start of their match). 
The two teams met in the finals of Global Tag League, whereby Sugiura made Nakajima tap out to the ankle lock. AXIZ it seemed, had been hoping to get rid of such a team like "The Sugiura Army" quickly, except now they found they were going to be facing them in the finals.
Takashi Sugiura said that he was now going after two belts, the GHC Heavyweight Tag and the GHC Heavyweight single. No formal challenge has been made yet for the GHC Heavyweight single.
Yoshiki Inamura picked up his first win by using the "Oklahoma Stampede" (which was a move used by Dr Death Steve Williams) over Masao Inoue.
At the final night of Global Tag League, Inamura had a singles match against Yuji Hino, who praised him after the match.
Sadly, there has been no announcement of when Kinya Okada will return to the ring.
The Backbreakers ended their tag team in Yokohama on the 30th, with Hajime Ohara later joining The Sugiura Army after the event in Fuji Messe on the 2nd May (he wishes to become dominant in the Junior League, and he feels that Takashi Sugiura is the best person to learn this from), and Hitoshi Kumano looking towards the singles league. Kumano said he wanted to thank Ohara for all the experience he had gained by tagging with him, so aside from the singles match they had on the 2nd, there seems to be no further bad blood between them.
EVENT RECAPS
Yokohama 29th April 2019
Post match promos ~ 29th April 2019
Full show of 30th April in Yokohama
Yokohama 30th April 2019
Post match promos ~ 30th April 2019
"Navigation to a New Era" ~ May 2nd 2019
Post match promos ~ "Navigation to a New Era"
Final night of Global Tag League 2019 
Post match promos ~ Global Tag League 2019
NEWS
"NOAH THE SPIRIT 2019"
NOAH has a small tour in between the end of "Global Tag League 2019" ending, and "Global Junior League 2019" starting.
Saturday 11th May 2019 (17:00): Okazakishi Tatsumigaoka Hall, Aichi
Sunday 12th May 2019 (15:00): Esuporu Iseuma, Saitama
Sunday 19th May 2019 (17:30): YAMADA Green Dome, Maebashi Sub Event Arena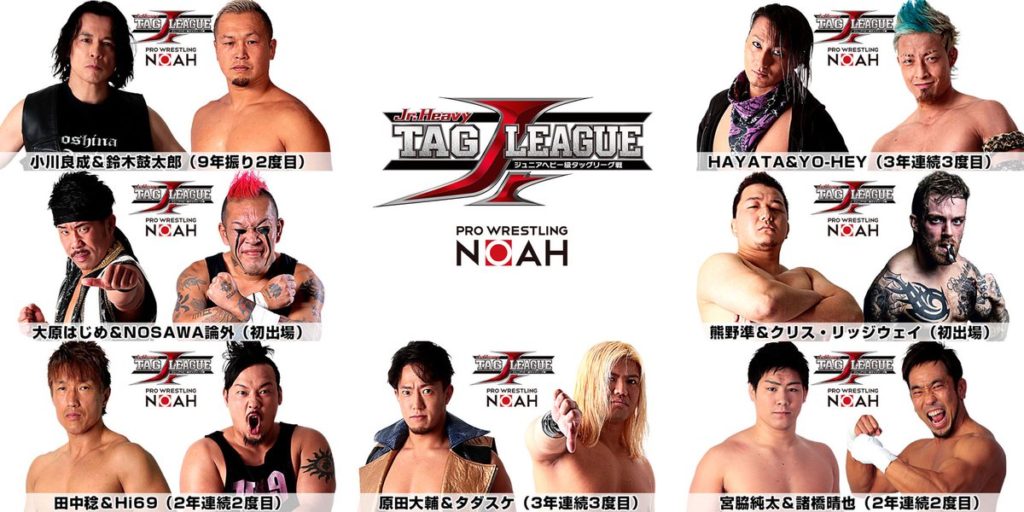 GLOBAL JUNIOR TAG LEAGUE
Global Junior Tag League will run the following dates:
Tuesday May 28th 2019, Korakuen Hall, Tokyo – 18.30
Thursday May 30th 2019, Hiroshima Industry West Hall Exhibition Hall, Hiroshima – 18.30
Friday May 31st 2019, Yonago Convention Centre BIG SHIP – 18.30
Saturday June 1st 2019, Osaka World Hall – 17.00
Sunday June 2nd 2019, Act City Hamamatsu, Shizuoka – 18.00
Saturday June 8th 2019, Yokohama Radiant Hall – 17.30
Sunday June 9th 2019, Tokyo Korakuen Hall – 11.30 (Mitsuharu Misawa memorial)
Thursday June 13th 2019, Osaka Edion Arena – 18.30 (Mitsuharu Misawa memorial)
In a long awaited happening, it has been announced that Chris Ridgeway will participate in this years league, teaming with Hitoshi Kumano. He says that it has long been a life goal to wrestle in Japan, and also for Pro Wrestling NOAH. Ridgeway is of course no stranger to NOAH, albeit in the UK and not in Japan, having wrestled Kenoh for Frontline's opening night, and Daisuke Harada in the IPW Junior Heavyweight Tournament.
The teams announced for the tournament are:
Yoshinari Ogawa & Kotaro Suzuki (current champions)
YO-HEY* & HAYATA
Hajime Ohara & NOSAWA Rongai
Hi69 & Minoru Tanaka
Daisuke Harada & Tadasuke
Hitoshi Kumano & Chris Ridgeway
Seiya Morohashi & Junta Miyawaki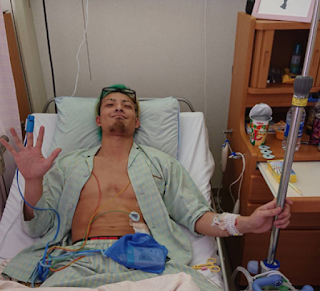 YO-HEY & HAYATA 
Sadly on the second night in Yokohama (the 30th), YO-HEY picked up an injury to his left lung. If you watch the match you can see him clutch his lower rib-cage and speak to the ref, ironically this worked out quite well as given Stinger's heel tactics, it looked as if he was hamming it up while his teammates beat up on the opponents outside the ring.
Sadly, this was not a work, and after the match, YO-HEY said that he didn't feel well and was taken to hospital. Hooked up to various machines (plus a tube in his lung), he was visited in the hospital by various NOAH wrestlers (and other friends like Jiro Ikemen, who YO-HEY said was "the twink from the proctology department"), officials, and his old friends in RATELS. Daisuke Harada and Go Shiozaki played with an iron grappling claw (by making it pinch YO-HEY), one of the trainers bought him erotic books, Tadasuke bought him cigarettes (which he couldn't smoke),  and on a couple of occasions, people bought him MacDonalds. Interestingly, although YO-HEY seems to have documented most of his visitors (including Atsushi Kotoge who has been the most recent visitor, who YO-HEY said had come to give him a psych evaluation, and the first day YO-HEY has left his hospital room), at the time of writing, Stinger, apparently have not.
Although he was in a lot of pain when the tube was first put into his lungs, the tube has since been removed (which he described as "severe pain" unsurprisingly), YO-HEY appears to be on the mend, although no date has been set for his return.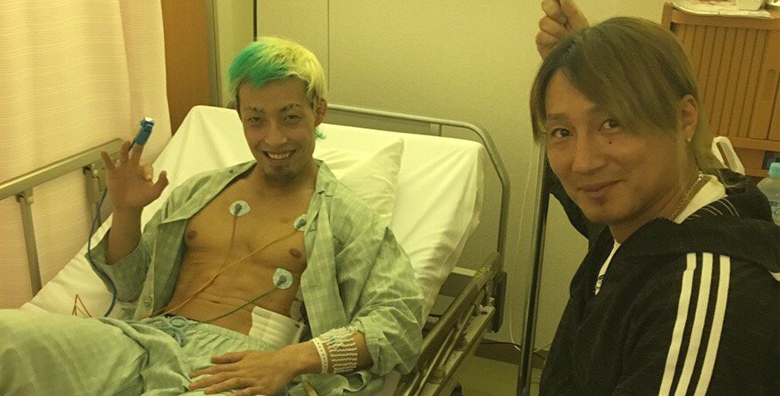 YO-HEY'S first visitor was HAYATA, which was surprising as both RATELS and Stinger were at war with each other. Following this, YO-HEY said in a tweet and later an interview, that he wanted ti team with HAYATA for the third year in Global Junior League.
"After all, this tag league follows the two consecutive wins with HAYATA. Although I will be with Stinger, and HAYATA with RATELS, I think I want to aim for the third consecutive victory with YO-HEY & HAYATA, my feelings on this are strong…I don't know what he thinks, or Ogawa and Kotaro from Stinger, and I don't know what RATELS think either, but if HAYATA is good, I want to go into the tag league with HAYATA and aim for the third win in a row!"
When asked about it, HAYATA just walked off. This isn't anything to be read into though, this is just HAYATA being HAYATA. YO-HEY later posted about their teaming again with delight, ending the post with "thank you wife".
CURRENT CHAMPIONS
TOUR TIDBITS
~ Kenoh & Takashi Sugiura had a Twitter war over "Kongoh"
~ Tadasuke celebrated his 14th anniversary in wrestling, while Atsushi Kotoge celebrated his 12th.
~ Mohammed Yone's afro has reached mighty proportions apparently
~ Naomichi Marufuji (who may have been a little drunk) tweeted about looking for a tag team partner, Takashi Sugiura said that he sounded lonely, so maybe he should join Kongoh…
~ Minoru Tanaka & Hi69 photobombed Kaioh when they pulled their pose with Tanaka pulling a face and Hi69 giggling
~ NOAH's new boy is still at ringside
~ Katsuhiko Nakajima asked the audience if AXIZ would show them a new "symbol of strength" when they faced Takashi Sugiura, and the audience said "NO!".
~ Yoshinari Ogawa has been wrestling in three of Japan's eras, he spent his early career in All Japan during the Showa Era (he entered the dojo very young at only about 16 or 17 years old), NOAH was born during the Heisei era in 2000, and now Japan is in the Reiwa era.
~ Atsushi Kotoge made HAYATA do the "Revolutionary Fist Pose".
BROADCASTS
The final night of Global Tag League will be broadcast on May 11th at 10pm JST on Samurai TV
The first night of Global Junior League will be broadcast live on G+ on May 28th 2019 at 6.30pm JST.
The 9th June show (the Misawa Memorial from Korakuen Hall, Tokyo and the second to last night of Global Junior Tag League) will be broadcast by G+ on Thursday 13th at 8pm JST.
LINKS
Kenoh formed a new unit "Kongoh", Kaito Kiyomiya teams with Maybach Shuhei Taniguchi
Sugiura's team defeat the GHC Tag Champions in the Global Tag League War
Kenoh launches a unit of dissidents "We won't be obedient to the company"
Takashi Sugiura targets GHC tag and single full of Noah love
GHC Heavyweight champion Kaito Kiyomiya, builds a "Golden Age"
Terminator theme for when Noah live streams mute "When Love Comes To Town" for Takashi Sugiura
GIF OF THE WEEK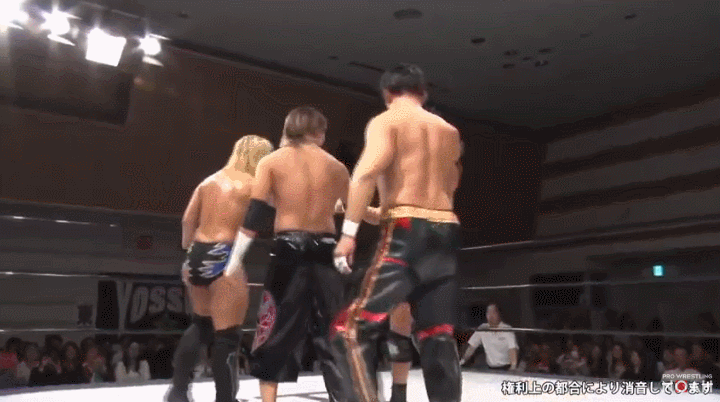 PICTURE CREDITS: Noah GHC, PKDX
Newsletter written by Hisame 
NOAH WEEKLY NEWSLETTER VOL.118 ~ 18TH JANUARY 2021
The GHC National competitors continue to heat up right before their clash on the 23rd! The NOAH Juniors also stay…well the Juniors. Hisame explains if you don't know!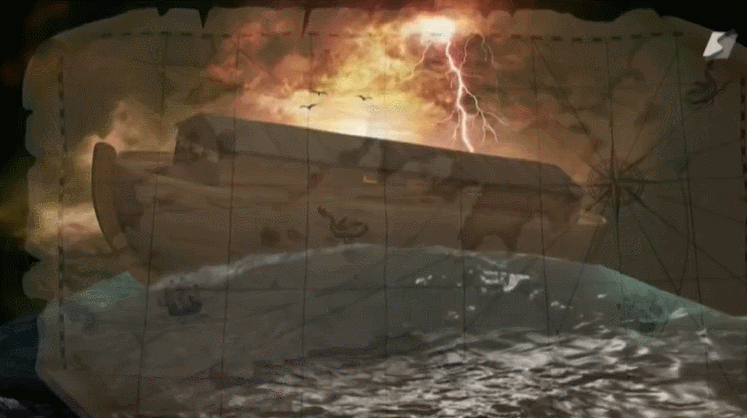 The GHC National competitors continue to heat up right before their clash on the 23rd! The NOAH Juniors also stay…well the Juniors. Hisame explains if you don't know!
NEWS
Kenoh vs Kazunari Murakami
Kenoh and Kazunari Murakami had their one and only pre-match on the 16th January at Yokohama Radiant Halls. Murakami was repeatedly told off during the match for punching (mainly Kenoh) with a closed fist. However, it was Tadasuke who he choked out, and the referee stopped the match.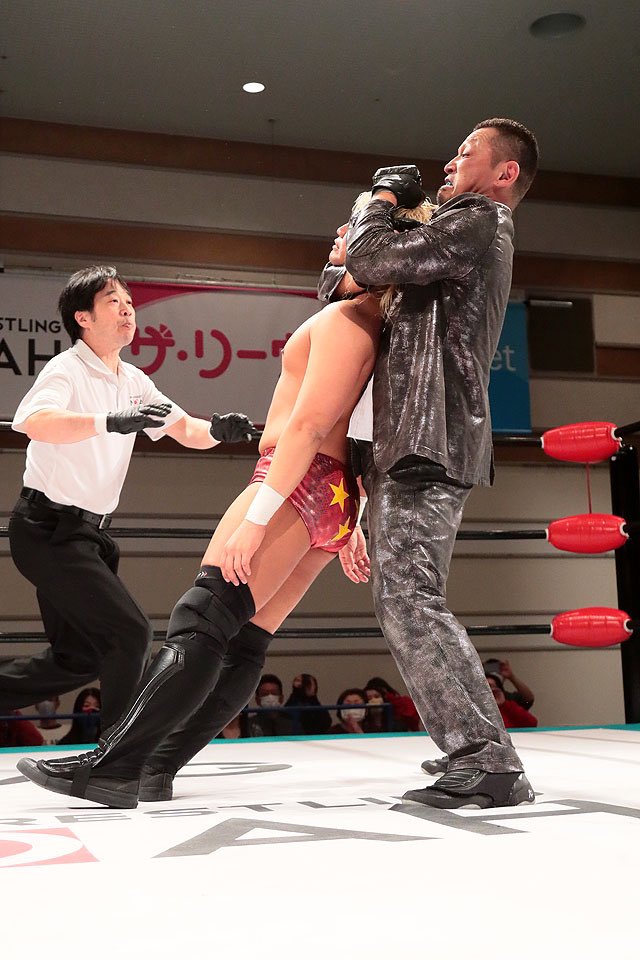 Afterwards, rather than scream and swear (like he would if it were Kaito Kiyomiya, Takashi Sugiura, Naomichi Marufuji or really anyone who Kenoh hates), Kenoh studied Murakami almost as if he was trying to work him out. Backstage Kenoh said in a promo which didn't involve angry swearing, that although he hated Murakami "from the bottom" of his heart, he would play him at his own game. Was it okay to punch with a closed fist while wearing open fingered gloves? "Was that wrestling?" Kenoh has sworn he will show him "the true Kenoh". Title match will take place on the 23rd January at the Osaka Edion Arena.
STINGER retain against Kongoh; challenged by mortal enemies
Although Nioh's hubris led him to say that if he had two victories over HAYATA in a row, a third would follow, he and Haoh were unsuccessful in capturing the tag team titles and swinging the balance of power in the volatile NOAH juniors to their favor, when HAYATA pinned Haoh to retain the titles. Although it was never said by Yoshinari Ogawa, fans got the impression that HAYATA was walking a very thin line.
After the match, STINGER were celebrating their victory, when they were jumped by Kotaro Suzuki, NOSAWA Rongai and Ikuto Hidaka, who threw HAYATA from the ring, kept Susumu (who had been at ringside) out, and stamped down on Yoshiari Ogawa, before Kotaro challenged for the titles saying, "The next is Hidaka and I. You can't refuse. The place is the Nippon Budokan". The pair of them threw the tag belts down that NOSAWA had draped over them, as HAYATA crawled back into the ring. For the second time, it was up to quiet shy HAYATA (who managed to keep his back to any cameras) to accept the challenge. Laconic as ever, HAYATA simply said "Next…you".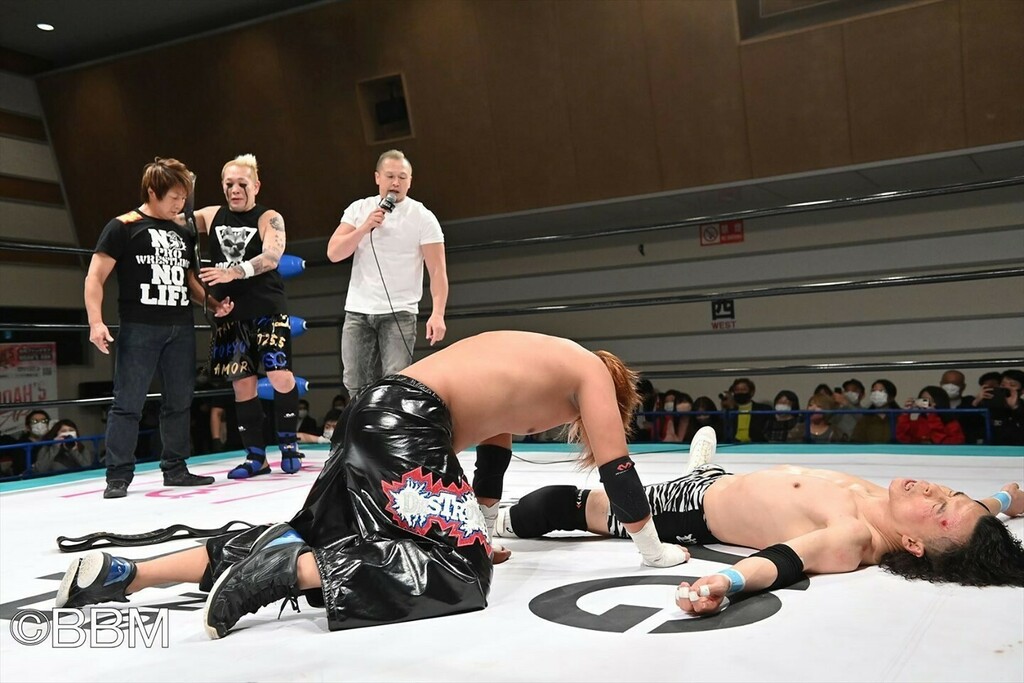 Match has been set for the 12th February at The Nippon Budokan. The pre-matches, however, start on the 23rd January.
You can watch the title match for free here (NOAH streamed it through Periscope)
(This made my Match of The Year 2021 list)
EVENT RECAPS & POST MATCH PROMOS
ELSEWHERE IN NOAH
~ Shuhei Taniguchi tried "Disco Dancing", except it looked more like some crazy jig.
~ Seiki Yoshioka is slowly discovering why HAYATA gave up speaking, by first of all reacting to YO-HEY verbally and wondering what he was talking about, and then reacting with "…?" after YO-HEY had babbled something about peanut butter.
~ Go Shiozaki and Naomichi Marufuji had a chop challenge. On Atsushi Kotoge's chest.
~ Yoshiki Inamura has declared that the Musou will be hunting Jun Akiyama at The Nippon Budokan.
~ NOAH are teasing a GHC Heavyweight tag title match by The Aggression. Nakajima has started talking about "natural" it feels, with Masa Kitamiya saying how much The Sugiura Army (especially Sugiura) irritate him.
~ Manabu Soya carried Tadasuke of the ring after being choked by Kazunari Murakami, as if he was going to Avalanche slam him.
~ NOSAWA Rongai told Kotaro Suzuki and Ikuto Hidaka that they had bad fashion sense, Hidaka's clothes were as bad as his promo skills, and that he felt sorry for the champions on that account.
~ Although the steel plate in his jaw was difficult to remove, Kaito Kiyomiya has made a good recovery and returned to the NOAH dojo. Naturally, he has not shown any pictures of his face.
~ The last time Go Shiozaki took a headbutt from Atsushi Kotoge, his head was split open and his teeth knocked out.
CURRENT CHAMPIONS
THIS WEEK IN NOAH
Thursday 21st January: Go Shiozaki (39)
Saturday 23rd January: NOAH "Higher Ground 2021" (Osaka Edion Arena 2nd Stadium)
BROADCASTS
 NOAH's Yokohama Radiant Halls event will be broadcast on WRESTLEUNIVERSE on the 19th January. The event on the 23rd January in Osaka will be broadcast on WRESTLEUNIVERSE on the 26th January. You must be a subscriber to view these events.
LINKS
Why did Yuki Sato, Dick Togo's apprentice, become "Haoh" in Noah?
The key point is "craziness" in the battle with Murakami to the "dream" of The National GHC defense at The Budokan
Pictures taken from Noah GHC
NOAH WEEKLY NEWSLETTER VOL.117 ~ 10TH JANUARY 2021
Hisame recaps a storied Junior rivalry that helped kick of the NOAH New Year! As well as a pre-match with Mutoh and an original member returning for at least one match in NOAH!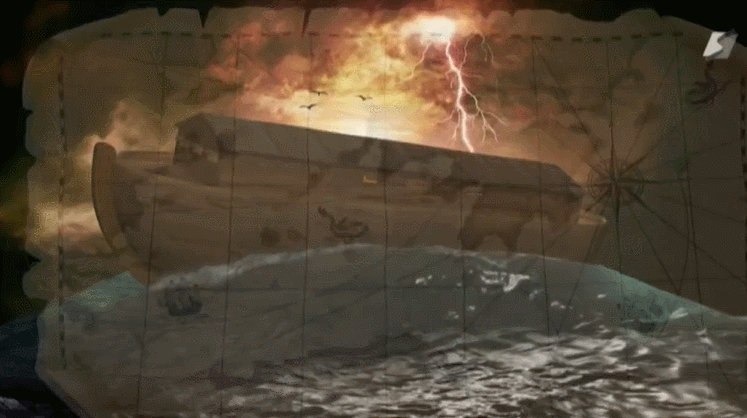 Hisame recaps a storied Junior rivalry that helped kick of the NOAH New Year! As well as a pre-match with Mutoh and an original member returning for at least one match in NOAH!
NEWS
HAOH & NIOH CHALLENGE STINGER FOR THE GHC JUNIOR HEAVYWEIGHT TAG BELTS
HAYATA and Susumu took on the Kongoh Juniors, Haoh and Nioh, on January 4th at NOAH's first show of 2021. The typically fast paced junior match ended with Nioh getting the pin on HAYATA by using HAYATA'S own momentum against him. After that, in true STINGER like fashion, Nioh made the title challenge by yelling loudly. Because Yoshinari Ogawa was not in the match and Susumu not the champion, it fell to an unwilling HAYATA to accept the challenge, which he did (after Susumu had kind of blocked his way to prevent him from leaving), by saying "Next…100 wrestlers" and then walking off quickly. The title match has been set for the 16th January 2021 at Yokohama Radiant Halls.
The only pre-match between the two teams, took place on the 10th January 2021. Yoshinari Ogawa (the champion who doesn't like being challenged), threw his belt down when he got in the ring in front of Haoh and Nioh as if he wanted to say, "The only way you will ever get these belts, is if I give them to you". Worse was to come than an Ogawa temper tantrum however, when the match ended again with Nioh getting the win over HAYATA.
KAZUNARI MURAKAMI CHALLENGES KENOH FOR THE GHC NATIONAL TITLE
Despite being introduced with the potential for a feud with Katsuhiko Nakajima and\or Masa Kitamiya, it was with Kenoh that the true sparks flew with for Kazunari Murakami. After a vicious strike war, which ended with Kenoh eliminating him at The Sugiura Army produce, Murakami choked out Kenoh at NOAH's New Year show on the 4th January. Backstage he saw that both Takashi Sugiura and Kazushi Sakuraba (who along with the referee had tried to pry him off of Kenoh) both were holding a championship, and after hearing that Kenoh was a champion who he had just choked out, Murakami decided to challenge. Kenoh said he had no choice but to accept (he claimed he was unconscious when the challenge was made), and the match has been set for 23rd January with a pre-match on the 16th.
NOSAWA'S "PART TIME GUY" UNMASKED
Thanks to Yoshinari Ogawa ripping off the mask as HAYATA and Susumu held his arms on the 4th January at Korakuen Hall, NOSAWA Rongai's silent, masked and heavily concealed, "Part Time Guy" companion, turned out to be Ikuto Hidaka.
Hidaka has lots of links to NOAH, both personal and professional (i.e. he's an old friend of Hajime Ohara, and like Mohammed Yone is a former BattlArts guy), has appeared in NOAH sporadically since 2003, even once winning the GHC Junior Heavyweight tag titles in 2006 at the Nippon Budokan when he teamed with Minoru Fujita, when they defeated the then junior heavyweight Takashi Sugiura and the long departed from NOAH, Yoshinobu Kanemaru. His relationship with NOSAWA Rongai he has known (ironically) from DDT in 1998, but mainly in ZERO-1. Hidaka teamed properly with NOSAWA and Kotaro Suzuki (who he knew better in ZERO-1 than in NOAH), and has declared that he will "make war on the NOAH Juniors".
MASATO TANAKA JOINS THE M'S ALLIANCE
Masato Tanaka was revealed to be the new member of the M'S Alliance on the 4th January, much to Takashi Sugiura's chagrin. When Sugi asked Tanaka why he joined them and not with his old Bullet-Yankee's tag partner, Tanaka said that Naomichi Marufuji asked him first. He had been waiting for Sugiura to call him, but he never did. Like everyone else, Naomichi Marufuji said that he wants to see them fight.
"I WILL WAIT FOR YOU IN ANY RING", JUN AKIYAMA IS COMING TO THE BUDOKAN
When they met in a tag match before Jun Akiyama left NOAH in 2012, Akiyama promised Naomichi Marufuji that no matter what the future held, one day he would meet him again for a tag match, and until that time he promised Marufuji that "I will wait for you in any ring".
Naomichi Marufuji made a request to Jun Akiyama on the 4th January to team with him on the 12th February. They had fought at Champions Carnival 2018 (when the long bitterness between NOAH and All Japan was finally laid to rest), and Jun Akiyama had later appeared at Naomichi Marufuji's 20th anniversary, "Flight", with their last match being in 2019 in a six man tag, when Akiyama's team defeated Marufuji's. As Marufuji pointed out, they had fought, but they hadn't tagged. Akiyama's initial response was to joke that he wasn't going to do it unless the opponent was Masao Inoue, but he did eventually give his consent that he would appear, and the match was announced on the 10th to be Jun Akiyama & Naomichi Marufuji vs Kaito Kiyomiya and Yoshiki Inamura, in what NOAH have called a "Generations Match".
DAISUKE HARADA RETAINS AGAINST HAJIME OHARA, CHALLENGED BY SEIKI YOSHIOKA
 After an amazing match on the 10th January in which he defended the GHC Junior Heavyweight against Hajime Ohara, (who Harada called "my rival" but paid tribute to by saying that Ohara was the opponent in the NOAH Juniors, who out of everyone "drains your strength"), Harada was challenged by Seiki Yoshioka who was inspired by what he saw. The match has been set for the Nippon Budokan.
Yoshioka has challenged Harada for a title before (GHC Junior Tag) and he has challenged for the GHC Junior Heavyweight before (Kotaro Suzuki), and this will be their first singles match ever. Harada and Ohara doesn't need too much of a build up, fans know what they are going to get and as NOAH save it for special occasions, it is highly anticipated. Yoshioka vs Harada will be a new thing for both of them, and for the fans.
"I EXPECTED MORE", GO SHIOZAKI DEFEATS KEIJI MUTOH IN THE FIRST PRE-MATCH
Go Shiozaki defeated Keiji Mutoh in a mystery card\pre-match on the 4th January at Korakuen Hall, by using (much to Mutoh's shock), his own move against him, The Moonsault. Shiozaki commented that he expected more of Mutoh, but to be honest I think that Mutoh being a wily veteran is playing the old man card here as which started with his leaning on the shoulder of Referee Shu Nishinaga to get into the ring. I get the impression that with that, and how Mutoh was acting during the match, the pretense that he is just an old man is to lure Go Shiozaki in to a sense of false security and confidence. During the match, Mutoh differed from Shiozaki's other title challengers in that he wasn't interested in attacking his arms, he went for his legs (he also did the same to Kaito Kiyomiya), but it's not Kiyomiya who he is challenging, and after the win, Shiozaki said somewhat sternly on Twitter that, "I expected more".
No further details have been announced as of yet, but FULL THROTTLE will be holding their very first produce at Yokohama Radiant Halls on March 6th.
EVENT RECAPS & POST MATCH PROMOS
EVENT RECAP: New Sunrise 2021 (Korakuen Hall, January 4th)
POST MATCH INTERVIEWS: New Sunrise 2021 (Korakuen Hall, January 4th)
EVENT RECAP: Higher Ground 2021 (Korakuen Hall, January 10th)
ELSEWHERE IN NOAH
~ Daiki Inaba made the mistake of accepting a handshake from Tadasuke. Why do people trust him?
~ The Harada brothers were arguing again. Older brother, Akio, asked for an Osaka NOAH poster to be told by Harada that they weren't out yet, and maybe he should stick a picture of himself as a kid up? Harada posted one, and his older brother retaliated by posting one of Harada.
~ Both Naomichi Marufuji and Takashi Sugiura were hoping for a singles match with Masao Inoue at NOAH's mystery card on the 4th January. It turned out to be Kazuyuki Fujita, who destroyed Inoue in 6 seconds.
~ NOSAWA Rongai refused to high-five Kotaro Suzuki, as he said he didn't and doesn't trust him.
~ The majority of people answered with a definite "No" when asked if they were going to Takashi Sugiura's PPV after show party.
~ Kenoh was strangely unsympathetic when Naomichi Marufuji complained to him about Manabu Soya after bouncing off him during a match.
~ In typical fashion, Hajime Ohara said that he was sad that he had lost the pre-match, but was happy that young Kai Fujimura had worked hard during the match. This was a direct contrast to Daisuke Harada, who only talked about himself.
~ FULL THROTTLE appeared on part 1 of "Pro Wrestling Susume" on Samurai TV. We discovered that YO-HEY is good at things that involve anything whirling and high colored (Hajime Ohara isn't) and that Seiki Yoshioka can beat Ohara at shuttlecock, and Ohara us good at things blindfolded.
CURRENT CHAMPIONS
THIS WEEK IN NOAH
Wednesday 3rd January: Tadasuke (35)
Wednesday 3rd January: Part 2 of FULL THROTTLE on Susume (Samurai TV)
Saturday 16th January: NOAH "Higher Ground 2021" (17:30 JST)
BROADCASTS
"Higher Ground 2021" on the 16th January, will be broadcast on WRESTLEUNIVERSE on January 19th at 17:30 JST. You must be a subscriber to view this.
LINKS
Event recap: Naomichi Marufuji at SwanDive
Tour dates: February & March 2021
Picture credit: m_shsankus & Noah GHC
GIFS taken from WRESTLEUNIVERSE & ABEMA