(NOAH) WEEKLY NEWSLETTER VOL.36 ~ 26TH MAY 2019
NOAH wrapped up "NOAH The Spirit" on 19th May. Global Junior Tag League 2019 starts on the 28th May at Korakuen Hall, the event will be broadcast live on G+.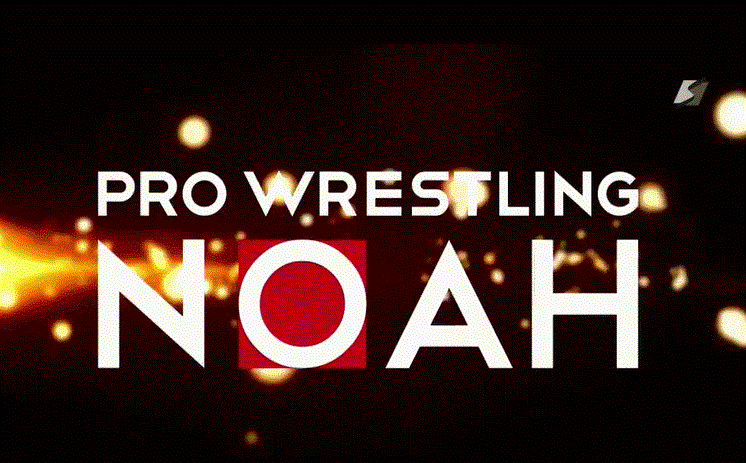 NOAH wrapped up "NOAH The Spirit" on 19th May. Global Junior Tag League 2019 starts on the 28th May at Korakuen Hall, the event will be broadcast live on G+.
Information on this years league (dates, teams, explanation of scoring system) can be found here
NEWS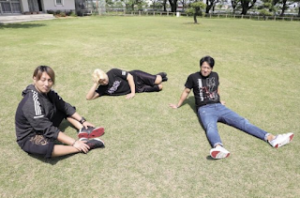 Prior to the events of the 19th May in Gunma, Puroresu Weekly had done an interview with RATELS (Daisuke Harada, Tadasuke and HAYATA).
It was the usual RATELS interview, which the interviewer said "went off the rails", especially when RATELS (mainly HAYATA), changed the subject halfway through to things like HAYATA hating bees, Tadasuke hating corn, Harada hating Marufuji, and Tadasuke getting drunk and damaging a car during a drunken barbecue by sumo wrestling gone wrong, and putting hot sauce around his eyes. During the course of the interview, YO-HEY rang HAYATA (but he didn't actually participate in it, although HAYATA apparently put him on speakerphone).
More sensible subjects by RATELS included this years Global Junior Tag League and the issue of HAYATA teaming with YO-HEY.
"COME AT ME YOU BASTARDS!" KENOH'S LATEST COLUMN
Kenoh wrote his latest column in this past edition of "Weekly Pro", and this weeks subject was "Kongoh" (his new unit) in which he swings between hatred and concern for Kiyomiya, brings up his obsessions (Marufuji and Sugiura), and the future of the group in relation to his plans for rebellion against LIDET.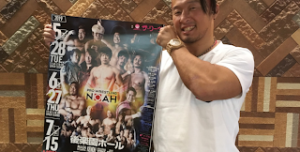 Naomichi Marufuji mini interview ~ return to Korakuen Hall on the 28th and the start of Global Junior Tag League 2019
Naomichi Marufuji gave an interview to the official NOAH site ahead of Global Junior Tag League starting, and his own return at Korakuen Hall. So far, the only other heavyweight asked to give an opinion is Akitoshi Saito. As I said in the last newsletter, this is likely to cause (further) resentment among the juniors as their own opinion was most certainly never asked about Global League.
Marufuji talks about his injury, his treatment, his return, and his hopes for NOAH's young. There is the usual jabs at "Kenoh-kun", Daisuke Harada (the dislike between them is mutual), and interestingly, he mentions KENTA a lot more than he has ever done before.
CURRENT CHAMPIONS
TOUR TIDBITS
~ Chris Ridgeway says he loves eating chanko
~ Shuhei Taniguchi posted a picture of himself running, Takashi Sugiura kept zooming in on his face in a series of Twitter posts and saying something about his "running face"
~ Naomichi Marufuji has Dragonball Z stamps
~ A small pre-birthday party for Takashi Sugiura was held at Naomichi Marufuji's "Muscle Grill" for fans (Sugiura will be 49 on May 31st). He looked very very touched when he was given the birthday cake, but less straight forward is to why he was putting on "NO MERCY" pants (fortunately he kept his own on). For those who don't know "NO MERCY" was the name of KENTA'S unit just before he left NOAH. Sugiura was a member of "NO MERCY".
~ One of NOAH's trainees (there are about three at the moment) has been noticed to be hiding his face in pictures and does not appear at ringside. It is thought that perhaps he will be a masked wrestler.
~ Kinya Okada is training very hard for his return. Being an Osaka boy it is thought he will return in June for the Osaka Mitsuharu Memorial show, although no date has been given. He says he has put on muscle tone too. He has been told to take it easy and not overdo it.
~ Naomichi Marufuji is releasing a Shiranui Curry Spoon (international delivery available)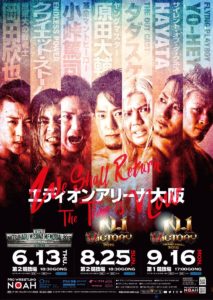 NOAH  have released a poster for the Osaka events showing the three wrestlers who are native to the city, (Kinya Okada, Daisuke Harada and Atsushi Kotoge) as well as Quiet Storm, YO-HEY, HAYATA & Tadasuke, who aren't Osaka natives, but instead have links (like Harada and Kotoge) to Osaka Pro.
BROADCASTS
The first night of Global Junior League will be broadcast live on G+ on May 28th 2019 at 6.30pm JST.
The 9th June show (the Misawa Memorial from Korakuen Hall, Tokyo and the second to last night of Global Junior Tag League) will be broadcast by G+ on Thursday 13th at 8pm JST.
LINKS
Post match promos: Yamada Green Dome, Maebashi, Gunma (Sunday May 19th 2019)
RATELS "Season 2"
Global Tag League 2019: Interview with Chris Ridgeway
Global Tag League 2019: Interview with Seiya Morohashi & Junta Miyawaki
N-1 Victory Dates
PICTURE CREDITS: Noah GHC, Puroresu Weekly.
Newsletter written by Hisame