PRO -WRESTLING NOAH WEEKLY NEWSLETTER VOL.34~ 12TH MAY 2019
We're in between events for NOAH! Hisame brings us updates, need to know information, and of course RATEL'S stuff!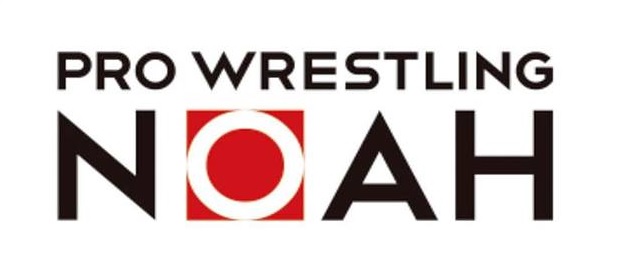 We're in between events for NOAH! Hisame brings us updates, need to know information, and of course RATEL'S stuff!
CURRENT TOUR RECAP
The new owners of NOAH seem to have done away with NOAH giving names to their interim tours, and these will now be known as "NOAH The SPIRIT".
The interim tours between Global Tag League and Global Junior Tag League starting will run for three dates only – the 11th & 12th May and then the the final date on May 19th in Gunma.
NOAH are currently in the grip of an injury bug (three people out, please see below for updates\news), so the cards were changed accordingly with Keisuke Ishii and Kouki Iwasaki being drafted in.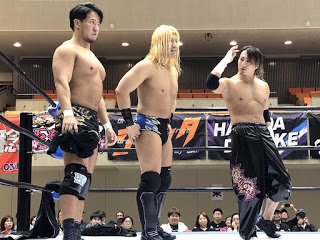 RATELS and Stinger (without YO-HEY) faced off again, with Tadasuke getting his second win over The Stinger team, this time over Kotaro Suzuki on the 12th by reversing The Endless Waltz into The Pac. Tadasuke, being Tadasuke, became manic saying that he "can't control myself" and posting the crazy face icon.
In a more sedate tone, Yoshinari Ogawa tried the handshake again with Daisuke Harada on the 12th May event. I am afraid that I don't know whether Harada took it or ignored it.
Due to his title challenge for the GHC Heavyweight title (9th June) and for the GHC Heavyweight Tag titles (13th June), Takashi Sugiura is now feuding with three people – AXIZ (Go Shiozaki and Katsuhiko Nakajima) and Kaito Kiyomiya. Sugiura and Shiozaki beat the hell out of each other on the 11th May, and there was an equally intense match against Katsuhiko Nakajima on the 12th. Neither the challenger or the champions, however, got the direct win over each other. 
Regarding the title challenges, Sugiura said he is blessed as a wrestler to have them, and even more so that these will take place at the Mitsuharu Misawa memorial shows at Korakuen Hall and Osaka.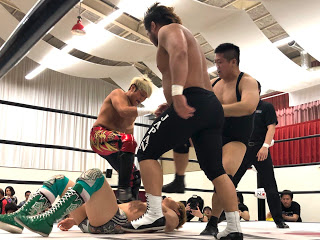 Much to their dismay, Kongoh (the new unit of Kenoh, Masa Kitamiya, Yoshiki Inamura and Atsushi Kotoge) lost their debut match on the 11th against Kaito Kiyomiya, Minoru Tanaka and Hi69. Kenoh and Kiyomiya made a beeline for each other, with Kenoh sticking his fist in Kiyomiya's face (they didn't roll around fighting in the streamers like two kids fighting in the playground this time).
Takashi Sugiura (intent on winding Kenoh up online, although aside from calling him a "thoughtlessly stupid old man", Kenoh seems to be ignoring him now), said that their loss was due to having a comedy wrestler (Kotoge was pinned by Kaito Kiyomiya with the Tiger Driver).
Kotoge, however, had other issues other than Kongoh.
His former tag team partner in "The Revolutionary Cloak Heroes", Mitsuya Nagai, was furious that Kotoge had apparently ditched him for his new crew, and vowed revenge in their singles match which fans had named, "The Revolutionary Showdown". Making small children cry, Nagai threw Kotoge into the crowd using both the "robber cloak" that Kotoge had given him and the chain that Kotoge had tried to remove from him. Kotoge was given the beat down of a lifetime.
Nagai says he "feels relieved" he doesn't have to wear the cloak again.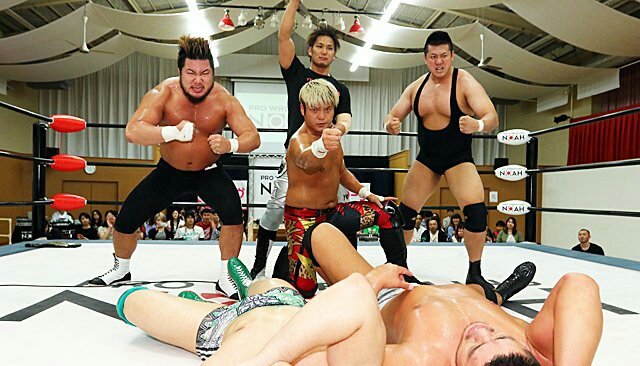 Kongoh debuted their tandem move on the 12th May, whereby Kitamiya (with the assist from Inamura) slam their opponent from the top turnbuckle, with Kenoh following up with the Diving Footstamp for the win.
After the match, Kenoh got on the microphone and started yelling about not being a "yes-man" to LIDET.
Normally, he would point to their banner, but he found that there wasn't one in the arena today, and Kenoh being Kenoh (half paranoid, mostly angry), decided that they hadn't put it up deliberately due to his angry ranting at it.
EVENT RECAPS
Saturday May 11th 2019, Ryumioka Kaikan, Ozaki City
Sunday May 12th 2019: Esupowaru Isanuma, Saitama
Post match promos: Ryumioka Kaikan, Ozaki City
NEWS
COME AT ME YOU BASTARDS (Kenoh's column)Although the interview was done after KAIOH'S loss at Global Tag League, and Kenoh's subsequent screaming fit at Kiyomiya leading to the dissolution of their team, Kenoh was actually quite restrained, and not spewing fire against the "22 year old 3 year career boy" as he termed him. Kenoh's column veered between sounding like a concerned older brother, recounting happier times with him, and a dose of paranoia and anger towards LIDET.
YO-HEY UPDATE
YO-HEY was discharged from the hospital earlier in the week, and told that he must work on building up his strength, and not rush back to work. Various NOAH wrestlers (and others) had visited him in the hospital, with YO-HEY giving them hospital department names (Jiro Ikemen was from proctology and Atsushi Kotoge from mental health). The majority of wrestlers who visited played with the iron grabbing claw that YO-HEY had used to reach for things as he was bed bound with a tube in his lung, and most of the time YO-HEY found himself being pinched with it.
YO-HEY wants to make it clear that he is not returning to RATELS, he will be teaming with HAYATA as a member of Stinger, while HAYATA will remain with RATELS. He says he will address the situation on the May 19th in Gunma. He won't be wrestling though. YO-HEY, however, did acknowledge that for Global Junior Tag league he wanted to reunite with HAYATA, if only for that event in the future.
Interestingly, there has been no mention of Stinger ever visiting him, while RATELS did (Tadasuke taunted him with cigarettes), but ultimately this may mean nothing.
NAOMICHI MARUFUJI INJURED
NOAH announced at the start of "NOAH the SPIRIT 2019" that Naomichi Marufuji would miss the tour with a lower lumbar back hernia. So, while everyone went off with NOAH, Marufuji was left bored at home in Tokyo (no wrestling and no socializing). He was unable to sleep for the first two nights due to pain, but considered it his body adjusting to the condition when he was finally able to snatch a few hours. I think this injury is probably a left over from his manic year in 2018, although he has taken it easier this year, not appearing in any other promotions, and not participating in Global Tag League. Naturally, he got defensive when asked to take it easy and not rush back.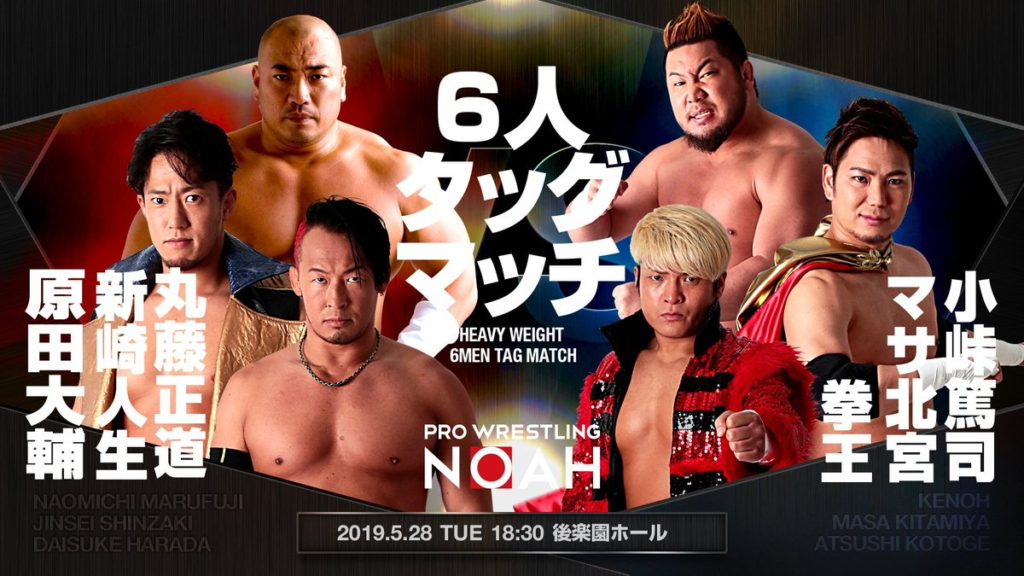 Although he is undergoing treatment, he has said that he will be back for the big match on the 28th May at Korakuen Hall where he will team with Jinsei Shinzaki and Daisuke Harada against Kenoh (who was Jinsei Shinzaki's student), Masa Kitamiya and Atsushi Kotoge. The worrying thing is that even if he is not ready to come back, he will for this match, no matter the cost, and most likely the singles match with Go Shiozaki at the Misawa Memorial show on the 9th.
Given that Daisuke Harada and Marufuji can be childish when tagging together (like doing things to wind each other up like wanting to use the same turnbuckle to stand on during an entrance, not tagging each other in, and Harada not letting Marufuji join in with RATELS handshake, and then Marufuji refusing to let them leave by a certain exit), plus Kenoh's hatred of Marufuji – Shinzaki may well find himself playing the adult. 
Marufuji has also hinted (normally at 1.30am JST) that he is looking for a tag partner…
CURRENT CHAMPIONS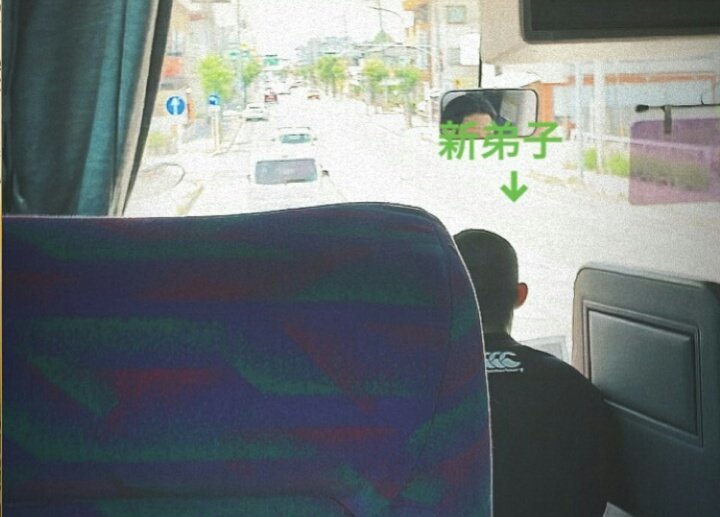 TOUR TIDBITS
~ Fans were greeted in Saitama by 50 Funky Powers disco ball spinning
~ Yoshinari Ogawa gave RATELS the finger
~ Apparently Kenoh & HAYATA sang an anime theme (translated into "Southern Country Boy") for Tadasuke, who was planning to sing it on a show "Matsuko Deluxe", but it was never aired.
~ Kinya Okada (whose nickname is apparently "Chunky"), is working towards his return, although no date has been given as of yet. Takashi Sugiura took a picture of him looking glum on the bus and said he was growing tired of looking at his "steep face".
~ Two new trainees have been seen at ringside, naturally, we will not know the name of these boys until they debut (and of course, if they debut).
~ Kenoh said that when he used to second Jinsei Shinzaki, he would chant a sutra from Shikoku (his home island, and a sacred place for pilgrimages), that the monks would chant for protection on their travels.
BROADCASTS
The first night of Global Junior League will be broadcast live on G+ on May 28th 2019 at 6.30pm JST.
The 9th June show (the Misawa Memorial from Korakuen Hall, Tokyo and the second to last night of Global Junior Tag League) will be broadcast by G+ on Thursday 13th at 8pm JST.
LINKS
Reiwa's Pro Wrestlers: Kaito Kiyomiya
Takashi Sugiura to challenge for the title on Misawa Memorial night in JuneTakashi Sugiura's double GHC challenge at the two Misawa Memorial eventsDouble challenge for the GHC titles, Sugiura's peak at 49 years old"NOAH The Spirit 2019" autograph scheduleAkitoshi Saito & Masao Inoue "Moving Centre" with a resurrection of The Dark Agents
PICTURE CREDITS: Noah GHC, PKDX, Tadasuke
Newsletter written by Hisame
NOAH WEEKLY NEWSLETTER VOL.119 ~ 24TH JANUARY 2021
A former King of Pancrase and Triple Crown champion steps up to challenge for the GHC National title at Budokan! NOAH shaping up for their biggest event in a decade!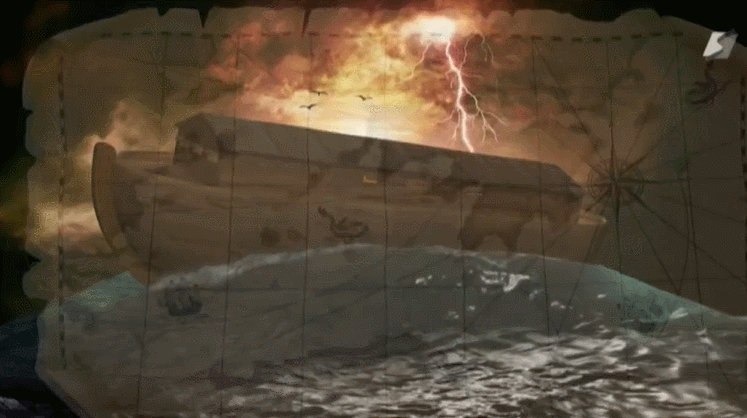 A former King of Pancrase and Triple Crown champion steps up to challenge for the GHC National title at Budokan! NOAH shaping up for their biggest event in a decade!
NEWS
Hajime Ohara tests positive for COVID-19
It was announced on the 22nd January that Hajime Ohara had tested positive for Covid after a routine PCR test. The Osaka card was changed with YO-HEY filling in for him. Ohara has not shown any symptoms of fever, cough or loss of taste so far, and temperature taken on the morning of the 24th January was normal. Ohara is isolating at home, and true to form is studying (he was taking an online English class), and and eating nutritiously. He is determined to be back to NOAH for The Budokan.
In Osaka, the roster paid tribute to him, with YO-HEY making the Muy Bien sign, and Naomichi Marufuji finishing his promo (tantrum) with "Muy Bien".
Kenoh from Murakami to Masakatsu
In a match that lasted only nine minutes and forty seconds, which was really for how long it needed to last, Kenoh defeated Kazunari Masakatsu for the GHC National title in Osaka on the 23rd January 2021. The match started off somewhat MMA style, and went to mat wrestling. Kenoh got his own back on Murakami for felling him with a closed fist, by doing the same, but this seemed to only make Murakami mad and he unleashed a volley of kicks and punches on Kenoh. After a brief loss of temper, Kenoh came to his senses and realized that he was going to have to take Murakami down, and he did it by using the sleeper hold, which caused the referee to stop the match.
Almost immediately after the match had finished, Masakatsu Funaki made his challenge. He simply pointed at the belt and asked Kenoh to be his next challenger. Kenoh accepted the challenge, and set it for the Nippon Budokan (12th February 2021), but backstage rather than scream abuse about his opponent, he actually said that he was it was exciting and he was looking forward to it. Murakami he said he had also enjoyed the match with, although he admitted to being scared by him.
Masakatsu Funaki seemed to have a few different reasons for challenging; he had the image of being a champion alongside Mutoh, Kenoh was not something he had experienced before, and he felt that the time was now to do it. He was also complimentary about Kenoh, saying that he was "in his thirties and riding high". Funaki makes the third MMA fighter to have challenged Kenoh.
EVENT RECAPS & POST MATCH PROMOS
Event recap: HIGHER GROUND 2021 (January 23rd, Edion Arena Osaka 2nd Stadium)
Post match interviews: HIGHER GROUND 2021 (January 23rd, Edion Arena Osaka 2nd Stadium)
ELSEWHERE IN NOAH
~ Atsushi Kotoge admitted some jealousy of Daisuke Harada.
~ Mohammed Yone did some catering for the roster on the way home from Osaka.
~ Naomichi Marufuji won the chop challenge against Go Shiozaki, then got annoyed at it being pointed out that he beat Shiozaki in the challenge, but wasn't the one to make the pin and win the match. Pointed out that HE was the senior to them, and would take both their belts, "so I can enter last and show them off". And then walked off.
~ Takashi Sugiura says he aims to create a new record, and become the GHC Heavyweight Champion at the age of 50, however if Keiji Mutoh defeats Go Shiozaki for it, he will do it when he is 60.
CURRENT CHAMPIONS
ALL the titles, except the GHC Heavyweight Tag, have been challenged for and the matches will take place at The Budokan. Fans are hoping that Katsuhiko Nakajima and Masa Kitamiya will challenge, especially as they are teaming together against Takashi Sugiura (Kazushi Sakuraba is absent) on NOAH's last show before The Budokan, on the 31st January.
THIS WEEK IN NOAH
Sunday 31st January: "HIGHER GROUND 2021" (11.30am JST, Korakuen Hall.)
BROADCASTS
NOAH's 23rd January show from Osaka will be available to view on WRESTLEUNIVERSE on Tuesday 26th January. The GHC National title match, and the main event were streamed live through Periscope.
The 31st January event at Korakuen Hall has not had broadcast details announced yet.
LINKS
"Parasyte" Kazunari Murakami's plan to take over the REIWA Ark
"For us, The Budokan is the beginning rather than the "Return" ~ Interview with Yoshiki Inamura
Kazushi Sakuraba has an astonishing determination to "become the Takako Tokiwa" of the Pro Wrestling World
Pro Wrestling Casebook ~ a shock ran through Michinoku, when Kenoh announced he was joining Noah (2013)
"Aiming to become the GHC Champion, in the year of my 60th birthday" ~ Takashi Sugiura
GIF taken from Noah's Periscope
Match graphic taken from the Official NOAH Twitter
NOAH WEEKLY NEWSLETTER VOL.118 ~ 18TH JANUARY 2021
The GHC National competitors continue to heat up right before their clash on the 23rd! The NOAH Juniors also stay…well the Juniors. Hisame explains if you don't know!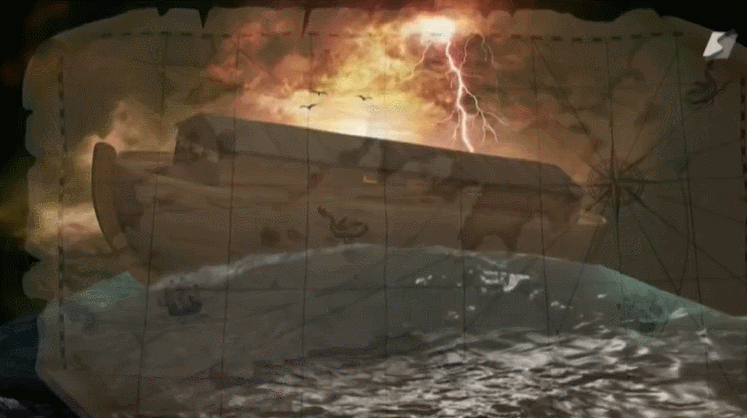 The GHC National competitors continue to heat up right before their clash on the 23rd! The NOAH Juniors also stay…well the Juniors. Hisame explains if you don't know!
NEWS
Kenoh vs Kazunari Murakami
Kenoh and Kazunari Murakami had their one and only pre-match on the 16th January at Yokohama Radiant Halls. Murakami was repeatedly told off during the match for punching (mainly Kenoh) with a closed fist. However, it was Tadasuke who he choked out, and the referee stopped the match.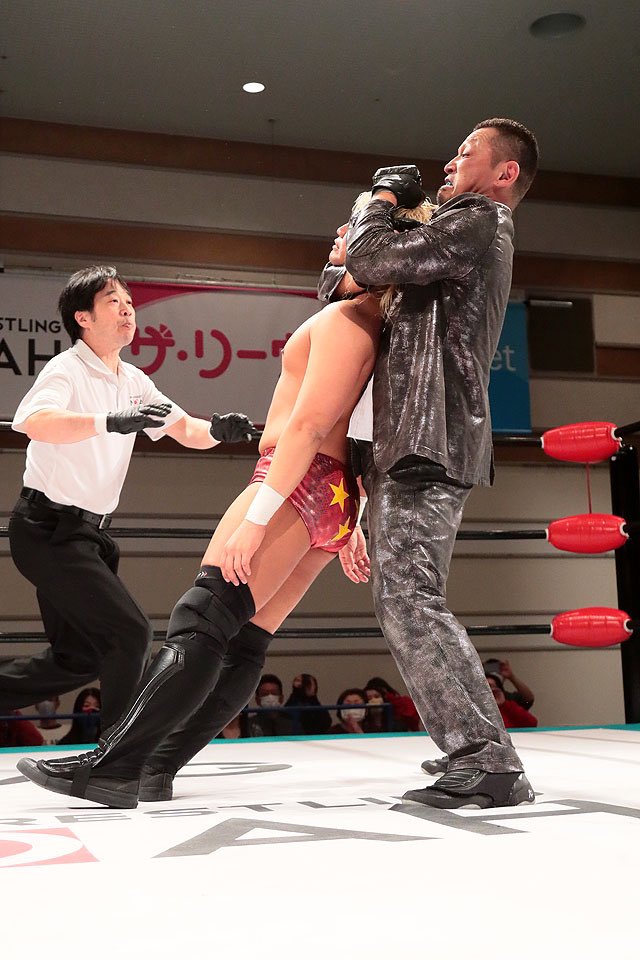 Afterwards, rather than scream and swear (like he would if it were Kaito Kiyomiya, Takashi Sugiura, Naomichi Marufuji or really anyone who Kenoh hates), Kenoh studied Murakami almost as if he was trying to work him out. Backstage Kenoh said in a promo which didn't involve angry swearing, that although he hated Murakami "from the bottom" of his heart, he would play him at his own game. Was it okay to punch with a closed fist while wearing open fingered gloves? "Was that wrestling?" Kenoh has sworn he will show him "the true Kenoh". Title match will take place on the 23rd January at the Osaka Edion Arena.
STINGER retain against Kongoh; challenged by mortal enemies
Although Nioh's hubris led him to say that if he had two victories over HAYATA in a row, a third would follow, he and Haoh were unsuccessful in capturing the tag team titles and swinging the balance of power in the volatile NOAH juniors to their favor, when HAYATA pinned Haoh to retain the titles. Although it was never said by Yoshinari Ogawa, fans got the impression that HAYATA was walking a very thin line.
After the match, STINGER were celebrating their victory, when they were jumped by Kotaro Suzuki, NOSAWA Rongai and Ikuto Hidaka, who threw HAYATA from the ring, kept Susumu (who had been at ringside) out, and stamped down on Yoshiari Ogawa, before Kotaro challenged for the titles saying, "The next is Hidaka and I. You can't refuse. The place is the Nippon Budokan". The pair of them threw the tag belts down that NOSAWA had draped over them, as HAYATA crawled back into the ring. For the second time, it was up to quiet shy HAYATA (who managed to keep his back to any cameras) to accept the challenge. Laconic as ever, HAYATA simply said "Next…you".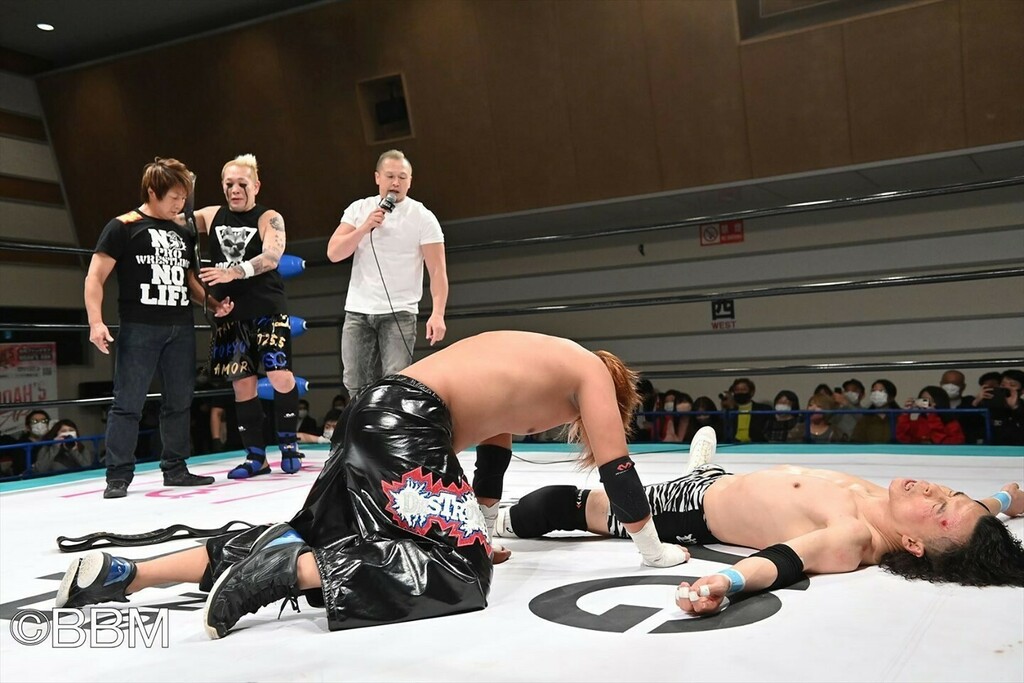 Match has been set for the 12th February at The Nippon Budokan. The pre-matches, however, start on the 23rd January.
You can watch the title match for free here (NOAH streamed it through Periscope)
(This made my Match of The Year 2021 list)
EVENT RECAPS & POST MATCH PROMOS
ELSEWHERE IN NOAH
~ Shuhei Taniguchi tried "Disco Dancing", except it looked more like some crazy jig.
~ Seiki Yoshioka is slowly discovering why HAYATA gave up speaking, by first of all reacting to YO-HEY verbally and wondering what he was talking about, and then reacting with "…?" after YO-HEY had babbled something about peanut butter.
~ Go Shiozaki and Naomichi Marufuji had a chop challenge. On Atsushi Kotoge's chest.
~ Yoshiki Inamura has declared that the Musou will be hunting Jun Akiyama at The Nippon Budokan.
~ NOAH are teasing a GHC Heavyweight tag title match by The Aggression. Nakajima has started talking about "natural" it feels, with Masa Kitamiya saying how much The Sugiura Army (especially Sugiura) irritate him.
~ Manabu Soya carried Tadasuke of the ring after being choked by Kazunari Murakami, as if he was going to Avalanche slam him.
~ NOSAWA Rongai told Kotaro Suzuki and Ikuto Hidaka that they had bad fashion sense, Hidaka's clothes were as bad as his promo skills, and that he felt sorry for the champions on that account.
~ Although the steel plate in his jaw was difficult to remove, Kaito Kiyomiya has made a good recovery and returned to the NOAH dojo. Naturally, he has not shown any pictures of his face.
~ The last time Go Shiozaki took a headbutt from Atsushi Kotoge, his head was split open and his teeth knocked out.
CURRENT CHAMPIONS
THIS WEEK IN NOAH
Thursday 21st January: Go Shiozaki (39)
Saturday 23rd January: NOAH "Higher Ground 2021" (Osaka Edion Arena 2nd Stadium)
BROADCASTS
 NOAH's Yokohama Radiant Halls event will be broadcast on WRESTLEUNIVERSE on the 19th January. The event on the 23rd January in Osaka will be broadcast on WRESTLEUNIVERSE on the 26th January. You must be a subscriber to view these events.
LINKS
Why did Yuki Sato, Dick Togo's apprentice, become "Haoh" in Noah?
The key point is "craziness" in the battle with Murakami to the "dream" of The National GHC defense at The Budokan
Pictures taken from Noah GHC