Stardom Cinderella Tournament 2019 Result & Review: Final Part (4/29/2019)
Now we get to find out who wears the pretty dress! Stardom Cinderella tournament time! 

Now we get to find out who wears the pretty dress! Stardom Cinderella tournament time!
I know I'm a little late to the party for the second part of the tournament but we're here now and I wanna get to it.
So far, we have Arisa advancing to the semi-finals due to Kagetsu and Tam ending in a tie, meaning we have about six matches to cover on this part. But don't worry, I'll be adding a surprise match at the end of this show to cover to get the ball rolling.
Who will win the tournament?
Let's find out as we…dive right in.
Rating System:
0 Stars: Dave Meltzer
1 Star: Vince Russo
2 Stars: Tony Schiavone
3 Stars: Eric Bischoff
4 Stars: Bruce Prichard
5 Stars: Jim Cornette
Cinderella Tournament 2019 Quarter Final Match
Hazuki vs. Starlight Kid
Review: It's time to start the second round of the tournament as we have Hazuki taking on Starlight Kid. Hazuki was able to advance by defeating Bea Priestley and Starlight advanced by defeating Natsu Sumire. The winner of this match will fight the winner of the next match. These two are no strangers to each other and Starlight is going to make sure she wins this time around. Who will advance?
Starlight wasted no time as she would deliver a Dropkick to Hazuki soon as the bell rang and would hit a couple more on her, she's getting fierce with this. Starlight got her off the corner to hit a Moonsault as Hazuki kicked out at two. Starlight picked her up as Hazuki hits a Codebreaker to stop her full-out assault. Hazuki ran to the top rope as Starlight was able to Dropkick her off onto the apron. Starlight tried to finish her off as Hazuki punched her in the face and went for a springboard as Starlight pushed her off to eliminate her in less than two minutes! Wow, talk about an upset. Not a terrible match but it's really short and everything was executed really well too, so I liked it for what it was actually. Good job, ladies.
Rating: Eric Bischoff
Cinderella Tournament 2nd Round action begins! It's Starlight Kid vs Hazuki, on https://t.co/q8dHnFmJUw! pic.twitter.com/PjEAGjdsfs

— We Are Stardom (@we_are_stardom) May 1, 2019
Cinderella Tournament 2019 Quarter Final Match
Konami vs. AZM
Review: Our next match is AZM taking on Konami. Konami had an upset victory when she eliminated Momo Watanabe in the first round and AZM won by eliminating Rebel Kel. AZM is going to have a tough opponent ahead of her if she's going to want to advance and fight her rival, Starlight. Will Konami keep the ball rolling by beating another Queen's Quest member or will AZM get the upset win?
AZM really is proving that she can hang with some of the best here in Stardom away from the lower division. My only takeaway here for this match is not that it was short since it's expected for this tournament but there were some sloppy spots for a good amount of it, unfortunately. Aside from the sloppy sequences here and there, they did still have some good performances. Konami looked like she was gonna go for a Leglock but AZM would hold onto her leg to make her fall back for a pinfall but Konami would kick out at two. Konami would eventually apply the Triangle Lancer as she did prove it is in fact 100% as AZM tapped out, leaving Konami to advance against Starlight Kid.
Rating: Tony Schiavone and three quarters
Cinderella Tournament 2019 Quarter Final Match
Hana Kimura vs. Natsuko Tora
Review: Our final quarterfinal match is up next as we have Hana Kimura taking on Natsuko Tora. Natsuko was able to defeat her former JAN partner, Jungly Kyona to advance with a brand new look and attitude. Hana defeated Andras Miyagi to advance and is looking to bring more momentum to the Tokyo Cyber Squad. Which one of these two will advance to fight Arisa Hoshiki?
There wasn't a whole lot to see with Natsuko here since it looked like we saw most of that with her match against Jungle rather than her match with Hana right here. We had the match outside of the arena for a little bit but they didn't go over the top rope, so they were able to do as much as Hana threw her around for a little bit before taking her back into the ring. Natsuko does have a really nice Spear, so I'll give her points for that but she failed to put Hana away with something like that. The match was exactly seven minutes and Hana would have Natsuko over by the ropes so she can go for a kick as Hana's leg was over the rope, leaving Natsuko an opening to flip her over and hits her with the Oedo Tai sign to eliminate her as Natsuko advances to the semi-finals!
Rating: Eric Bischoff
Cinderella Tournament 2019 Semi-Final Match
Arisa Hoshiki vs. Natsuko Tora
Review: It's now time for the semi-finals as Natsuko Tora is now going to fight Arisa Hoshiki. Natsuko going back to back could be a little bit of trouble for her if she's not too worn out with Arisa being fresh due to advancing further after the first round. The winner will advance to the finals but which one of them will go forward?
Wow, the crowd was actually split even for this one except for that annoying cunt in the audience, I forgot all about him. Natsuko had most of the control in this match and even worked on Arisa's leg a bit to make sure she would be too weak to even attempt the Brazilian Kick in the match. This one was a much better match compared to anything in the quarterfinals so that at least gave me something. Arisa had a little bit of momentum when she hits a Springboard Diving Knee for a two count and went to pick her up as Natsuko would hit a Spear. Natsuko went to the top rope to hit a Splash as Arisa kicked out at two and would get her down again to hit a Diving Leg Drop as Arisa moved out of the way this time. Arisa would lift her up for a Powerslam and would go to the ropes to hit a Rounding Splash for the win as Arisa is now set for the finals!
Rating: Eric Bischoff and a quarter
Cinderella Tournament 2019 Semi-Final Match
Konami vs. Starlight Kid
Review: Our next match in the semi-finals is between Konami and Starlight Kid. Starlight was able to get two big wins under her belt in the tournament when she defeated both Natsu Sumire and Hazuki. Konami has one more win to go before she can advance to fight Arisa. Who will meet Arisa in the finals?
Instead of attacking Konami head on as she did with Hazuki, Starlight would try a different approach when she would try to get that quick pin in to throw Konami off guard and it looked like she had her during the crucifix pin but Konami barely kicked out at two. Konami knows she would need to finish hero ff quick as she attempted the Triangle Lancer but Starlight would roll her up for another two count. Starlight hits a Swinging Neckbreaker for a two count and would position Konami to hit a Moonsault but Konami rolled out of the way and applied the Triangle Lancer to make Starlight tap out in less than three minutes. Konami is officially in the final round as she now has to fight Arisa Hoshiki.
Rating: Eric Bischoff
Cinderella Tournament 2019 Final Match
Konami vs. Arisa Hoshiki
Now on https://t.co/q8dHnF58vW! It's the Finals of today's Cinderella Tournament 2019! Check it out now! pic.twitter.com/TkuU3dFgsB

— We Are Stardom (@we_are_stardom) April 29, 2019
Review: It's now time for the final round as we have Konami from Tokyo Cyber Squad taking on Arisa Hoshiki from STARS. These two women made it this far in the tournament when most people probably didn't expect them to win, but here we are. The winner of this match will get a dress to wear and able to request any match they want. Which one will win? Who wears a pretty dress?
I'm now convinced that Konami was officially held back and was able to shine a lot more as a Tokyo Cyber Squad member than she has at Queen's Quest. Konami's personality would flesh out more as she just wanted to make Arisa suffer when she would be going after her leg in the match since it was still weak from Arisa's previous matches. Both of them meshed really well together in the ring and gave us a really good match. Also to that annoying fan again, please shut up and don't come back. A lot of close calls in the match when Arisa would do her Powerslam combo with a Rounding Splash and the two times that she did hit it, Konami actually kicked out of it, leaving Arisa a little bit speechless. Konami was able to attempt the Triangle Lancer to try and make her tap out before Arisa grabbed the ropes to make her break the hold. Arisa was finally able to hit her Brazillian Kick despite her bad leg and pinned Konami for the victory to win the Cinderella Tournament. Can't believe my dark horse won the whole thing.
Arisa was able to win the Cinderella Tournament as she now gets to wear the dress they had prepared for her. I'm sure glad they know their sizes before making them. Anyway, this is a big win for Arisa as she now calls out Momo Watanabe to the ring. Arisa declared that she will be fighting Momo for the Wonder of Stardom Championship so she could finally get her one-on-one match that Momo has been denying her for quite a while. The match is made official as it will take place on the May 16th show. I'm excited to see this match finally happen and it's one you don't wanna miss.
Rating: Bruce Prichard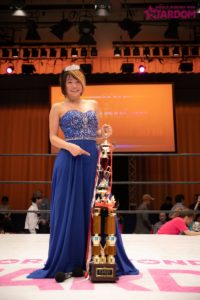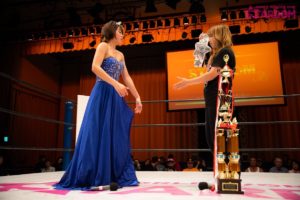 5/4/2019
World of Stardom Title Match
Kagetsu (c) vs. Bea Priestley
Review: Now that the Cinderella Tournament is over, let's fast forward just a little bit to the May 4th show so we can get a little bit caught up. Plus, this was the only match that caught my interest and is pretty important as it's for the World of Stardom Championship. The match took place at the Queen's Quest Produced show as Kagetsu defends her title against a member of Queen's Quest, Bea Priestley. Bea went from losing in the first round of the tournament to getting a match for the big red belt, but I'm game to see what happens and it looks like Kagetsu needs another defense under her belt. Good because her last one left little to the imagination and Bea has improved recently. Will Kagetsu retain or does Bea somehow win?
One, Bea looks great in her new attire and two, this might be the best match that I've seen our of her along with Kagetsu's best match in months. This match was nicely paced from beginning to end here with the two of them executing everything they did in the ring almost flawlessly and had nice sequences during the match. I loved when Bea jumped to the top rope and Kagetsu followed right after when she jumped to the second rope to Dropkick her on the way down, nicely done. Kagetsu shows how good of a worker she is if Stardom wasn't too busy giving her scraps most of the time and Bea needed this match more to show what she actually can do in a high caliber match like this one and the progression she made in the past year as you can see for yourself.
Bea hits a beautiful Regalplex for a two count and wouldn't stop there as she hits a Curb-Stomp as our Prime Minister kicked out again, but Bea quickly applied for the Rings of Saturn before Kagetsu had the ropes. Our Prime Minister is up to her old tricks as she pushed Bea into the referee to spray green mist into her eyes before she would hit the Michinoku Driver and the Oedo Coaster as it looks like this could be it, but Bea would somehow kick out at two, leaving the fans shocked along with Kagetsu. Kagetsu would get back to the top rope to try and hit another one but Bea would stop her this time and hits a kick to her tucked head, shades of her boyfriend, Will Ospreay and had her up on her shoulders to hit the Japanese Ocean Cyclone Suplex and Bea pins Kagetsu to win the championship!
Well…if you're surprised, then don't feel bad because I am just as surprised as you are right now. This was something I didn't expect to see and I'm not too sure how I feel about it right now. Sure, Bea has improved a lot and she delivered a great match against Kagetsu but I'm just not sure if she's considered red belt material. The World of Stardom Championship has taken a bit of a back burner ever since Toni Storm won it when Mayu Iwatani was injured but Kagetsu did try her best to help elevate it despite Momo taking most of the spotlight due to beating Io Shirai last year. Despite my feelings on the matter, congratulations to Bea on winning and I hope she actually does well with the title. If Bea can perform like how she did more often, she'll be okay. Congratulations, Bea and I wish you luck.
Rating: Bruce Prichard and a half
Overall: I thought the second half of the tournament was well done and the finals were much better than last year, but we still had plenty of good matches along with the surprise title match I added for after the tournament. May 16th show is shaping up to be a good one.
Favorite Match: Kagetsu vs. Bea Priestley
Least Favorite Match: Konami vs. AZM
Score: 8/10
Mitchell's AEW Women's Title Eliminator Tournament Coverage! (3/1/21)
The US Bracket Finals stand alone!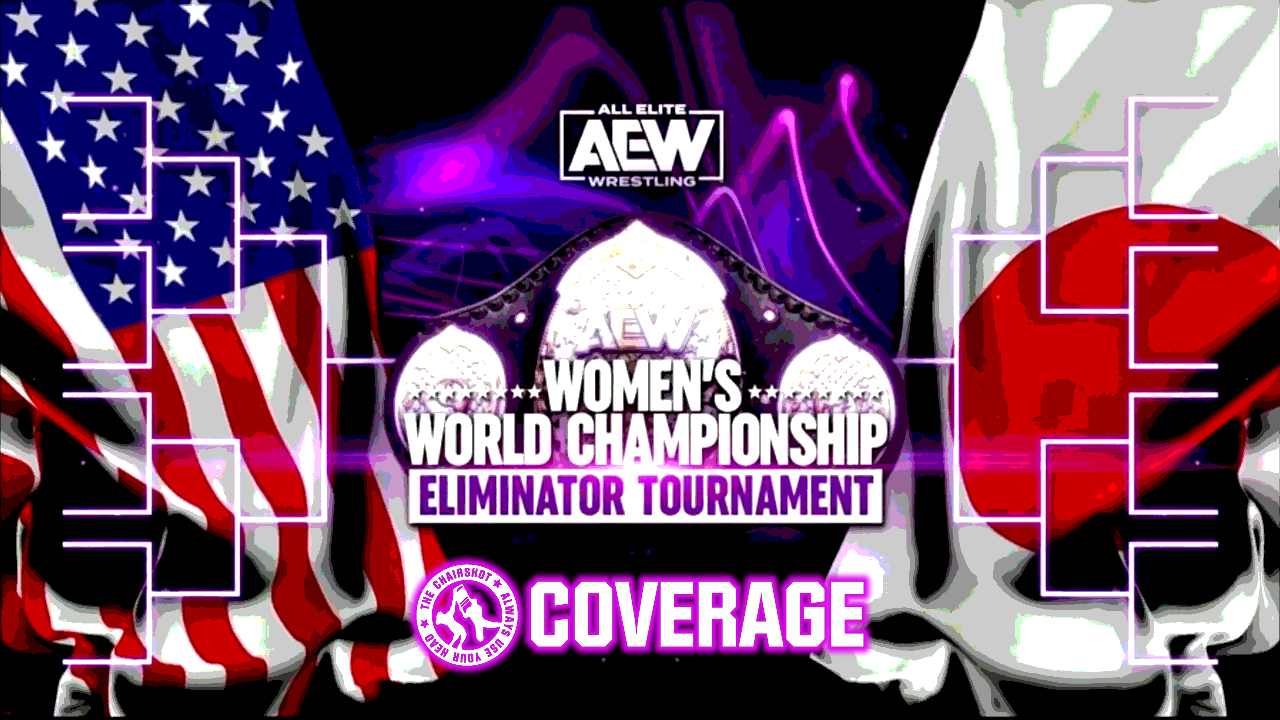 One more step before AEW Revolution!
Before meeting Ryo Mizunami on AEW Dynamite, Thunder Rosa and Nyla Rose must battle! Who meets Aneki as the US Finalist in this tournament?
OFFICIAL RESULTS
Madi Wrenkowski VS Leva Bates; Wrenkowski wins.
Leyla Hirsch VS Miranda Alize; Hirsch wins.
AEW Women's World Title Eliminator Tournament US Finals: Nyla Rose VS Thunder Rosa; Nyla wins and advances to the tournament finals on AEW Dynamite.
PLAY BY PLAY
Madi Wrenkowski VS Leva Bates!
Ms. Reality was a last-minute substitute for Anna Jay, but Britt Baker got the jump on her to kick her from the tournament. Will she make the Librarian face reality in the shadow of the bracket finals?
The bell rings and Madi circles with Leva. Madi grabs Leva's copy of the Young Bucks' biography, and THROWS it at her! Leva gets mad, dodges Madi and SUPERKICKS her out of the ring! Seems Leva's been studying the Bucks' form. Madi staggers and Leva is on the apron, for a CROSSBODY! Leva drags Madi up and into the ring, throws forearms, then whips her to a corner. Madi reverses, runs in but Leva dodges and Madi hits buckles! Leva snap suplexes Madi then hits a NORTHERN LIGHTS! Bridging cover, TWO! Leva keeps her cool as Madi bails out to the apron. Leva taunts Madi, then storms over, but Madi hotshots Leva down! Cover, TWO!
Madi rains down furious fists, drags Leva up and runs to SLIDING LARIAT! Cover, TWO! Madi snarls but she stalks Leva to ropes. Madi fires forearms, whips Leva to ropes, but Leva ducks to CHOP back! Leva bobs 'n' weaves to then ROCK Madi, mule kick and front kick! Madi staggers into a corner, Leva runs in to KNEE her, then ROUNDHOUSE her, then BULLDOG! She's been studying Nick Jackson's combos! Cover, TWO! Leva keeps her cool, takes aim again, and SUPERKICKS Madi again! Then a cradle, TWO! Madi has the cradle now, TWO!! Madi kicks low and hits an X-FACTOR! Cover, TWO!! Leva lives and Madi can't believe it!
Madi goes after the Bucks' book and she starts tearing pages out! Leva trips Madi up to fire off furious fists! Leva will not stand for book abuse! Leva grabs what's left of the book, glares at Madi, but the ref won't let her smack Madi with it. The ref puts the book away, Madi uses one of Leva's other books to CLOBBER her! Cover, Madi wins!
Winner: Madi Wrenkowski, by pinfall
Leva let her love of books get the better of her, and the reality is, Madi wins! Will Madi take this first career and run with it to follow in the footsteps of her teacher, Thunder Rosa?
Leyla Hirsch VS Miranda Alize!
#LEGIT tried but couldn't get to the end of the tournament! But will she rebound against the Princess to be ready on the other side of Revolution?
The bell rings, Alize and Leyla circle, and Alize offers a handshake. Leyla doesn't trust that, so they tie up instead. Leyla throws Alize down, Alize gets up to throw Leyla. They stay locked up and stand back up, and Leyla headlocks. Alize fights out, but Leyla runs her over! Leyla runs, Alize drops down then hurdles, but Leyla leaps over! Leyla arm-drags Alize, Alize arm-drags back! They speed up again, Alize tilt-o-whirl headscissors Leyla out of the ring! Leyla cools off, avoids the baseball slide, and runs back in, into a KNEE! Alize brushes herself off, gets in and runs to corner forearm smash! Alize fires off stomps, the ref counts, but Alize lets off to RAM her shoulder in!
The ref counts, Alize digs her shoulder in but lets off at 4. Alize sweeps the legs, rolls, but Leyla gets up to shotgun dropkick Alize down! Fans fire up with Leyla as she drags Alize up in a corner. Leyla throws big forearms, whips Alize corner to corner, but Alize reverses. Leyla goes up and over and runs to back slide flip Alize for a KNEE! And then a BRAINBUSTER! Cover, TWO! Alize lives but Leyla keeps her cool. Leyla drags Alize up, fireman's carries, but Alize elbows free. Alize shoves, Leyla gets around, but Leyla ripcords to KNEE her down! Alize sets Leyla up, to springboard TORNILLO ELBOW! Cover, TWO!! Alize is furious but fans fire up!
Alize runs at Leyla but Leyla gets the arm for an ARMBAR! Alize taps out, Leyla wins!
Winner: Leyla Hirsch, by submission
That armbar is too legit, Alize had to quit! Will Leyla keep climbing the ladder until she's too legit to deny a title match?
AEW Women's World Title Eliminator Tournament US Finals: Nyla Rose VS Thunder Rosa!
Every rose has its thorn, and every night has its dawn! But in the battle of the Native Beast and La Mera Mera, only one can rise up and go to the true tournament finals! Who takes one step closer to Hikaru Shida and the AEW Women's World Championship?
The bell rings and the two circle. Fans rally up as Rosa and Nyla tie up. Nyla throws Rosa down hard but Rosa shrugs that off. Fans sing Thunderstruck by AC/DC for Rosa as she circles with Nyla. They feel out the grapple, knuckle lock and Rosa gets to a waistlock. Nyla tries to pry the hold apart but Rosa shoves her to a corner. Nyla shrugs that off as Rosa grins, and they go again. Rosa dodges, kicks away on a leg, but Nyla kicks her back. Rosa kicks again, whips, but Nyla reverses and Rosa dodges. Rosa springboards but Nyla catches her! Nyla shifts Rosa around but Rosa slips off to waistlock.
Nyla backs Rosa up into a corner, but Rosa avoids the back elbows! Rosa fires off more kicks, Nyla shoves her and then clamps on a choke grip! Rosa turns the lift into a wheelbarrow and takedown to a KNEEBAR! Rosa also has an ankle lock, but Nyla endures! Nyla powers up and out, but she still hobbles. Rosa goes after that leg, but Nyla clubs Rosa away. Rosa drop toeholds but Nyla stays standing! Nyla jumps but the elbow drop misses! Rosa kicks away on the bad leg, drops elbows down on the knee, then hits a leg DDT! And another! Rosa turns Nyla over for a HALF CRAB! Fans rally as Nyla endures and Rosa sits deep!
Nyla drags herself and Rosa around, and flips the ref off for asking if she's quitting! Nyla gets the ropebreak, Rosa lets go. Rosa runs in but Nyla throws her out! Nyla pursues, hobbling on the bad leg, and she RAMS Rosa into barriers! And then Nyla flips off her fellow wrestlers in the front row! Nyla RAMS Rosa into the apron, stomps her down, but Rosa kicks back. Nyla stomps Rosa, throws her into the ring, and then drags her up to bump her off buckles. Fans rally and duel as Nyla keeps bumping Rosa off buckles. Rosa flops down, Nyla stomps her, then runs to SPLASH! Nyla isn't done there, she turns Rosa over for another SPLASH! Cover, TWO!
Nyla is annoyed with Rosa, and she stomps away! Fans still sing for Rosa but Nyla chinlocks and digs a knee in. Rosa fights back but Nyla clubs her on the chest! Nyla bends Rosa back against her knee, but Rosa endures, so Nyla hits a BACKBREAKER! And another BACKBREAKER! Nyla covers, TWO! Rosa throws body shots, Nyla elbows her down! Rosa fires body shots, Nyla CLUBS her down! Nyla whips Rosa to a corner, then runs in, but Rosa moves and Nyla POSTS herself! Fans fire up as Rosa goes after Nyla but Nyla ROCKS her! Rosa blocks the buckle bump to fire off haymakers! Rosa bumps Nyla off buckles and Nyla falls to the floor!
Rosa goes to the apron, takes aim as Nyla stands, and hits a BIG CROSSBODY! Rosa leaves Nyla behind while the ref checks on her. Nyla is okay to continue, fans sing for Rosa again, and Rosa refreshes the ring count. Nyla manages to stand as the ring count starts again, and she SLAMS Rosa on the apron! Nyla gets back in, brings Rosa around and hits a BIG back suplex! Cover, TWO! Nyla drags Rosa up, reels her in and hits a BACKBREAKER! Nyla presses Rosa against her leg, then brings her up for another BACKBREAKER! Rosa fights back with haymakers and is free! Rosa runs, but into Nyla's URENAGE! Cover, TWO!! Fans fire up while Nyla grows frustrated!
Nyla puts Rosa in a drop zone, climbs up the corner, but Rosa gets up! Rosa YANKS Nyla off the corner! Nyla may have clipped buckles on the way down and now a standing count begins. Rosa has fans rallying behind her and Rosa stands at 6. Nyla follows, they're in opposite corners, but Rosa runs in for the A-LIST LARIAT! SWINGING METEORA! Rosa fires up, runs corner to corner again, and BASEMENT DROPKICKS! Rosa fires up even more and she climbs again! Fans fire up with her, and she leaps, for a BIG missile dropkick! Cover, TWO!! Nyla is still in this but Rosa isn't giving up just yet!
Rosa drags Nyla up, reels her in, but her back won't let her suplex. Nyla CLUBS Rosa, reels her in, and hangs her out to dry on the ropes. Nyla goes to the corner, her bad leg slows her down, but she gets up to the top. Nyla leaps for the GUILLOTINE KNEE! Cover, TWO!! Rosa survives and Nyla can't believe it! Fans are thunderous for this, and Nyla drags Rosa up. Rosa resists the bomb and Nyla's leg gives out! Rosa manages a fireman's carry?! DEATH VALLEY DRIVER!! Cover, TWO!?! Rosa can't believe Nyla survives! Rosa drags Nyla up again, but Nyla wrenches out to waistlock. Rosa fights off the lift, wheelbarrows and STUNNERS! Then DANGEROUS SAIDO! Cover, TWO!!!
Fans are going nuts with how close that was! But Rosa goes to a corner and powers herself up the ropes! Rosa reaches the top, Nyla stands back up, Rosa LEAPS, into a BEAST BOMB!! Cover, Nyla wins!!
Winner: Nyla Rose, by pinfall (advances to the tournament finals)
Thunder Rosa tried to strike like lightning, but she was the one who got Thunderstruck! The Native Beast meats Aneki this Wednesday, but who will be going to Revolution?
---
My Thoughts:
Not bad for just half an hour, but I'm oddly disappointed the entire half hour wasn't just Nyla VS Rosa. The AEW Dark bonus matches put on here were, well, typical AEW Dark matches. Leyla winning is good for her, she is a very promising talent, and Madi getting her first AEW win here was cool for her. One thing I did like about that match was that Leva Bates was trying to use the Bucks' moves to help her. I hope that is her thing for a little bit, that'd be pretty great if Leva became like a big Young Bucks fan and started looking impressive because of their moves in her arsenal.
The US Bracket Finals was a really good match for being just under 15 minutes, but again I kinda would've liked if they'd gotten maybe 20 minutes. I suppose one thing is that Rosa VS Riho just happened yesterday, 2/28, so maybe that could be a reason at least in kayfabe. I thought Rosa was going to win, but Nyla winning does follow with what I was feeling about giving us a rematch with Shida from Double or Nothing. Me predicting Nyla winning doesn't change that Nyla VS Ryo Mizunami is going to be a lot of fun, though, as both are about power and strikes, but it maybe seemed more unpredictable if it was Rosa VS Ryo.
My Score: 8/10
Mitchell's WWE Raw Results & Report! (3/1/21)
Will the world champion still be awesome?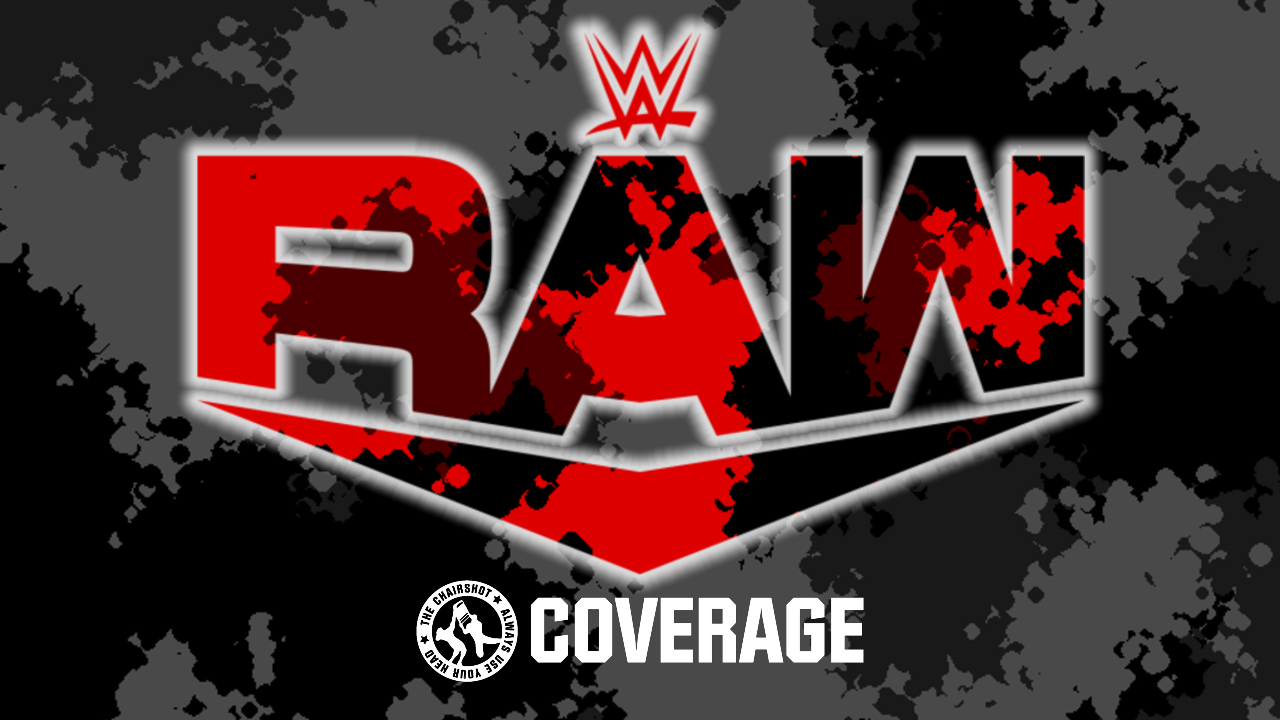 Raw puts gold on the Road to WrestleMania!
The Miz made a deal and Bobby Lashley is here to collect! Will Lashley take the WWE World Championship from Miz and keep him from WrestleMania?
OFFICIAL RESULTS
Drew McIntyre VS Sheamus; McIntyre wins.
Naomi w/ Lana VS Nia Jax w/ Shayna Baszler; Jax wins.
WWE World Championship: The Miz w/ John Morrison VS Bobby Lashley w/ MVP; postponed until later tonight.
Braun Strowman & ??? VS The Hurt Business; changed to…
Raw Tag Team Championships: The Hurt Business VS Braun Strowman & Adam Pearce; The Hurt Business wins and retains the titles.
Damian Priest w/ Bad Bunny VS Elias w/ Jaxson Ryker; Priest wins.
WWE World Championship (Take 2): The Miz w/ John Morrison VS Bobby Lashley w/ MVP; Lashley wins by count-out, Miz retains the title.
Charlotte Flair VS Shayna Baszler w/ Nia Jax; Charlotte wins.
Six Man Tag: Matt Riddle & Lucha House Party VS Retribution; Riddle & LHP win.
Matt Riddle w/ Lucha House Party VS Mustafa Ali w/ Retribution; Ali wins.
WWE World Championship Lumberjack Match: The Miz w/ John Morrison VS Bobby Lashley w/ MVP; Lashley wins and is the new WWE World Champion.
PLAY BY PLAY
Drew McIntyre goes to the ring!
Not only is the Scottish Warrior back, he and the Celtic Warrior are finally having it out 1v1! It would've been for the world title if WWE management didn't throw in the Elimination Chamber, but it can still be decisive! But first, McIntyre gets a mic and says, "It's been a real bitch of a month for ol' Drew McIntyre." Where to begin? How about Sheamus, his former friend? 20 YEARS of friendship, severed by Sheamus stabbing McIntyre in the back. McIntyre still doesn't get why, but stay tuned as they beat each other in an absolute war!
Then, Elimination Chamber. McIntyre went in WWE Champion, odds stacked against him, but he outlasted 5 former champions and won! But he didn't see what came next coming: Lashley struck and kicked McIntyre's ass. Then the resident roach, The Miz, cashed in his Money in the Bank contract. "The frickin' Miz is WWE Champion…" WrestleMania is 40 days and 40 nights away. Something about that is appropriate.
But McIntyre's mission is simple: get back to the WWE Championship and main event WrestleMania! McIntyre didn't win the title in the PC, charge into the ThunderDome, defend the title again and again and make it THE championship in the WWE again to get screwed a the finish line! Whoever wins tonight has the biggest target on their back, trust McIntyre on that. As for "buddy Sheamus," let's get to it! What else is left to say? But here comes The Miz first! McIntyre admits he could use some last minute motivation.
John Morrison and Miz are here, and Miz wants the introduction to remember! He needs official introduction as… "The current WWE Champion~! THEEEE MIIIZ~!" And pyro, too! A lot of it! Now that's more like it! Miz overheard McIntyre just now and he admires how McIntyre's dignity and class. Just like a true former champion! Everything that happened was out of McIntyre's control. Once "the greatest superstar of his generation," the Miz became Mr. MITB, it was only a matter of time before he cashed in and became champion! McIntyre "congratulates" Miz and wants a "big hug." Miz says no thanks, he knows he isn't McIntyre's favorite person.
But thinking about it, why is McIntyre upset with Miz? Would you be upset with an eagle flying in the sky? Or a dolphin swimming in the sea? No! Then why be upset with Mr. MITB cashing in at the right time? That's just what they're going to do! Blame the one and only person that is at fault: Bobby Lashley! Miz may be a master manipulator but it won't work on McIntyre. Miz can handle Lashley alone. And if Miz survives somehow, then he's McIntyre's problem.
How dare you, Drew? Miz claims he didn't want help from Lashley. He's the real victim! Miz is a husband and father with two little baby girls. Lashley threatened Miz's well-being! He had to make a deal! And because of that, Lashley now has his title match! Think about this: Why would someone like Lashley get the first opportunity at the title, and not someone more deserving like former champion, McIntyre? Because of Lashley! So let's all work together! Miz, Morrison & McIntyre, the 3 M-migos! They have endless potential and- Here comes MVP.
Is this the beginning of a new, beautiful business relationship? Or the pathetically ramblings of a desperate man? Is McIntyre taking this seriously? MVP knows McIntyre well enough that just like how McIntyre rejected MVP's help, he doesn't want nor need anyone's help. McIntyre says that now, but nothing changes the fact that Miz and Lashley step in the ring, and Lashley becomes WWE World Champion. Oh, and MVP almost forgot the real reason he's out here: Miz VS Lashley for the title will begin promptly at 9 PM Eastern time. In less than one hour, Lashley will absolutely destroy the Miz. Miz says Lashley is a menace! McIntyre needs to help them put an end to this!
But here comes Sheamus! Miz is wasting his breath because McIntyre only cares about himself! And that's okay, because after Sheamus is through with him, McIntyre can't help anyone else! Well the time for talk is over, let's fight! McIntyre and Sheamus rush each other at the ramp! They brawl back to ringside, the refs hurry out to stop this! This has to be a match, not a brawl! This is not so easy to stop, though! McIntyre CLOBBERS Sheamus over barriers then goes back to the ring! Sheamus doesn't stay down long but refs keep him back so he can cool off! This match will begin, after the break!
Drew McIntyre VS Sheamus!
Raw returns and the bell rings, with these two scrapping again! The ref backs McIntyre off but Sheamus goes after him in the other corner! The ref has to back Sheamus off, but McIntyre puts Sheamus in the corner to CHOP! McIntyre throws haymakers and CHOPS, then whips him to ropes. McIntyre elbows Sheamus down, covers, ONE, but McIntyre stomps Sheamus in a corner. Sheamus kicks and clubs McIntyre back, reels him in and LARIATS! Sheamus hops up the corner and leaps for a BIG knee drop! Cover, ONE! Sheamus clamps onto McIntyre's arm and grinds an elbow into McIntyre's neck.
McIntyre endures, fights up, and throws body shots. McIntyre kicks, snap suplexes, then drags Sheamus up to BOP him in the face! McIntyre stomps Sheamus, drags him up in a corner and throws more haymakers. McIntyre whips Sheamus corner to corner, hauls him up, but Sheamus gets a leg to trip McIntyre. Sheamus stomps McIntyre hard in the stomach and again! Sheamus drops a knee right on McIntyre's ear! Sheamus clamps on with a chinbar and armlock but McIntyre endures. Sheamus grinds his forearms into McIntyre's face, throws his elbow in over and over, and wants to re-fracture the jaw! Cover, TWO!
Sheamus looms over McIntyre and KICKS him in the chest! Sheamus headlocks, McIntyre powers Sheamus to ropes and has him stuck in the ropes to throw haymakers! McIntyre turns Sheamus around to steal the Beats of the Bodhrain! McIntyre finally lets off of Sheamus but has to clutch his jaw. Sheamus throws McIntyre out through ropes! McIntyre gets on the apron but Sheamus kicks him low! They brawl with the ropes between them but Sheamus ROCKS McIntyre, and gives him clubbing forearms to the lower back! Then Sheamus stands McIntyre up, but McIntyre elbows free of the Bodhrain!
Sheamus KICKS McIntyre low, then BROGUES him off the apron! McIntyre goes down and Raw goes to break!
Raw returns again and Sheamus elbows away on McIntyre's head and shoulders! Sheamus digs his knee in and clamps onto the arm again. McIntyre endures, fights free, and throws body shots. McIntyre CHOPS, CHOPS, and swings, into an IRISH CURSE BACKBREAKER! Cover, TWO! Sheamus looms over McIntyre again, stomps him on the back, then pulls him back against a knee with fish hooks! The ref reprimands and counts, Sheamus lets go but smirks as he watches McIntyre crawl. Sheamus stomps McIntyre, kicks him around, and has McIntyre on ropes. Sheamus chokes McIntyre but lets off at the ref's count, to then KICK McIntyre down!
Sheamus drops knees at the rope, and then digs the knee into the jaw! The ref counts, Sheamus lets off again, but he kicks McIntyre to the apron. Sheamus stands McIntyre for Beats of the Bodhrain! He lets off at the ref's count and McIntyre flops back in. McIntyre sits up to SLAP Sheamus, so Sheamus SLAPS him! They SLAP each other back and forth, Sheamus kicks low and whips him corner to corner! McIntyre comes back to CLOBBER Sheamus! McIntyre starts to rally, whips Sheamus again, and OVERHEAD SUPLEXES! Sheamus staggers up into another clinch but he grabs a rope! The ref counts, McIntyre lets off to clothesline Sheamus out!
McIntyre hurries after Sheamus but Sheamus trips him on the apron! Sheamus pushes McIntyre but McIntyre POSTS Sheamus! And then OVERHEAD SUPLEXES Sheamus at the announce desk! That was not the best landing but McIntyre doesn't care for mercy! A ring count starts, McIntyre is back in 5 of 10 but goes out to fetch Sheamus. McIntyre drags Sheamus over and gives him a FALCON ARROW to the announce desk! Technically a better landing, but McIntyre puts Sheamus in the ring. McIntyre climbs, aims, and leaps to FLYING CLOTHESLINE! Cover, TWO!! Sheamus survives all of that but McIntyre keeps his focus.
McIntyre drags Sheamus up, underhooks the arms, but Sheamus fights that off to CLOBBER McIntyre! Sheamus goes to a corner, catches his breath, and skins the cat up to the top rope. But McIntyre kips up!? And hits a FLYING GLASGOW KISS! Sheamus wobbles, McIntyre climbs up, SUPER OVERHEAD SUPLEX!! Cover, TWO!?? Sheamus survives, both men are down, and Raw goes to break!
Raw returns again and the two are brawling on their knees! They CHOP, haymaker, CHOP again, and repeat! McIntyre gets the edge with CHOPS, but Sheamus reverses the whip to fireman's carry! McIntyre manages to sunset flip, TWO! McIntyre SPINEBUSTERS Sheamus down! Jackknife cover, TWO! Both men head for each other again, but McIntyre gets the underhooks. Sheamus RAMS McIntyre into a corner, McIntyre elbows him back, but Sheamus KNEES McIntyre down! Cover, TWO!! Sheamus fireman's carries for WHITE NOISE! Cover, TWO!?! Sheamus doesn't stop, he goes for legs! McIntyre cradle counters, TWO! Kick and FUTURE SHOCK!! Cover, TWO?!?
Both warriors are down, but McIntyre sits up while Sheamus goes to a corner. Both men slowly stand, fans rally on the ThunderDome screens, and McIntyre runs, but Sheamus bails out! McIntyre gets Sheamus at the apron but Sheamus hotshots and then reverse hotshots! McIntyre falls but Sheamus climbs. Sheamus drags McIntyre up, throws some hands, then clubs McIntyre on the back over and over. McIntyre throws body shots back and then another headbutt! McIntyre fireman's carries Sheamus, shifts him around, and McIntyre hits a SUPER WHITE NOISE!! Cover, TWO!?!? McIntyre stealing and upgrading Sheamus' move didn't finish this!?!
McIntyre sits up first, but Sheamus follows. McIntyre shakes his head as he brings Sheamus around. He reels his old friend in, underhooks again, but Sheamus fights it! Sheamus spins through, shoves McIntyre at a corner, but McIntyre goes up! Sheamus catches him, KICKS him, and hits an ALABAMA SLAM! Sheamus covers, TWO!!! McIntyre survives Sheamus stealing one of his favorites! Sheamus goes to another corner, drags himself up, and McIntyre slowly rises. Sheamus aims, runs in, but into a CLAYMORE!?!? Cover, McIntyre wins!!
Winner: Drew McIntyre, by pinfall
It was a split second, but the Scottish Warrior outdraws the Celtic! Will this settle things between these now bitter rivals? Will McIntyre make his way back up the mountain on the Road to WrestleMania?
Naomi crosses paths with Nia Jax backstage.
Tonight, these two will battle before their teams have it out for the tag titles, and that is up after the break!
Naomi w/ Lana VS Nia Jax w/ Shayna Baszler!
The #RavishingGlow is waiting on a WWE Women's Tag Team Championship match, but they might not even be facing the Irresistible Force & Queen of Spades for them! This Wednesday, Nia & Shayna defend against the inaugural Women's Dusty Cup winners, Dakota Kai & Raquel Gonzalez! Will Nia use Naomi to build momentum towards that match?
The bell rings and Naomi rushes Nia, Nia pops her up but Naomi throws hands! Naomi runs but gets run over! Nia toys with Naomi, then TOSSES her! Naomi gets to a corner, Nia is on her and wants her to feel Nia's glow! Nia pulls hair, the ref reprimands, but Naomi SLAPS Nia! Nia shoves Naomi, but Naomi boots back! Naomi pushes Nia into buckles then hits a RUNNING JAWBREAKER! Naomi fires off, Nia shoves her and elbows her! Nia whips, elbows her again, then brings Naomi up for a bearhug! Naomi endures the squeeze, Lana rallies for her, and Naomi throws elbows. Naomi slips up and around to sunset but Nia drags her up for a headbutt!
Nia drags Naomi back up, fireman's carries, and hits a SAMOAN DROP! Nia glares at Lana and taunts her about what's happening to her tag partner. Nia drags Naomi back up, lifts, choke grips, and CHOKE BOMBS! Cover, Nia wins!
Winner: Nia Jax, by pinfall
A dominant win, and perhaps a message to #CobraKai & #BigMamiCool. But will Nia be able to slam Raquel the same way? Will Shayna be able to bully Dakota like she did in the past? Or will the Women's Dusty Cup winners change the whole landscape?
WWE World Champion: The Miz w/ John Morrison VS Bobby Lashley w/ MVP!
This is the moment of truth! The Hollywood A-Lister needs to put up or shut up! Will 16 years of waiting finally all pay off for the Chief Hurt Officer? Or will Miz have another way out of this?
Miz does make us wait on his entrance. Is he chickening out? The music finally hits, Lashley is chomping at the bit, but Miz does not walk out onto the stage. MVP asks what's going on. Miz is backstage and is claiming his stomach hurts! Adam Pearce asks what's going on, but Miz says he has stomach cramps. Miz claims he can't even walk. Morrison says something could be wrong! Pearce says Miz is champion, he has an obligation! And Lashley rushes back up the ramp! Miz claims he's endured so much pain in the past, but he just needs more time. TOO LATE! Lashley grabs Miz! They're going to have this match, and Lashley will beat Miz's ass to take the title!
Lashley throws Miz down and Morrison shouts for towels. Pearce says excuses or not, Miz is having this match, even if someone has to drag him out to the ring! Miz has one more hour now, but will nothing change for Miz's lack of intestinal fortitude?
Braun Strowman goes to the ring!
The Monster Among Men is seething, but he has a battle with the Hurt Business' Shelton Benjamin & Cedric Alexander! But who is joining Braun in that battle? We'll see, after the break!
Braun Strowman & ??? VS The Hurt Business!
Raw returns and Braun wants to address something that's blatantly obvious. Pearce and Shane O'Mac have something against Braun! He gets suspended for a headbutt, then is kept out of the Elimination Chamber just for not being a world champion. But watching the PPV at home, the PPV sucked without him! Now he has to be part of a match and has no idea who his partner is! Shane is having a laugh at Braun! But they don't understand how pissed off Braun is! If things keep going this way, things will be really, really-
Shane O'Mac is here! Pearce and Shane both go to the ring as Braun seethes, and they tell him to relax. Shane isn't laughing at Braun. But clearly, Braun's inability to reach his own personal goals is, well, messing him up. Braun is angry and upset, so Shane is going to help him. Shane likes helping people. Shane's helping himself by taking an MBA course. One subject that is interesting is conflict management. According to the class, which is above Braun's reading level- Relax, Shane is joking! But the key to conflict resolution is communication. That is what this match tonight is about. If Braun thinks it was Pearce who made this match, he's wrong. It was Shane.
Shane knows that Braun needs to work with WWE management. And the only way to do that is to be forced to work with management. That is why Braun is teamed up in a match with WWE management. Wait, what does that mean? Is Shane his partner? Well let's not get ridiculous here. Shane says that, as far as he is concerned, the only person Braun has a conflict with is his partner tonight, and that's Adam Pearce. Looks like that's news to Pearce. Braun actually HATES that idea. Oh don't be so close-minded! Pearce is a skilled wrestler! He and Braun can do great things working together!
But part of conflict resolution is the reward. They will team up and fight for the RAW TAG TEAM CHAMPIONSHIPS! Braun says that is good. But he promises Shane if Pearce screws up, he'll #GetTheseHands! And then Braun grabs Pearce to make sure he understands! Shane says Braun needs to calm down! The advertised match now has higher stakes! Will Braun and Scrap Daddy work together long enough to win gold together?
Raw Tag Team Championships: The Hurt Business VS Braun Strowman & Adam Pearce!
Raw returns and the Hurt Business make their entrances. They don't look happy about this sudden change at their expense, but will they get the literally biggest win in their reign yet?
The introductions are made, the belts are raised, and this last minute defense begins!
Braun starts and he BULLDOZES the Hurt Business! Strowman clotheslines Benjamin out then runs Alexander over! Strowman TOSSES Alexander out and he crashes into Benjamin! Braun goes out and starts down the track! The Strowman Express BLASTS the Hurt Business! Braun puts Alexander in, storms over and whips him out only to return him HARD into the corner! Braun drags Alexander out to reel him in and LARIAT! Alexander writhes but Braun stomps Alexander down! Braun stands on Alexander's body for a cocky cover, ONE. Braun stomps Alexander more, puts him in a corner, and then TOSSES him across the way!
Braun glares at his reluctant tag team partner, and then he goes after Alexander to TOSS him back the other way! Braun takes aim, Alexander gets up, and Braun runs in, only for Benjamin to make the save! Braun POSTS himself! Benjamin tags in, Alexander runs and dropkicks the legs out! Benjamin runs to STEP-UP KNEE! The Hurt Business mugs Braun but he explodes out! Braun DECKS Alexander, and scoops Benjamin for the MONSTER SLAM!! Shane says Braun should tag Pearce!? Both Pearce and Braun are confused, but Braun tags Pearce in anyway! Pearce covers, but Benjamin cradles, the Hurt Business wins!!
Winners: The Hurt Business, by pinfall (still Raw Tag Team Champions)
Shane insisting on teamwork screwed Braun over! Braun is furious with "puppet master" Shane and promises to wreck the ThunderDome! Shane keeps quiet, will he stop trying to meddle in the Monster's life?
Damian Priest and Bad Bunny talk backstage.
But Elias and Jaxson Ryker walk over. Just the two guys they were looking for! The Drifter knows he has a match with Priest, but there is mutual respect here. Elias has a proposal for Bunny. Bunny is listening. Well only a handful of people know what it's like to be at the top of the music charts and change the world. Not just change, but inspire! Yes, Ryker is just one of millions! Now, Elias doesn't expect anyone to touch the dominance of Universal Truth, but Bunny is on his way to the musical pinnacle. Bunny has so much potential, and that is where Elias comes in. Picture a duet single and turn the music industry upside! If you thought people cried tears for the Beatles, just wait and see what happens for Elias & Bunny!
Well, his people will call Bunny's people, and it'll be great. Bunny whispers to Priest that Elias is loco. Priest tells Elias that Bunny said no. Will Elias handle this rejection well? Or will he try to make Priest #DriftAway?
Ladies and Gentlemen: Elias.
The Drifter introduces himself, and has Ryker in the ring with him as he plays his guitar. Elias introduces Ryker, and says before the match with Priest, Elias wants to enlighten the WWE Universe about the "biggest travesty in the music industry today." Universal Truth was SNUBBED from the Grammy's! Elias is outraged! It's like if Tom Brady was excluded from the ESPY's! But right now is a great time to remind everyone, especially Bad Bunny, that WWE stands for, "WALK WITH ELIAS!" But Elias is interrupted by Bad Bunny!
Damian Priest w/ Bad Bunny VS Elias w/ Jaxson Ryker!
The WWE 24/7 Champion accompanies the Archer of Infamy again and have been a hard hitting duo as of late! Will they drop another hit as Priest hits Elias? Or will Elias leave Priest and Bunny singing the blues?
The bell rings, the two circle, and Priest ties up with Elias. Priest powers Elias to ropes but Elias turns it around. They end up in a corner, Priest turns it around on Elias but the ref counts. Priest backs off at 4, Elias checks his face, and the two reset. They tie up again, Elias goes after an arm but Priest resists. Priest chinbars, Elias wrenches through, but Priest spins to wrench and wrench and wristlocks back. Elias gets the ropebreak, the ref counts, and Elias gets to the apron. Priest waits for Elias and Elias returns, to tie up with Priest again. Priest gets Elias' arm, cranks on it, but Elias reaches for a leg. Priest cranks on the hold but Elias fights up, so Priest goes back after the arm.
Elias uses forearms to push Priest but Priest cranks the arm. Priest wrenches again, has the wristlock, but Elias throws another forearm. Priest twists the wrist again, but Elias hits low and hard. Elias is after Priest on the ropes, whips him but Priest kicks Elias away! Priest dodges and leaping elbows! And windmill kicks! Elias staggers, Priest clotheslines him out! Elias bumps into the announce desk, Bunny gives him a look, and the ring count climbs. Elias gets back up as he clutches the arm, takes his time to talk trash to Bunny, and Raw goes to break.
Raw returns and Elias and Priest go around the ropes again. Elias headlocks, Priest endures the grind, and Priest powers up to power out. Elias runs Priest over, things speed up, and Priest hurdles to arm-drag Elias down! Priest clamps onto Elias with an armlock and digs a knee into Elias' head. Elias endures, fights up, and Priest cranks on the arm. Elias pulls hair, CHOPS free, then kicks. Priest kicks, headbutts but Elias throws forearms. Priest knees, Elias CHOPS, kicks and whips! Priest dodges the knee to arm-drag again! Priest is back to the cording hold and he grinds Elias down! Elias endures, fights his way up, and gets the ropebreak.
Priest lets go at the ref's count, but Elias turns things around! Elias has Priest in the ropes and YANKS him into a hotshot! Priest scrambles to a corner but Elias fires off with stomps and body shots! The ref counts, Elias lets off at 4, but comes back to BOOT Priest down! Priest sputters as Elias drags him to the apron and SLAMS him on the edge! Bunny grows worried as Elias dribbles Priest on the apron! And KNEES him into the corner! Priest staggers, Elias gets in and CLOBBERS him! Cover, TWO! Bunny is relieved and he coaches Priest, but Elias has Priest in a corner again. Elias BOOT WASHES Priest again! Ryker is there to taunt Priest as Elias digs his boot in, but the ref counts.
Elias lets off at 4, drags Priest up and throws forearms. Elias taunts Bunny and Ryker gets a cheap shot in! Cover, ONE!! Elias grows annoyed with Priest, but Ryker is confident in Elias. Elias drags Priest up but Priest grabs at Elias. Elias knees Priest in the back and wraps on a thrashing chinlock! Priest endures as Elias grinds him down, and Priest fights his way up. Elias wrangles Priest back down, covers, TWO! Elias clamps right back on with the chinlock and he grinds Priest again. Priest grits his teeth as he endures, but Elias claws at Priest's face! The ref reprimands, Elias sticks to the chinlock, but fans and Bunny rally up for Priest!
Priest fights up, pries the hold apart, and he arm-drags Elias to a corner! UPPERCUT! Elias staggers, Priest seethes, and Priest deflects punches with forearms! Elias runs into a kick, kick and ROLLING ELBOW! Then the LARIAT! Bunny fires up and Priest stomps the mat. Priest runs corner to corner for the LEAPING BACK ELBOW! Priest brings Elias up, BROKEN ARROW! Cover, TWO!! Elias lives but Bunny tells Priest to finish this! Priest agrees, but Ryker hops up on the apron. The ref tells Ryker to get down, but Elias rolls Priest up! TWO, and Priest drags Elias into a body scissor! Cover, TWO! Priest is sent to the apron, but he aims at Elias, to ROUNDHOUSE!
Priest climbs the ropes and leaps, into Elias' KNEE! Cover, TWO!! Priest survives and Elias can't believe it! Bunny paces as Elias drags Priest back up. Elias reels Priest in, but Priest spins out to kick! Elisa ducks, drags Priest back but Priest turns it around to waistlock! Elias switches and RAMS Priest into buckles! Elias fires off on Priest's lower back! The ref counts, Elias Electric Chair lifts, but Priest fights free! BELL CLAP! ROUNDHOUSE! Then the dragon sleeper, HIT THE LIGHTS!! Cover, Priest wins!
Winner: Damian Priest, by pinfall
Bunny is fired up that Priest silences Elias! Ryker helps get Elias away, will Elias have inspiration for a new sad song?
Miz and Morrison head back to gorilla.
Miz takes deep breaths more from both his nerves and his "stomach problems." But will Miz have the nerve to stand Lashley up again? Or will he have the guts to go out there and face the Rocky Mountain Machine?
Backstage interview with Randy Orton.
The Viper has been having increasingly disturbing experiences since facing The Fiend. Orton isn't sure what that was last week, but he knows Alexa Bliss is to blame for the black ink in his mouth. Orton relives that moment by watching the replay package, and says that unless Alexa want to end up like The Fiend, he suggests she move on with her life and stay out of Orton's. Otherwise, there won't be any compassion. Wait, Alexa is on the screen and she has a very scary jack-n-the-box. She says Orton is being so silly. And then she plays with the jack-in-the-box, whispering, "Bring him back."
Well, before they can, there's something Orton should know. She laughs, and we cut to a very dark hallway… A hooded figure walks up, and it's RANDY ORTON!? But Orton's right here!! "Randy… This doesn't end on your terms. Soon, you will come face to face with everything that you have ever done." Fiend Orton laughs, and the real Orton coughs and chokes again! What is happening to The Viper?!
WWE World Championship: The Miz w/ John Morrison VS Bobby Lashley w/ MVP!
It's time again, and this time the Miz is sent out first! Will the Most Must-See WWE Champion be able to relax as he faces a brutal beating from Lashley? Or will his stomach turn and cause him to turn tail anyway?
The introductions are made, but Miz wants a mic! Miz says Lashley is a professional, Miz is a professional, they can talk about this! MVP gets riled up but Miz says if MVP is a businessman, they can talk business! Lashley has waited almost 17 YEARS to be WWE World Champion! But this isn't the stage! This isn't the place for that moment! Lashley needs to do it at the Grandest Stage of Them All! Think about it! Miz VS Lashley in the main event! They weeks that fans will want this match! What do they say? MVP says Miz is getting his ass kicked now. The introductions finish, the belt is raised, and whether Miz likes it or not, this match finally begins!
And Miz bails out! Miz wants to run away with his belt! Champion's Advantage, after all! Miz sprints up the ramp! Lashley is conflicted, but he doesn't chase after! The count is 10, Miz loses!
Winner: Bobby Lashley, by Count-Out (Miz retains the WWE World Championship)
MVP and Lashley are furious that Miz pulled another fast one on them! The Hurt Business heads to the back, will they put a hurting on Miz for that one?
Lashley and MVP complain to Shane!
Shane says he his mad, but technically the match happened and Lashley didn't really get a win. But there WILL be a proper match tonight. MVP says this is BULLSHIT! Is this how Shane runs things? Shane says MVP he is considering his options. If Miz backs out again, Miz will be stripped of the title, and maybe the title will be handed over to Lashley. Lashley just wants to find Miz so he can beat the piss out of him. Shane says they're searching. Will Miz even stay in the building? Or will Shane's considerate threat be enough to force Miz's hand?
Charlotte Flair goes to the ring!
The #QueensOfTomorrow fell apart and didn't get their redemption on the WWE Women's Tag Team Champions. But Charlotte told her father how she felt, and has hopefully put everything behind her. Will she stand tall against the Queen of Spades tonight?
But first, Charlotte gets a mic. "I'm gonna be honest. The last few weeks have been an emotional roller coaster." Charlotte comes back from injury to be a tag team partner. She didn't want to be around the Raw Women's Championship because Asuka busted her ass these last six to seven months. Charlotte just wanted to kick ass alongside someone she respects. But then she got tangled up with Ric Flair and Lacey Evans, and now Charlotte thinks, "We are six weeks away from WrestleMania!" The biggest show of the year! Bianca Belair is challenging Sasha Banks for the SmackDown Women's Championship, which is exciting!
But Charlotte is wondering, who is facing Asuka? Who will challenge for the Raw Women's Championship? Charlotte thought and thought, and her true colors are gold! She wants the title and Asuka at Mania! But sadly, Asuka is home with an injury. That was from getting a kick to the face and a tooth flying out because of Shayna! No one knows Asuka like Charlotte does, and Asuka will come back stronger because that's who she is as a fighting champion! And when Asuka comes back, Charlotte will… be interrupted by Shayna.
Shayna tells Charlotte that, "All this talk about focusing on yourself, what else is new?" Charlotte may be "The Queen," but she is fighting an uphill battle as an army of one. Shayna suggests Charlotte just remain partners with Asuka, but again Shayna is the reason Asuka no longer has teeth. And unfortunately for Charlotte, Shayna and Nia are the most dominant force in the WWE! This is now the Road to WrestleMania Charlotte is accustomed to. Charlotte could benefit from some help! Nia says it's a shame Charlotte sent daddy home, since the locker room wishes Charlotte went home instead. No one here likes her!
And what makes Charlotte thinks she gets to walk the yellow brick road paved with poppies, titles and Asuka? Nia hates to break this to Charlotte- No, wait, she LOVES to break this to her: The power in the division has shifted. Get it in your head that it will be Shayna, or more likely Nia, that challenges Asuka when and if she returns. Charlotte has a pretty smile, does she want to have this match? Highly doubtful she'll be back on Punky Brewster after this. Nia is probably right, the roster probably doesn't want Charlotte around. But here she is! But Charlotte doesn't have to talk about how she's dominant and the best. No one calls her the greatest or the best, but simply "Charlotte Flair."
Nia storms up to the ring, and Shayna gets in. Queen and queen stand face to face, and Charlotte throws haymakers! Nia CLOBBERS Charlotte, drags her around, and Shayna helps stomp Charlotte down! They pull Charlotte's robe away and they mug Charlotte more! Nia DROPS THE LEG! Is this match even going to happen? We find out after the break!
Charlotte Flair VS Shayna Baszler w/ Nia Jax!
Raw returns and the match is underway! Shayna fires off on Charlotte in the corner, CLUBS her down then kicks her legs! Shayna gut wrenches and SLAMS Charlotte down! Cover, TWO! Shayna drags Charlotte up, twists the wrist and bends the arm around, but Charlotte endures. Charlotte throws forearms but Shayna twists the arm more! Lana and Naomi watch backstage as Shayna chicken wings Charlotte's arm in the double wristlock! Charlottes fights back, and FLAPJACKS Shayna down! Charlotte and Shayna stand and start throwing forearms and kicks! Shayna fires off and then gut wrenches again, only for Charlotte to get under and back drop Shayna over!
Charlotte waits for Shayna to stand and she CHOPS away in the corner! Charlotte CHOPS, forearms, and repeats, to then scoop and EXPLODER! And kip up! Shayna stands but gets more CHOPS! Charlotte has Shayna in a corner, puts the leg up and JAMS it! Then CHOP BLOCKS it! KNEE JAMMER! Nia distracts but Charlotte DECKS her! Shayna tries to roll Charlotte but Charlotte stomps her down instead! Charlotte has the leg, but Shayna kicks her out! Shayna distracts the ref, Nia runs in, but Charlotte sends Nia into steel steps! Charlotte gets in but Shayna KICKS her! KIRAFUDA KLUTCH!!
Charlotte reaches, gets around, and slips out to STOMP the bad leg! NATURAL SELECTION! Cover, Charlotte wins!!
Winner: Charlotte Flair, by pinfall
The Queen survives and perhaps hurts Shayna's and Nia's chances of retaining their tag titles!
Shane and Pearce talk in Shane's office.
Shane wants him tot ell Lashley that it's official: if Miz doesn't show for the third try, Miz is STRIPPED of the title, and it will be awarded to Lashley. Pearce heads out, will this ultimatum be what ultimately makes Miz man up?
Six Man Tag: Matt Riddle & Lucha House Party VS Retribution!
The brochachos ride again, but they're up against Mustafa Ali's menacing minions! Will Slapjack, Mace and T-Bar put a stop to the fiesta once and for all?
The trios sort out and T-Bar starts against the United States Champion. They tie up and T-Bar choke grips to CHOKE BREAKER already!! Cover, TWO!! Riddle survives but that was still a shocker! Tag to Slapjack and Retribution mugs Riddle. Slapjack rams into Riddle over and over but Riddle kicks back. Riddle hops up but Slapjack uppercuts then super snapmares! Cover, TWO! Slapjack drags Riddle away with a cravat, tags in Mace, and Retribution mugs Riddle more. Mace knees Riddle, whips him and scoops him for a BIG sidewalk slam! Cover, TWO! Tag to T-Bar and they mug Riddle, then Mace feeds Riddle to T-Bar's BACKBREAKER!
T-Bar presses Riddle against the knee but Riddle fights out with fists. T-Bar choke grips again, but Riddle KNEES free! Mace runs in but is sent out! Hot tag to Lince Dorado and he climbs up. Riddle PLANCHAS Mace, Lince CROSSBODIES Slapjack! Dropkick for Slapjack, big forearm for T-Bar! Slapjack dodges but Lince rebounds and SUPERKICKS! Tag to Gran Metalik, and Metalik gets a boost for the ELBOW DROP! Cover, LHP & Riddle win!!
Winners: Matt Riddle & Lucha House Party
Ali is FURIOUS!! Another failure and Ali demands he and Riddle have a match right now! Riddle is up for a fight any time, bro! Will Ali be the one getting shut down tonight?
Matt Riddle w/ Lucha House Party VS Mustafa Ali w/ Retribution!
Raw returns, the bell rings and these two tie up! Ali headlocks, Riddle rolls him and gets the arm! Ali scrambles around, ends up in a triangle but makes it a cover, TWO! Riddle catches Ali running in for a SNAP gut wrench! Ali bails out in anger, gets back in, but Riddle DECKS him! Ali goes to a corner but he BOOTS back! Ali then dropkicks Riddle's arm! Riddle clutches the elbow and Ali says that's how it's done! Ali drops elbows over and over and Riddle's arm, then drags him up. Ali WRINGS Riddle out into the mat, then brings him up to whip him to a corner. Riddle bounces off buckles and into Ali's leaping neckbreaker! Cover, TWO!
Ali is after the arm, drops down on the shoulder, and he wants his henchmen to watch closely! Riddle fights up, throws body shots, but Ali clubs the arm. Ali whips Riddle to a corner again, but Riddle is ready for the leap and catches Ali to a REAR NAKED CHOKE! Ali pries the arm, gets free to a prawn hold, TWO! Riddle ROCKS Ali, fires off palm strikes and a boot! Ali comes back but Riddle spins him for the PELE! Riddle kips up, fires up, and runs in to forearm smash! Riddle goes side to side to forearm smash again! Then he hits a BROSPLODER! Ali dodges the Penalty Kick and the moonsault but not the BROTON! PENALTY KICK! Cover, TWO!
Riddle keeps his focus on Ali and he stalks behind him. Riddle waistlocks, drags Ali up and ripcords to FINAL FLASH! Ali is in a drop zone, but Slapjack distracts Riddle! Reckoning is up to something, too, and she gets in the ring! Mace glares at Riddle, Ali CLUBS Riddle, then climbs up! SUPER FALLING NECKBREAKER!! Cover, Ali wins!!
Winner: Mustafa Ali, by pinfall
Retribution works together to screw over the United States Champion! Does this mean they're finally going to take over Raw?
Pearce reports back to Shane.
The message has been sent, and Miz shows up! Miz can't believe Shane is really going to strip him of the title! Miz defended the title, and did what any great champion would do: retain by any means necessary! That was a legitimate match stomach ache and all! So what kind of match will it be? No Disqualifications? Miz will find that out soon, but he will have a legitimate match with Lashley. But Miz asks Shane what that would do to Raw! Sure, everyone "wants" a monster of a champion, but this brand NEEDS Miz as champion! Miz is the one you can revolve a show around! Need a host? A reality star? A commentator? Someone for 6 AM media calls? Do you think anyone else will do all that? Miz is THE WWE Champion, he deserves to go to WrestleMania and be respected!!
All day, Miz has been humiliated, when he should be protected. He IS a main-event caliber champion. What kind of champion does Shane think Lashley will be? Who knows? But we're about to find out. Miz better get ready, because his match is on again, after the break.
WWE World Championship: The Miz w/ John Morrison VS Bobby Lashley w/ MVP!
The third time is the charm, right? Miz is here, he is backed into a corner so to speak, and he MUST defend his title against Lashley, or lose it by forfeit! But Shane makes sure to tell Miz that he does have a stipulation in mind to make sure this is a fair match. Let him introduce Miz to… LUMBERJACKS! The ring is surrounded so there is no running or hiding! Does Miz stand a chance of standing tall with the title?
The introductions are made, the bell rings, and Miz snatches his belt back!! Miz swings on Lashley but Lashley blocks and takes the belt from Miz! Lashley glares at Miz for trying to get DQ'd, but the ref takes the belt away and now Miz has to stand up to Lashley. Miz moves around, gets out of the ring, goes around the corner, but lumberjacks are nipping at his heels. Miz gets in as Lashley is distracted, and he sucker punches him! Lashley doesn't even budge! Miz bails out, and he promises any lumberjacks who help him a free title match. But Drew Gulak just puts Miz in for Lashley to CLOBBER him!
Lashley puts Miz in a corner, he RAMS into him over and over, then fires off haymakers! Morrison coaches Miz but there's little he can do when Lashley TOSSES him! Miz bails out and begs Retribution for help! But Benjamin and Alexander put Miz in the ring for Lashley! Lashley DECKS Miz! And hits a COMPLETE SHOT! Lashley rains down right hands and the Hurt Business cheers him on! Lashley looms over Miz, drags him back up, but Miz throws body shots! They don't even bother Lashley! Lashley military presses Miz to TOSS him at Retribution! And the shove him back in! Miz crawls, Lashley stalks him, and then bumps him off buckles for more haymakers!
Lashley whips Miz to ropes, and hits the MILE HIGH SPINEBUSTER!! The lumberjacks are fired up, as are the fans on the ThunderDome screens! Lashley wants Miz to get up, and then he clamps on the HURT LOCK!! Miz is a rag doll!! Miz taps, Lashley wins!!
Winner: Bobby Lashley, by submission (NEW WWE World Champion)
Lashley makes Miz feel the pain before throwing him down! The journey of over 16 YEARS finally leads Lashley to the top of the mountain! Lashley holds up the world title and points to the WrestleMania sign! But he isn't done with Miz! He drags Miz up, and puts the HURT LOCK back on! Lashley thrashes Miz around again, making him suffer for trying to deny Lashley this for almost three hours tonight! Lashley stands on Miz's chest as he holds up the belt. Will Lashley be doing the same to whoever it is that comes for him on the Grandest Stage of Them All?
---
My Thoughts:
This was a great Raw here! For one, it all went rather fast, even with the literally repetitive nature of the main story. It was obvious Miz was going to have a way to delay the first time, and faking stomach problems was an interesting choice. I liked that Morrison tried to keep up the act by shouting for towels after Miz was attacked. And I should've figured Miz would run away the second time for the count-out. I'm a little disappointed they didn't have Lashley chase Miz and try to drag him back, only to still have the count-out affect the end. But threatening the title being stripped, then adding lumberjacks to the mix, was all a pretty good way to "finally have" the match.
Miz still trying to use Champion's Advantage was smart, but he gets manhandled the entire match so naturally Lashley wins tonight. Lashley winning tonight was only a little surprising, it just felt inevitable that he would at some point before Mania. Now Fastlane can be more about McIntyre earning his rematch and going on to Mania. McIntyre VS Sheamus was a great match opening the night, definitely how their 1v1 title match would've gone in my mind, and naturally McIntyre wins. He had a great bit of remorse to the win because he had no problem with Sheamus, but now maybe he moves on for a bit. And I feel that at this point, McIntyre VS Styles is the Fastlane match.
There is something interesting building with Braun and Shane. Shane is trying to put Braun in his place but is also being a bit of a jerk about it, so I think Braun will end up the Face against Shane. Pearce being thrown in as the tag partner was a great little twist, but of course he ends up taking the pin. It just seemed sloppy that Braun would give a damn what Shane says and he could have just won the titles on his own like he did before. And sadly, this is probably leading to Shane getting back on Mania for like Night One, just so he can take a powerslam through something from Braun.
Damian Priest and Bad Bunny had a good segment and then match with Elias and Jaxson Ryker. It's a matter of opinion if Priest needed to struggle against Elias, but I will say I actually more expected there to be 24/7 Championship antics where maybe Ryker would try to roll up Bunny and Priest had to help Bunny out. I hope that does happen at some point, if this particular match-up is to continue. And it feels like stories are shifting around since Miz and Morrison are busy in the world title scene.
Similarly, it seems Retribution could be moving away from New Day to go after Riddle and the US Championship. The Six Man was obviously just a vehicle to Riddle VS Ali, and of course Retribution helps Ali win, but Ali is really heaping on how HE is the important one and the others are the losers. Ali's new finisher looked a bit sloppy in execution, maybe he'll ditch it for something a bit more possible. But I'm definitely sensing Ali challenging for the US Championship at perhaps Fastlane. Retribution might cost Ali that match, he gets mad, and then they kick him out of the group to do things their way, whatever that will be.
We got some fairly strong material from the Women's Division. Nia VS Naomi was really just filler before the first Miz VS Lashley attempt while Charlotte VS Shayna was more substantial. Charlotte's promo shifting gears from her cringe story to the title story was the right move, and was probably going to happen down the line if the story was going as intended. I didn't realize Asuka legit lost a tooth until they showed us in the replay, so wow that was crazy. I hope that alone is something that gets Asuka back to her uber aggressive ways and she tears into whoever is facing her at Mania.
For Nia and Shayna specifically, this was all so they'd be going into their NXT match with 50-50 math so that it could technically go either way. Though I'm pretty sure they retain if they as the Heels are meant to defend against Naomi & Lana, who are the Faces. As much as fans, such as myself, ask for that to stop, it is still a traditional way of operating. Plus, for sake of story, it almost HAS come down to Lana finally getting even with Nia, and then she and Naomi can both stand tall as tag team champions for Lana's first title ever in the WWE. Otherwise, the almost endless table spots will have been for nothing but Vince McMahon's own selfish entertainment.
My Score: 8.5/10