Stardom Cinderella Tournament 2019 Result & Review: Final Part (4/29/2019)
Now we get to find out who wears the pretty dress! Stardom Cinderella tournament time! 

Now we get to find out who wears the pretty dress! Stardom Cinderella tournament time!
I know I'm a little late to the party for the second part of the tournament but we're here now and I wanna get to it.
So far, we have Arisa advancing to the semi-finals due to Kagetsu and Tam ending in a tie, meaning we have about six matches to cover on this part. But don't worry, I'll be adding a surprise match at the end of this show to cover to get the ball rolling.
Who will win the tournament?
Let's find out as we…dive right in.
Rating System:
0 Stars: Dave Meltzer
1 Star: Vince Russo
2 Stars: Tony Schiavone
3 Stars: Eric Bischoff
4 Stars: Bruce Prichard
5 Stars: Jim Cornette
Cinderella Tournament 2019 Quarter Final Match
Hazuki vs. Starlight Kid
Review: It's time to start the second round of the tournament as we have Hazuki taking on Starlight Kid. Hazuki was able to advance by defeating Bea Priestley and Starlight advanced by defeating Natsu Sumire. The winner of this match will fight the winner of the next match. These two are no strangers to each other and Starlight is going to make sure she wins this time around. Who will advance?
Starlight wasted no time as she would deliver a Dropkick to Hazuki soon as the bell rang and would hit a couple more on her, she's getting fierce with this. Starlight got her off the corner to hit a Moonsault as Hazuki kicked out at two. Starlight picked her up as Hazuki hits a Codebreaker to stop her full-out assault. Hazuki ran to the top rope as Starlight was able to Dropkick her off onto the apron. Starlight tried to finish her off as Hazuki punched her in the face and went for a springboard as Starlight pushed her off to eliminate her in less than two minutes! Wow, talk about an upset. Not a terrible match but it's really short and everything was executed really well too, so I liked it for what it was actually. Good job, ladies.
Rating: Eric Bischoff
Cinderella Tournament 2nd Round action begins! It's Starlight Kid vs Hazuki, on https://t.co/q8dHnFmJUw! pic.twitter.com/PjEAGjdsfs

— We Are Stardom (@we_are_stardom) May 1, 2019
Cinderella Tournament 2019 Quarter Final Match
Konami vs. AZM
Review: Our next match is AZM taking on Konami. Konami had an upset victory when she eliminated Momo Watanabe in the first round and AZM won by eliminating Rebel Kel. AZM is going to have a tough opponent ahead of her if she's going to want to advance and fight her rival, Starlight. Will Konami keep the ball rolling by beating another Queen's Quest member or will AZM get the upset win?
AZM really is proving that she can hang with some of the best here in Stardom away from the lower division. My only takeaway here for this match is not that it was short since it's expected for this tournament but there were some sloppy spots for a good amount of it, unfortunately. Aside from the sloppy sequences here and there, they did still have some good performances. Konami looked like she was gonna go for a Leglock but AZM would hold onto her leg to make her fall back for a pinfall but Konami would kick out at two. Konami would eventually apply the Triangle Lancer as she did prove it is in fact 100% as AZM tapped out, leaving Konami to advance against Starlight Kid.
Rating: Tony Schiavone and three quarters
Cinderella Tournament 2019 Quarter Final Match
Hana Kimura vs. Natsuko Tora
Review: Our final quarterfinal match is up next as we have Hana Kimura taking on Natsuko Tora. Natsuko was able to defeat her former JAN partner, Jungly Kyona to advance with a brand new look and attitude. Hana defeated Andras Miyagi to advance and is looking to bring more momentum to the Tokyo Cyber Squad. Which one of these two will advance to fight Arisa Hoshiki?
There wasn't a whole lot to see with Natsuko here since it looked like we saw most of that with her match against Jungle rather than her match with Hana right here. We had the match outside of the arena for a little bit but they didn't go over the top rope, so they were able to do as much as Hana threw her around for a little bit before taking her back into the ring. Natsuko does have a really nice Spear, so I'll give her points for that but she failed to put Hana away with something like that. The match was exactly seven minutes and Hana would have Natsuko over by the ropes so she can go for a kick as Hana's leg was over the rope, leaving Natsuko an opening to flip her over and hits her with the Oedo Tai sign to eliminate her as Natsuko advances to the semi-finals!
Rating: Eric Bischoff
Cinderella Tournament 2019 Semi-Final Match
Arisa Hoshiki vs. Natsuko Tora
Review: It's now time for the semi-finals as Natsuko Tora is now going to fight Arisa Hoshiki. Natsuko going back to back could be a little bit of trouble for her if she's not too worn out with Arisa being fresh due to advancing further after the first round. The winner will advance to the finals but which one of them will go forward?
Wow, the crowd was actually split even for this one except for that annoying cunt in the audience, I forgot all about him. Natsuko had most of the control in this match and even worked on Arisa's leg a bit to make sure she would be too weak to even attempt the Brazilian Kick in the match. This one was a much better match compared to anything in the quarterfinals so that at least gave me something. Arisa had a little bit of momentum when she hits a Springboard Diving Knee for a two count and went to pick her up as Natsuko would hit a Spear. Natsuko went to the top rope to hit a Splash as Arisa kicked out at two and would get her down again to hit a Diving Leg Drop as Arisa moved out of the way this time. Arisa would lift her up for a Powerslam and would go to the ropes to hit a Rounding Splash for the win as Arisa is now set for the finals!
Rating: Eric Bischoff and a quarter
Cinderella Tournament 2019 Semi-Final Match
Konami vs. Starlight Kid
Review: Our next match in the semi-finals is between Konami and Starlight Kid. Starlight was able to get two big wins under her belt in the tournament when she defeated both Natsu Sumire and Hazuki. Konami has one more win to go before she can advance to fight Arisa. Who will meet Arisa in the finals?
Instead of attacking Konami head on as she did with Hazuki, Starlight would try a different approach when she would try to get that quick pin in to throw Konami off guard and it looked like she had her during the crucifix pin but Konami barely kicked out at two. Konami knows she would need to finish hero ff quick as she attempted the Triangle Lancer but Starlight would roll her up for another two count. Starlight hits a Swinging Neckbreaker for a two count and would position Konami to hit a Moonsault but Konami rolled out of the way and applied the Triangle Lancer to make Starlight tap out in less than three minutes. Konami is officially in the final round as she now has to fight Arisa Hoshiki.
Rating: Eric Bischoff
Cinderella Tournament 2019 Final Match
Konami vs. Arisa Hoshiki
Now on https://t.co/q8dHnF58vW! It's the Finals of today's Cinderella Tournament 2019! Check it out now! pic.twitter.com/TkuU3dFgsB

— We Are Stardom (@we_are_stardom) April 29, 2019
Review: It's now time for the final round as we have Konami from Tokyo Cyber Squad taking on Arisa Hoshiki from STARS. These two women made it this far in the tournament when most people probably didn't expect them to win, but here we are. The winner of this match will get a dress to wear and able to request any match they want. Which one will win? Who wears a pretty dress?
I'm now convinced that Konami was officially held back and was able to shine a lot more as a Tokyo Cyber Squad member than she has at Queen's Quest. Konami's personality would flesh out more as she just wanted to make Arisa suffer when she would be going after her leg in the match since it was still weak from Arisa's previous matches. Both of them meshed really well together in the ring and gave us a really good match. Also to that annoying fan again, please shut up and don't come back. A lot of close calls in the match when Arisa would do her Powerslam combo with a Rounding Splash and the two times that she did hit it, Konami actually kicked out of it, leaving Arisa a little bit speechless. Konami was able to attempt the Triangle Lancer to try and make her tap out before Arisa grabbed the ropes to make her break the hold. Arisa was finally able to hit her Brazillian Kick despite her bad leg and pinned Konami for the victory to win the Cinderella Tournament. Can't believe my dark horse won the whole thing.
Arisa was able to win the Cinderella Tournament as she now gets to wear the dress they had prepared for her. I'm sure glad they know their sizes before making them. Anyway, this is a big win for Arisa as she now calls out Momo Watanabe to the ring. Arisa declared that she will be fighting Momo for the Wonder of Stardom Championship so she could finally get her one-on-one match that Momo has been denying her for quite a while. The match is made official as it will take place on the May 16th show. I'm excited to see this match finally happen and it's one you don't wanna miss.
Rating: Bruce Prichard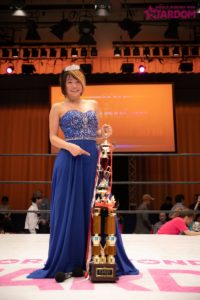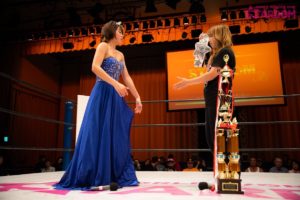 5/4/2019
World of Stardom Title Match
Kagetsu (c) vs. Bea Priestley
Review: Now that the Cinderella Tournament is over, let's fast forward just a little bit to the May 4th show so we can get a little bit caught up. Plus, this was the only match that caught my interest and is pretty important as it's for the World of Stardom Championship. The match took place at the Queen's Quest Produced show as Kagetsu defends her title against a member of Queen's Quest, Bea Priestley. Bea went from losing in the first round of the tournament to getting a match for the big red belt, but I'm game to see what happens and it looks like Kagetsu needs another defense under her belt. Good because her last one left little to the imagination and Bea has improved recently. Will Kagetsu retain or does Bea somehow win?
One, Bea looks great in her new attire and two, this might be the best match that I've seen our of her along with Kagetsu's best match in months. This match was nicely paced from beginning to end here with the two of them executing everything they did in the ring almost flawlessly and had nice sequences during the match. I loved when Bea jumped to the top rope and Kagetsu followed right after when she jumped to the second rope to Dropkick her on the way down, nicely done. Kagetsu shows how good of a worker she is if Stardom wasn't too busy giving her scraps most of the time and Bea needed this match more to show what she actually can do in a high caliber match like this one and the progression she made in the past year as you can see for yourself.
Bea hits a beautiful Regalplex for a two count and wouldn't stop there as she hits a Curb-Stomp as our Prime Minister kicked out again, but Bea quickly applied for the Rings of Saturn before Kagetsu had the ropes. Our Prime Minister is up to her old tricks as she pushed Bea into the referee to spray green mist into her eyes before she would hit the Michinoku Driver and the Oedo Coaster as it looks like this could be it, but Bea would somehow kick out at two, leaving the fans shocked along with Kagetsu. Kagetsu would get back to the top rope to try and hit another one but Bea would stop her this time and hits a kick to her tucked head, shades of her boyfriend, Will Ospreay and had her up on her shoulders to hit the Japanese Ocean Cyclone Suplex and Bea pins Kagetsu to win the championship!
Well…if you're surprised, then don't feel bad because I am just as surprised as you are right now. This was something I didn't expect to see and I'm not too sure how I feel about it right now. Sure, Bea has improved a lot and she delivered a great match against Kagetsu but I'm just not sure if she's considered red belt material. The World of Stardom Championship has taken a bit of a back burner ever since Toni Storm won it when Mayu Iwatani was injured but Kagetsu did try her best to help elevate it despite Momo taking most of the spotlight due to beating Io Shirai last year. Despite my feelings on the matter, congratulations to Bea on winning and I hope she actually does well with the title. If Bea can perform like how she did more often, she'll be okay. Congratulations, Bea and I wish you luck.
Rating: Bruce Prichard and a half
Overall: I thought the second half of the tournament was well done and the finals were much better than last year, but we still had plenty of good matches along with the surprise title match I added for after the tournament. May 16th show is shaping up to be a good one.
Favorite Match: Kagetsu vs. Bea Priestley
Least Favorite Match: Konami vs. AZM
Score: 8/10