Stardom Cinderella Tournament 2019 Results & Review: Part 1 (4/29/2019)
Mathew's back in the Stardom groove now that the All Japan tournament is over. Who gets to wear the pretty dress this year?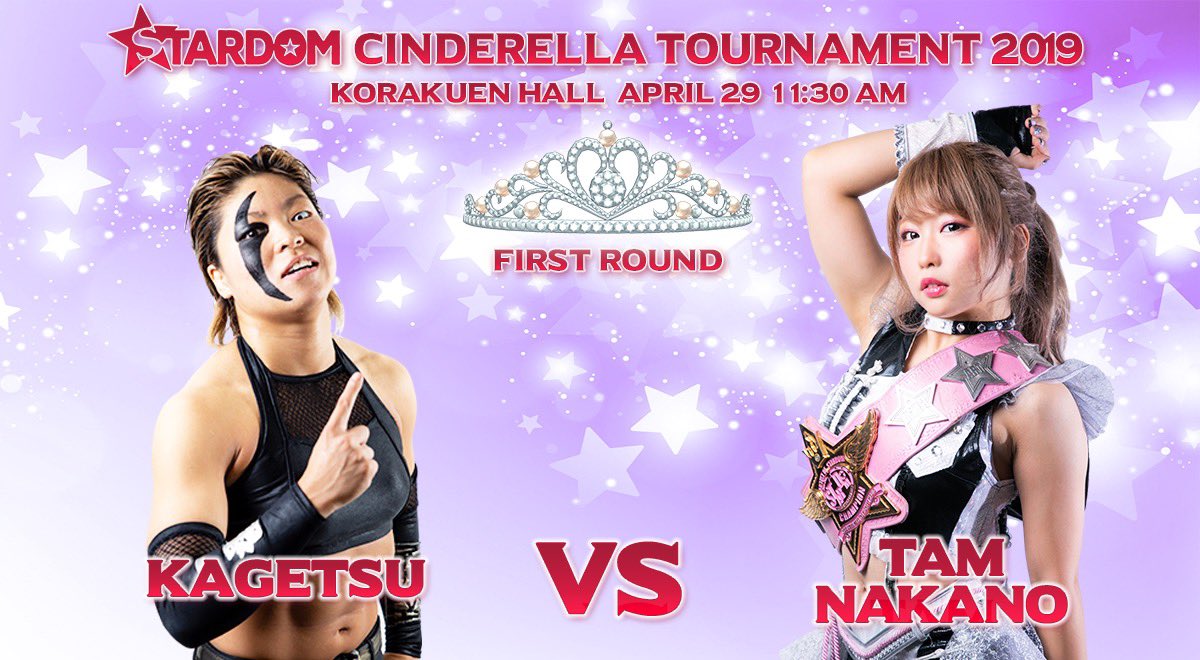 Mathew's back in the Stardom groove now that the All Japan tournament is over. Who gets to wear the pretty dress this year?
Now that the Champion Carnival is done, I can now get back to Stardom as I have missed quite a bit with the Stardom Draft. Instead of covering that show since I'm a month late, I'll post the results down below as JAN is officially gone from Stardom, leaving the group separated.
STARS: Mayu Iwatani, Arisa Hoshiki, Saki Kashima, Tam Nakano, Hanan, Starlight Kid, Xia Brookside, Saya Iida
Queen's Quest: Momo Watanabe, Utami Hayashishita, AZM, Bea Priestley, Viper, Chardonnay, Leo Onozaki, Hina
Oedo Tai: Kagetsu, Hazuki, Andra Miyagi. Jamie Hayter, Natsu Sumire, Natsuko Tora, Session Moth Martina
Tokyo Cyber Squad: Hana Kimura, Jungle Kyona, Rebel Kel, Konami, Mary Apache, Natsumi, Bobbi Tyler, Ruaka, Rina, Kaori Yoneyama
That's our official stables and I thought Viper and Xia would leave due to NXT but I guess they can stay long as it doesn't ruin their schedule.
Now then, onto this year's Cinderella Tournament.
Last year, Momo Watanabe won the tournament and was able to challenge and defeat Io Shirai to be the top star of the company. This year will be an interesting one due to the people switching around and both Mayu and Utami out of it due to injuries. Same rules as last time, 10-minute time limit, can win by pinfall, submission, and throwing them over the top rope and winner gets a pretty dress along with any match they want. Let's see who advances as we…dive right in.
Rating System:
0 Stars: Dave Meltzer
1 Star: Vince Russo
2 Stars: Tony Schiavone
3 Stars: Eric Bischoff
4 Stars: Bruce Prichard
5 Stars: Jim Cornette
Three Way Tag Team Match
STARS (Saya Iida & Hanan) vs. Queen's Quest (Hina & Leo Onozaki) vs. Tokyo Cyber Squad (Rina & Ruaka)
Review: Our opening contest before the tournament is a three-way tag team match with members from STARS, Queen's Quest, and Tokyo Cyber Squad. This is just a match for those that didn't make the cut for the tournament and is to get the crowd hyped with a little action so it's not just the tournament. Which one of these teams will come out the victor?
I see Rina is wearing Hana's old wrestling gear for this one, guess it's good to point out which twin is who now since they're in different units. As for the match itself…it was a match and it existed. It was all over the place and was hard to call anything or see anything that was memorable. The match was also two minutes, so not a whole lot to go on about as it was just a sloppy out of control mess. Saya was able to get the win for STARS with the Iidabashi on Hina. Just skip it and forget it happened.
Rating: Vince Russo
Cinderella Tournament 2019 First Round Match
Rebel Kel vs. AZM
Review: Our first match for the tournament is AZM taking on my least favorite person on the roster, Rebel Kel. Kel has a chance to shut her critics up as AZM is one of the best workers the company has and if you do terrible with her, then there's no helping you. AZM is another one that has been moving up in the ranks and her winning this tournament will help solidify that. Will Kel be able to improve or does AZM run circles around her?
Before I begin, I'm very well aware of the fan that hijacked the show and I will be addressing him at the end of this piece. As for Rebel, there was a slight bit of improvement but not a whole lot as she's still really green and you can see it. AZM really did try her best to make the match watchable and did a much better job at helping Rebel than Utami did when they fought. I will admit that Rebel did hit a pretty solid Falcon Arrow onto AZM. Rebel looked like she was going for a Chokeslam but AZM reversed it into a Frankensteiner and was able to get the pinfall to advance to the next round!
Rating: Tony Schiavone and a half
Cinderella Tournament 2019 First Round Match
Starlight Kid vs. Natsu Sumire
Review: Our next match in the tournament is Starlight Kid taking on Natsu Sumire. Ever since Starlight moved away from the Future of Stardom Championship, she's been able to showcase more of what she can do and definitely is one of Stardom's brightest futures if she keeps up what she's doing. Sumire is a rather crafty one as we all know she'll have a trick or two up her sleeve to get that dirty victory to advance. Will Starlight be able to overcome it or will Sumire be too much?
I love Sumire's heelish ways in Stardom, it just gives her a personality and the crowd just loves her for it. Sumire would have Starlight to the ropes and taunted thinking she was going to spit water at her, but she would spit water at the fans instead. Starlight is such a great talent and I can see why Mayu picked her first since she is the future of the company. I knew most of these matches would be short due to the time limit but they were able to make it entertaining for the five minutes that they were able to work with. Starlight ran towards Sumire after hitting a Neckbreaker and Moonsault, only for Sumire to reverse it into a Small Package but Starlight reversed the cradle with another as Sumire kicked out. Starlight was able to trick her with another Small Package and would get the victory!
Now on https://t.co/q8dHnF58vW from the 1st Round of the Cinderella Tournament, it's Natsu Sumire vs Starlight Kid! pic.twitter.com/ItyrxMhDtk

— We Are Stardom (@we_are_stardom) April 30, 2019
Rating: Eric Bischoff
Cinderella Tournament 2019 First Round Match
Hazuki vs. Bea Priestley
Review: Our next match is Queen's Quest's, Bea Priestley as she takes Oedo Tai member and current High Speed Champion, Hazuki. Hazuki has been one of the MVP's in Stardom while now being considered the top female but she makes up for it with her personality and in-ring quality. Bea was in the finals last year and then she lost, so she wants to use this as redemption to try and win it this time around. Hazuki would love to have her hands on Momo and her title again as this tournament seems to be the only opportunity she'll have to get it. Will Bea advance to redeem herself or does Hazuki advance?
Wow, these two going at it right away with some fast-paced sequences, it almost looked like it was for the High Speed Championship or something. I loved that beginning encounter and more of that would be nice. Hazuki is probably my number two favorite in the company with the vast improvements over the past year and Bea went from being one of the worst gaijin's last year to being someone that has impressed me a lot since her return to Stardom, wish I saw this side of her last year. Hazuki went for a kick as Bea moved out of the way to knee her in the face and hit a Back Suplex before she hits the Curb Stomp, but Hazuki had her hand on the ropes before the three count. Bea picked Hazuki up on her shoulders to go for a Storm Cradle Driver it looks like but Hazuki would roll forward to have Bea flip over to the ropes to get eliminated as Hazuki advances! Solid match and would love to see them fight each other again.
Rating: Eric Bischoff and a half
Cinderella Tournament 2019 First Round Match
Saki Kashima vs. Arisa Hoshiki
Review: Our next match is between two members of the STARS unit, Arisa Hoshiki, and Saki Kashima. Arisa has been pretty much in the middle ever since she returned to Stardom and is looking to try and get a big victory soon to show she's still one of the best they have. Saki is another who wants to try and break that glass ceiling ever since she came back last year and is now ready to do what she must to win. Out of the two, who will have the better edge?
The two Dropkicked each other right away soon as the bell rang and the two went back and forth for a brief period here. Saki was playing it smart in this match since she knows that Arisa's strength is with her legs, so she made sure to hit them as much as she could to damage them so her kicks would be less impactful. Plenty of strengths here between these two women and seeing Arisa go one on one finally since her return showed how talented she is in that ring. Saki was able to catch Arisa's leg for a Dragon Screw to do more damage to her but Arisa eventually got up to deliver a knee to the face for Saki to kick out. Arisa quickly picked her up on her shoulders to slam her down and would hit a Rounding Splash, not as great as Starlight's but still average enough as she was able to pin Saki to advance.
Rating: Eric Bischoff
Cinderella Tournament 2019 First Round Match
Hana Kimura vs. Andras Miyagi
Review: We're halfway done with the tournament as our next match-up is against Andras Miyagi and Hana Kimura. Andras struck out to take one of Momo's titles last month and this could be her chance to try and get revenge by winning the tournament to ask for a rematch. Hana also has something to prove since she's a new leader of a faction and would also need to look strong. Which one of them needs the win more?
Hana changed up her gear, dyed her hair pink to get rid of those dreadlocks, and would have a bit of a change in personality to go with her new faction and I gotta say that I enjoy it quite a lot. Hana would start headbanging in the middle of the ring and Andras doesn't know what to do as she would follow the headbanging trend as it does look hypnotizing, but Hana used that distraction to deliver a powerful kick to her chest. The two were able to fight pretty well as they had fairly decent chemistry in the ring and Hana did show that she's trying a little bit, which is good since she should show that fire if she's going to be with Stardom for good. Andras is still finding her place in Stardom but has made quite the changes in herself since she arrived and I have no doubt she'll fit in fine. We had a scare with Andras being eliminated when she was tossed over the ropes but Hana charged at her to only take a Stunner, making Andras save herself a bit longer. Hana was on the ropes as Andras pushed Hana off to make her hit the apron but Hana had Andras over when she failed to charge at her, leaving the two to fight on the apron. Andras failed to hit the Piledriver and kicked Hana back, but Andras would eat a Dropkick when she charged at Hana to get herself eliminated and Hana advances!
Now on https://t.co/q8dHnF58vW from the 1st Round of the Cinderella Tournament, it's Hana Kimura vs Andras Miyagi! pic.twitter.com/2mvJtcMAWh

— We Are Stardom (@we_are_stardom) April 30, 2019
Rating: Eric Bischoff
Cinderella Tournament 2019 First Round Match
Kagetsu vs. Tam Nakano
Review: Our next match is STARS, Tam Nakano as she takes on the leader of Oedo Tai and current World of Stardom Champion, Kagetsu. For those of you that are familiar with Stardom, these two do have a history together as Tam used to be a former Oedo Tai member before she got kicked out and was adopted by STARS to become her own individual. Tam would defeat Kagetsu during the Five Star Grand Prix last September, so she knows she has what it takes to defeat her but Kagetsu is going to make sure she's more prepared this time around. It's sure to be a fight but only one of them is going to come out the winner and advance to the next round.
Before the match began, the two would shake hands as a sign of respect for each other. A rather slow-paced match at the beginning of the match as it was more technical, which there's nothing wrong with since they did a great job with that. I will say that Kagetsu might be Tam's best opponent in Stardom, they just have unique chemistry in the ring and just mesh perfectly with their styles in the ring. Tam isn't a great wrestler but she really does try her best when she works and there are times that she'll strike gold in the ring, this is one of those times that she does.
Now things are starting to pick up as Kagetsu attempts the Michinoku Driver but Tam was able to fight it off in an attempt to apply the Sleeper Hold until Kagetsu reversed it into a Kneebar and she gets it in tight but Tam was able to grab the ropes in time. Kagetsu quickly picked her up to hit the Michinoku Driver this time around and would go to the top rope to go for the Oedo Coaster but Tam quickly got up to hit the Superplex but wait, Kagetsu quickly gets up to hit a Running Knee Strike as the two are down. The two start going back and forth with their punches and Kagetsu hits another Michinoku Driver and attempts the Oedo Coaster but Tam moved out just in time. Tam would hit her Tiger Suplex and Kagetsu was able to kick out somehow! There's not much time left as Tam applies the Dragon Sleeper right away but she was unable to make the Prime Minister tap as the bell rang, ending in a draw, meaning Arisa advances to the semi-finals at the result. What a match, I can watch them fight at any time.
Rating: Bruce Prichard
Cinderella Tournament 2019 First Round Match
Jungle Kyona vs. Natsuko Tora
Review: Our next match is a singles match between two former JAN members, Natsuko Tora, and Jungle Kyona. Kyona was the last one to be defeated during the draft, meaning that JAN would have to disband as Kyona would be drafted to the Tokyo Cyber Squad while Natsuko Tora would be drafted to Oedo Tai. Natsuko is a very unique pick for Oedo Tai and it looked like she was happy that she wanted to be there with them too, so be interesting to see a new side of Natsuko when she faces her former partner. Jungle also has something to prove since she can now unleash her violent side here. Which one of them will win?
Natsuko would change her look for her new home and it's an improvement compared to the cyberpunk look she tried out. Much like their previous encounters, solid back and forth match with Natsuko showing more of her aggressive side in the ring, which is a good thing because she needs that. Jungle didn't show many changes yet after being in a new group but I'm sure a time will come when we'll start seeing changes. Jungle would attempt a Muscle Buster but it looked like a botch or she escaped out of it to hit a Spear as Jungle watches her. Jungle would hit her Splash off the top rope but Natsuko would put her knees up in time and hits her with another Spear. Natsuko would climb up to hit a Diving Leg Drop this time and gets the victory.
Rating: Eric Bischoff and a quarter
Cinderella Tournament 2019 First Round Match
Momo Watanabe vs. Konami
Review: Our final match of the first round is Tokyo Cyber Squad's, Konami as she fights the leader of Queen's Quest and current Wonder of Stardom/Goddesses of Stardom Champion, Momo Watanabe. Konami was apart of Queen's Quest until she got drafted to Hana's unit and ever since then, Konami has shown a lot of resentment towards her former crew by flipping them off and saying f#!k you to Momo and Queen's Quest. It seems like Konami felt like she was being held back when she was apart of them and now she has a chance to show them what they're missing by taking out the ace. Momo won it last year and she's looking to try and win it again this time. Will the ace prevail or will she get a new rival?
Look at Konami here with a bit of attitude in her, guess her being out of Queen's Quest was a saving grace for her since it looked like she really was held back. This match was mostly a kicking contest of sorts since the two were just back and forth with different variations of kicks along with Konami trying to work on Momo's arms. Konami applies an Armbar but as Momo was struggling, Konami turned it around to the Fujiwara Armbar until Momo's foot was on the rope, making her break the hold. Konami would go to the top rope but Momo pushed her off to make her fall onto the apron and she would charge at her until Konami moved the ropes down, making Momo fall out of the ring to eliminate her as Konami advances! Went from winning last year to being eliminated at the first round.
Now on https://t.co/q8dHnFmJUw from the 1st Round of the Cinderella Tournament, it's Momo Watanabe vs Konami! pic.twitter.com/g5JV3BtJHp

— We Are Stardom (@we_are_stardom) May 1, 2019
Rating: Eric Bischoff
Overall: Aside from a couple of matches and one big annoyance, this was a very successful first round with some solid matches and I'm excited to see how the rest of the tournament unfolds as this first round was better than last years.
Favorite Match: Kagetsu vs. Tam Nakano
Least Favorite Match: STARS (Saya Iida & Hanan) vs. Queen's Quest (Hina & Leo Onozaki) vs. Tokyo Cyber Squad (Rina & Ruaka)
Score: 7.5/10
Author's Notes: Now I can address this since the first round is over. There was a fan who would start doing chants throughout the entire match and there's one thing I would like to say to him and that is this, SHUT THE HELL UP. My god, how disrespectful can you be? You think he watched enough shows in Japan to see how the audience does things but no, he had to chant the whole night. If it was the UK or the US, then fine since that's that type of environment but not in Japan where it's a different setting. He was at a bunch of shows that whole week and even Nanae Takahashi would yell at him to show up. You wanna know the worst part? He thinks he's justified about it just because he paid and that's not the case here because you still gotta appreciate their culture, it doesn't give you the right to be a disrespectful little shit. Apparently, people loved it but clearly not since Stardom themselves had to tweet about his behavior! Next time, don't even go to Japan shows if you think it's okay to act like this. I'm surprised people didn't punch or throw you out because I would've. I know talking about it gives him attention like he probably wants but this is just a message for any fans in general that wanna go to shows in Japan for the first time, don't be like this prick. Thank you!
Andrew's IMPACT Results & Match Ratings: 12.8.2022
Josh Alexander finally addresses what happened at Over Drive! MCMG gets a title match! Eric Young was written out, how does Deaner change Violent by Design?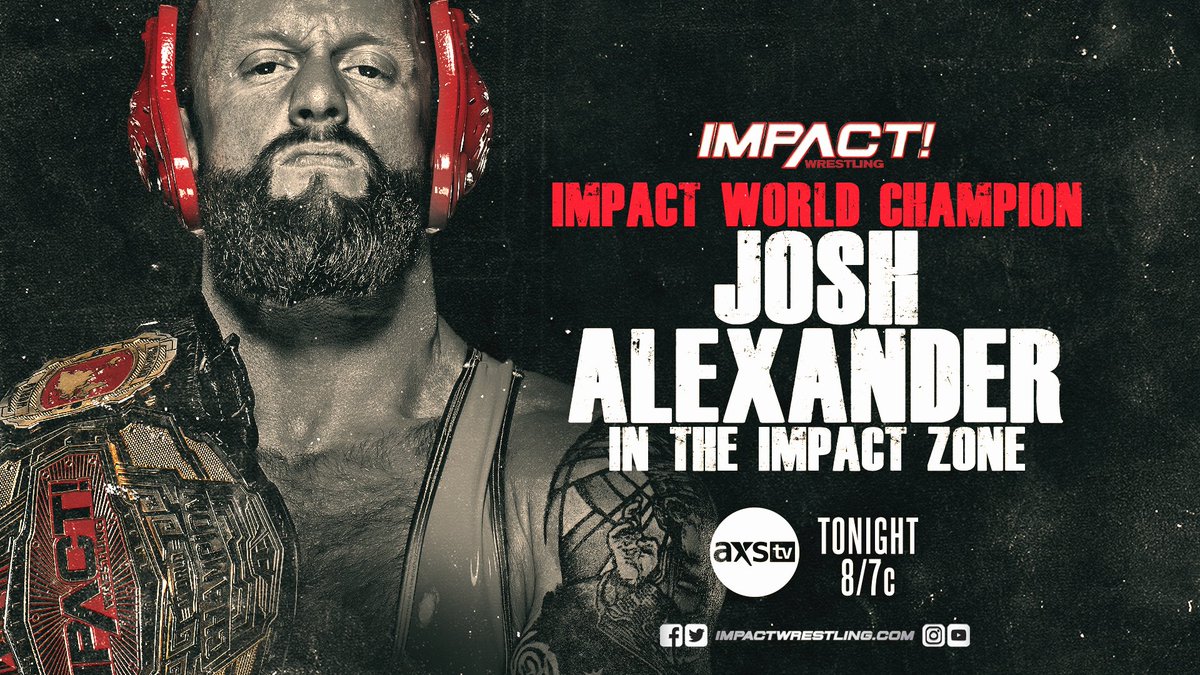 We get a new era of VBD, Motor City Machine Guns with a tag title shot and Josh Alexander will finally address what happened at Over Drive. I doubt we're going to get a clean resolution to the tag match since Brian Myers and Matt Cardona are just assholes, but hopefully we get something fun.
Apparently since Deaner is the Violence, the group is just called The Design.
"The Design" has arrived in the IMPACT Zone!@Big_Kon1 @CodyDeaner @Alan_V_Angels #IMPACTonAXSTV pic.twitter.com/2LqrtRkmn4

— IMPACT (@IMPACTWRESTLING) December 9, 2022
Ratings:
Tag Team Titles: Motor City Machine Guns vs Heath & Rhino (c): No Contest – ** 1/4
Savannah Evans w/Tasha Steelz vs Taya Valkyrie w/Death Dollz: Savannah wins via Full Nelson Bomb – **
Kon w/The Design vs Sami Callihan: Kon wins via Death Valley Driver – **
IMPACT World Championship Open Challenge: Mike Bailey vs Josh Alexander (c): Josh retains via C4 Spike – *****
Results:
Tag Team Titles: Motor City Machine Guns vs Heath & Rhino (c)
Rhino and Sabin start off and they work to Shelley and Heath with a little bit of MCMG tandem work. Guns are tying up Heath, some corner work where the ref is allowing a little more contact than usual; main point is that Heath is getting twisted and torqued.
Heath tries to paint brush his way out of a Figure Four, but Shelley dips into his heel tendencies. Heath gets to the ropes and Shelley lays back and tells the ref he's willing to break. He doesn't and forces the referee to untie their legs, so he gets some extra damage in. Dragon Screw attempt gets turned around, Heath drops Shelley and finally gets Rhino back in.
Guns try to utilize some tandem attacks, but as we see Sabin and Heath swinging back and forth; the Major Players hit the ring and hit simultaneous Wake Up Calls on Heath and Sabin, causing the no contest.
.@Walking_Weapon doesn't want to wait till #HardToKill he wants @bullyray5150 TONIGHT!@ScottDAmore @ZickyDice @swinger_johnny #IMPACTonAXSTV pic.twitter.com/V5sk62ECX8

— IMPACT (@IMPACTWRESTLING) December 9, 2022
Savannah Evans w/Tasha Steelz vs Taya Valkyrie w/Death Dollz
Savannah starts off honestly just overpowering Taya. A few quick shoves, Bear Hugs, rag dolls…and Taya is on the back foot. A little bit of ducking and dodging gives Taya the chances to hit the Spear and send Savannah out.
Savannah puts the brakes on anything Taya can start, we go to commercial and Savannah throws Taya with a Butterfly Suplex…so there's just a lot of Taya working from underneath. Flying Headscissors finally gives Taya a breather, Blue Thunder Bomb for 2 into an Indian Deathlock transitioning into an STF before Savannah fights out.
Road to Valhalla attempt, Savannah blocks it, a little back and forth before Savannah connects with the Full Nelson Bomb for the win.
Kon w/The Design vs Sami Callihan
Early on Sami is struggling with Kon's power and size. This is hard to really swallow, even as an early "debut" of a new stable. Sami keeps fighting the good fight, grasps for a Jaw Breaker and turns a Kon charge into a Scoop Slam…but Kon tries to keep being the immovable object.
Sami buckles Kon's knee and hits the Tanaka style forearm and tries to stay on the bigger guy. The numbers eventually start to distract Sami, Angels distracts the referee, Deaner stops Sami and Kon hits a Death Valley Driver for the win.
I'm not really impressed with this, but I guess you really can't have the new stable get punked out. Even though they are all punks.
.@ROHDelirious is on "another level" and has the chance to prove it against @TheEddieEdwards TONIGHT in our MAIN EVENT! #IMPACTonAXSTV pic.twitter.com/MIgaGIo5EF

— IMPACT (@IMPACTWRESTLING) December 9, 2022
Josh Alexander comes out to address the Over Drive fallout and states an open challenge with the intent to drag out Bully Ray – but Bully has a whole video set up goading Josh and saying he's not there. 
So Speedball Mike Bailey comes down to see if the open challenge is still on the table. 
IMPACT World Championship Open Challenge: Mike Bailey vs Josh Alexander (c)
Bailey tries to come at Josh hard, and Josh shows that his left arm is still bothering him some; but he generally shrugs off Bailey for the early goings. A big Forearm and Kitchen Sink have Josh slowly stalking his opponent. His attention isn't on Bailey, so his style reflects as much.
Josh sends Bailey to the ropes, back handspring, machine gun kicks send Josh reeling and a Tope con Hilo finally gives Bailey some momentum. Commercial break comes back with Bailey hitting a big Double Knees, but a Running Boot from Josh puts things back in his favor. Josh lands kick after kick, big forearms, and just hits Bailey with disdain because he's not Bully Ray.
A Shotgun Dropkick opens things up for Speedball, Sole Butt doubles over Josh, Axe Kick, Roundhouse into a Corkscrew Shooting Star Press for 2. Buzzsaw Kick missed, German Suplex train begins! Two in a row, Bailey tries to block, so Josh pins the arms and hits a Shutdown Suplex for 2. C4 Spike, spun out, Ankle Lock attempt, blocked and turned into a Kimura from Bailey, but now they're just jockeying for submission positions. Josh counters the Octopus into running him into the corner twice, but Speedball doesn't let go. One more attempted jam, but a Poison Rana gives Bailey a 2 count.
Another commercial comes back to Josh driving his knee into Speedball's shoulder blades. Flipping Stomp miss from Bailey, Tornado Kicks land, Ultima Weapon misses and Josh goes for a C4 Spike but the arm gives out! They spill to the outside and Bailey strings together some offense. A big Missile Dropkick leads into Round Kicks, and then open hand chop exchange. Both men after just firing back and forth, neither is relenting. Forearms and kicks, finally into a proper Fighting Spirit spot that Bailey counters a Rolling Forearm with a Straight Side Kick. Bailey charges into the ropes, Josh catches him in Capture Suplex position but drags him over the ropes and slams him onto the apron.
This is a third commercial break and we're perched with Bailey going for a Super Frankensteiner, Josh blocks, feigns the Avalanche Styles Clash, but Bailey counters! Flamingo Driver attempt, Josh gets pissed, counters and then throws Bailey with a Torture Rack Bomb. 2 count immediately into the Ankle Lock, but Bailey blocks, manages to get away, counters Josh in the corner, Ultima Weapon connects! But Bailey can't get the pinfall as he sells his legs. Speedball gets up, PK as he keeps selling the legs but still uses his offense. PK again! Backflip Double Knees, a few missed kicks before finally connecting and then charging through with the snap kick. Open Hand Chops from Josh, Kicks from Bailey, Josh just grabs him and starts the locomotion German Suplexes.
Six suplexes and another commercial! Back perched, Kimura Lock from Bailey, Josh fights, Bailey tries a kick, but Josh grabs him and dumps him back into the ring with an Olympic Slam for a near fall. Josh climbs to the top, Moonsault misses! Bailey slowly climbs to the top rope, Josh pops up, Avalanche Olympic Slam for 2! Josh struggles to try and pick up Bailey, so they have a slow rise as both men are banged up. Bailey pops up with the Straight Kick to the face for a near fall, and we actually hear the 10 minutes remaining call from Penzer.
Ankle Lock again from Josh, but Bailey keeps squirming. Josh Death Rolls with the Ankle and doesn't want to let go, he's trying to end this. Bailey tries to stretch up to get out of it, but gets scooped into a Tombstone Piledriver but only another 2 and back into the Ankle Lock! Up Kicks break the submission, Bailey tries to stop Josh from charging back into the corner with a kick, but Josh drivers his knee into Bailey's leg, drags him back to the center and Grapevine's the Ankle. Speedball barely manages to claw to the ropes.
Josh tries to climb the corner with Bailey, but Bailey slips down and now he's trying to get up to Josh but can't quite muster the energy to get past Josh. Josh keeps clocking and dropping Bailey. Bailey finally powers through the offense, stares down Josh and Avalanche Frankensteiner! Ultima Weapon… connects again but foot on the bottom rope! Flamingo…nope, Styles Clash from Josh into the Ankle Lock again! Bailey grabs the bottom rope and tries to kick Josh away, but Josh finds adrenaline rips Bailey into his arms for an Inverted Piledriver. Josh and Bailey keep struggling as Josh is going for a C4 Spike, 2 C4 Spikes with about 15 seconds left!
Overall Score: 9/10
A Western company actually mentioning time remaining, having to bump a "scheduled main event" and dedicate the last hour of the show to literally one match is a little surprising. The show also did try to add credibility to The Design, Savannah Evans got to look impressive and the fact the tag match was interrupted…to no one's surprise, helped sell the epic main event even harder.
I don't really have a lot to say aside from that was a hell of a match, and the fact that it was about 15 seconds short of a Broadway is both crazy and almost feels dirty that it didn't quite get there. But it was great, built off their previous match and was a great endcap to the year both men had as being fighting champions and two bastions of hope of the company in 2022. IMPACT loves to just to clip shows for the last two weeks of the year, so we only have 1 maybe 2 more real episodes before Hard to Kill is around the corner. But hot damn was this match amazing!
Mitchell's NJPW WTL X Super Jr. Tag Results & Report! (12/7/22)
The Super Jr. Tag League penultimate round!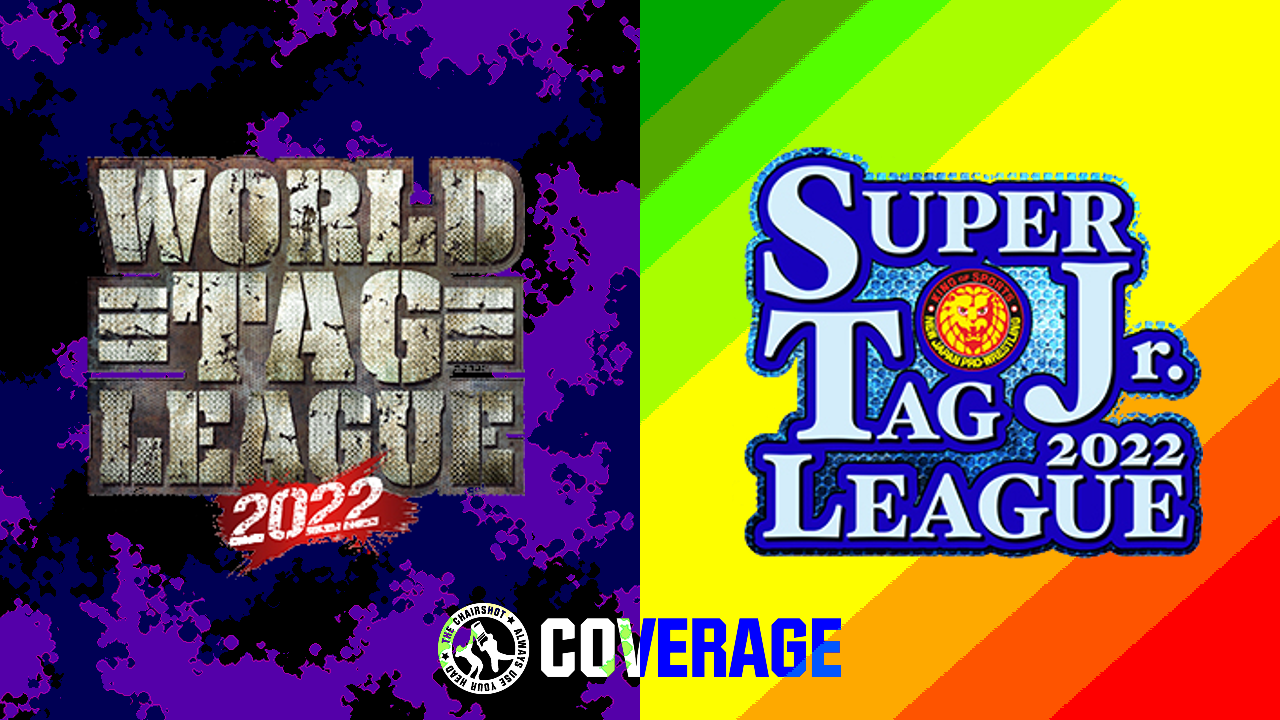 The Super Juniors are so close, they can almost taste it!
NJPW continues on and the Super Jr. Tag League is almost done! Is it inevitable that Ace Austin & Chris Bey are finalists in the tournament? Or will they get burned by the #GLEATSAUCE?
OFFICIAL RESULTS
Yuto Nakashima & Ryohei Oiwa VS Oskar Leube & Kosei Fujita; Leube & Fujita win.
Six Man Tag: Suzuki-Gun VS Bullet Club; Suzuki-Gun wins.
8 Man Tag: Toru Yano, Hiroshi Tanahashi, Tomoaki Honma & Master Wato VS Los Ingobernables de Japon; LIJ wins.
Super Jr. Tag League 2022: KUSHIDA & Kevin Knight VS TJP & Francesco Akira; TJP & Akira win.
Super Jr. Tag League 2022: Ryusuke Taguchi & Clark Connors VS YOH & Lio Rush; Yoh & Lio win.
Super Jr. Tag League 2022: DOUKI & Yoshinobu Kanemaru VS SHO & Dick Togo; Douki & Kanemaru win.
Super Jr. Tag League 2022: Robbie Eagles & Tiger Mask VS BUSHI & Titán; Bushi & Titán win.
Super Jr. Tag League 2022: Alex Zayne & El Lindaman VS Ace Austin & Chris Bey; Zayne & Lindaman win.
PLAY BY PLAY
Here are the current
Super Jr. Tag League

standings!

Austin & Bey: 6-1, 12 points
Bushi & Titan: 5-2, 10 points
TJP & Akira: 5-2, 10 points
Yoh & Lio: 5-2, 10 points
Zayne & Lindaman: 5-2, 10 points
Taguchi & Connors: 3-4, 6 points [ELIMINATED]
Eagles & Tiger Mask: 2-5, 4 points [ELIMINATED]
Douki & Kanemaru: 2-5, 4 points [ELIMINATED]
KUSHIDA & Knight: 1-6, 2 points [ELIMINATED]
Sho & Dick: 1-6, 2 points [ELIMINATED]
Super Jr. Tag League 2022: KUSHIDA & Kevin Knight VS TJP & Francesco Akira!
The Time Jet may be out of the running, but they could use this moment to turn it all around! Will Kushida & Knight find #Time2Fly? Or will Catch 2/2 not be denied their spot in the finals?
The Orchestrator, Gideon Grey, is here to make the introductions for the Public Enemy & Nova Fireball. The teams sort out and fans applaud as Knight starts against TJP. Fans rally as the two circle. TJP avoids Knight's rush at the legs, gets around to a waistlock, but Knight switches. TJP sits, pries at the hold, but Knight brings him up to SLAM him down! Knight floats to a facelock, TJP rolls but Knight stays with him, but TJP slips away. Fans applaud this opening exchange and the two reset. Knight and TJP circle, knuckle lock, and TJP spins to wrench and wrangle Knight with a top wristlock.
Knight rolls, stands, TJP wrenches his arm again. Knight rolls, handsprings and wrenches back! Fans applaud while TJP works on a return. TJP rolls, spins, cartwheels, but Knight stops the headscissors to CHOP! Fans applaud as TJP staggers to ropes. Knight CHOPS TJP again, then whips TJP to ropes. They RAM shoulders but neither man falls. Knight flexes and fans applaud. TJP runs, they RAM shoulders again and Knight stays up. Knight says TJP doesn't have it, but TJP kicks low! TJP runs, but Knight hurdles over! TJP rebounds, and he blocks the hip toss into a cobra twist! Fans applaud while Knight endures.
TJP drops for a ground cobra cradle, TWO! Knight whips, TJP stops himself and comes back to tie Knight's one arm up, and he YANKS Knight's other arm back! Fans applaud while TJP drags Knight away. Tag to Akira and Catch 2/2 mug Knight. They double whip but Knight DOUBLE FLYING SHOULDER TACKLES them down! Fans fire up as Knight brings Akira up. Knight wrenches Akira, tags Kushida, and he hands off the wrench. Kushida wrenches to a wristlock, then tags Knight back in. They hand off the wrench again, tag, and then hand it off again! Kushida CLUBS Akira's arm, wrangles him down, and traps the arm to TWIST!
Fans applaud as Kushida drags Akira up to wrench again. Tag to Knight, they hand off the wrench again and again and again! Then they double snapmare to double knee drop both arms! Fans applaud but TJP runs in! Into a drop toehold and PENALTY KICK to the arm! Kushida & Knight secret handshake, then they double whip TJP to a corner. Then they double whip Akira into TJP! Kushida runs in to back elbow sandwich the champs! Knight runs in to STINGER SPLASH SANDWICH the champs! Knight pushes Akira aside to whip TJP corner to corner. TJP goes up and over, Akira returns for a RAILGUN DROPKICK!
Fans rally as Akira drags Knight up to CLUB him on the neck. Akira stomps Knight in the corner and digs his boots in! The ref counts, Akira stops at 4, then tags TJP. Catch 2/2 drag Knight up, they double whip him to ropes, and SOBAT, KICK, KICK and BASEMENT SHOTGUN! Cover, TWO! TJP sits Knight up to KNEE him in the back! TJP drops knees on the arm, then on a leg. Then TJP has the leg for a standing toehold. Knight endures, even as TJP twists the ankle! Fans rally, Knight fights up and stands. TJP stays clear of the haymakers but Knight breaks free. Knight kicks with the other way but TJP blocks it!
TJP slips around, but Knight ENZIGURIS TJP down! Fans rally, Akira grabs Knight's legs but Knight kicks him away. But TJP runs past Knight to BLAST Kushida! Knight run sin but TJP goes up and over to get a TARANTULA! Akira intercepts Kushida at the apron for a TARANTULA! Fans fire up for the double shoutout to Tajiri, and Catch 2/2 lets off as the ref counts. Akira returns to his corner, TJP stalks Knight and fans rally up. TJP drags Knight up, scoops and SLAMS him, then goes to the apron. Slingshot SENTON! Tag to Akira, and he runs to go up the Electric Chair! "Take Picture!" But Knight JET FLIGHT DROPKICKS Akira down!
Fans fire up while all three men are down! Knight crawls, hot tag to Kushida! Kushida climbs up and AX HANDLES TJP down! Kushida KICKS and KICKS and KICKS Akira, then whips him to ropes. Akira reverses but Kushida FLYING FOREARMS! Kushida dodges to PELE! TJP kicks Kushida, runs, but into a hip toss! Cartwheel, basement dropkick! Fans fire up with Kushida and he winds up, but Akira blocks the Buzzsaw! Akira whips Kushida to ropes, but Kushida reverses. Akira sunset flips but Kushida stays up! Kushida has the arm, for an ARMBAR! The fans fire up as Kushida pulls back, but Akira rolls to the ROPEBREAK!
Kushida lets go quickly and fans rally up. They clap for "KU-SHI-DA!" as he wrenches Akira's arm to an ELBOW BREAKER! Kushida aims, but Akira dodges the Penalty Kick! Akira CHOPS, but Kushida ROCKS! Akira SUPERKICKS, but Kushida SHOTEIS! Fans fire up while both men are down! Kushida crawls, hot tag to Knight! Knight hurries after Akira, brings him up and whips him to a corner. Knight runs in and Kushida runs in from the apron, SPLASH ENZIGURI COMBO! Knight hoists Akira up top, climbs up after him, but TJP gets in! TJP Electric Chair Lifts Knight, but Kushida HANDSPRING KICKS Akira!
Knight fights free of TJP while Kushida has a KIMURA on Akira! TJP lets Knight go to go after Kushida! TJP has the Electric Chair Lift, but Kushida fights free to get the HOVERBOARD KIMURA! Knight jumps to SUPER STEINER Akira! Fans fire up and Knight leaps, SATELLITE DDT!! Cover, TJP SLAMS Kushida onto it! Fans fire up while Kushida throws TJP out. Knight drags Akira up, fans clap "TIME TO FLY!" They double suplex but Akira fights it. Akira ROCKS and CHOPS on repeat! But Knight knees low! Time2Fly double whip but Akira shotguns the clothesline apart! And TJP runs in to DOUBLE BULLDOG!
Fans fire up and TJP blocks a kick to spin around, LEG CAPTURE BACK SUPLEX for Knight! Kushida DECKS TJP! Akira GERMAN SUPLEXES Kushida! Knight SLIDING SHOULDERS Akira down! Fans are thunderous as all four men are down! Knight sits up, he brings TJP up but TJP throws a forearm. Knight forearms back, so TJP forearms again. The forearms keep going, then TJP UPPERCUTS! Knight UPPERCUTS in return! The forearms return, Knight gets the edge! Knight runs, into a ROLLING SOBAT! TJP runs, ducks a lariat and SUPERKICKS! TJP runs, into a DROPKICK! Knight kips up and fans fire up again!
Knight runs corner to corner at TJP, but TJP goes up and over! TORNADO DDT!! Cover, TWO!! Knight is still in this and fans are thunderous! TJP drags Knight to a drop zone, goes up the corner, but Knight is up! Knight springs up to join TJP, he throws body shots, but TJP hits back. Fans rally as TJP slips under and trips Knight! Knight is in a Tree of Woe, TJP helps Akira walk the tightrope, for a MISSILE WOE DROPKICK! Knight is down in another drop zone and TJP goes back up! MAMBA SPLASH!! Cover, but Kushida breaks it! Kushida CLUBS Akira, CLUBS TJP, then BUZZSAWS Akira! Kushida runs, but into an ALLEY-OOP!
Fans fire up as Catch 2/2 sit Knight up! 2 BY 2!! Cover, Catch 2/2 win!
Winners: TJP & Francesco Akira, by pinfall (gain 2 points; Kushida & Knight earn 0)
That's two more points for a dozen total! Will the IWGP Junior Heavyweight Tag Team Champions prove they are THE best tag team in the division?
Super Jr. Tag League 2022: Ryusuke Taguchi & Clark Connors VS YOH & Lio Rush!
The Wild Hips haven't had much luck in the league, but they're not giving up! Will Taguchi & Connors stampede through Direct Drive & The Bad Child? Or will the Men of the Hour still have time on the clock?
Taguchi and Connors reach into their bags, and they have beer again! Fans applaud, and the Wild Hips offer some to Yoh & Lio. Really? Right now? Sure! Think of it like a party. Fans applaud but Yoh & Lio aren't sure, they're technically working. Yoh and Lio take a can each, Connors & Taguchi crack theirs open and drink. Fans applaud, it's now or never for Lio & Yoh. They argue it out, but Lio says his stomach doesn't feel good. Connors understands and fans applaud. The beers are put aside for now, and the teams sort out. Lio starts with Connors and fans rally up at the bell. Lio and Connors circle, feel things out, and knuckle lock.
Connors shoots in but Lio sprawls and facelocks. Connors slips out to facelock and then waistlock then back to a facelock. Lio slips out to waistlock, they stand up, and Connors pries free to switch. Connors drags Lio down, goes back for a facelock, but Lio switches that onto Connors. Connors fights back up, throws a knee, and fans applaud as Connors headlocks. Lio powers up and out but Connors runs him over! Fans applaud again and Connors runs the ropes. Lio drops, then redirects to whip Connors. Connors redirects, too, and then again! Lio handsprings to dodge, then he mule kicks and ENZIGURIS! Fans fire up and Lio covers, TWO!
Lio has the fans rally up, and Lio wrenches Connors' arm. Tag to Yoh, they double whip Connors and double kick. Yoh whips Lio but Connors avoids the scissor kick! Lio whips Yoh now but Connors avoids Yoh to rebound and run them both over! Fans fire up with Connors and he calls to Taguchi. Taguchi hops in, Connors EuroUppers Yoh. Yoh is in one corner, Lio is in the other and the Wild Hips combine. WHIP HIP into Lio! WHIP HIP into Yoh! And then another for Lio! And another for Yoh! Then Taguchi WHIP HIPS Connors into Lio, and then WHIP HIPS him into Yoh! Fans fire up as the Wild Hips butt bump.
Taguchi sets up on the corner and Connors brings Yoh around. But Yoh reverses and sends Connors into the Funky Weapon! Lio returns to LARIAT Connors down! Taguchi hops down and runs at Yoh, but Yoh atomic drops the hip attack! Yoh scoops and SLAMS Taguchi, then he and Lio hook Taguchi's legs into the ropes! Not quite a Tree of Woe, more a Bush of Woe. Fans rally as Lio and Yoh fire up. They hook up, ROLLING DIVING HEADBUTT into the Bush! Fans fire up while Taguchi flops over. Yoh drags Taguchi to the apron, and he uses the ropes in a Paradise Lock!? Yoh learned a form of Paradise!
Connors returns but Yoh kicks him down. Yoh drags Connors up to ROCK him with a forearm, and then stomp him in the corner. Tag to Lio, he and Yoh double whip Connors to DOUBLE ELBOW! Then Lio runs to get a wheelbarrow boost from Yoh, WHEELBARROW SPLASH! Cover, TWO! Lio taunts Taguchi then clamps onto Connors with a sleeper and body scissors! Yoh plays defense, but Taguchi can't get free anyway. Connors fights up with Lio as a backpack, and he RAMS Lio into the corner! Yoh tags in, Connors hurries to his corner, but he can't tag Taguchi like that! Lio whips Connors to the corner, Yoh & Lio mug him!
Yoh & Lio drag Connors up again, throw forearms and haymakers, then Yoh has Connors on ropes. Yoh throws more forearms, puts him back in the corner, but Connors fights back with forearms and elbows! Fans rally, Connors crawls, but Lio drags him up for a BIG back suplex! Fans rally, Yoh & Lio drag Connors up and double whip. Connors ELBOWS Yoh away but Lio kicks him low. Lio runs, Connors drops and POUNCES Lio into Yoh, and Yoh falls on Taguchi! Taguchi's free from Paradise! Fans fire up as Connors hurries over, hot tag to Taguchi! Taguchi fires up, and he HIP ATTACKS Yoh at the ropes! Then HIP ATTACKS Lio at the ropes!
Taguchi keeps going, another HIP ATTACK for Yoh! Another HIP ATTACK for Lio! Baseball slide and APRON HIP for Yoh! Fans fire up and Taguchi takes aim from the apron. Springboard and MISSILE HIP! Taguchi covers, TWO! Taguchi drags Yoh up but Yoh swings, into a waistlock. Yoh elbows free, runs, but Taguchi follows! Yoh catches the hip attack into a waistlock, but Taguchi elbows free. Taguchi fakes Yoh out into running into a HIP ATTACK! Fans fire up and Taguchi runs side to side! PEOPLE'S T-BAG!! Cover, TWO!! Yoh survives and fans fire up. Taguchi calls upon the powers of Strong Style! "ORYA~!"
But Lio gets in the way, and offers the beer! He wants to have the drink now? Lio gets the fans to applaud for it, and they crack open the beers. They drink, and Lio hits a STUNNER on Taguchi! Lio laughs at Taguchi falling for it, then he HAANDSPRING KICKS Connors off the apron! Lio hurries to get another drink of beer, then he builds speed! But then Lio feels queasy! Connors runs in to SPEAR Lio down! Fans fire up, Connors drags Yoh up but Yoh throws forearms! Yoh ROCKS Taguchi, UPPERCUTS Connors, but runs into DOUBLE HIP ATTACKS! The Wild Hips combine their powers, take a drink, and show the RED UNDIES! CROSS HIPS!!! Cover, Lio breaks it!!
Fans fire up and Connors throws Lio out. Taguchi stands back up and fans rally. Taguchi stands Yoh up, to ENZIGURI! Fans fire up and Taguchi drags Yoh up into chicken wings! But Yoh wheelbarrows and victory rolls, only for Taguchi to sit on it! TWO!!! But Taguchi has OH MY GAH ANKLE!! Yoh flails, reaches out, moves around, and Connors keeps Lio on the outside! Yoh scrambles to get a BEER! Yoh stands up to make Taguchi drink!! Taguchi chugs, Yoh shakes him up!! Taguchi is dizzy now, but he SPITS the beer! He's gone from The Rock to The Game! Taguchi kicks low, runs, but into 3K!!!! Cover, the Men of the Hour win!!
Winners: Yoh & Lio Rush, by pinfall (gain 2 points; Taguchi & Connors earn 0)
It's all about the game and how you play it, but the Wild Hips got beat at their own game! Will Yoh & Lio close in on that outside shot to the finals?
Super Jr. Tag League 2022: DOUKI & Yoshinobu Kanemaru VS SHO & Dick Togo!
Japones Del Mal & The Heel Master got the biggest win they could by beating the IWGP Junior Heavyweight Tag Team Champions! Will that momentum help them finish strong? Or will the House of Torture ruin things for them right before the end?
Both sides argue about the other needing to be thoroughly checked. After all, Douki has the pipe and Kanemaru has the whiskey, but the Murder Machine has a wrench and the Spoiler has his choker. But for now, the teams sort out and Dick starts against Kanemaru. Fans rally as the two circle. They tie up, Dick powers Kanemaru to ropes, but lets off as the ref counts. Kanemaru dodges the sucker punch and tells the ref that's what he was talking about! Dick apologizes, and offers a handshake. Kanemaru says don't even bother with that. Dick shakes Sho's hand and Sho hops in to shake the ref's hand. Dick also shakes the ref's hand.
Douki steps in and the House of Torture offers him a handshake, too. Douki & Kanemaru reach out to accept, but then they block the cheap kicks! Douki throws Sho's foot into Dick, then he throws Sho out while Kanemaru rolls Dick up! TWO!! Dick escapes, Douki goes out after Sho while Kanemaru stalks Dick to the corner. Dick pokes Kanemaru in the eye! Dick then whips corner to corner but Kanemaru reverses. Dick BOOTS Kanemaru, runs, but into a dropkick to the legs! Tag to Douki, Suzuki-Gun SMASH both knees! Cover, TWO! Douki stomps Dick around, then puts the leg on the ropes for a HIP DROP!
Fans rally while Douki drags Dick up. Douki kicks low, whips Dick to ropes, then runs in, only to be put on the apron. Dick swings but Douki shoulders into him. But Sho trips Douki up! Dick BLASTS Kanemaru, Sho stomps Douki around by commentary. Sho drags Douki up, brings him all the way to the back wall, rakes the eyes, and then goes into the rear stage area! Sho sends Douki into the wall! Dick keeps after Kanemaru while Sho whips Douki at the edge! Douki keeps from falling, he turns around and Sho BOOTS him off the stage! Fans applaud as Sho stands tall. Sho stomps Douki in front of the back row, then says to turn our attention back to ringside.
The ring count starts while Dick waits on Douki. Sho wants the count to go faster, and then he touches the Super Jr. Tag League trophy. Fans rally as Douki stands, and he hurries up the aisle! We're at 12 of 20, Sho gets on the mic to shout that this is over! Sho rings the bell himself! The ref tells Sho no, but Sho makes the ref raise his hand in victory. Doukik returns! But Sho and Dick mug him! The ref reprimands them, counts, but both Sho and Dick let off at 4. Douki fights up but Dick fights off the scoop. Dick throws body shots and he CLUBS Douki down! Dick scoops and SLAMS Douki down! Dick then clamps onto Douki's arms for a motorcycle stretch!
Fans rally as Douki endures and reaches out. Douki gets the ROPEBREAK, and Dick lets off. Dick scrapes his sole on Douki's face, then he tags Sho. Sho runs to BLAST Kanemaru, then he and Dick mug Douki. Douki hits back but Sho rakes the eyes! Sho shoves Douki down, brings him back up, and throws him out of the ring. Sho distracts the ref so Dick can ROCK Douki! Dick puts Douki back in for Sho to ROPE GUILLOTINE! Cover, the ref refuses because of shenanigans. Sho stomps Douki then covers, TWO! Fans fire up while Sho is upset with the ref. Sho drags Douki back up but Douki throws forearms! Sho rakes the eyes!
The ref reprimands but Sho grins as he brings Douki up again. Douki blocks the suplex and fans rally. Sho powers Douki up but Douki fights it. Douki powers Sho up, but Sho bends Douki's fingers! Sho suplexes but Douki slips out! Douki waistlocks but Sho elbows free. Sho runs, but into a FLYING HEADBUTT! Fans fire up while both men are down again! Sho and Douki crawl, hot tag to Kanemaru! Kanemaru stomps on Sho then BLASTS Dick! Kanemaru whips, Sho reverses but Kanemaru dropkicks the legs out! Kanemaru drags Sho up, SHIN BREAKER and then a  dropkick to the legs! Kanemaru steps through for a FIGURE FOUR!
Sho endures the leglock and Kanemaru trashes about! Dick gets in to stomp away on Kanemaru! The hold is undone but the ref reprimands Dick. Kanemaru drags Sho around, stomps the legs, but Sho bends the fingers! So Kanemaru rakes Sho's eyes! The ref reprimands them both, Kanemaru kicks Sho and runs. But Sho uses the ref as a shield! Sho then runs but now Kanemaru uses the ref as a shield! Kanemaru kicks low, ELBOWS Sho in the head, then runs, but Dick gets a cheap shot in! Sho SPEARS Kanemaru down! Tag to Dick and the House of Torture stomps away on Kanemaru. They whip him corner to corner, then Sho runs in.
Kanemaru dodges Sho, kicks Dick and sends him into Sho! ENZIGURI for Dick! Fans fire up while all three are down! Douki calls out and Kanemaru heads that way! Hot tag to Douki! Douki goes up to CROSSBODY! Dick staggers up, Douki dodges him to springboard BACK ELBOW! Douki drags Dick into the drop zone, for a RUNNING DOUBLE STOMP! Cover, TWO! Fans rally, Douki drags Dick up and hooks him up! But Dick fights the Gory Especial to snapmare and ghost pin! TWO! CROSSFACE!! Fans rally while Douki endures! Douki reaches out, claws his way over, but Dick rolls him way!
But Douki slips out to waistlock! He baits Dick into a double pump handle and he flips Dick over! Douki then rolls Dick into ITALIAN STRETCH #32! Fans fire up while Dick endures! But then Sho drags the ref out! Sho gets in to stomp away on Douki! The Young Lions check on the ref while Sho gets his wrench! But Douki gets his PIPE! Fans fire up as Douki's is bigger! Sho still swings but Douki dodges! Douki swings but Sho dodges! Douki blocks the wrench attack and Sho drops it! Douki JAMS Sho with the pipe, then CHOKES him with it! But Dick slides in to use the SPOILER CHOKER! But Kanemaru takes a swig!
Yujiro & Evil rush out from the back! But Kanemaru WHISKEY MISTS Yujiro! Then he KICKS the ropes to hit Evil down low! Then Kanemaru WHISKEY MISTS Dick! But Sho LOW BLOWS Kanemaru! Everyone falls at the same time! Fans fire up and rally as the ref returns! The ref can't make heads or tails of what happened, but Dick and Douki stay in the ring. Dick drags Douki up, underhooks, but Douki blocks the Pedigree! Dick CLUBS Douki down, drags him back up and tries again. But Douki wrenches out! Dick rakes the eyes! Dick gets the whiskey and tags a swig!? But Douki HELL STABS! The whiskey spews into the air!
Douki drags Dick back down, ITALIAN STRETCH #32!!! Dick verbally quits, Suzuki-Gun wins!!
Winners: Douki & Yoshinobu Kanemaru, by submission (gain 2 points; Sho & Dick earn 0)
Incredible! Douki the underdog has gotten his team to three wins in this latter half of the tournament! Is this a sign that things are finally clicking for Japones Del Mal?
Super Jr. Tag League 2022: Robbie Eagles & Tiger Mask VS BUSHI & Titán!
The Flying Tigers may not have a shot at the finals, but they can shoot down another team's chances! Will the Sniper of the Sky and the Junior Heavyweight legend eliminate LIJ? Or will the Black Mask y El Inmortal stay alive for one more round?
The teams sort out, Eagles calls out Titan, so LIJ fist bumps. Fans applaud as Titan and Eagles circle. They tie up, Eagles wrenches an arm to a wristlock, but Titan rolls, handsprings and wrenches back. Eagles endures the wristlock now, but he uses the ropes to flip through and wrench back. Titan endures now, rolls, kips up and bridges to then handspring and wrench back! Fans rally as Titan wrenches again. Titan whips corner to corner, Eagles reverses but Titan goes up and over to handspring away. Fans cheer and things keep moving. Titan jumps over, whips Eagles but Eagles reverses to go up and around and arm-drag! But Titan handstands walks!
Titan rolls, handsprings, and fans fire up as things keep moving. Titan hurdles, Eagles counters the arm-drag to a takedown, and then he handsprings to basement dropkick! Fans cheer the opening exchange as Eagles covers, TWO! Eagles keeps on Titan, brings him over, and bumps him off buckles. Tag to Tiger and he KICKS and KICKS and KICKS Titan down! Tiger stomps Titan, brings him up and ROCKS him with a forearm. Tiger runs but Titan DROPKICKS him in return! Fans rally and Titan rolls to tag in Bushi! Bushi stomps Tiger, bumps him off buckles, then CHOPS! And CHOPS again!
Bushi pushes Tiger out, turns him, and hits a NECKBREAKER! Cover, TWO! Bushi goes after Tiger's mask! The ref reprimands, Bushi stops going after the laces to pull at the chin! The ref reprimands and counts, Bushi stops at 4. Bushi stomps Tiger down, then he tags in Titan. Titan climbs while Bushi drags Tiger up. Bushi wrenches an arm and Titan DOUBLE STOMPS it! Titan kicks Tiger around, then mule kicks him. Titan snapmares Tiger to PENALTY KICK! Fans rally and Eagles coaches Tiger, but Titan stands Tiger up. Tiger throws body shots, then throws KICK after KICK! Titan blocks a kick but Tiger SPIN KICKS him away!
Fans rally, Tiger rolls and hot tags Eagles! Eagles springboards up and over Titan, BLASTS Bushi, then RANAS Titan! Fans fire up as Eagles WHEEL KICKS Titan and kips up! Titan bails out, Eagles builds speed, but Bushi trips Eagles up! Titan mule kicks Tiger, CLUBS him down and gets back in the ring. Titan KICKS Eagles while he's down, then he tags Bushi. Fans rally as LIJ mug Eagles, then double whip him corner to corner. Bushi runs in to back elbow Titan, and then sets up for INMORTAL IN MOTION! Feed to a lift, DROPKICK SPINEBUSTER COMBO! Cover, TWO! Fans rally up but Titan BLASTS Tiger!
Fans rally up as LIJ loom over Eagles. They kick Eagles around, drag him up and double whip again. Eagles reverses to send Bushi away and then he knees Titan low. Bushi returns and Eagles sends him into Titan! Titan falls, Eagles mule kicks Bushi then runs, BASEMENT DROPKICK BLINDSIDE LARIAT COMBO! Fans fire up while all three men are down! Eagles crawls for his corner, hot tag to Tiger! Tiger goes up top and CROSSBODIES Bushi down! Titan CLUBS Tiger, holds him up, but Tiger BOOTS Bushi and KANGAROO KICKS Titan! Bushi returns, into a tilt-o-whirl BACKBREAKER! Cover, TWO!
Fans rally as Tiger brings Bushi back up. Tiger underhooks Bushi but Titan runs in! Tiger mule kicks Titan, Eagles runs in to KICK, and then DOUBLE ROUNDHOUSES take Titan down! Fans fire up and Bushi fires forearms on both Flying Tigers! Bushi fires off on Tiger, but Eagles SOBATS Bushi! Eagles cravats Bushi and Tiger gives him a boost into the ASAI DDT! Roll and feed to the underhooks, TIGER DRIVER! Cover, Titan breaks it! Eagles throws Titan out and Tiger goes to a corner. But Titan POSTS Eagles! Tiger reaches the top but Titan attacks him first! Titan ROCKET LAUNCHES Tiger off the corner!
Bushi crawls to the LIJ corner, hot tag to Titan! Titan roars, fans fire up, and Titan springboard MISSILE DROPKICKS! Titan drags Tiger up, reels him in and suplexes for the GOURD BUSTER, to a SUPERKICK! Cover, TWO! Tiger is still in this and fans rally up. Tiger goes to a corner, Titan powers up and runs in, LOCO- NO, Tiger BOOTS Titan away! Then crucifix takedown! TWO!! Into the REVERSE DOUBLE ARMBAR!! Titan endures, flails, Eagles intercepts Bushi into the RON MILLER SPECIAL!! But Titan gets the ROPEBREAK! The Flying Tigers let LIJ go and Eagles kicks Bushi out.
Eagles rallies the fans and he joins Tiger in bringing Titan up. The Flying Tigers double whip Titan to a corner, Eagles goes to the apron. They both run in, ENZIGURI ROUNDHOUSE COMBO! Fans fire up as Tiger brings Titan up to the top rope. Bushi rushes in but Eagles springboards and missile dropkicks the legs out! Tiger climbs up after Titan, underhooks the arms, and fans rally up! SUPER BUTTERFLY SUPLEX! Cover, TWO!! Titan survives, but Tiger has a KIMURA! Titan endures as Tiger also traps his head! Bushi barrels through Eagles to break it up! Fans rally as Bushi fires forearms on Eagles.
Eagles knees low, Bushi ducks a roundhouse to spin Eagles into a DDT! Tiger fires off on Bushi, knees low and SOBATS! Tiger runs, but into a DROPKICK! Bushi runs to BLAST Eagles! Then Bushi builds speed to DIVE onto Eagles! Fans fire up and Titan roars! Titan drags Tiger up, reels him in to a fireman's carry, and spins for the LANDSLIDE! Cover, TWO!! Tiger survives again and fans fire up! Bushi returns as Tiger goes to a corner. Titan runs in, LOCO LARIAT! Bushi hits the CODE BREAKER! Titan springboards, but slips! Angel Inmortal is more a diving headbutt botch! Bushi hurries to get Titan back up and Titan resets.
Bushi watches Eagles while Titan COAST2COAST dropkicks Tiger!! Cover, LIJ wins!
Winners: Bushi & Titán, by pinfall (gain 2 points; Eagles & Tiger earn 0)
It wasn't pretty, but it was effective! LIJ stay alive for another round, will they make the Super Jr. Tag League finals tranquilo?
Super Jr. Tag League 2022: Alex Zayne & El Lindaman VS Ace Austin & Chris Bey!
The #SAUCEHEARTS holds their fate in their own hands! If they win, they take over the top spot! If they lose, their bubble bursts right before the end! Can Zayne & Lindaman stop the Inevitable? Or will Ace & Bey keep things Too Sweet?
The teams sort out, Zayne steps up and calls out his former friend, Ace. Ace & Bey Too Sweet and then point finger guns at Zayne. Lindaman says, "Boo~!" but Ace starts against Zayne. The fans rally as the two stare down, but then Ace tags out to Bey. Bey & Ace laugh at Zayne thinking he was going to get his way. Zayne and Bey circle, fans rally up again, and the two tie up. They go around, Zayne puts Bey on ropes but he stares Ace down. Red shoes counts the break, Zayne lets off with a pat on Bey's shoulder. Bey acts like he's gonna punch, but he just hands Red Shoes some of his gold chains that're coming loose.
Zayne and Bey reset as fans rally up, and Bey gets around to waistlock. Zayne works on the hold but Bey shifts to a headlock. Zayne throws body shots, then elbows, then he powers out, only for Bey to pull on Zayne's beard! Bey laughs and flexes while Red Shoes reprimands. Bey headlocks, but Zayne powers up to put Bey on ropes! Zayne then powers out to wrench Bey's arm. Bey endures the wristlock, but Zayne pulls on Bey's beard! Tag to Lindaman and Lindaman kicks Bey low. Fans applaud as Lindaman wrenches and wristlocks Bey to then YANK the arm! Lindaman YANKS the arm again, and he keeps Bey from Ace.
But Bey pulls Lindaman's hair! Red Shoes reprimands but Bey knees Lindaman low, tags Ace, and Bullet Club mugs Lindaman. They double whip Lindaman corner to corner, Bey runs in but Lindaman picks Bey up! AIR RAID CRASH! Ace runs in and knees low. Ace whips, Lindaman reverses and SAYANAGIS! Then BASEMENT DDT! Fans fire up with Lindaman and he looms over Ace. Lindaman drags Ace, scoops him and SLAMS him, then rallies the fans as he goes to the corner. Lindaman runs, stomps and goes to the other corner! Fans fire up as Lindaman climbs, but Ace wants Red Shoes to check him. This is a distraction so Bey can trip Lindaman up!
Ace hobbles over and tags in Bey. Bey BLASTS Zayne, then he and Ace double whip Lindaman! POMMEL KICK, and then FINESSE IN MOTION! Bey feeds Lindaman to Ace's drop toehold and Eddy Gordo Kick! Bey DOUBLE STOMPS Lindaman down! Bey stands on Lindaman in a cocky cover, TWO! Fans applaud while Bey drags Lindaman up. Bey ROCKS Lindaman, drags him up again, and then CLAWS Lindaman's eyes! Red Shoes counts, Bey lets off and pretends he can't hear the fans rallying up. Bey KICKS Lindaman in the side, then coordinates with Ace. Bey bumps Lindaman's face off Ace's boot!
Red Shoes reprimands while Bey tags Ace. Bullet Club double wrench Lindaman, double CLAW his back, then double drop toehold to Too Sweet CLAW his back! Fans applaud while Ace stomps Lindaman. Cover, TWO! Fans applaud more, Ace stomps Lindaman more. Ace CHOKES Lindaman with his shirt, then drags Lindaman up to gut wrench suplex! Ace stands on Lindaman before a LEG DROP! Cover, TWO! Ace KNEES Lindaman in the back, and again, but Lindaman gets up to ROCK Ace! And again! But Ace NORTHERN LIGHTS! Bridging cover, TWO! Ace drags Lindaman up and tags in Bey.
Bullet Club mugs Lindaman, double whip him to ropes but Lindaman holds ropes. Ace runs in but Lindaman steps aside to send him tumbling out! Bey runs in but Lindaman puts him on the apron. Bey holds onto Lindaman to keep him from Zayne, and Bey shoulders in. Bey slingshots up and over, but Lindaman CLOBBERS him! Fans fire up, hot tag- NO, Ace trips Zayne off the apron! Bey CLOBBERS Lindaman while Ace stomps Zayne. Bey snapmares and UPPERCUTS Lindaman in the back. Cover, TWO! Bey argues the count while fans rally up. Bey sits Lindaman up for a chinlock and grinds him down.
Fans rally as Lindaman endures. Lindaman fights his way up, throws elbows, but Bey CLUBS Lindaman down! Tag to Ace, and Ace brings Lindaman around, DOUBLE SWEEP COMBO! And then the STANDING MOONSAULT LEG DROP COMBO! Cover, TWO! Fans rally up while Ace grows frustrated. Ace drags Lindaman up, whips him hard into the corner, and Bey CHOKES Lindaman while Ace distracts Red Shoes with talk about Zayne. Red Shoes keeps them apart, and then Ace goes over to Lindaman. Ace tags Bey, drags Lindaman up, and Bey takes a crane stance. Bey crane steps to then poke Lindaman in his eyes!
Fans applaud while Bey crane steps around. Bey drags Lindaman up, reels him in, and says he's gonna give us three amigos. But Lindaman blocks the first amigo! Bey throws body shots, then a knee! Uno Amigo! Then Dos Amigos! Then THREE AMIGOS! Bey kips up and fans applaud. Bey goes up the corner, fans fire up, and Bey mocks Zayne with "ITADAKIMAAASU~!" MOONSAULT, but Bey has to roll through when Lindaman moves! Lindaman runs in, gets around, kicks Bey's legs out then dropkicks him in the back! Fans fire up while both men are down, hot tags to Ace and Zayne! Zayne fires off hands on Ace, then spins him for the DISCUS LARIAT!
Fans fire up as Zayne storms up on Ace, fires off boxing elbows, then mule kicks! Zayne runs but Bey runs in to SOBAT! Bey whips, Zayne ducks 'n' dodges, then he DOUBLE RANAS Bey & Ace! Fans fire up and Zayne swings, but Bey catches him! Ace runs up but Zayne BOOTS him! Zayne elbows free of Bey to knee him low, then he runs again, DOUBLE ROLLING SCISSOR KICK! Fans fire up again as Zayne focuses on Ace. Zayne stalks Ace, drags him from the corner, and he pulls the kick pad away from the boot! Ace kicks Zayne away, but Zayne blocks the roundhouse! Zayne drags Ace down and Ace desperately claws for the ropes! ROPEBREAK!
Zayne holds on but Bey drags Ace out to safety. But then Lindaman runs in and he uses Zayne as a boost to SOMERSAULT SENTON out onto Bullet Club! Fans fire up with that direct hit, and Zayne waits on them to stand back up. Fans rally, Lindaman drags Ace up for Zayne and puts him in. Zayne drags Ace up, reels him in, but Bey SUPERMAN PUNCHES Lindaman! Zayne suplexes, Ace slips out and goes to ropes. Zayne runs in, he blocks Ace's boot and flips him to the apron. Bey gets up to join Ace, Zayne runs in but he gets DOUBLE KNEES! Ace & Bey dump Zayne out, and then Bey gets in to build speed. Bey FLIES and takes out Zayne!
Lindaman swipes at Ace but Ace handsprings up and over! Ace PENALTY KICKS Lindaman down! Ace and Bey get Zayne up, Ace slingshots in and kips up to build speed! THE FALL TO GLORY! Fans fire up for the Fosbury Flop and Bey says that was great! Ace puts Zayne in the ring, fans rally up and Bullet Club sees Zayne go to the corner. Bey sets up, but Zayne ducks the pommel kick! Zayne BOOTS Bey, puts Ace in the corner to ELBOW, then he hoists Ace up top. Bey runs in but is sent into Ace's knees! Zayne uses Bey to get up and SUPER STEINER Ace! And GERMAN SUPLEX Bey onto Ace! Fans fire up as Zayne drags Ace up.
Zayne scoops for the BAJA BLAST! Cover, TWO! Ace survives but Zayne keeps his focus. Lindaman returns, he and Zayne coordinate. Lindaman drags Ace up and Zayne goes to the corner. Lindaman hits KUMAGOROSHI, and Zayne shouts "ITADAKIMAAASU~!" Zayne climbs up, but Bey GAMANGIRIS him down! Lindaman storms over but Bey GAMANGIRIS him, too! Ace hits a BIG back suplex on Lindaman, and Bey climbs up after Zayne. Zayne is reclined along a top rope, Bey DOUBLE STOMPS him down! Bey drags Zayne up and torture racks! Ace steps in to FLYING CHUCK and Bey spins to RACK NECKBREAKER!! Ace covers, TWO!?!?
Fans are thunderous as Zayne survives! Bullet Club grows frustrated, but they decide to bring out the trump card. But Lindaman BOOTS Ace! And ROCKS Bey! And ROCKS Ace! Lindaman fires off on Bey, then BOOTS Ace! Lindaman whips but Ace reverses. Bey SPLASHES Lindaman, hoists him up top, and then Ace goes up top with Bey. They bring Lindaman up, but Zayne CLUBS them first! Zayne adds on now, for a TOWER OF DOOM, DOUBLE POWERBOMB SUPERPLEX!! Fans fire up as all four men are down! They all stir, and Bey slowly rolls out of the ring, as does Lindaman. That leaves Zayne and Ace alone.
Zayne crawls over to Ace, and Ace SLAPS Zayne! Zayne SLAPS Ace, and they SLAP back and forth! Then they throw forearms back and forth! Fans rally as the two fight up to their feet to throw more forearm shots! Ace gets the edge, knees low then swings, but Zayne spins him! Ace blocks the lariat, Zayne blocks the kick! Zayne ducks a kick to wrap Zayne up! TACO- NO, Ace slips out! Ace KNEES, KNEE LIFTS and HEEL KICKS! Zayne wobbles, Ace runs, THE FOLD!!! Cover, LINDAMAN BREAKS IT!! Fans are thunderous as Lindaman waistlocks Ace and deadlifts! Bey saves Ace to PELE Lindaman!
Fans fire up, Bullet Club coordinates, ONE TOO- NO, Lindaman catches the cutter to GERMAN SUPLEX! Bey lands on his feet, but Lindaman GERMAN SUPLEXES! Zayne kips up, Ace BOOTS him, but Zayne ducks the roundhouse! Lindaman GERMAN SUPLEXES! DOUBLE BRIDGE!! SAUCEHEARTS WIN!!!!
Winners: Alex Zayne & El Lindaman, by pinfall (gain 2 points; Ace & Bey earn 0)
INCREDIBLE! The top team falls, and now we have a NEW top team! Can the Bullet Club still have an impact on the Super Jr. Tag League finals?
As for SAUCEHEARTS, Lindaman gets the mic to say he and Zayne just won! "This league started back on November 21st in Korakuen, and now we're here. I'm delighted we won the main event here, in Sasebo." Fans applaud as they're happy to see it, too. Lindaman says he's "got a lot of personal feelings for this place. My father was born and raised in Sasebo. My mother was also born and raised in Sasebo. Make no mistake, Sasebo runs in El Lindaman's veins." Fans applaud to know he's one of theirs. But then Lindaman says, "Sorry, I lied! I'm from Tokyo! Sorry! I might have told a little white lie about Sasebo, but I'm not lying when I say we're taking this Super Jr. Tag League!"
Fans applaud that, and Lindaman continues to say, "After this win here, we'll continue to do the same when we face Douki & Kanemaru. Then we're off to the finals in Sendai." Fans also applaud that. Lindaman says he's proud to be holding the mic after a NJPW main event, but some fans may not know him. "El Lindaman doesn't belong to NJPW, but I represent the promotion known as GLEAT. But since I have the mic, mind if I close this the GLEAT way?" Fans applaud, they'd love to see it! Lindaman says, "For those of you unfamiliar in Sasebo, let me give you a crash course! Don't worry, it's very simple. Learn it and try it at home.
"When I say, 'Let's,' you pump your fist and shout, 'GLEAT!' Did you get that?" Fans applaud, as that is pretty simple. So are they all ready? Lindaman then admits, he didn't get the pin so Zayne should have a part to say. They can "remix" this for the occasion and get some "Itadakimasu" in. Lindaman asks, "Everyone, did you enjoy NJPW today?" Fans applaud because they did! "Did you enjoy Super Jr. Tag League?" Fans applaud because they did! Then watch them as they head for the finals in Sendai! "Everyone in Sasebo, let's… GLEAT! And…" "ITADAKIMAAASU!" The SAUCEHEARTS are fired up, but will they bring the heat all the way to the tournament finals?
Here are the NEW
Super Jr. Tag League

standings!

Zayne & Lindaman: 6-2, 12 points
Austin & Bey: 6-2, 12 points
Bushi & Titan: 6-2, 12 points
TJP & Akira: 6-2, 12 points
Yoh & Lio: 6-2, 12 points
Taguchi & Connors: 3-5, 6 points [ELIMINATED]
Eagles & Tiger Mask: 2-5, 4 points [ELIMINATED]
Douki & Kanemaru: 3-5, 6 points [ELIMINATED]
KUSHIDA & Knight: 1-7, 2 points [ELIMINATED]
Sho & Dick: 1-7, 2 points [ELIMINATED]
---
My Thoughts:
A great event for the Super Jr. Tag League, and I am surprised that we still have FIVE teams, aka half the block, still alive going into the final round! Hilarious stuff from Wild Hips VS Yoh & Lio with the beer and the references to The Rock, Stone Cold and I suppose Triple H. Douki & Kanemaru getting a win over Sho & Dick was great, even if it didn't affect the finals. Eagles & Tiger gave LIJ a great match but LIJ was the team I expected to win out. I did not, however, think #GLEATSAUCE #SAUCEHEARTS Zayne & Lindaman were gonna get this one, and that is great stuff. It is revenge on Ace for him betraying Zayne and joining Bullet Club, and keeps him and Lindaman alive.
Now, three of the five matches on Friday the 10th matter, with LIJ VS Yoh & Lio, Zayne & Lindaman VS Douki & Kanemaru and Catch 2/2 VS Ace & Bey. Yoh & Lio have a "win and they're in" scenario for having beaten SAUCEHEARTS and Bullet Club, and they'd eliminate LIJ from the running. And for LIJ, they beat Catch 2/2, who beat everyone else, but they lost to Bullet Club. Ace & Bey would have to lose for LIJ to get in, but then I think that gives us LIJ VS Catch 2/2 for the finals. That match-up seems to fit the story, but I wouldn't mind another scenario just so we don't get LIJ VS Catch 2/2 before a potential WrestleKingdom title match.
My Score: 8.8/10