Stardom Gold May 2019 Results & Review (5/16/2019)
Welcome back to Stardom! We bring one of the bigger shows of the month of May, Stardom Gold!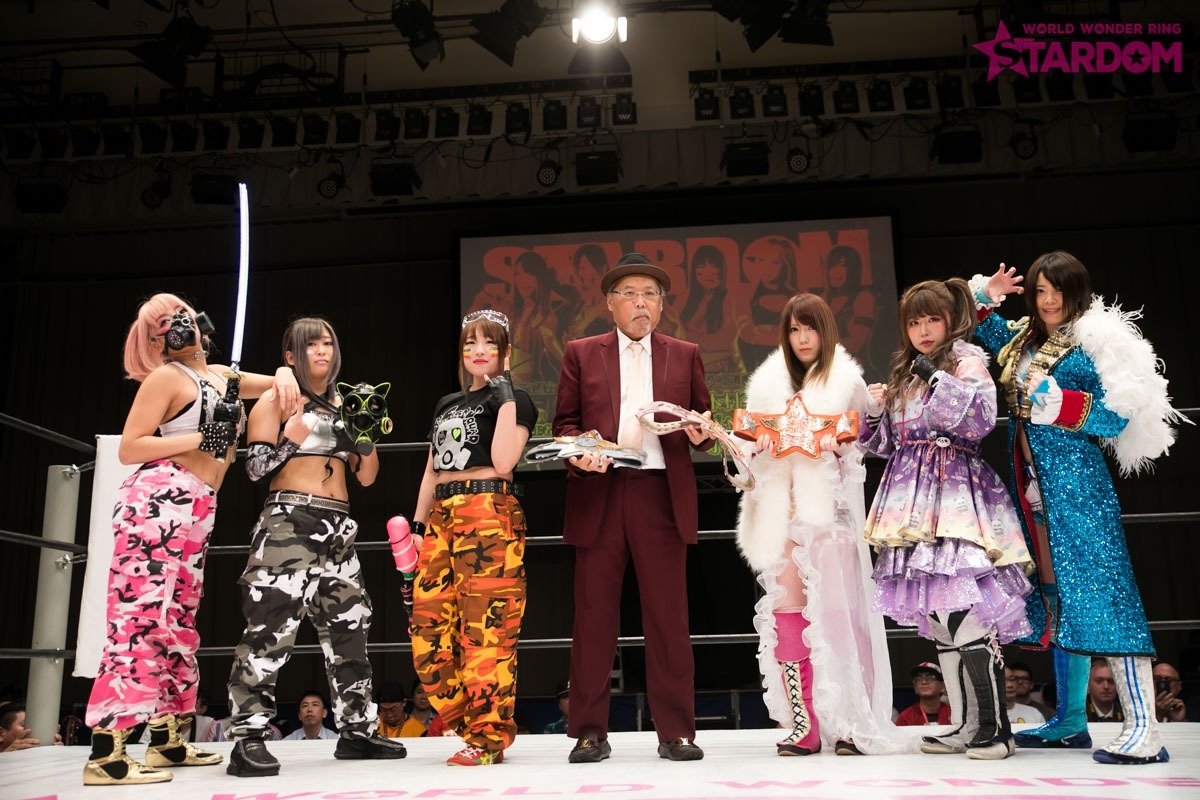 Welcome back to Stardom! We bring one of the bigger shows of the month of May, Stardom Gold!
We were originally going to have Bea Priestley defend the World of Stardom Championship against Toni Storm but it would sadly be pulled due to WWE not wanting the match to take place since it would require Toni to lose to an AEW wrestler, even though Bea is more Stardom than she is AEW.
Anyway, Stardom was able to make do with giving them different matches and still able to produce a great show.
We got some titles matches, big matches, and a highly anticipated rivalry coming to an end.
Let's see how things unfold as we…dive right in.
Rating System:
0 Stars: Dave Meltzer
1 Star: Vince Russo
2 Stars: Tony Schiavone
3 Stars: Eric Bischoff
4 Stars: Bruce Prichard
5 Stars: Jim Cornette
Three Way Tag Team Match
STARS (Starlight Kid & Hanan) vs. Oedo Tai (Andras Miyagi & Natsuko Tora) vs. Queen's Quest (Leo Onozaki & Hina)
Review: Our first match to start this show off is a triple threat tag match. STARS will battle Oedo Tai and Queen's Quest. STARS is represented by Starlight Kid and Hanan, Oedo Tai by Andras Miyagi and Natsuko Tora, and Queen's Quest by Leo Onozaki and Hina. Originally it was going to be a four-way with the Tokyo Cyber Squad involved. However, they had to be pulled out due to Rina suffering an injury. We wish her a speedy recovery. Since this is no longer a gauntlet, it'll be under regular triple threat rules. It is still a solid opener with some big names. Andras Miyagi also recently signed a full-time contract with Stardom. One would expect to see her in bigger programs going forward. Which of these three teams will win?
Looks like both Leo and Hina changed their gears compared to what they wore before, it looks good on them. This match was something that you did expect with half of them being young an inexperienced and the other half trying to make it work, but both Andras and Natsuko weren't in the match very long since they got taken out quickly and it was just QQ and STARS. There's a lot you can do in five minutes but they also didn't do as much and in a way, is kinda expected since three of them are still learning. Starlight missed the Moonsault and Natsuko hits her with a Spear to take her out as Andras hits a beautiful kick. Another Spear by Natsuko on both QQ's members and Andras slammed Leo down as Natsuko hits the Splash off the top rope for the victory. Not a terrible match but also not great. Andras is fantastic though.
Rating: Tony Schiavone
Three Way Match
Saya Iida vs. Death Yama-San vs. Natsu Sumire
Review: Our next match is a triple threat with Saya Iida taking on Natsu Sumire and Kaori Yoneyam-wait, I mean Death Yama-San. That's right, Kaori Yoneyama changed her name after being part of the Tokyo Cyber Squad and gave herself a new personality. Unless it's just for this show since I can never get a read on her. The only thing you can expect for this match is some humor with Yama and Sumire along with more progression for Saya since she's getting built up quite well here. Will Saya be able to get another win or will it belong to the other two?
Sumire coming out with the camera and recording herself and the fans is everything. Yama-san is officially the lost member of Kiss in their Japan sub rock group. Sumire and Saya did have a small little alliance or so everyone thought as Sumire would roll Saya up whenever they attacked Yama-san on the corner of the ring. Saya called her out on it and said they'll work together for real this time and you should know by now that believing Sumire is a terrible idea as she tried to do it again but Saya held her ground and Double Stomps her. Not sure how I feel about Kaori's new gimmick since she's just taunting and posing for the most part and nothing really new happened during this time. Saya looked great though and Sumire is as entertaining as always. Saya tried to pin them both with the Iidabashi but they would both kick out of it. Sumire was on the top rope and Yama-san pushed Saya into the turnbuckle to make Sumire fall and Saya gets rolled up for Death Yama-san to get the victory.
Rating: Tony Schiavone and three quarters
Singles Match
Toni Storm vs. Kagetsu
Review: Our next match is a special singles match as Toni Storm takes on the leader of Oedo Tai, Kagetsu. These two are no strangers together as they fought in June last year where Kagetsu actually defeated her to win the World of Stardom Championship to start her eleven-month reign. Toni was never able to get a rematch with her due to joining WWE and the Mae Young Classic, but now as the NXT UK Women's Champion, she's back with a new attitude and looks to have a friendly match with her. I'm looking forward to seeing what they can do together in the ring now after not fighting each other since last June. Will Toni stand tall or does Kagetsu beat her twice in a row?
If I had to compare their match right now compared to the one they had last year, I would say the one last year was much better. One problem I had with this match was what would the payoff be? If Toni wins and beats the former champion, she can't get a title match if Bea retains since WWE won't book it due to the fact that Toni would have to lose and Kagetsu could be out of the picture for a while and sure, you can use this as a way to build her back up but who knows what her direction would be. They had a title match on the line and this one is just them making do with what they can book since Kagetsu is still a credible opponent despite no big payoff if either of these women would win. My only real complaint was the beginning of the match and the pacing of it since it was just a regular match with nothing special to add and just a bit of an outside spot that dragged a little bit. Despite the little complaints that I just mentioned, this was still a really good match with what they were given and you have two top talents in that ring fighting each other just for the entertainment given to the fans.
Toni would hit a German Suplex Hold for a two count and would do a modified STF to try and get our Prime Minister to tap out and Kagetsu struggle for a little bit until she was able to grab the ropes to break the hold. Toni would try to put it away but Kagetsu attempts to spit red mist into her eyes just like last year, but Toni moved out of the way as the referee would take the mist and Toni hits the Strong Zero. Toni couldn't get the pinfall with the referee getting the mist off his eyes but she goes to the top rope and Kagetsu would spit blue mist into her eyes this time. Kagetsu would hit a Michinoku Driver and an Oedo Coaster to try and get the pin before the time would run out, but Toni kicked out at two and a half. Kagetsu doesn't have a lot of time left and hits the Death Valley Driver but the bell rang during the motion as the match ends in a no contest. Neither of them won or lost, this was the only outcome they could do and the two gave each other respect once they got up.
Two of the world's finest battle it out! Kagetsu takes on Toni Storm at Korakuen Hall, and it's on https://t.co/ldX5O0lyXM now! pic.twitter.com/PgKrhDvZbh

— We Are Stardom (@we_are_stardom) May 19, 2019
Rating: Eric Bischoff and three quarters
Artist of Stardom Title Match
STARS (Mayu Iwatani, Saki Kashima, & Tam Nakano) vs. Tokyo Cyber Squad (Hana Kimura, Jungle Kyona, & Konami)
Review: Our first title match of the evening is STARS members Mayu Iwatani, Saki Kashima, and Tam Nakano defending their Artist of Stardom Championships against members of Tokyo Cyber Squad, Hana Kimura, Konami, and Jungle Kyona. It looks like Mayu is cleared for the competition since she's able to defend her title for this match. Their last defense was on March 24th and ironic enough that it was against Hana Kimura and her group before she had had a new unit. Now it looks like Hana is set to get a rematch with a new unit and an actual crew behind her. Will Tokyo Cyber Squad win their first championships or will STARS retain?
Tokyo Cyber Squad going straight at it once the bell even rang as they would attack STARS around the outside of the ring before they would eventually get back in. Konami was really ruthless against Mayu when she and the others would work on her injured leg, but Konami was the one who did the most damage to her leg during the match and with how good Mayu is at selling, she made everything look painful as she took the moves and strikes. This match was more for the Tokyo Cyber Squad than anything else since they're the ones that need the development into the promotion due to Hana just creating them, Hana using these women to their full potential when they couldn't during their previous factions. It was a solid tag match with consistent pacing throughout the match and simple enough for anyone to really follow and enjoy it. Aside from Mayu's incredible selling, Konami was the MVP of the match since she really did show what Queen's Quest was missing when they had her in their unit. It was Saki and Konami in the ring and Konami would struggle to try and get the Triangle Lancer until she actually applies it and makes Saki tap out and we have new champions!
After the match, Tokyo Cyber Squad will stay in the ring to pose with the belts and would be able to cut a small little promo for the crowd. Hana talked about how they crushed STARS to win the titles and dares anyone to try and challenge them now as she calls out her former faction, Oedo Tai. Konami has a turn to speak now and she mostly talks about her homecoming show on May 26th as she'll fight Kagetsu on the show and just thanked the crowd. Hana talked once again to say that they're all different but that's why they're all better. I'm really loving this faction and wish them all the best.
The Aritist of Stardom titles are on the line at Korakuen Hall! STARS defend the belts vs Tokyo Cyber Squad on https://t.co/ldX5O0lyXM now! pic.twitter.com/TRw77VFxwv

— We Are Stardom (@we_are_stardom) May 21, 2019
Rating: Eric Bischoff and a half
World of Stardom Title Match
Bea Priestley (c) vs. Hazuki
Review: Our next match is for the World of Stardom Championship as Bea Priestley is set to defend her title against the High Speed Champion, Hazuki. As I stated earlier that Bea was originally scheduled to defend against Toni Storm but they had to pull out and they went with Hazuki instead, which is a great move since she's a fantastic talent. Hazuki did defeat Bea in the first round of the Cinderella Tournament, so it makes sense that she would get first dibs on a title opportunity against the new champion. Been a while since we had a gaijin holding that title and now we can see if she can help elevate it since Rossy did put faith in her when she won it. Will Bea be able to have her first successful defense or will she be known as a transitional champion?
Hazuki rushes towards Bea once the bell rings to deliver the Dropkick and the fast pacing style of this match goes underway. This is the type of Bea that I want to see more of since she just moves a lot more fluently now in the ring and has been getting a lot crisper with her moveset too, which really is a nice thing to see and is slowly starting to become one of my favorite gaijins in Stardom in a long time. I really love the chemistry these two share in the ring and really did top their Cinderella Tournament outing for sure. One sequence I really enjoyed was when the two would go back and forth with the ropes as they hit elbows onto each other and Bea ended it with a beautiful V-Trigger type knee onto Hazuki and how she sold it was quite a sight. Bea would attempt a Queen's Landing after hitting a deadly knee strike to Hazuki and Hazuki would find a way to power out of it and would even grab her hair at one point, throwing her around while still grabbing onto her hair for a good while. After delivering a Regalplex which Hazuki kicked out of at two, Bea would once again try to go for the Queen's Landing as Hazuki rolled forward to pin her as she quickly transitioned it into the Hazukistral as Bea kicked out just in time before she would lose the belt. Hazuki doesn't get her eyes off of her but Bea would deliver another Backdrop and hits a Curb Stomp to knock her down. Bea doesn't give Hazuki a chance to recover this time as she hits the Queen's Landing this time around to retain her title! If we get more of this Bea on a constant basis, I'll be very happy for her reign as champion. Great match by both of these women and I hope Hazuki gets a bigger push down the road.
Now on https://t.co/q8dHnF58vW from Korakuen Hall, Bea Priestley defends the World of Stardom title vs Hazuki! pic.twitter.com/zLGD3wqCY8

— We Are Stardom (@we_are_stardom) May 21, 2019
Rating: Bruce Prichard
Wonder of Stardom Title Match
Momo Watanabe (c) vs. Arisa Hoshiki
Review: Our main event of the evening is the Wonder of Stardom Championship as Momo Watanabe defends the title against Arisa Hoshiki. Arisa was able to get this opportunity when she won the Cinderella Tournament and was able to request a match against Momo. Momo has neglected Arisa and her request for a singles match and even pinned her when they were fighting for the Goddesses of Stardom Championship. Now Arisa has won this chance and Momo can't back away from this one as the time has come to see them fight one on one. Will Arisa be able to defeat the ace or will Momo put her in her place?
So after about eight months of building it up, was this worth the wait? I can honestly say that the build-up for this match was worth the wait as we were able to get a great match out of these two. They had a beautiful chaining sequence at the beginning of the match with everything being crisp between the two when they went back and fort hand once it looked like it was over, Momo just kicks her right in the chest before the crowd had a chance to react to what was going on, shows how much Momo just wants to hurt Arisa. Momo is the queen in Stardom right now and she has proved it time and time again for the past year and she's just teaching Arisa a hard lesson in that while she was gone for a long time, she was here to climb and ranks and thinks she can go after her when she gets back? Arisa has another thing coming then since Momo never planned on making it easy for Arisa. Momo attempted a Package Driver to the outside but Arisa would fight it off to hit a Powerslam onto the floor and the shift has changed for a little bit. The weird thing that the match was only twelve minutes and it felt so much longer than that at the same time like it went on for about twenty minutes, that's how much I was into this match.
When Arisa went to the top rope to attempt her little Splash, Momo went to the top to hit the Superplex and Momo just unleashed her queen's fury on her as she hits a Somato, a Package Driver, two more Somato's off the ropes, and a partridge in a pear tree (Boo!). Arisa is out of it and Momo looks to put her away with the Tequila Sunrise and to her surprise, Arisa kicked out at two and she went to go for the Peach Sunrise to end it as Arisa fights out of it and Powerslams her again. Arisa hits her Rounding Splash this time around but Momo would kick out at two and Momo doesn't look happy as she was able to catch her off guard to hit another Tequila Sunrise but Arisa kicked out again. Momo held onto Arisa as she kicked out and she finally hits the Peach Sunrise as it looks to be over now but Arisa had her foot on the ropes before the three count, Momo is frustrated now! Momo looks to do it again as Arisa rolled her for a pin and hits a couple of knee strikes and hits the Brazilian Kick to knock the champ down as she pinned Momo to win the championship!
Arisa was able to defeat the ace to win the Wonder of Stardom Championship after months of building it up, the story during that period, and the conclusion we've gotten at the end of it. Arisa went to go shake her hand after the match and it looked like Momo just left the arena this time and Arisa was left to celebrate. Arisa grabbed the microphone to talk to the crowd along with closing the show as she thanked the crowd and talked about the first time she went to challenge for this title was back in 2011 against the first champion, Yuzuki Aikawa when she was a rookie and this was the second time she challenged for the title and was able to win it this time. They're now in a new era in Japan and she wants to rise up to another level with the belt and with herself. Hazuki came into the ring as they just tugged their hairs and it seemed like Arisa was laughing a bit about it this time and it looks like they'll eventually have that match sooner rather than later. Congrats to Arisa for finally winning the belt and I wish her all the best in her reign. So what's next for Momo? I don't see her having a title anytime soon but I do believe it's time for her to move up and eventually go for the red belt. She was a great Wonder of Stardom Champion and it was the right time to drop the title.
Now on https://t.co/q8dHnF58vW from last night's Gold May 2019 show at Korakuen Hall! Momo Watanabe defends the Wonder of Stardom title vs Arisa Hoshiki! pic.twitter.com/P3Tj6n0qUe

— We Are Stardom (@we_are_stardom) May 16, 2019
Rating: Bruce Prichard and a quarter
Overall: Aside from the first two matches being a bust, the last four matches delivered and had two great title matches at the end of the show. It's time for a new era in Japan as well and I'm looking forward to seeing how the rest of 2019 unfolds for not just Stardom, but for all of Japanese wrestling.
Favorite Match: Momo Watanabe vs. Arisa Hoshiki
Least Favorite Match: STARS (Starlight Kid & Hanan) vs. Oedo Tai (Andras Miyagi & Natsuko Tora) vs. Queen's Quest (Leo Onozaki & Hina)
Score: 7.5/10