Steve Cook's Top 5: Brandi Rhodes Matches
I was shocked to learn she's had 5.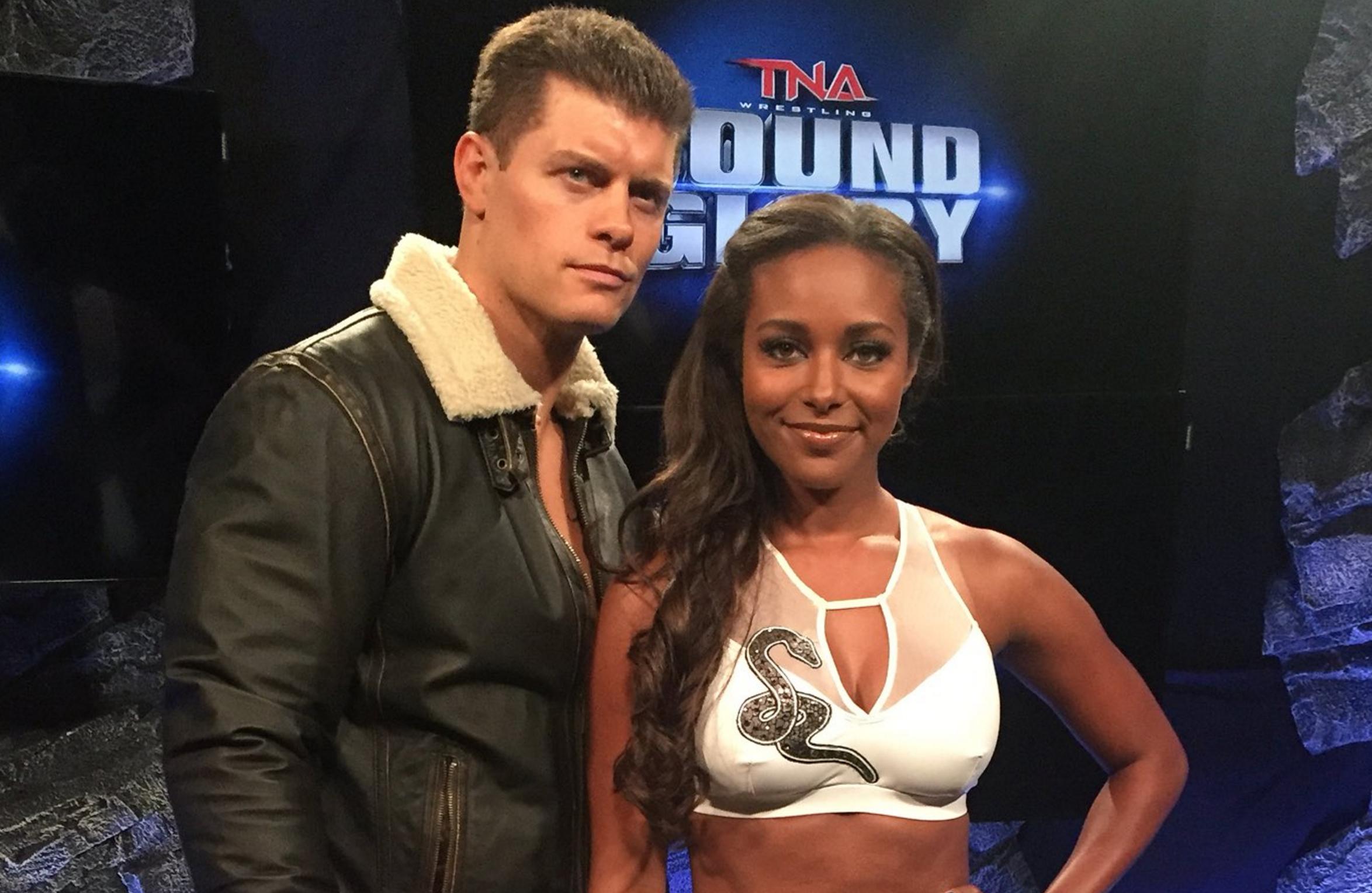 Steve Cook goes where no man, or woman, has obviously never gone before, as he takes a look at the Top 5 Brandi Rhodes matches! Yes, she's had more than 5.
All Elite Wrestling's Double or Nothing had a number of highlights, but one that stood out among the pack was the battle between two brothers. Cody Rhodes & Dustin Rhodes  got the opportunity to have the knock-down drag-out fight they wanted to have a couple of years ago, and good times were had by all. It was a banner night for the Rhodes family, no doubt about it. That includes Brandi Rhodes.
I thought today would be as good a time as any to take a look at one of the unsung heroes of the Rhodes Family. As much as I love Dusty & Dustin & Cody, there's one Rhodes that I don't gets enough props for doing the work. Somebody who was overlooked for years before finally getting the chance to show their true potential.
That's right. Today, we look at Brandi Rhodes' Top 5 Matches.
5. Cody & Brandi Rhodes vs. Mike Bennett & Maria Kanellis-Bennett
This was Brandi's first match since 2011, when she competed in a random FCW battle royal. Considering her experience level, she did a pretty good job filling her role while Cody & Mike Bennett carried the lion's share of the match. Remember back when Mike Bennett did things? Neither did I, but it was something that happened. Maria did a pretty solid job working with Brandi and producing a finish that got a good reaction from the Impact crowd.
4. Brandi Rhodes vs. Angelina Love
There aren't many more accomplished female grapplers in Impact Wrestling history than Angelina Love. A multi-time Knockouts Champion & one of the Beautiful People, Love provided a tough test for Brandi on this 2017 episode of Xplosion. Brandi took a beating for most of the match, but had enough intestinal fortitude to make a classic comeback. It took usage of the ring ropes for a veteran of the sport to get the win over a tough young competitor.
---
Elisa looks great in her Chairshot gear.
You can, too!
Be like Elisa and get yours at:
https://www.prowrestlingtees.com/related/thechairshot.html
---
3. Brandi Rhodes vs. Joey Ryan (DDT Pro Ironman Heavymetalweight Championship Match)
Joey Ryan matches are definitely an acquired taste. Some call him the worst thing ever to happen to the wrestling business. Others think he's absolutely tremendous. Everybody can agree he's a pretty creepy character. Brandi went all out in this match to hold up her end, even taking a bump in thumbtacks! Ryan brought out his entire bag of tricks, including the Boobplex & YouPorn Plex, but Brandi overcame the odds & persevered to win her first singles championship.
2. Brandi Rhodes vs. Tenille Dashwood (WOH Championship Tournament Second Round Match)
ROH's 16th Anniversary Show (preshow, because ROH) saw some of the Women of Honor duke it out in championship tournament action. Brandi's reward for advancing out of the first round was taking on the woman most thought was the favorite to win the tournament. Tenille's experience & ring savvy frustrated Brandi pretty often in this one. Rhodes did get a lot more offense in this match than I would have suspected given Tenille's ability. She also showed some ring savvy of her own, faking a knee injury to almost get herself a victory.
1. Brandi Rhodes vs. Kelly Klein
Brandi was the hometown favorite for this match at Atlanta's historic Center Stage Theater. It wasn't enough to get her the win over probably the toughest of the Women of Honor, but she did have an impressive showing. Kelly got a little bit too into the idea of embarrassing Brandi in front of her family & friends, so Rhodes was able to hang around long enough to give herself a chance. She refused to quit and even squirmed out of Kelly's submission finisher, but the Gatekeeper was able to put Brandi out for three.
Though Brandi came up on the losing end of things, she still had a nice speech afterwards. Even when Cody was as dastardly an ROH Champion as we'd seen, Brandi was still preeminently likeable. There's just something about her, know what I mean?