Steve Cook's Top 5: Concerns About AEW
Any concerns about AEW as we head into the weekend?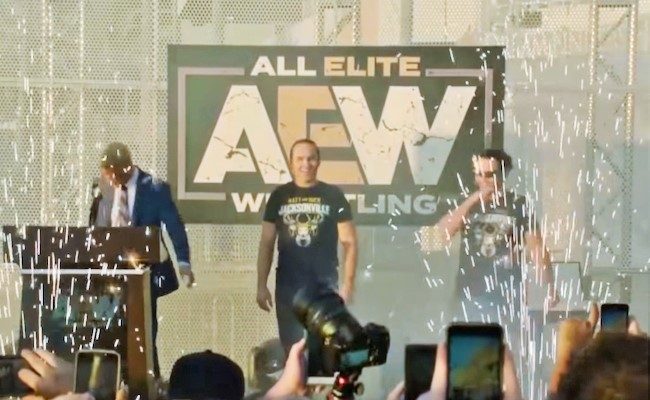 Steve Cook is ready for AEW, and you should be too. But are there looming concerns?
I'll admit it. I'm pretty excited about All Elite Wrestling. It's really good to see AEW ready for their first event.
The idea of having another bonafide major wrestling promotion in the United States is pretty exciting to me. The Elite guys are all pretty cool in my book. They've gotten some interesting talent to sign with AEW. There will be a wrestling show on TNT again!
Lots to get excited about. But I wouldn't be a responsible journalist if I didn't write about some of the things that concern me. Nobody's perfect & everybody makes mistakes. AEW isn't going to be a 100% perfect promotions. Here are my top 5 concerns…
5. The Khan Family Track Record
There's no doubt that the Khan Family has a track record when it comes to making money. Shad Khan made billions & billions of dollars off of car bumpers. You have to respect that. What you don't have to respect is his track record when it comes to sporting/entertainment ventures.
Take the Jacksonville Jaguars. Since he purchased the Jags in 2012, Jacksonville has mustered one winning season out of seven. They've lost eleven or more games during each of the other six seasons, resulting in a overall record of 32-80. That's, like, the opposite of good.
Then there's Fulham F.C., an English soccer club that had played twelve straight seasons in the Premier League when Khan bought it in July 2013. It took one season of Khan's ownership to get Fulham relegated to the Championship. They finished near the bottom of that two straight seasons before finally getting things turned around. Their return to the PL in 2018-19 lasted one pitiful season.
All I'm saying is that the Khans aren't known for presenting products that make their fans happy.
4. The Announce Team
Yes, I know. "He's Jim Fucking Ross!" Indeed. JR hasn't been a quality announcer since…good Lord…that Triple H/Undertaker match at WrestleMania 27? Maybe I missed something since then, but I don't see anybody touting his Mae Young Classic or New Japan work. The guy's a little past his prime, it's not his fault, but trotting him out there in 2019 is a little iffy to me.
Then there's Excalibur. Excalibur has been one of the most beloved announcers for years now due to his work with Pro Wrestling Guerrilla. It's great he's getting a shot from something that should be a major promotion, and I expect he'll do well. But you know that people are going to look at him and say "Why the hell is the announcer guy wearing a mask?". People hate it when this gets pointed out, but it's going to be an issue.
Alex Marvez hasn't announced before. He's a great writer & reporter so I wish him the best.
3. Reliability of Talent
We all know about PAC being pulled out of Double or Nothing last week, but another AEW talent pulled out of a show over the weekend without bothering to tell anybody first. Absolute Intense Wrestling out of Cleveland was scheduled to have Fenix join them for an event on Saturday night. The only problem? Fenix never showed up! Maybe the dude had a good reason, it looks like he nearly kills himself nearly once every match he wrestles and there might be an injury there, but he could have at least called the promoter or sent a DM or e-mail or something.
WWE can get away with card changes more. For one thing, they rarely announce cards in advance, and for another thing they have a deep roster of people at pretty much the same level. What happens if Fenix and/or Pentagon Jr. don't show up in Las Vegas for Double or Nothing? Who are the Young Bucks going to wrestle that wouldn't be seen as a major step down from the Lucha Bros?
2. Amount of WWE Mentions
On the surface, a wrestling show with stuff making fun of WWE sounds a little fun, right? It's always so edgy to take shots at the other guys & poke a little fun at their weaknesses. Last week's Being the Elite opened with the Young Bucks & Peter Avalon re-enacting recent interactions between Luke Harper & the WWE front office. Dave Meltzer & the YouTube comment section thought it was the most hilarious thing ever.
Me? I lived through late-period WCW. I've relived some of it over the past couple of years for podcasting purposes, and it's all so cringey. The WWF's name got mentioned more times than WCW's did on some of those shows. I'm not saying you should never ever mention your competition, but it doesn't need to happen every segment of every show. WWE is a big part of Cody & Dustin's history, so I don't mind mentioning them there. Their match is the only one on the Double or Nothing card that also took place in WWE.
So who else needs to bring them up?
1. Work or Shoot?
The cancellation of the Adam Page/PAC Double or Nothing match mere days before the show is disconcerting on a couple of levels. There are a number of theories surrounding why it happened, none of which make AEW look good. Some say that Pac didn't want to do the job because he's a Dragon Gate champion. That's been debunked by other people who said Pac was winning, which makes the reason of "creative differences" more confusing.
Others say that it may be a visa issue. I tend to doubt this one because why wouldn't AEW just come out and say so? New Japan came out and told fans in North Carolina that they had visa issues, and the fans' response was "Fuck Trump". Why not let them do that?
We're getting "creative differences" as the excuse. We talked about late-period WCW a minute ago, and this also reminds me of late-period WCW, where the work/shoot line was blurred in completely the wrong way. Goldberg would refuse to take a finish & walk out of a match. Multiple people laying down for other people at various points. AEW really doesn't need to be going down this road.
And if the whole thing's a work? How many PPV buys is "Adam Page vs. Mystery Opponent" going to add? How much will the shock & awe of a Pac appearance add to the show? And do we really need "creative differences" to become part of the wrestling lexicon more than it already is?
Let's hope it doesn't. Let's also hope that the first TNT show doesn't start with all of the Executive Vice Presidents bickering among themselves.
King's WrestleMania Rewind: Charlotte Flair vs. Asuka from WrestleMania 34
Chris king is back with one of the most underrated matches in WrestleMania history–Charlotte Flair vs. Asuka!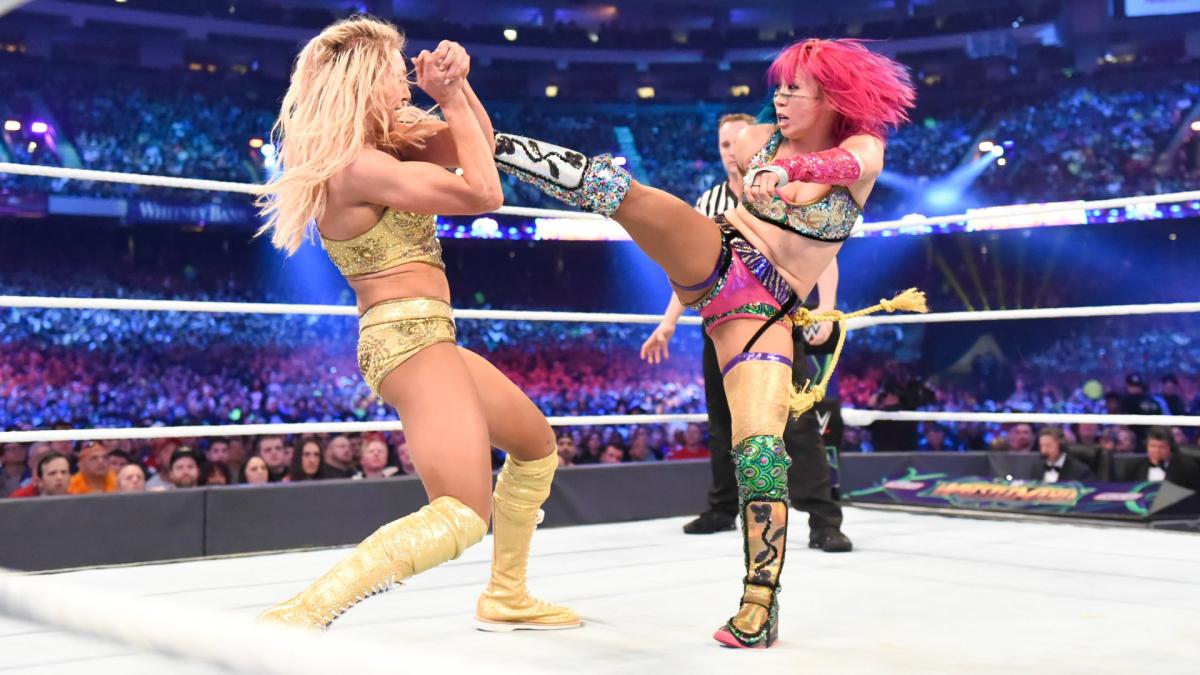 Chris king is back with one of the most underrated matches in WrestleMania history–Charlotte Flair vs. Asuka!
We look back at Charlotte Flair vs. Asuka at WWE WrestleMania 34. 'The Empress of Tomorrow' put her unprecedented and historic undefeated streak of 914 days on the line against 'The Queen's' SmackDown Women's Championship.
For years, this was considered a dream match while Asuka dominated the roster in NXT, while Flair won numerous championships on the main roster on both Raw and SmackDown. The Empress made her long-awaited debut on the September 11th episode of Raw and began to tear through the competition.
Asuka outlasted all twenty-nine other women in the historic first-ever Women's Royal Rumble match to challenge for the title of her choosing. At Fastlane, she made her choice.
The WWE Universe was so excited for this match myself included. Both superstars delivered a fantastic performance on the Grandest Stage of Them All executing counter after counter. Asuka showed off some nasty-looking kicks to her opponent, and Flair hit a thunderous Spanish Fly off the top rope. Flair was seconds away from defeat at the hands of The Empress but she locked in Figure Eight and Asuka was forced to tap out.
I can't even begin to explain how shocked I was at this outcome, as nearly everyone expected The Empress to continue her undefeated streak and walk away with the women's title. This controversial decision was the downfall of Asuka's momentum. She would ultimately win the SmackDown Women's Championship at the 2018 TLC pay-per-view in the triple-threat ladder match.
Fast forward to this year when Asuka has recently returned with her Japanese-inspired persona Kana. Kana is dangerous and ruthless and is heading into a championship with Bianca Belair at WrestleMania 39. The Empress has regained all her momentum and is highly favored to walk away with the Raw Women's Championship. Let's hope that Asuka and Belair can tear the house down and deliver an A+ grade match both women are fully capable of.
King: Dominik Mysterio Needs To Do This At WrestleMania
Chris King is here with what WWE should do with Dominik Mysterio at WrestleMania in his long-awaited match against his father Rey Mysterio Jr.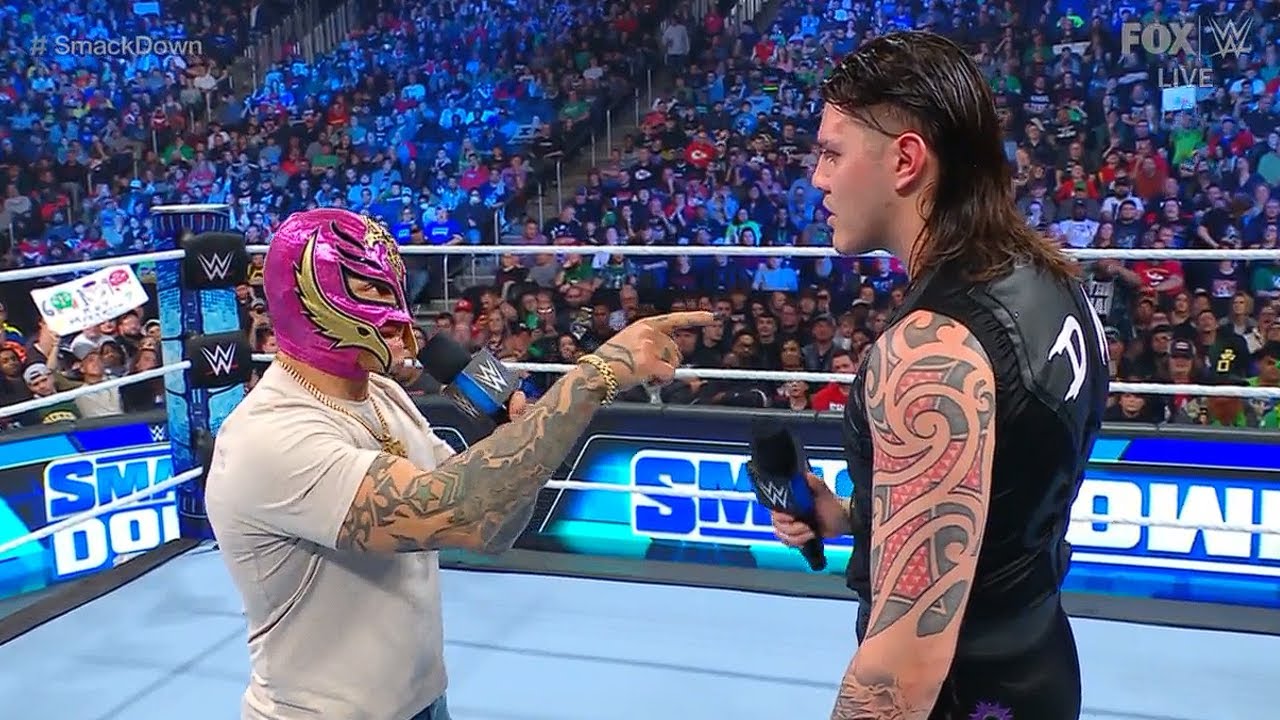 Chris King is here with what WWE should do with Dominik Mysterio at WrestleMania in his long-awaited match against his father Rey Mysterio Jr. 
On this week's episode of Friday Night SmackDown, Rey Mysterio finally snapped and beat some sense into his disrespectful punk-ass kid Dominik. The member of the Judgement Day came out to push his father again for a match on the Grandest Stage of Them All, this time with his mother and sister at ringside. The ungrateful punk told his mom to "Shut Up," as a father even I wanted to jump through the screen and whoop his ass.
Back in October of last year, Mysterio made the emotional decision to possibly quit the company but, instead, Triple H persuaded the Lucha libre superstar to move over to SmackDown to avoid his son. This came after Dominik shockingly turned on his father at Clash at the Castle. Mysterio did everything he could to refuse his despicable son's challenge for Mania but, a man can only be pushed so far. Mysterio will be inducted into the 2023 WWE Hall of Fame and I expect Dominik to embarrass his father during his speech to further this personal feud.
Yes, the WWE Universe hates Dominik and wants to see him get the ever-loving crap kicked out of him but, this feud is missing a special ingredient to capitalize on the biggest heat possible. Throughout this feud, Dominik has made mention of the legendary Eddie Guerrero on several occasions going back to the "iconic" 2005 feud.
I know WWE might not want to go this route but, Dominik MUST come out to Eddie Guerrero's theme at Mania. The disrespectful punk needs to come out in a lowrider to garner nuclear heat. It doesn't matter if The Judgement Day comes out and causes interference for Dominik to get the win, all that matters is that both superstars get the biggest payoff of this nearly year-long feud. Just imagine the Roman Reigns heat after he defeated The Undertaker and multiply that by ten. Dominik portrays the perfect heel and he truly is the missing ingredient that The Judgement Day needed to grow and evolve into a top faction.