Tiffany's Takes: NXT UK (5/15/19)
The WWE NXT UK gang is still tearing it up in Glasgow!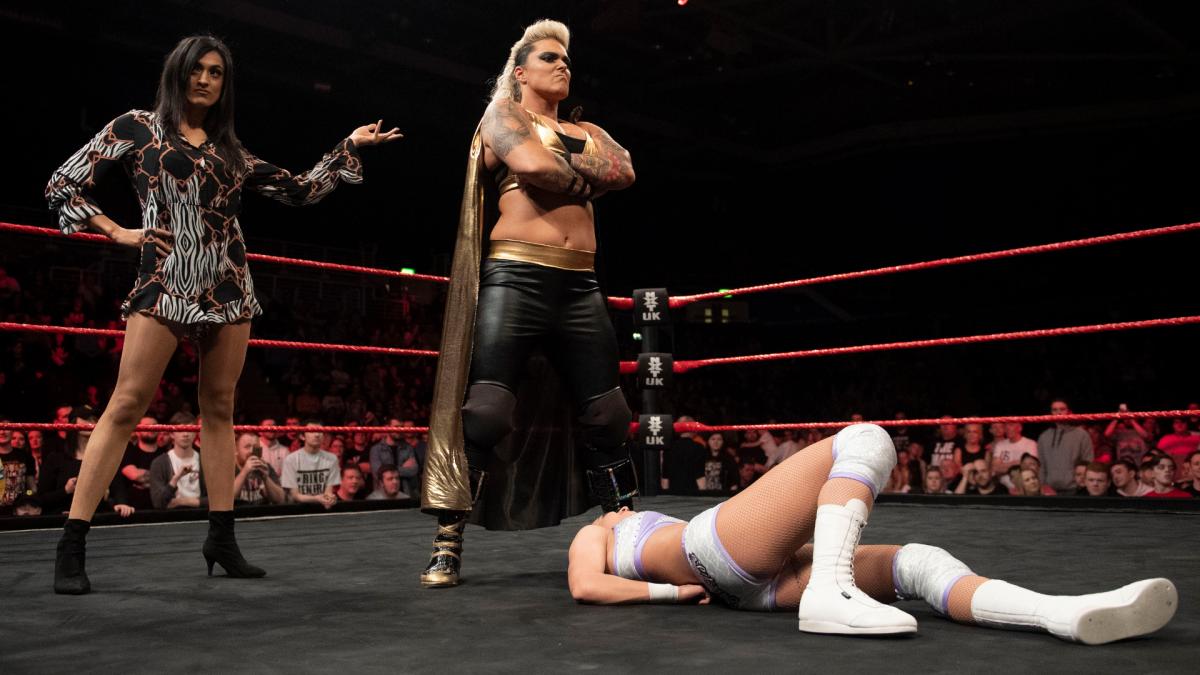 The WWE NXT UK gang is still tearing it up in Glasgow, but who will advance to the #1 Contender's Fatal Four Way? Tiffany's Takes lets you know!
Piper Niven vs Jamie Hayter: I think I've stated before than I'm a big Piper Niven and this match solidified why I like her. She didn't have to sell for Jamie Hayter, who looked like a Paige cosplayer, but she did. She made Hayter look good before beating the shit out of her. That crossbody is BAD news, but I'm still waiting for Niven vs Ripley.
Toni Storm: If the goal of Nina Samuels' less than ladylike comments about Toni Storm and her family was to get Storm's attention, she definitely succeeded because Storm was more pissed off than I've seen her ever. I have a feeling Storm is going to make Samuels' regret opening her mouth.
Sid Scala: Sid Scala was an okay wrestler, but I love him as Assistant GM of NXT UK. Kassius Ohno's obnoxiousness was not as warm and fuzzy inducing. I don't get what is so great about Ohno, which is probably the point, but I get the feeling he'll get the final qualifier match, but he'll probably lose.
Ligero vs Jordan Devlin: If you've been following my coverage of NXT UK, you know that I'm a HUGE Jordan Devlin fan, so I really enjoyed this match. Ligero and Devlin aren't strangers but that didn't keep this match from being the top one of the night. Given his stellar match on 205 Live, I actually thought Ligero would win this, but Devlin's moving on and hopefully he'll be the last one standing in the Fatal Four Way.
WALTER: I keep trying, but I cannot get into WALTER. He's a good wrestler, but he just doesn't thrill me.
Mustache Mountain: I love Mustache Mountain cheering for Dunne in his rematch, but I'm more interested in them getting another shot at Grizzled Young Veterans for the Tag Team Championships, but I have a feeling GYV will be kicking and screaming the whole time.
Ilja Dragunov vs Jack Starz: Poor Jack Starz, he always seems to end up being cannon fodder and that definitely happened with Dragunov. I figured Dragunov was a tough customer just from his promos, but he was absolutely brutal in the ring, but he was also really good. This should be an interesting run.
Mark Andrews and Noam Dar: I'd almost forgotten that Andrews and Dar had a rivalry several months ago, so I'm really excited to see them try and settle things in the ring.
Killer Kelly vs Xia Brookside: I was really excited for this match since Kelly and Brookside don't get nearly enough screen time for me. I also liked the show of sportsmanship between them. I was less excited about Jinny showin up, though the debut of Jazzy Gebart, who is a beast (and I mean that nicely) was more exciting. Can't wait t see where this goes.
Dave Mastiff vs Wolfgang: I was super excited about this match last week and was actually disappointed because it was so short. It was a good match, but I was hoping for more than what we got. Still, Mastiff  won and is still undefeated, which is good, and Gallus stood tall in their hometown, which is also nice, but the match should've been longer.
Overall Thoughts: So, how was NXT UK this week? It was actually really good, I enjoyed it. The great thing about the Network shows is because they only get an hour, they really have to streamline the show, so you get much more wrestling for the hour than you get with RAW or SmackDown.
A few of the matches were disappointing only because they were too short and could've gone longer, but that was about it. If what Scala said is true, next week is the last week for the #1 Contendership qualifiers, so that should be interesting. Still hoping Devlin gets his shot.