Tiffany's Takes: WWE Money in the Bank 2019
Brock and Bayley win big–do you feel as you won as fan of this show?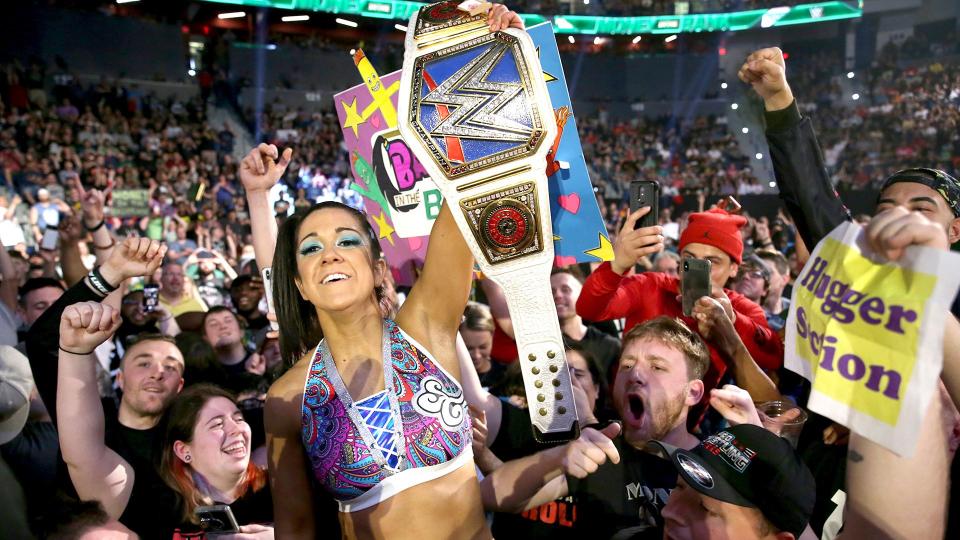 Tiffany checks in on WWE Money In The Bank 2019 as Bayley and Brock Lesnar leave Hartford the big winners. How did Tiffany take MITB?
It's one of the most momentous nights of the year! Sixteen superstars have the chance to stamp their ticket to the top in the Men's and Women's Money in the Bank Ladder Match!
WWE Universal Championship: Could someone tell me why that match wasn't saved for SummerSlam?! Rollins vs Styles has been a longed for dream match, but the build has been a little…lacking, but it was a FABULOUS match that should've been the main event of a Big Four show, not Money in the Bank.
I did love the show of respect between Styles and Rollins. This match was refreshing because they kept it as a dream match instead of manufacturing a grudge between them. Styles was the heel, but it wasn't a personal thing and they still respected each other. Next contestant.
WWE Championship: Well, it looks like Kofi's moment is going to last a little longer. Kevin Owens did EVERYTHING he could think of to take the title off of Kingston, but Kingston withstood all of it and it took one moment and Kevin Owens was pinned for the three count. The feel good moment lives on.
WWE Cruiserweight Championship: This was an okay match, but it wasn't great, which is a shame since it was the first time the Cruiserweight Championship had been on the main card in a very long time. I honestly thought WWE was going to have Daivari win and defend it at Super Show Down in Saudi Arabia, so as to have a champion of Arabic descent on the card, but I guess we'll have to see, maybe Daivari will get another chance.
WWE United States Championship: I don't know just WHY WWE insists on keeping the matches between Joe and Rey so short, but it's becoming a thing. This match was squirrelly. Rey Mysterio is the New United States Champion and a Grand Slam Winner, but Joe, with a nasty cut under his eye and a possible broken nose, clearly had his shoulder up at three. Joe attacking Rey is actually understandable, but it's looking more like 22 year old Dominick is going to have to cover for his dad.
Women's Championships: I actually had a very long, profanity-filled rant typed up about how this whole thing went down, but thankfully it wasn't needed. I don't have a problem with Charlotte as a person or as a performer, but I do have a problem with her constantly being in the title picture, either as the champion or as a contender because it suffocates the division. Yes, Daddy Ric Flair was a 16-time World Champion, but those reigns were spread out over a career of over thirty years, not stuffed into a four year Main Roster run.
Bayley cashing in and becoming the first Grand Slam Champion of the Women's Division and NOT Charlotte was a stroke of genius. Bayley has been NXT Women's Champion, RAW Women's Champion, Women's Tag Champion, and SmackDown Women's Champion. I'm still disappointed that Becky 2 Belts didn't get a longer run, but I'm not going to argue with Bayley being champ instead.
Shane McMahon vs Miz – Steel Cage Match: I'm puzzled by this match. It was okay, but it felt like no one knew what was going on or what the rules were. Shane won, but more by accident than design when he slid out of his shirt, that Miz was trying to use to pull him back into the cage, and fell to the floor. It wasn't a satisfying end to this feud, it was an odd one, but not satisfying.
Roman Reigns vs Elias: I had really hoped something constructive was going to come out of this squash, but that was not to be. Elias did the classic villain thing of wasting time because he thought the hero was down and out only to get his ass kicked by the enraged hero. Reigns powered through a backstage El Kabong to squash Elias like a bug in less than five minutes. That happened.
Lars Sullivan and Lucha House Party: I know a lot is going to be said about this and while I don't agree that WWE was playing up the revelation that Lars Sullivan made a lot of racist, sexist, and generally shitty comments in the past, I do think it was really bad optics to have him beat up three Hispanic wrestlers.
Daniel Bryan and Erik Rowan vs The Usos: This wild card is confusing me. The Usos, who are on RAW, had a title match against the SmackDown tag team champions that got turned into a non-title match that the Usos won and became the #1 Contenders for the SmackDown Tag Team Championship in a clean win. Did I miss something? Why don't we just redo the Shakeup and call it 'Trader's Remorse' or something.
Men's Money in the Bank Ladder Match: That end was bullshit and every guy in that match other than the winner deserved so much better.
Women's Money in the Bank Ladder Match: YES! Bayley is here to save us! I really thought Mandy Rose and Sonya were going to steal one but Bayley saved the day! Seriously, I was so happy for Bayley. She's been used very badly for a good chunk of her main roster run. Having her win and getting that moment was wonderful and a great feel good moment.
Overall Thoughts: So, how was Money in the Bank 2019? Other than that ending, which I will NOT being discussing here, you do NOT want my opinion right now, it was a really good show. There were a lot of surprising and feel good moments to be had. I loved how the Women's Championship marathon played out. I'm disappointed Becky wasn't given a longer run as a double champ, but Bayley as SmackDown Women's Champ is the breath of fresh air the division needs.
The end was bullshit and a disgrace. That's all I'm going to say. That's it for Tiffany's Takes. I'll be back tomorrow with my RAW takes!
King's WrestleMania Rewind: Charlotte Flair vs. Asuka from WrestleMania 34
Chris king is back with one of the most underrated matches in WrestleMania history–Charlotte Flair vs. Asuka!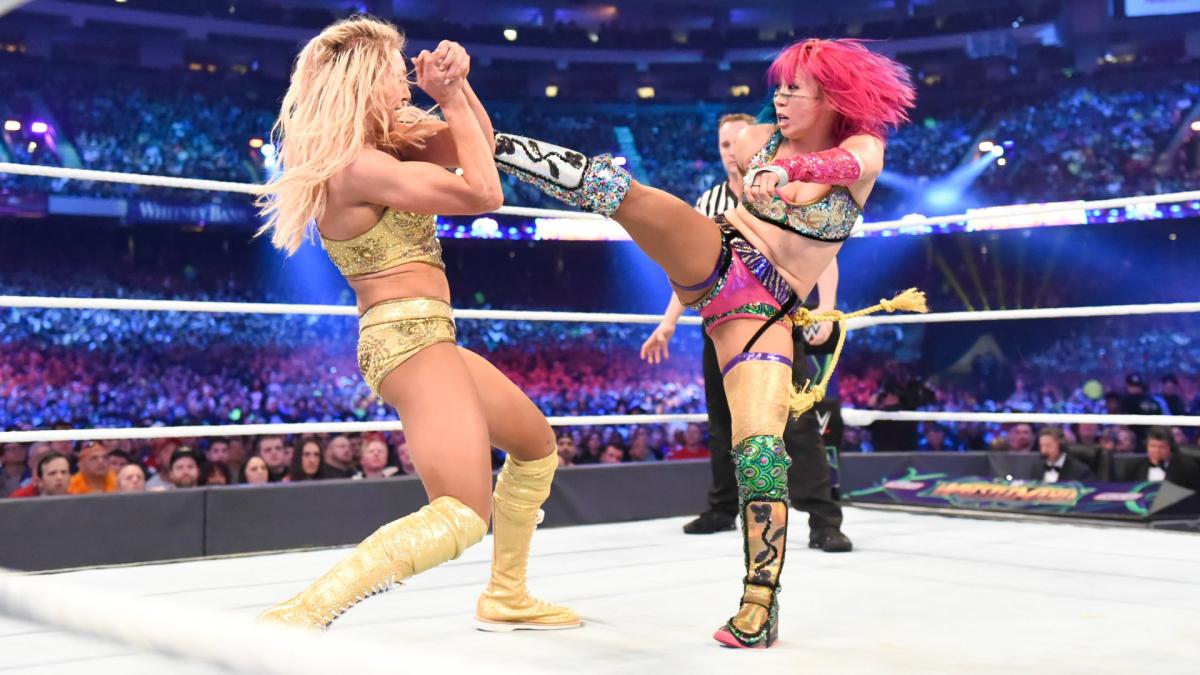 Chris king is back with one of the most underrated matches in WrestleMania history–Charlotte Flair vs. Asuka!
We look back at Charlotte Flair vs. Asuka at WWE WrestleMania 34. 'The Empress of Tomorrow' put her unprecedented and historic undefeated streak of 914 days on the line against 'The Queen's' SmackDown Women's Championship.
For years, this was considered a dream match while Asuka dominated the roster in NXT, while Flair won numerous championships on the main roster on both Raw and SmackDown. The Empress made her long-awaited debut on the September 11th episode of Raw and began to tear through the competition.
Asuka outlasted all twenty-nine other women in the historic first-ever Women's Royal Rumble match to challenge for the title of her choosing. At Fastlane, she made her choice.
The WWE Universe was so excited for this match myself included. Both superstars delivered a fantastic performance on the Grandest Stage of Them All executing counter after counter. Asuka showed off some nasty-looking kicks to her opponent, and Flair hit a thunderous Spanish Fly off the top rope. Flair was seconds away from defeat at the hands of The Empress but she locked in Figure Eight and Asuka was forced to tap out.
I can't even begin to explain how shocked I was at this outcome, as nearly everyone expected The Empress to continue her undefeated streak and walk away with the women's title. This controversial decision was the downfall of Asuka's momentum. She would ultimately win the SmackDown Women's Championship at the 2018 TLC pay-per-view in the triple-threat ladder match.
Fast forward to this year when Asuka has recently returned with her Japanese-inspired persona Kana. Kana is dangerous and ruthless and is heading into a championship with Bianca Belair at WrestleMania 39. The Empress has regained all her momentum and is highly favored to walk away with the Raw Women's Championship. Let's hope that Asuka and Belair can tear the house down and deliver an A+ grade match both women are fully capable of.
King: Dominik Mysterio Needs To Do This At WrestleMania
Chris King is here with what WWE should do with Dominik Mysterio at WrestleMania in his long-awaited match against his father Rey Mysterio Jr.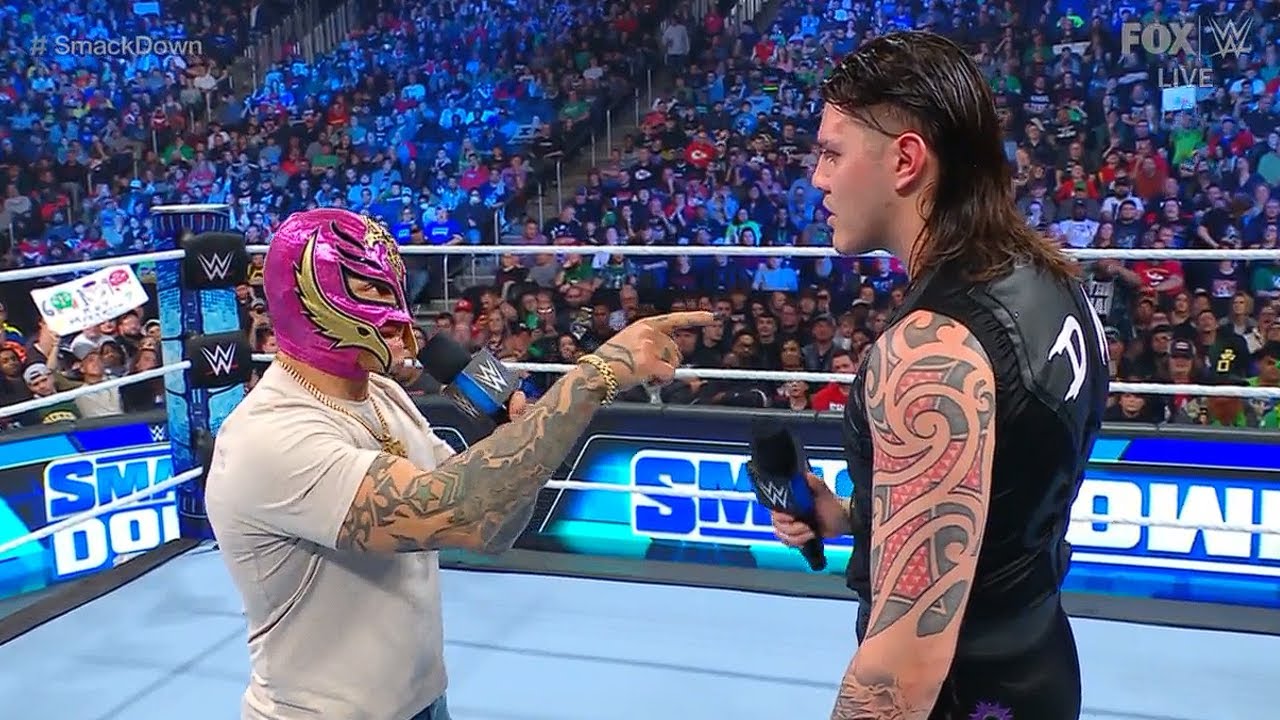 Chris King is here with what WWE should do with Dominik Mysterio at WrestleMania in his long-awaited match against his father Rey Mysterio Jr. 
On this week's episode of Friday Night SmackDown, Rey Mysterio finally snapped and beat some sense into his disrespectful punk-ass kid Dominik. The member of the Judgement Day came out to push his father again for a match on the Grandest Stage of Them All, this time with his mother and sister at ringside. The ungrateful punk told his mom to "Shut Up," as a father even I wanted to jump through the screen and whoop his ass.
Back in October of last year, Mysterio made the emotional decision to possibly quit the company but, instead, Triple H persuaded the Lucha libre superstar to move over to SmackDown to avoid his son. This came after Dominik shockingly turned on his father at Clash at the Castle. Mysterio did everything he could to refuse his despicable son's challenge for Mania but, a man can only be pushed so far. Mysterio will be inducted into the 2023 WWE Hall of Fame and I expect Dominik to embarrass his father during his speech to further this personal feud.
Yes, the WWE Universe hates Dominik and wants to see him get the ever-loving crap kicked out of him but, this feud is missing a special ingredient to capitalize on the biggest heat possible. Throughout this feud, Dominik has made mention of the legendary Eddie Guerrero on several occasions going back to the "iconic" 2005 feud.
I know WWE might not want to go this route but, Dominik MUST come out to Eddie Guerrero's theme at Mania. The disrespectful punk needs to come out in a lowrider to garner nuclear heat. It doesn't matter if The Judgement Day comes out and causes interference for Dominik to get the win, all that matters is that both superstars get the biggest payoff of this nearly year-long feud. Just imagine the Roman Reigns heat after he defeated The Undertaker and multiply that by ten. Dominik portrays the perfect heel and he truly is the missing ingredient that The Judgement Day needed to grow and evolve into a top faction.