Tiffany's Takes: WWE NXT (5/1/19)
Did you like WWE NXT this week?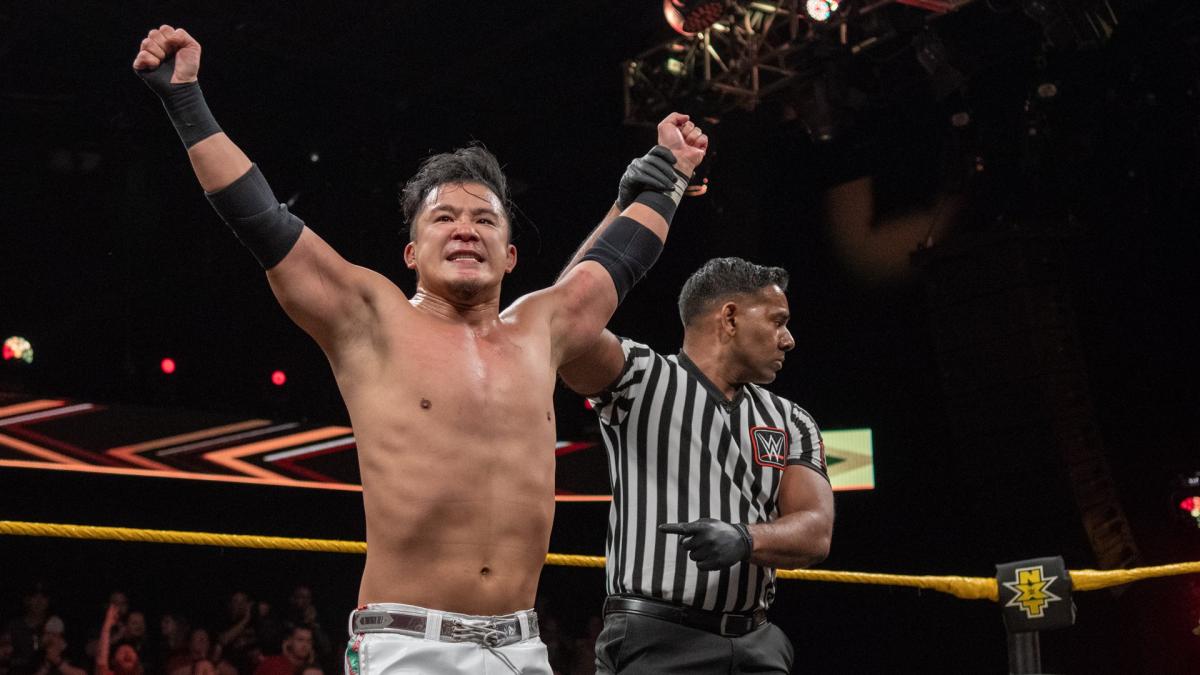 WWE NXT coasts into the week before getting ready to kick it into high gear for the build to the June 1 Takeover.
Last week, the cracks in Undisputed Era continued to grow, so let's see how the OG WWE NXT crew are doing this week!
Six Man Tag Team Match – Oney Lorcan, Danny Burch, and Humberto Carrillo vs The Forgotten Sons
After the crazy end last week, this match was a no-brainer, but that doesn't mean it wasn't good. I will say that this match was a rough and wild ride. However, the team cohesion with Forgotten Sons was really amazing. I'm not one to give this out lightly, but the Forgotten Sons COULD be to NXT what the Shield was for the main roster.
Women's Division
I'm seriously OVER the packaging of Baszler. This woman is a legit badass and she's being written as a punk who needs her friends to fight her battles for her. This is a disservice to her and the division and it needs to be fixed. The other thing I'm OVER is Bianca Belair in the title picture. She got two chances and lost in both of them, time to let someone else have a shot. If she can get two chances, Mia Yim should too. Needless to say, I'm hoping Yim wins next week and gets her second chance rather than a third match for Belair.
Mansoor vs Dominick Dijakovic
That Mansoor gets around. He was mixing it up with Travis Banks in NXT UK and now he's fighting Dijakovic. I'm guessing he's a prospect WWE has big hopes for to get two matches this week. To give him his due, he definitely gave Dijakovic quite workout for his win, but Dijakovic was too big and strong. I did hate Dijakovic throwing Mansoor out of the ring, that just seems too reckless.
I also have a couple of questions: 1. What happened to the feud with Keith Lee? and 2. Did Velveteen Dream accept the challenge or not? That promo tonight was very mealy-mouthed and unclear. I guess we'll find out next week, but a simple 'yes' or 'no' would've sufficed.
Undisputed Era
This was a really interesting promo to watch. It started out really well with everyone being friendly, until Cole took a 'joking' jab at Strong, who, understandably, didn't find the joke funny. It's looking like the dissolution of Undisputed Era is going to happen and it might come to a head next week.
KUSHIDA vs Kassius Ohno
I'm going to be honest, I don't watch Japanese wrestling, so the signing of KUSHIDA didn't mean a whole lot to me. I'm also not sure just why it was decided to book Ohno in this match because he looked hopeless against KUSHIDA in several spots in this match.
I'm not sold on KUSHIDA or his gimmick. I prefer Michael J. Fox as my Marty McFly from 'Back to the Future', thanks so much. I'm not going to say I don't get what's so great about KUSHIDA , or that I don't like him, because I've only seen one match, but I…wasn't wowed. I will say the match was okay, but I'm guessing that KUSHIDA slowed down quite a bit so Ohno could keep up, or that's what it looked like. Again, I'm willing to give KUSHIDA a chance, but as far as first impressions go, that match wasn't the best, but that's me.
Overall Thoughts
This was an okay NXT, not quite as good as previous ones. The matches were good and there was storyline development, but it felt like it was done halfway through the filming process and was more about keeping things going than really going for 'Wow'. The continuing dissolution of Undisputed Era was the most interesting part of the show since it looked like Cole and Strong had made up until Cole opened his big mouth. I have a feeling Strong's going to pay Cole back next week against Matt Riddle, but we'll see.
That's it for this week's Takes. Tune in next week to see if WWE can learn from the underwhelming shows this week.