Tiffany's Takes: WWE NXT (5/15/19)
What happened on NXT this week? Tiffany Takes you in!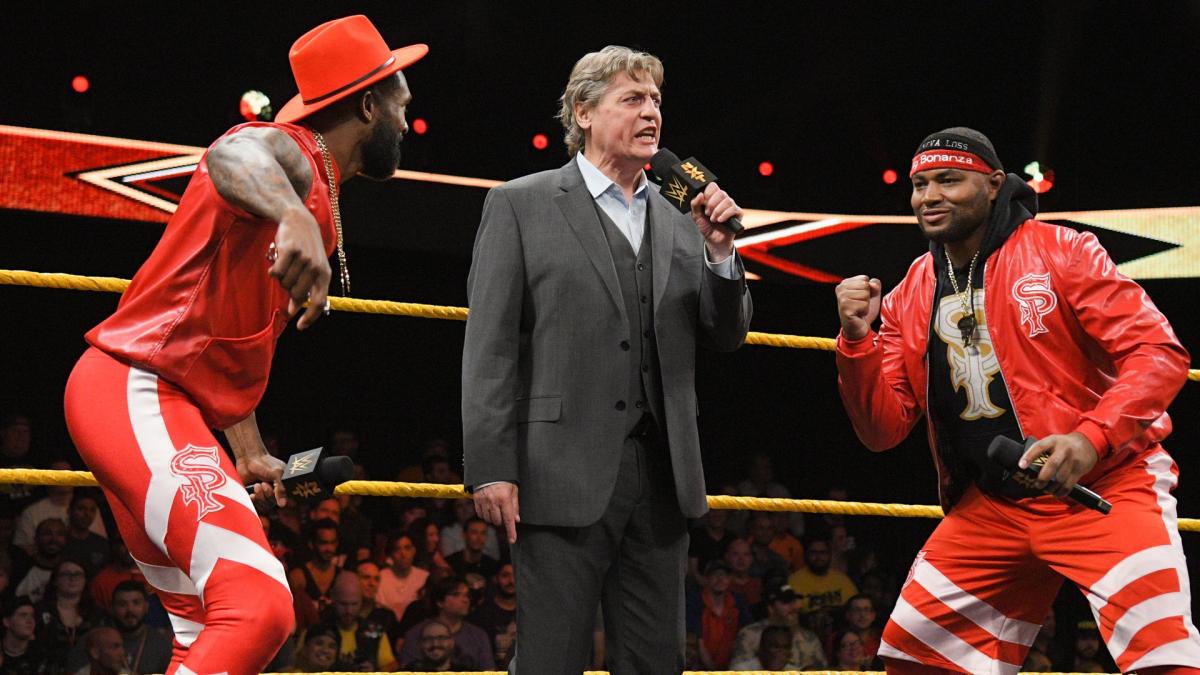 After the…disastrous miscue last week, what is the state of Undisputed Era? Tiffany Takes WWE NXT to see!
Announce Team: No, the announce team didn't get into a fight. Hall of Famer, Beth Phoenix has joined the NXT announce team! This is such exciting news and gives me hope that the WWE Women will get their own show someday.
WWE NXT Tag Team Championship: Nothing about the Viking Raider's promo surprised me, TBH, they've been absolutely dominant as Tag Team Champions. What did surprise me is that Street Profits got another title shot, despite being soundly defeated by Viking Raiders several weeks ago. I get that the Tag Division isn't large, but there are other teams that could be put in that spot, or have a #1 Contenders match.
I really enjoyed the match between Street Profits and Viking Raiders, but I was more excited when Forgotten Sons and Lorcan and Burch ran in, which is what was needed at the start of the show. Looks like we'll be getting a Fatal Four Way at TakeOver XXV!
Undisputed Era: After last week's…miscommunication, it looked like Roderick Strong was done with Adam Cole and Undisputed Era and the feeling was mutual, at least for Adam Cole. However, either Strong is planning something or  he doesn't think he's strong enough to stand on his own, but the idea of him beating up Matt Riddle to get back in Cole's good graces is a little creepy.
Cezar Bononi vs Keith Lee: With Dijakvick out for the time being with an injury, it's not clear what WWE's going to do with Keith Lee since the two were having a rivalry when Lee got injured.
I've said before that I don't get the hype about Lee. I just don't get it. He's a really good wrestler, but I'm just not wowed by him. I don't know why, I'm just not.
WWE Women's Championship: Io Shirai is FINALLY getting her one on one against Baszler! I'm disappointed that the fact that Shirai EARNED that opportunity fair and square before Bianca Belair's tantrum ruined it wasn't mentioned, but she's at least getting her shot!
Speaking of Belair, the so-called EST was back at it, trying to get ANOTHER shot she did nothing to earn, but I'm glad Mia Yim got the jump on things so hopefully we'll get a rematch from last week and Yim will get the second chance she should've gotten and Belair goes to the back of the line.
WWE NXT Championship: Well, it looks like Adam Cole gets his wish, he's getting a NXT Championship rematch against Gargano at TakeOver XXV. However, he and Undisputed Era might be in BIG trouble if Riddle's as mad as he sounded from Gargano's report.
KUSHIDA vs Kona Reeves: I'll admit, KUSHIDA didn't wow me last week, and I really didn't care about his match with Reeves, since I want to punch Reeves in the face everytime I see him. It was a good match, just not something I was really into. HOWEVER, I was intrigued by Gulak watching the match. It looks like he's going to try and 'teach' KUSHIDA how to wrestle 'properly', which should be entertaining when KUSHIDA knocks him out.
More continues after the ad – buy a shirt!
---
Elisa looks great in her Chairshot gear.
You can, too!
Be like Elisa and get yours at:
https://www.prowrestlingtees.com/related/thechairshot.html
---
Vanessa Borne vs Jessie Eleban: This was a match straight out of the 90s. Aliyah, who was accompanying Borne, was dressed like it was 1996 or so and Borne was up against the real life Kimmie Gibbler from Full House, Jessie Eleban, who had changed her look, but you could still see who it was.
90s nostalgia aside, this was a really good match. Borne and Aliyah are a really great team, even when wrestling singles and they made short work of Eleban. Hopefully they'll get a chance to take on the IIconics soon.
Overall Thoughts: So, how was WWE NXT this week? It was okay. It definitely felt like they were getting to the end of filming the months shows since you had more promos than matches, but the matches were still good and set things up for the next round of tapings and TakeOver XXV.
I'm glad Io Shirai is finally getting her shot, but not thrilled that Belair seems to keep getting shots over other equally talented stars. Hopefully, we'll get a rematch with Yim and Yim will get another shot at Baszler or Shirai.
I'm not sure what to make of the Undisputed Era drama. I almost think Strong is plotting something since he was PISSED last week over Cole's actions, so him crawling back makes no sense unless he's planning to double cross Cole at TakeOver XXV, but the Riddle thing seems like it'll be a big problem down the road.
That's it for Tiffany's Takes: NXT US! Tune in on Sunday for all our Money in the Bank coverage!