Tiffany's Takes: WWE NXT UK (5/1/2019)
NXT UK is still in Brooklyn, and still kicking ass!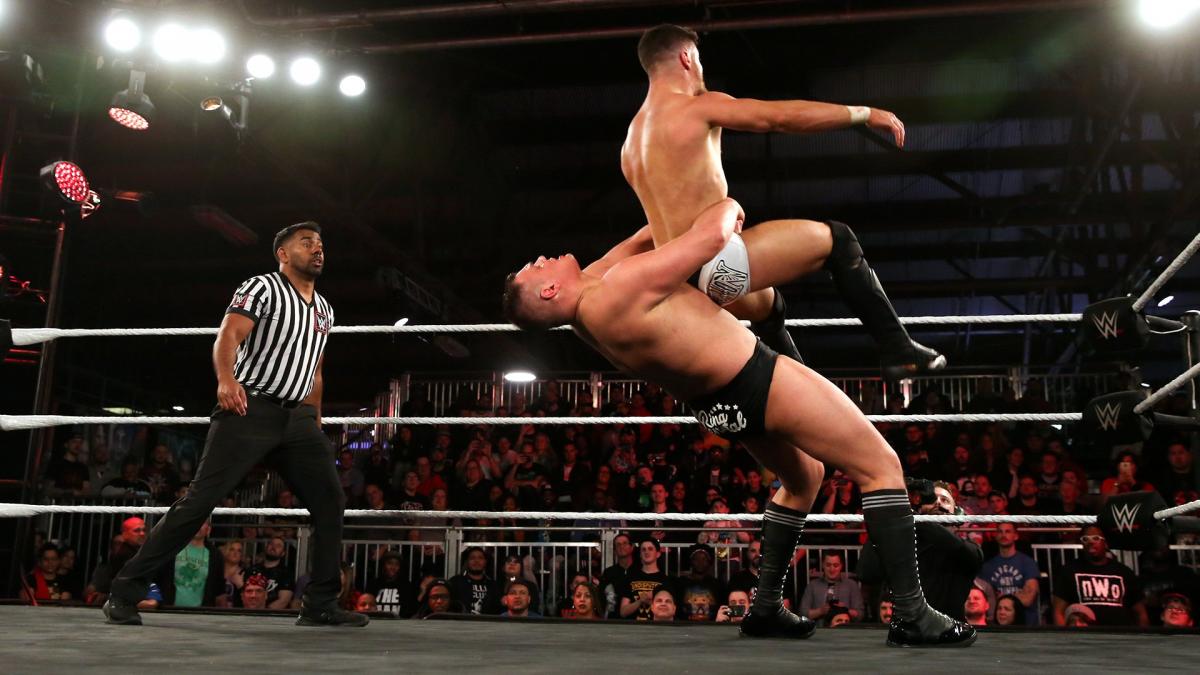 WWE NXT UK is still tearing up Brooklyn, so let's see how the crew from across the pond is doing!
Travis Banks vs Mansoor
Honestly, my first thought when I heard the name 'Mansoor' was 'What the hell is a Mansoor' because it sounded like the old Mantaur gimmick from the 90s. If you don't know or remember that, count your lucky stars. My second thought was that Mansoor looked like Mustafa Ali's look-alike, douchebag cousin.
All that said, this was a really great match. Travis Banks hasn't gotten a lot of exposure since his one-match feuds with Jordan Devlin and Kassius Ohno, so it was nice to see him getting to show his stuff in a match. Mansoor turned out to be more than just a local for Banks to squash and gave the Buzzsaw quite a fight. Can't wait to see where Banks is headed.
Promos
Xia Brookside's promo was…interesting. I like that she's showing off her personality, but that makes it easier to dismiss her talent, which is sad. Hopefully, her training is going to pay off and she'll be able to be an in-ring badass.
I'm not sure what to make of Nina Samuels' promo, she's so seldom on the show that it's hard to see where she's getting the idea that people are clamoring for her return. However, it's clear that she's got her eyes on Toni Storm and the NXT UK Women's Championship, which should be fun.
I'm not familiar with Dragunov, but he looks like a tough customer, and I'll hold off any other comments until I see him in the ring.
I'm very excited about what kind of hell-raising Gallus is going to do in Glasgow, though I'm surprised that Johnny Saint didn't include them in the Tag Team Championship match, but that could change between now and then.
Kenny Williams and Amir Jordan
I'm SO stoked to see these guys get a title shot! Williams and Jordan have come so far since their rather hapless start, so it's nice to finally see them getting some recognition. I loved them calling out GYV on their BS and the fact that the Lucky Bad Boys will get a title shot when NXT UK descends on Glasgow next week!
Piper Niven vs Reina Gonzalez
I really wasn't sure what to think of this match when it got started because Niven and Gonzalez are NOT small and having two larger people often doesn't work very well, but they proved me wrong. I LOVED this match. Niven and Gonzalez aren't pixies, but they can move around and it made this match so great to watch! I'm not surprised that Niven won, I am surprised that Rhea Ripley didn't come out and start trouble.
Jordan Devlin vs WALTER
I'm not going to lie, as much as I love Jordan Devlin, I wasn't psyched about this match because it really seemed pointless. The NXT UK Championship wasn't at stake because they wanted to leave the door open for another round of Dunne vs WALTER, so this seemed more about getting Devlin out of the picture rather than putting him in real contention for the title.
The match was a good one, but I just couldn't get into it, plus Devlin seemed really outmatched by WALTER, so he didn't even get as good a showing as I feel he should have. He did a great job, but the whole match made me feel blah. Of course we're going to get Dunne vs WALTER in Glasgow, that was never in question, so good for them, but it seems like a wasted opportunity for Devlin.
Overall Thoughts
Believe it or not, other than the main event, I really enjoyed NXT UK this week. All of the matches, even the main event, were good. The card for Glasgow sounds REALLY good and I'm excited to see what happens when NXT UK comes to Scotland.