Tiffany's Takes: WWE RAW (5/6/19)
Was Raw able to rebound from last week's show? See if you agree with Tiffany's assessment!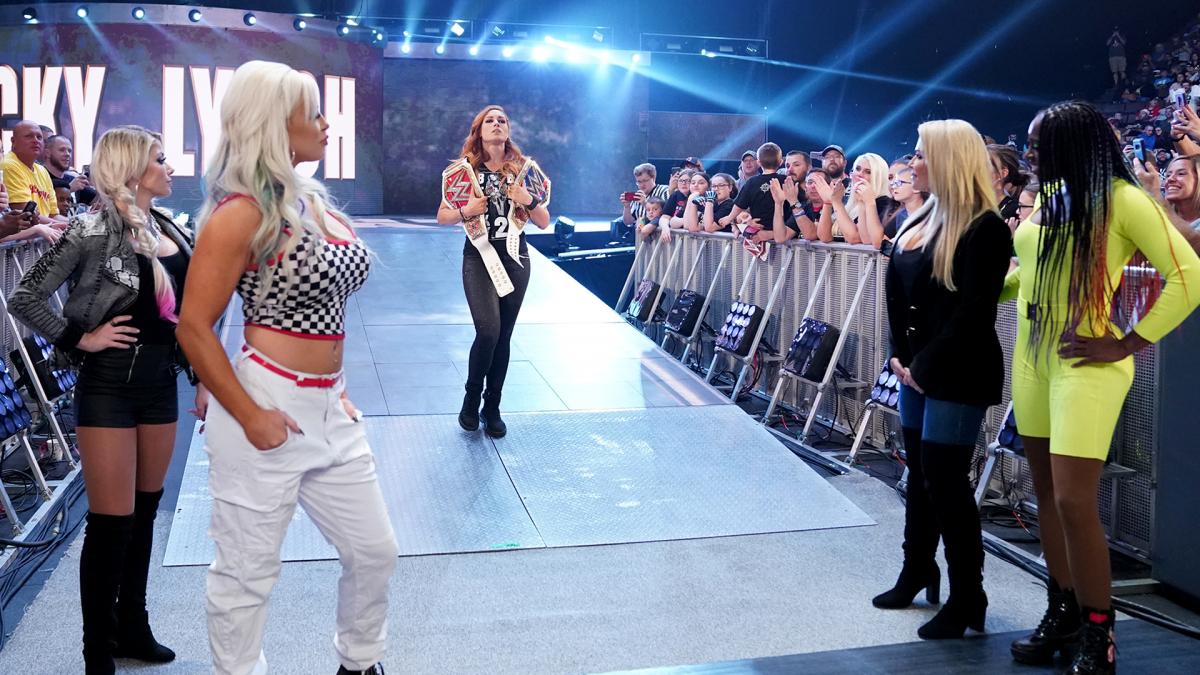 Tiffany takes a look at WWE Raw to see how they follow-up a lackluster week last week. Did WWE come out swinging, and did they connect?
How does this week's edition of WWE Raw stack up? Let's take a look!
Vince McMahon
Honestly, I just about turned RAW off after the first ten minutes of nothing but TALKING, but I kept watching because it was like a slow moving trainwreck. However, after watching the WHOLE show, I agree with several people online, who are putting up the theory that Vince's behavior is probably part of a developing storyline that shows the McMahons forcing Vince out due to him losing his grip on running the company. If that's the case, they did a damn good job of it because that opening segment was an absolute mess.
Wild Card Rule
I'm not thrilled with the idea of the wild card as presented on WWE Raw. The whole point of the Shakeup was to have superstars exclusive to each brand, not just brought onto different shows because the ratings tanked. Ratings always tank this time of year, panicking about it is a dumb thing to do. That said, they at least brought in top guys, not low-card guys, so at least there was a reason to watch.
---
MUST READ
Andrew's Star Ratings for WWE Raw (5/6/19)
---
Universal Championship
I'm not really sure what the whole point of trying to get Rollins and Styles to work together after last week was, but it failed spectacularly. The fact that Baron Corbin, who is a mid-carder on a good day, pinned Rollins is a travesty. I'm a little disappointed that Seth wasn't used again tonight, but at least they let him cut a really good promo on Styles.
The Miz vs Shane McMahon
Thinking about Miz as a babyface is still weird to me, but I like that they kept his and Shane's storyline to a minimum, but still letting Miz get a few licks in before Shane got the hell out of there before an angrier opponent than Miz found him.
Sami Zayn & Braun Strowman
FINALLY, someone shut Zayn up, but I'm surprised that it was Strowman. The last time Zayn and Strowman feuded, I can't say it was a highlight for either man, but at least we got an amusing chase out of it and seeing Zayn being put in the trash was extremely funny.
---
Elisa looks great in her Chairshot gear.
You can, too!
Be like Elisa and get yours at:
https://www.prowrestlingtees.com/related/thechairshot.html
---
Lucha House Party vs Jobbers
This match isn't worth talking about since we never even got the jobbers' names and the match lasted about three minutes. LHP got the win and gained back some momentum, so there's that.
Ricochet vs Robert Roode
This was a really good match, and Ricochet won, but I have no idea what they're feuding about. I'm guessing that Roode is helping Ricochet iron out his game…or something like that.
Rey Mysterio vs Samoa Joe
I think the best thing about this segment was the people worried about Joe possibly attacking Dominick. Even though Dominick is old enough to drink alcohol in most states, many people still think of him as that little kid caught in the middle of the Eddie Guerrero/Rey Mysterio paternity feud from 2005. It shows how enduring good storytelling is (and the modern day WWE Raw isn't it). That said, I applaud Dominick for not losing his cool over Joe's bullying and letting Joe make himself look stupid.  Since Mysterio vs Joe for the United States Championship at Money in the Bank is officially on, I have a feeling Dominick is going to get hurt in this feud eventually.
Becky Lynch vs Lacey Evans
It's funny to think that the one thing that could bring the RAW Women's Division together is a mutual loathing of Lacey Evans, but that seems to be what happened. No one seemed to be particularly impressed with Evans' victory, or her insistence that the ladies wear formal attire. This is wrestling, not the opera or Met Gala.
As for Lacey Evans, she apparently didn't hear one of the lessons in ladylike deportment that my mother spent a lot of time trying to teach me, with mixed results: A lady knows when to keep her mouth shut. Also: Don't break your arm patting yourself on the back. Though, I guess Becky taught her those lesson the hard way with a straight right to the mouth. Hopefully, Evans will get another lesson at Money in the Bank.
---
MUST LISTEN:
Driving With DeMarco: The Wildcard Rule Is A Band-aid And We Don't Need A Band-aid
---
Viking Raiders vs Curt Hawkins & Zack Ryder
Well, this is the second week for the Viking Raiders' name, so I guess it's here to stay! The match against the Major Dudebros was okay, it wasn't a barnburner, but it got the desired results: The Viking Warriors are in line for a tag team title shot and God help Ryder and Hawkins.
Firefly Funhouse
Good God, does it ever stop? At least this Public Television nightmare will come to an end next week, according to Wyatt's Twitter.
Roman Reigns vs Drew McIntyre
For all the complaining about Roman Reigns' booking over the years and the constant whining about Vince doing anything to get Reigns over, I think most of it holds true for Drew McIntyre. The fans really don't seem to care about him one way or the other, yet he constantly gets put in big match situations. The match with Reigns was good, but it wasn't any better than their WrestleMania match last month.
I will say that the cross-over of Reigns' feud with Elias and Shane McMahon was really good and definitely more interesting than anything to do with McIntyre. It makes me wonder if there will be a team up of Miz and Reigns against Shane and Elias in the 'The enemy of my enemy is my friend' school of tag team building.
The Revival vs Good Brothers
How old are the Usos? They're the same age as Roman Reigns, which makes them WAY too old for this stupid, high school hazing shit. They went from tough badasses on SmackDown to juvenile bullies on RAW and putting generic Icy Hot in people's trunks. I get that making fun of the Reviva, who take themselves so seriously, is fun, but can't we do that without making the Usos look childish?
No Way Jose vs Lars Sullivan
Eesh. I wouldn't wish that on someone I didn't like. Sorry, Jose.
Kofi Kingston vs Daniel Bryan
I have to admit, I was puzzled by the decision to give Bryan his rematch on RAW instead of SmackDown, but that doesn't take away from a great match, that was definitely the highlight of RAW. Daniel Bryan aggravates me to no end, but he's great to watch in the ring. Kofi looked great out there, even after a miscue had him land on the back of his head on the floor. Kingston definitely needed a strong title defense ahead of his match with Owens and that was definitely it.
If I had to guess, I would guess that the real point of this match was to get Bryan's rematch out of the way so he can stay on RAW full time-ish. Think about it: Daniel Bryan vs Seth Rollins for the Universal Championship, the one title Bryan hasn't held. I could go for that.
Overall Thoughts
How did this RAW compare to last week's clusterfuck? It was better, but not great. WWE is getting ready to go on the European tour, and that was made clear by the barebone crew. The show felt very…thrown together, like they'd JUST decided what they were going to do ten minutes away from showtime, which I hope isn't true. The possibly developing storyline with Vince is interesting, but I'm skeptical of it lasting long term, same with the Wild Card, especially once SmackDown moves to Fox.
That's it for Tiffany's Takes for RAW, tune in tomorrow for coverage of SmackDown and 205 Live!