Tiffany's Takes: WWE SmackDown (4/20/19)
Tiffany takes a look back at WWE Smackdown for April 30 in this edition of Tiffany's Takes!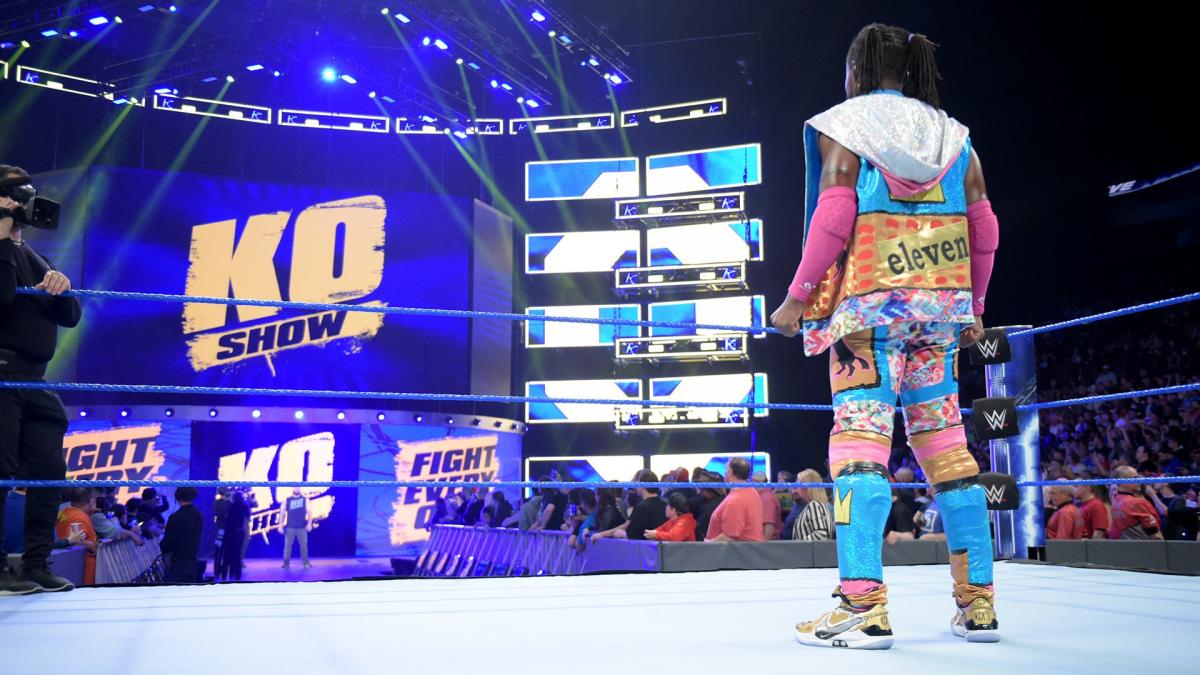 Tiffany takes a look back at WWE Smackdown for April 30 in this edition of Tiffany's Takes!
Last week's SmackDown was not all that it could be. With RAW faltering, will SmackDown rise to the occasion?
WWE Championship
Well, apparently, the only people surprised by Kevin Owens' turn last week was New Day. The power of positivity seems to have made them shockingly naive, as Kofi admitted that they'd really believed that Owens was genuine, when everyone saw it coming from a mile away.
I was honestly rolling my eyes during Kofi's first in-ring segment. You'd think such an intelligent group of men and an 11-year veteran would know better, but the rose-colored glasses are off. I was a big fan of Woods and Kingston taking the fight to Owens, especially Kingston, who showed his badass side to close the show. As for Owens, he's at his best as a whiny heel, but his comment about Kofi's moment being just that, a moment and moments end. I honestly don't want him to beat Kofi just yet, but I think this will be a good early summer feud.
Money in the Bank
I said last night that I was less than impressed with RAW's Money in the Bank choices for the men and the women. SmackDown did a little better, Ali, Balor, and Andrade will bring plenty of excitement, Orton is a seasoned vet who will be able to keep things going if it gets too crazy. The match between Balor, Ali, Andrade and Orton was MUCH better than its equivalent on RAW, I could really get onboard with a Balor/Ali tag team and seeing Ali get the better of Orton made me VERY happy. He's my pick to win.
The choice for the Women was okay, but I'm still not happy about having so many former champions in the mix. Ember and Mandy are the only non-champions picked from SmackDown, which seems ridiculous when Nikki Cross, Liv Morgan, Kairi Sane, and Sonya Deville are available.
Speaking of Deville and Rose, I'm a little confused as to why Deville would give up a spot in Money in the Bank so easily. Yeah, Rose came close to beating Asuka, but so did Deville. I have a feeling that things between Rose and Deville aren't as great as it looks.
Becky Lynch vs Bayley
Why is this not the match for Money in the Bank?! I thoroughly enjoyed that match and hope that we'll get to see it again down the road. As for Charlotte, for all the claims that she's the Queen, she proved that she's pretty insecure on her throne to resort to cheap shotting Becky and Bayley. Hopefully, the Becky/Charlotte story will end at Money in the Bank.
As for Bayley, I LOVE seeing this nasty side of her coming out more often, if Sasha Banks did nothing else, she helped Bayley develop a more Main Roster friendly persona.
Hardy Boyz
I've been a fan of the Hardy Boyz for decades and this segment felt more like a retirement announcement than just a vacating of the titles. I'm not a fan of Lars Sullivan and R-Truth's feud being part of this, but it is what it is. Hopefully, Jeff will recover quickly and be back because I'm having trouble remembering who is part of the SmackDown Tag Team Division.
Aleister Black
Another great, and thought provoking promo from Black. Hopefully, we'll get to see him in the ring again.
Kairi Sane and Asuka vs Local Talents
This wasn't quite a squash, but it was definitely a dominant performance. Since Pirate Empresses seem to be the only team IIconics are going to be feuding with, I wonder if the IIconics will be dropping the titles soon or will they find a way to survive.
Roman Reigns
I think it's safe to say that Roman Reigns vs Shane McMahon has the potential to be another Austin vs McMahon. They certainly got a good start on it with a handicap match with all the odds against Reigns. Thank god B-Team are both good enough competitors, stupid gimmick aside, to not look like total jokes in this and Reigns getting the best of Elias was fun. We'll have to see if Reigns will have a say in Shane's fight with Miz.
Firefly Funhouse
I can't figure out how to insert a "Kill it with Fire!" .gif in here but that was my reaction to that mess.
Overall Thoughts
Well, this SmackDown was a little better than RAW, but not by much. The storytelling was much more coherent than on RAW, but this was just an underwhelming week.
I will say that the major storylines on both shows: Rollins vs Styles on RAW and Reigns vs Shane and Kingston vs Owens on SmackDown, were very well done and interesting. The Women's Championship situation was also well done, setting the stage for things to move forward after Money in the Bank. Other than that, I was not impressed with SmackDown this week.
King's WrestleMania Rewind: Charlotte Flair vs. Asuka from WrestleMania 34
Chris king is back with one of the most underrated matches in WrestleMania history–Charlotte Flair vs. Asuka!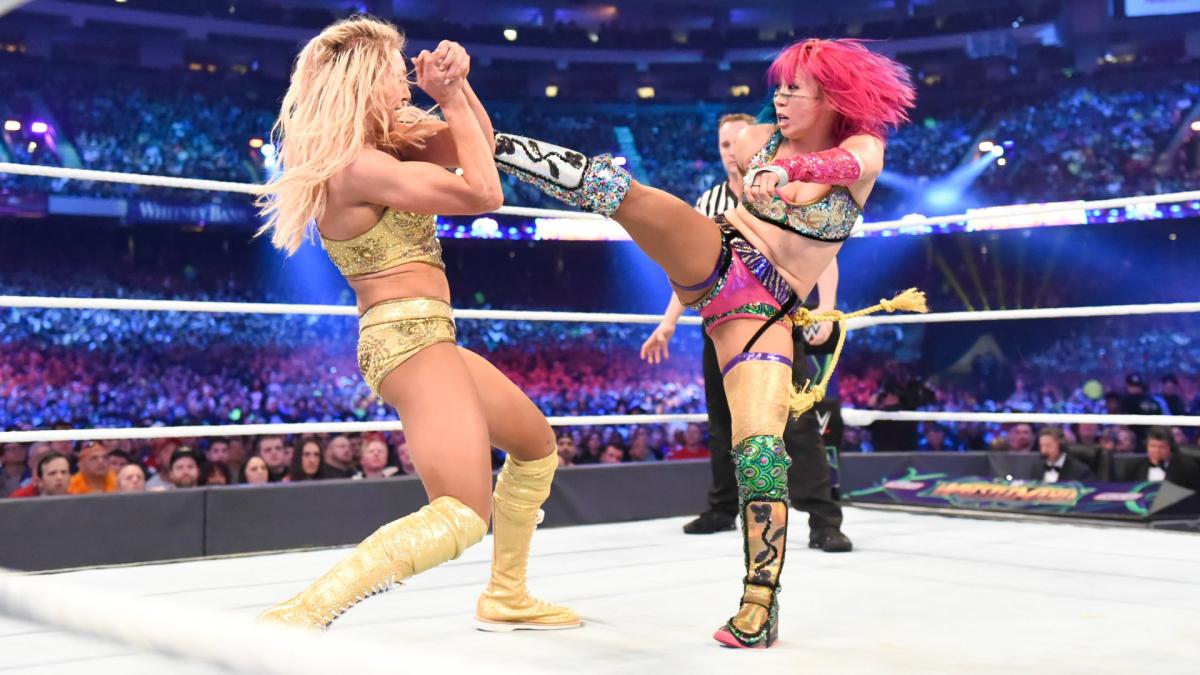 Chris king is back with one of the most underrated matches in WrestleMania history–Charlotte Flair vs. Asuka!
We look back at Charlotte Flair vs. Asuka at WWE WrestleMania 34. 'The Empress of Tomorrow' put her unprecedented and historic undefeated streak of 914 days on the line against 'The Queen's' SmackDown Women's Championship.
For years, this was considered a dream match while Asuka dominated the roster in NXT, while Flair won numerous championships on the main roster on both Raw and SmackDown. The Empress made her long-awaited debut on the September 11th episode of Raw and began to tear through the competition.
Asuka outlasted all twenty-nine other women in the historic first-ever Women's Royal Rumble match to challenge for the title of her choosing. At Fastlane, she made her choice.
The WWE Universe was so excited for this match myself included. Both superstars delivered a fantastic performance on the Grandest Stage of Them All executing counter after counter. Asuka showed off some nasty-looking kicks to her opponent, and Flair hit a thunderous Spanish Fly off the top rope. Flair was seconds away from defeat at the hands of The Empress but she locked in Figure Eight and Asuka was forced to tap out.
I can't even begin to explain how shocked I was at this outcome, as nearly everyone expected The Empress to continue her undefeated streak and walk away with the women's title. This controversial decision was the downfall of Asuka's momentum. She would ultimately win the SmackDown Women's Championship at the 2018 TLC pay-per-view in the triple-threat ladder match.
Fast forward to this year when Asuka has recently returned with her Japanese-inspired persona Kana. Kana is dangerous and ruthless and is heading into a championship with Bianca Belair at WrestleMania 39. The Empress has regained all her momentum and is highly favored to walk away with the Raw Women's Championship. Let's hope that Asuka and Belair can tear the house down and deliver an A+ grade match both women are fully capable of.
King: Dominik Mysterio Needs To Do This At WrestleMania
Chris King is here with what WWE should do with Dominik Mysterio at WrestleMania in his long-awaited match against his father Rey Mysterio Jr.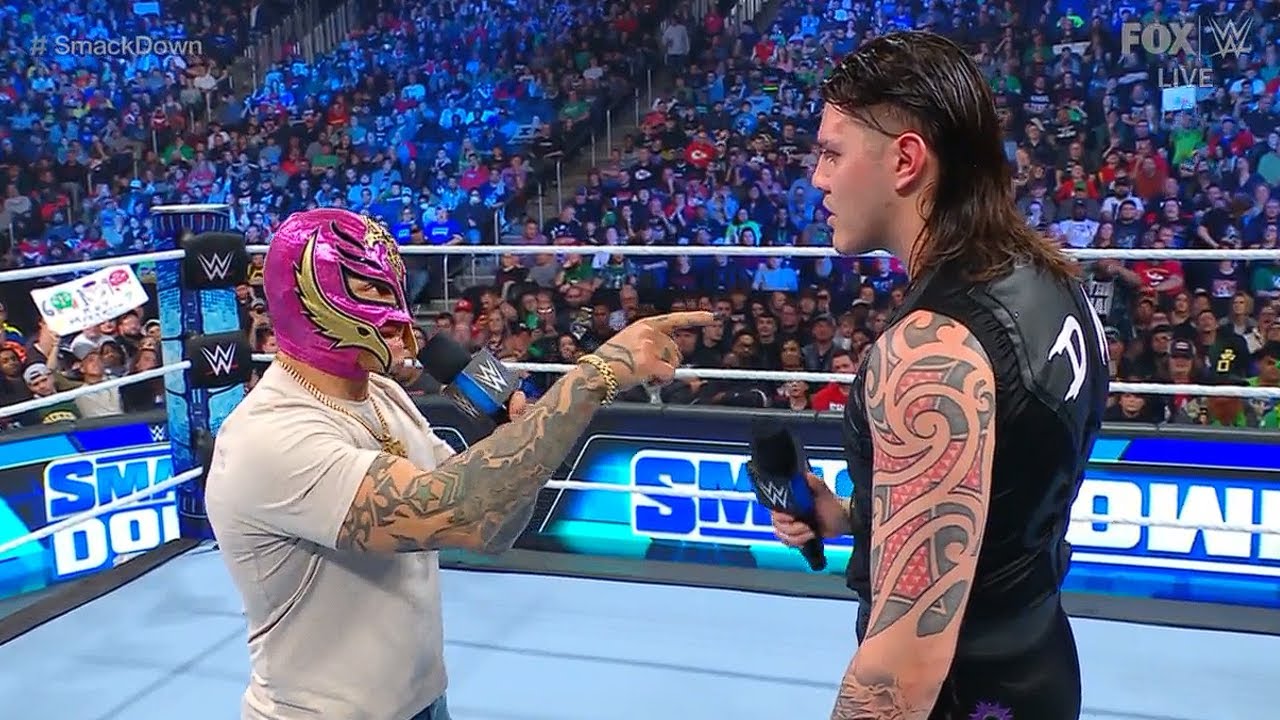 Chris King is here with what WWE should do with Dominik Mysterio at WrestleMania in his long-awaited match against his father Rey Mysterio Jr. 
On this week's episode of Friday Night SmackDown, Rey Mysterio finally snapped and beat some sense into his disrespectful punk-ass kid Dominik. The member of the Judgement Day came out to push his father again for a match on the Grandest Stage of Them All, this time with his mother and sister at ringside. The ungrateful punk told his mom to "Shut Up," as a father even I wanted to jump through the screen and whoop his ass.
Back in October of last year, Mysterio made the emotional decision to possibly quit the company but, instead, Triple H persuaded the Lucha libre superstar to move over to SmackDown to avoid his son. This came after Dominik shockingly turned on his father at Clash at the Castle. Mysterio did everything he could to refuse his despicable son's challenge for Mania but, a man can only be pushed so far. Mysterio will be inducted into the 2023 WWE Hall of Fame and I expect Dominik to embarrass his father during his speech to further this personal feud.
Yes, the WWE Universe hates Dominik and wants to see him get the ever-loving crap kicked out of him but, this feud is missing a special ingredient to capitalize on the biggest heat possible. Throughout this feud, Dominik has made mention of the legendary Eddie Guerrero on several occasions going back to the "iconic" 2005 feud.
I know WWE might not want to go this route but, Dominik MUST come out to Eddie Guerrero's theme at Mania. The disrespectful punk needs to come out in a lowrider to garner nuclear heat. It doesn't matter if The Judgement Day comes out and causes interference for Dominik to get the win, all that matters is that both superstars get the biggest payoff of this nearly year-long feud. Just imagine the Roman Reigns heat after he defeated The Undertaker and multiply that by ten. Dominik portrays the perfect heel and he truly is the missing ingredient that The Judgement Day needed to grow and evolve into a top faction.