Tiffany's Takes: WWE SmackDown LIVE (5/7/2019)
Did the Wild Card Rule help Smackdown this week?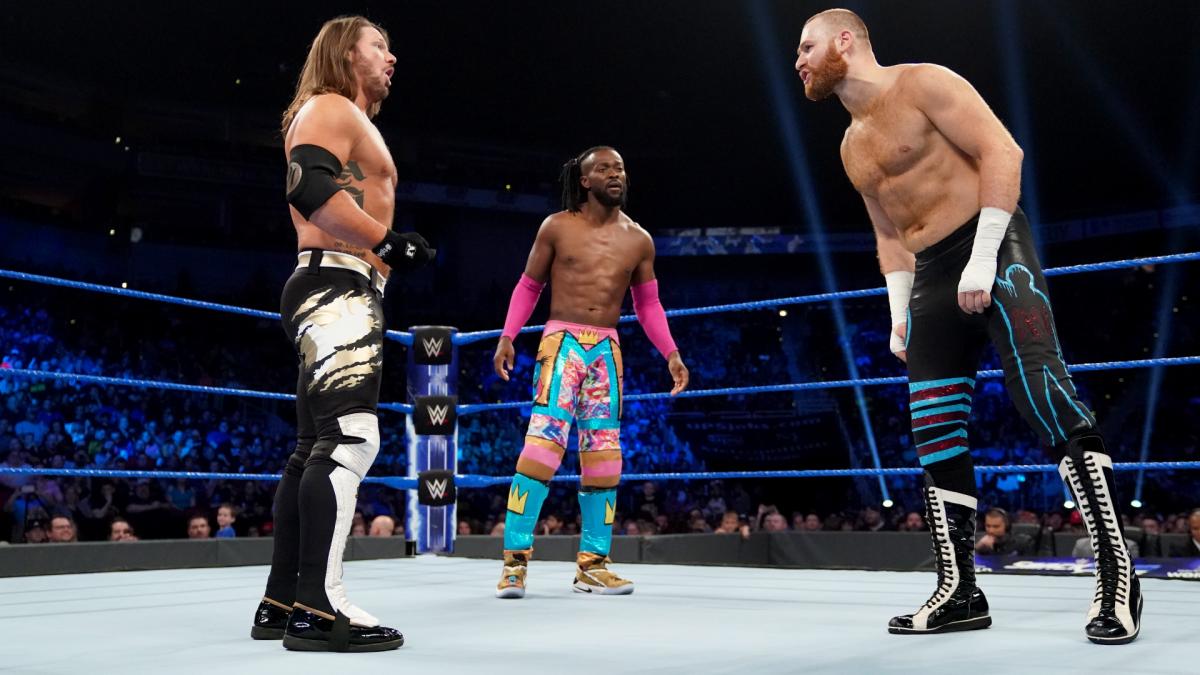 After a lackluster showing last week, will Vince's Wild Card Rule idea help WWE SmackDown?
WWE Championship
Well, I still think the wild card idea is a dumb thing to do, but it did give us a fantastic Triple Threat Match between Kofi Kingston, AJ Styles, and Sami Zayn. I loved the back and forth, but why Owens attacked Xavier Woods is a little beyond me. I was actually expecting Owens to screw Zayn out of the championship, but that didn't happen, so maybe this team isn't dead yet. I also loved the teasing that Zayn got for his trip into the dumpster on Monday Night.
Ali vs Andrade
This was SUCH a good match, it's too bad it was ruined by Randy Orton. There's been speculation about who Ali will be feuding with and part of me is hoping that it's Randy Orton. Orton's such an egomaniac that I can see him picking on Ali, who is young and promising. I especially loved Ali taking it to Orton like he did last week.
ALWAYS USE YOUR HEAD – and get a shirt!
---
Elisa looks great in her Chairshot gear.
You can, too!
Be like Elisa and get yours at:
https://www.prowrestlingtees.com/related/thechairshot.html
---
SmackDown Live Tag Team Championship
With the Hardys out of the Tag Team picture for the foreseeable future, and with Shane back to his natural, dickish, state, I think we all figured that Shane would award himself and new BFF, Elias, the Tag Team Championship, so giving it to Bryan and Rowan was a surprise, as was the temporary return of the Usos. I did love the justification of having the Usos face Greenjerks since they never got a rematch against the Hardys before the Shakeup.
I enjoyed the match between the Usos and Greenjerks, but there wasn't really anything at stake. Even with the wild card, Vince wasn't going to let the brand championships jump shows, but at least it was a good match. I also loved that Heavy Machinery are being placed as possible contenders for the Tag Titles, even though I HATE their new vests.
Firefly Funhouse
Do I need to repeat how much I hate this trashfire segment? No? Didn't think so.
Carmella and Ember Moon vs Fire and Desire
Why did this match feel like WWE felt that the fact that the women main-eventing WrestleMania meant that they didn't need to push the Women's Revolution anymore? It was barely a match and Mandy Rose, who is a mediocre talent at best, got a pin on Ember Moon, who is criminally underused, which should be a crime.
However, I am intrigued by Paige…siccing Sane and Asuka on Rose and Deville, so this match next week should be a lot of fun.
Matt Hardy
I'm not sure what they're planning for Matt Hardy long-term, but the team up of him and R-Truth against Lars Sullivan looks interesting, even though Sullivan seems unstoppable.
Aleister Black
I'm very intrigued by these promos by Aleister Black, but I'm also wondering why he hasn't been wrestling lately. I'd be very down for him and Ali to feud after Money in the Bank, since Ali is supposed to be the embodiment of light and Black is the darkness. Either way, I'm ready for Black to be wrestling again.
Overall Thoughts
So, how was this week's SmackDown? It was definitely better than last week and more coherent than parts of RAW. I still hate the Wild Card idea, but they did it right this time with only a few people and using them sparingly. The title match was fantastic! If there was one thing from the Attitude and Ruthless Aggression Eras I wish WWE would bring back, it's the idea of having the champions defending their titles on TV more often, if not every week. It makes the titles feel important and gives the matches more meaning.
That's Tiffany's Takes for SmackDown, stay tuned for 205 Live!