Andrew's Impact Wrestling Ratings & Analysis 6/7/2019
The last show from the 2300 Arena! How do the ECW originals impact the show tonight?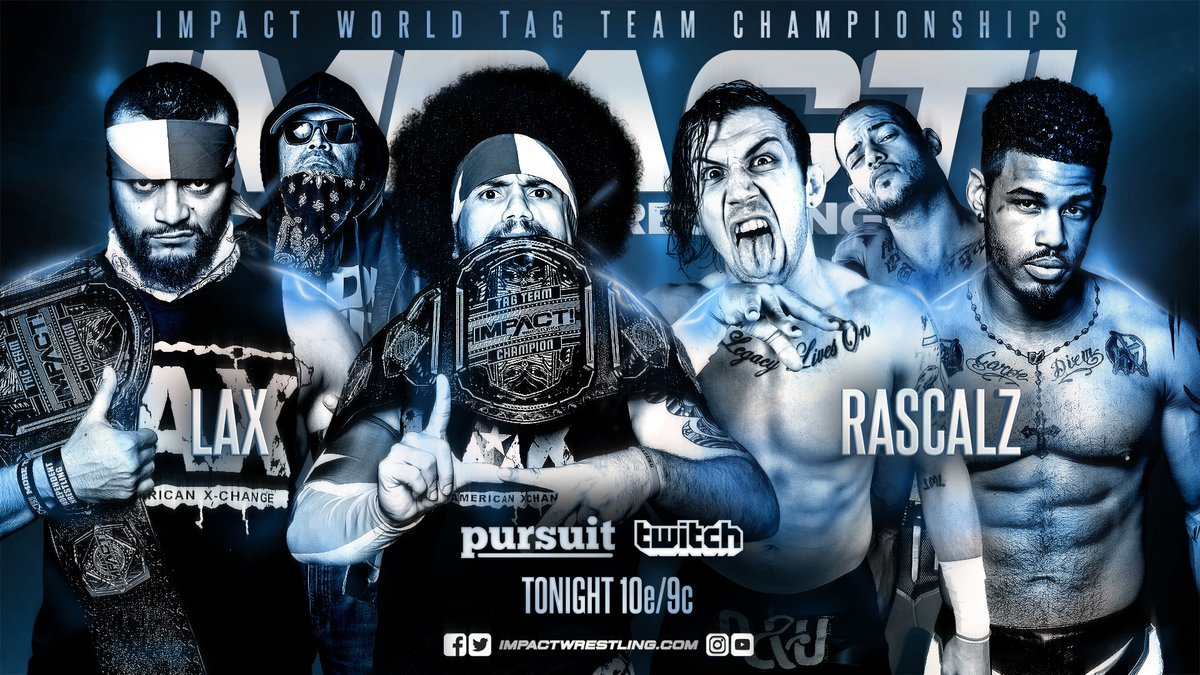 The last show from the 2300 Arena! How do the ECW originals impact the show tonight?
Between Tessa Blanchard knocking out Disco Inferno and The Rascalz getting a tag match, we've got some interesting options tonight.
Do we get more ECW nostalgia like last week? Or do the newer generation take the spotlight?
Either way, reincarnate your interest in the Impact Wrestling product, just like Kenny! Or is it Kenny 2.0? Nah, it's Kenny come back from the dead…right?
The SANDMAN helps @TheEddieEdwards feel a little more comfortable with his new kendo stick! #IMPACT

▶️ – https://t.co/sWu6SEiYN7 pic.twitter.com/j4INxNmW01

— IMPACT (@IMPACTWRESTLING) June 8, 2019
Ratings:
Ace Austin vs Cousin Jake: Austin wins via The Fold – ** 3/4
Rosemary w/Su Yung vs Taya Valkyrie: Rosemary wins via DQ – * 1/2
Madman Fulton vs Two Jabronis: Fulton murders them – N/A
Jake & Dave Crist vs Fallah Bahh & Scarlett Bordeaux: Dave Cris wins via Loaded Fist – ** 3/4
Kiera Hogan vs Jordynne Grace: Grace wins via Grace Driver – ***
Tag Team Championship Match: LAX (c) vs Dez & Wentz: LAX retain via Dusty Finish – ****
Analysis:
Nice contrast of styles to start the show with. Big Jake is considerably larger than Ace, so he used his speed and technical ability to keep Jake's head spinning. Eventually Jake caught him with a big lariat and started his comeback. But the Desi Hit Squad attacked Cody Deaner on the outside, distracting Jake and allowing Ace to pick up the win. Solid match, with a story wrinkle. Good start.
Backstage interview to hype Taya's non-title match with Rosemary.
Well I guess the only real excuse for this, is that Rosemary is still working her way back after injury. Cause all of her more traditional matches since her return, have been hard to watch. Jessica Havok returns to Impact as James Mitchell's new weapon. She wipes out Rosemary and Taya, they get Su Yung back and celebrate.
The Rascalz @DezmondXavier & @zachary_wentz prepare for their Tag Team Championship opportunity against LAX @SantanaLAX & @Ortiz5150 TONIGHT!#IMPACT

▶️ – https://t.co/sWu6SEiYN7 pic.twitter.com/Fc0ISHIPRt

— IMPACT (@IMPACTWRESTLING) June 8, 2019
IMPACT Plus Flashback Moment: Raven vs Shane Douglas, Hair vs Hair, NWA-TNA PPV #62, September 17,2003
Fulton has a Squash match, nice. And by nice I mean…a waste of time. But it feeds into the Crists vs Scarlett and Fallah, so, it's something.
This tag match wasn't bad at all. Fallah tried to keep Scarlett out of the match as long as possible. He fired up and showed a good amount of aggression. When Scarlett got in, she did pretty well. Fallah and Scarlett even hit a Doomsday Device. However, the roll of quarters did in the fan favorite Beauty and The Bahh. The Crists then try to beat on Scarlett more, but Tessa Blanchard makes the save to a nice reaction.
Sami and Fulton steal Melissa's sandals and try to take her to a party during the Twitch live exclusive stuff. Watching on Twitch is great.
Kiera and Jordynne have a much more competitive match than one would expect. Kiera had a counter for nearly everything Jordynne threw and used her speed to get around Jordynne's power. Solid match that also does a lot to fully confirm Kiera's heel turn.
Okay the main event was great. Yes it was a bit of a spot fest, but Trey's enjoyment of Ortiz's moonshine was established last week and played a part in the match this week. So a high work rate match that saw a bunch of near falls, came down to a Dusty Finish. Ortiz was mad Trey was drinking his moonshine, so he took a swing, got hit in the stomach and blinded the referee. Feeling overzealous, a drunk Trey does his diving Meteora finisher and pins Santana. Kid Ref comes in, counts the fall and The Rascalz win! But when the assigned referee can see, he admonishes Kid Ref and reverses the decision since Trey wasn't a legal competitor. Fun match, fun wrinkle.
Overall Score: 7.75/10
Twitch really adds a layer to the enjoyment factor. The story progression and matches were all pretty solid. Even Rosemary's less than average match had good story ramifications. I'm also curious if Trey's drinking problem will play into the future story of The Rascalz.
Plus on Twitch we learned about how crazy Eddie Edwards really is (Kotoge is proud) and that Fulton has a baby room in the basement where he likes flowers and The Little Mermaid VHS tapes. I'm not kidding, Twitch is an experience some weeks!
Twitch Views:
5/3/2019 – LOW: 4,000/HIGH 6,550
5/10/2019 – LOW: 3,800/HIGH: 7,130
5/17/2019 – LOW: 6,900/HIGH: 12,220
5/24/2019 – LOW: 5,200/HIGH: 10,070
5/31/2019 – LOW: 4,550/HIGH: 8,075
6/7/2019 – LOW: 7,100/HIGH: 13,606
Well now, we set a new second highest Twitch viewership for Impact this year! Still hasn't quite eclipsed the 14k set closer to the beginning of the move, but still damn good. Three out of the last four weeks have had over 10k viewers. Not sure what's driving the interest, but it's a good sign for Impact.