Andrew's WWE Raw and SmackDown Live Ratings & Analysis (6/17 + 6/18)
Even though the shows are leading to a B rated PPV that no one seems to care about; do we at least get decent shows? Will WWE surprise us?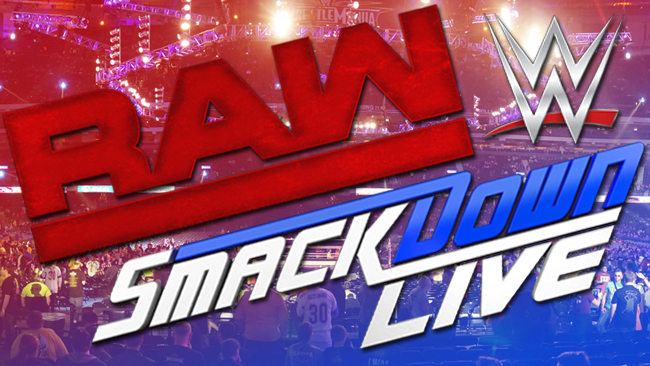 Even though the shows are leading to a B rated PPV that no one seems to care about; do we at least get decent shows? Will WWE surprise us?
The US Championship scene is a bit of a cluster right now, so hopefully this Raw figures that out. Alexa and Nikki Cross could be in trouble if Bayley can get through to Nikki.
SmackDown has Kofi and Roman's stories, but they also feel like they've bled over to Raw a bit as well. So maybe, just maybe, we'll get something interesting, a decent match here or there and something to start caring about.
Raw Ratings:
#1 Contender for US Title Elimination: Bobby Lashley vs Cesaro vs Braun Strowman vs Ricochet vs The Miz: Ricochet wins via 630 Senton – ** ¼
Viking Raiders vs Jobbers: Raiders win via Viking Experience – N/A
2 out of 3 Falls: The New Day vs Kevin Owens, Baron Corbin & Sami Zayn: New Day wins via Trouble in Paradise (2-0) – ** ½
The Usos vs Gallows & Anderson: Usos win via Double Superkick – N/A
Women's Tag Team Championship: The IIconics (c) vs Nikki Cross & Alexa Bliss: IIconics retain via Roll-Up – * ½
Seth Rollins vs Daniel Bryan: Rollins wins via Stomp – ***
Analysis:
So Elias kicks off the show with a song and declaration of being the special guest referee for Corbin's match at Stomping Grounds. Seth decides to start his rampage by taking a chair to anyone and everyone who allies themselves with Corbin.Then everyone in the 5 way Elimination match just tries their hand  at beating the crap out of him. It was a little amusing, but also got a little old honestly.
This 5 way wasn't that bad, and the last two got a decent amount of time. The part that killed it for me is the same thing they've done with Braun for the last few years in Elimination matches. They eliminate power threats early and then have them "take advantage of NoDQ" and gang up on his to make sure Braun doesn't win either. It's just very tired and lazy, and would make more sense if they did that while they were still legal in the match. It's just a dumb cliché. Ricochet getting the win is nice and the crowd seems to be coming around to his in-ring ability. Cause let's be honest, they haven't built his character, so any reaction is because he does cool stuff in the ring.
I get that Becky is sick of Lacey, but she comes off more whiney than commanding. Lacey came off looking great since Becky tried to say she attacks people from behind, but she met the situation head on. Becky jumping on her before she's in the ring with the Becksploder basically disproves most of what Becky just said. So yeah, hopefully the match ends up being ok, because the build has felt pointless for a few weeks.
Corbin gets a backstage segment which does nothing really, except grant him a chairshot, since Seth is on his warpath.
Bryan and Rowan kind of re-introducing the Viking Raiders is a little odd. Not a pairing I would've expected, but we got to see War Machine do their thing against a few jobbers. So, no real complaints.
Carmella and R-Truth are in the crowd in costume, but the camera finds them and then the rush of humanity spills out for them.
Heath Slater walks into Shane's celebration, asking for a raise. Shane says no, and then sends Drew after him. Now what happened was obvious, but the small nod to their past and a somewhat believable friendship was dashed since Drew is just an ass at the moment. Hopefully this builds to something for Heath and it's not just a throw away interaction.
Corbin thought he figured things out by then revealing EC3 as his new referee on the Kevin and Sami show. EC3 gets sideswiped with the chair and laid out. New Day shows up and reenacts Weekend at Bernie's with EC3's limp corpse to sanction a 6 man match. Was the set up amusing?  Sure. Does the match make me want to keep watch? Nope.
The point of this 2 out of 3 falls 6 man, was really just to get Kevin and Sami away from Baron. A miscommunication during the second fall had Kevin Superkick Corbin and walk off with Sami.
Alexa and Nikki is still a pairing I have hope for. By that I mean, I hope they keep Nikki keen on how Alexa is, so even if Alexa thinks she's a puppet master…Nikki might surprise everyone. But for now, they are still a great pairing, and I like Alexa getting them a tag title shot.
Heyman does his usual thing, and he's the second person to make a Lakers reference. Well this is already getting old. But yeah, nothing you haven't heard before was said here. Moving on…
Eric Young is the next person to feel the wrath of the chair. I'm getting tired of this honestly.
Styles and the Good Brothers had a moment backstage where AJ said they were complacent and The Usos were the best tag team. So in an attempt to prove AJ wrong, the Good Brother show off a bit too much and end up losing a match they seemed to have won. Should be interesting where this goes.
Roman Reigns comes out for a promo segment, and he's cut off by Shane's crew on the Titantron. Drew starts cutting into the Samoan Sex Machine, and then mentions his family. That's a no-no. Roman then marches through the crowd, to the party area and lays out all of Shane's party. Shane ran towards the ring to try and lose Roman, but Roman catches him and sends an impactful message.
The Women's Tag match wasn't a complete mess, but it was rough at points. Bayley sitting on the outside to try and diffuse Alexa's claims actually did nothing but solidify them. Bayley cost Nikki and Alexa the titles by keeping Alexa from helping out Nikki. So Nikki is starting to come around to Alexa's narrative.
Firefly Fun House is great! It was dark, sinister, and creepy. I love the remixes of the Muscle Man Dance song during the montage and it was just fantastic. It did feel like the last episode before Bray is seen in person again, but I'm not going to be mad if it isn't. This has been the highlight of Raw for the last few weeks.
So Bryan vs Rollins definitely started off dumb. The fact that Rowan interferes to get Daniel DQ'd, and that's how it's announced. Then after a scrum with an assortment of heels and faces, we get some random decision to restart the match.
From there, the match was fine, but that first match and the weird interlude started the match off a bit flat. Plus I don't think anyone bout that Bryan would win since Seth has a title match Sunday and Daniel is on SmackDown. So it really felt like filler.
Overall Score: 6.5/10
The show was above average, but that's also a bit inflated since Fun House was so good. Nothing was really awful, but I can't say that I was really engaged. It wasn't a painful 3 hours, it just…was 3 hours.
SmackDown Live Ratings:
Dolph Ziggler vs Xavier Woods: Ziggler wins via Superkick – ***
Heavy Machinery vs B-Team:  Heavy Machinery wins via Compactor – N/A
Elimination Tag Match: The Miz & R-Truth vs Elias & Drew McIntyre: McIntyre wins via Claymore – **
2 out of 3 Falls: Seth Rollins & Kofi Kingston vs Kevin Owens & Sami Zayn: Rollins wins via Stomp (2-0) – ** 3/4
Analysis:
Dolph is about as captivating as the first 100 laps of NASCAR with no accidents. I don't care how much conviction he tries to say his lines with, I don't need him on my television. New Day is New Day, so that's never a negative, but the end to this Ziggler angle can't come fast enough.
After the talking we get a solid match between Xavier and Dolph. Xavier had a few interesting spots including a Gorilla Press Gutbuster. Dolph of course needed the win for momentum going into Stomping Grounds. But it was a good match.
Corbin gets a line outside of his locker room for the referee spot. We all know what's coming later in the show.
Moment of Bliss breaks down with Bayley trying to say her piece, but she gets irritated and goes after Alexa. Nikki sticks up for her friend even though Bayley is trying to say Alexa's just using her like she has everyone else. But Nikki believes what she sees, and Bayley is being a bitch, so she draws her line in the sand. I can respect it.
Heavy Machinery versus B-Team. The announce team really tries to frame the B-Team as a legit threat by throwing their tag title reign around. That says more about how bad the tag division was, than them being credible. So yeah, Heavy Machiney destroys B-Team and then Rollins shows up to chairshot B-Team since they were in the line for Corbin earlier.
Aleister keeps saying nothing. I swear, if we don't see Bray walk through his door and into Aleister's janitor's closet…then I really have no clue where this is all going. If he really wanted a fight, he'd be proactive instead of waiting for someone. Writing him like a complete punk.
Shane comes out for more talking, but this time Miz cuts in. Miz actually frames the last few months in a clever way. Miz takes responsibility for creating a monster since he got hurt, and Shane stood in to become Best in the World. He wanted to tag with him because of the distinction and then he couldn't keep him in check during their feud earlier this year. All good stuff, Shane grants him a tag match if he can find someone in 10 seconds, and R-Truth just happened to be hiding under the ring with the 24/7 title.
We see Author of Pain, and Kairi, Asuka and Paige! Apparently the Pirates of Tomorrow will get a non-title match next week. If they win, then they get a title shot. Good segment between the 5 women.
The tag match is an elimination style match, because apparently we just like those currently. Elias and Drew go over, no real surprise. It was decent enough, but Truth got eliminated first and it was a little lame. I would've liked one of them to knock out Elias at least.
Ember attacks Mandy and Sonya because they're mean and pick on her. I did really like how quick Sonya proved her hands were though. Fire and Desire were eating donuts, Ember went after Mandy first and Sonya caught her immediately with a punch/smack to the face. Sonya could be money.
R-Truth gets tricked by Drake Maverick posing as Carmella. Drake actually pins Truth and wins the 24/7 title and is now taking it to his wedding.
Another 2 out of the 3 falls match? Really? Really? Really? Do we have to keep reusing ideas that just happened the day before?
Kofi hits Sami with Trouble in Paradise as soon as the bell rings to get the first pin, and then they go to commercial again. These commercial breaks really don't help the product. The rest of the match wasn't bad, but it started off so slow because of all the commercial time and never fully recovered from the awkward start. Still salvaged something alright, but it would've been much better with different timing and if it's wasn't another inane 2 out 3 falls match.
 Overall Score: 5/10
Again, SmackDown felt like the overflow reservoir for Monday Night Raw. The show wasn't bad, but it was painfully average because nothing felt unique or like anything really got accomplished. Undercard stories had a little movement, but since they probably won't play into Stomping Grounds nothing will matter until next week.