Andrew's WWE Smackdown Star Ratings (6/4/19)
19 minutes of wrestling, what stood out???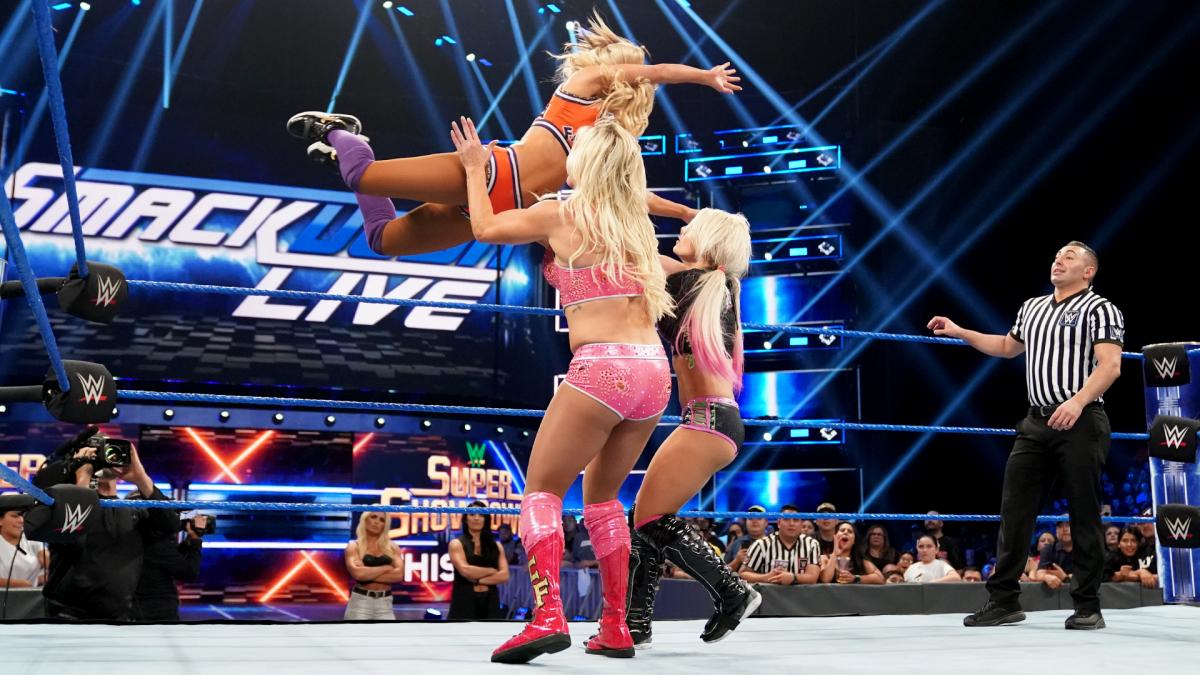 Andrew gives you his immediate reaction to the June 4 WWE Smackdown with his star ratings! How many snowflakes did Andrew give?
The 6/4/19 WWE Smackdown is in the books, and here are Andrew's ratings:
New Day vs Sami Zayn & Kevin Owens: Kofi wins via Trouble in Paradise – ** ¼
24/7 Championship Lumberjack Match: R-Truth (c) vs Elias: Elias win via Leaping Knee – N/A – TITLE CHANGE!!
24/7 Championship: Elias (c) vs R-Truth: Truth wins via Under the Ring Shenanigans – N/A – TITLE CHANGE!!!
#1 Contender Triple Threat: Alexa Bliss vs Charlotte Flair vs Carmella: Alexa wins via Blss DDT – ***
Apollo Crews vs Andrade: Did that even start? No Contest? Chicanery! – N/A
Nerd stats:
Top performers: Xavier Woods, Kofi Kingston, Kevin Owens, Sami Zayn
Total matches = 3? 2?
Total snowflakes = 5.25
Average = 2.265 (if two matches are considered)
Also of note, it was mentioned on social media that Smackdown only featured 19 minutes of wrestling action.
---
Time to pick up a new Chairshot shirt!

Get yours at:
https://www.prowrestlingtees.com/related/thechairshot.html
Mitchell's Raw Talk Report! (5/10/21)
Raw Talk's gonna GET THESE HANDS!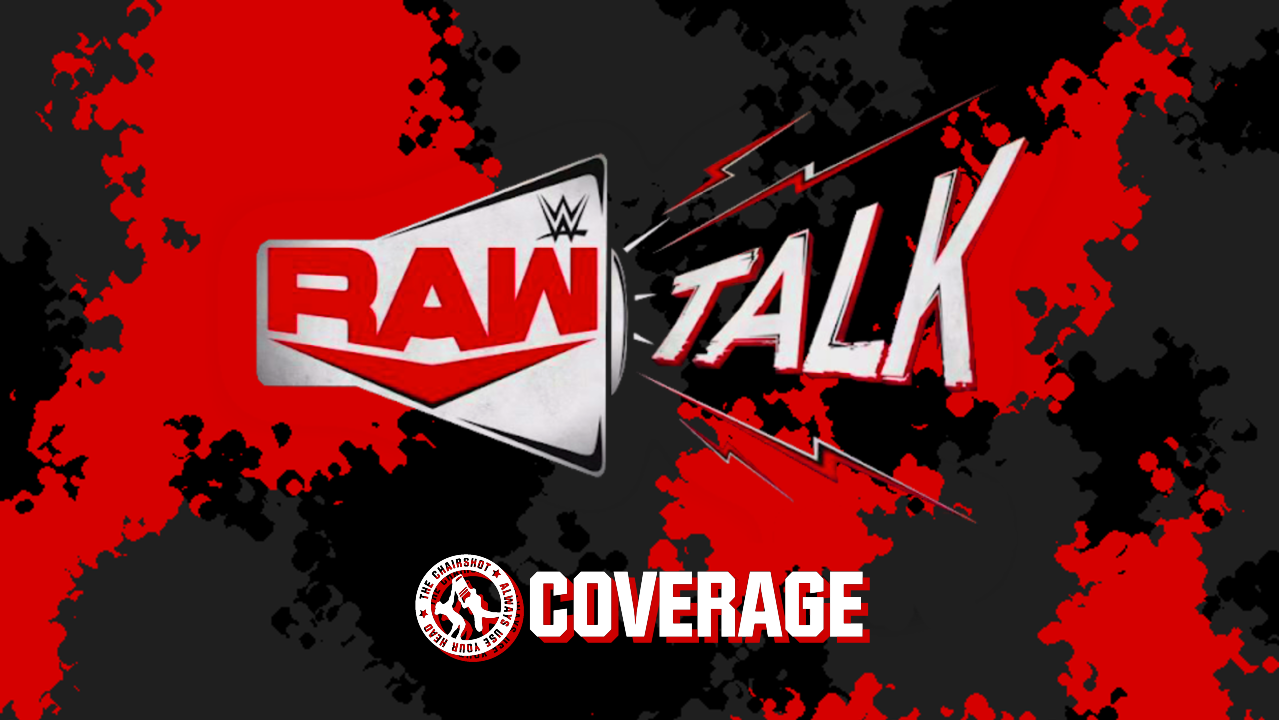 Raw Talk, #BeFairToFlair!
With just days left before WrestleMania Backlash, the Monster Among Men AND Queen Charlotte have some Raw Talk about their coming title matches!
(FIND THIS EPISODE BY USING PEACOCK TV'S SELF SEARCH)
Kevin Patrick welcomes us back to the show!
Kevin notes that R-Truth said he wanted to be godfather to Kevin's newborn baby girl, and Kevin is here to ask if Truth really does want to be a godfather! Truth is surprised Kevin is asking, and so of course he will! Congratulations to Kevin and Truth! Kevin will get Truth a checklist to him but it's a long one thanks to Mrs. Kevin Patrick. But this is still not as big as how Raw ended! Braun Strowman got super pissed- er, mad, and he destroyed Bobby Lashley AND Drew McIntyre! Truth is pretty sure Braun will go through Lashley, MVP and McIntyre to get that title. Braun's never been THE WWE Champion, this could be the time.
Kevin got creeped out by Lily and Alexa and them messing around with the Six Woman Tag all because of someone they're keeping their eyes on. Reggie was a bit pesky, too, swirling around where he doesn't belong. But Alexa was the main concern. Lily needs a dentist. Creepy stuff either way. But Truth liked watching Damian Priest VS John Morrison, winner decided the stipulation for Priest VS The Miz at #WrestleManiaBacklash. Kevin's a bit surprised Priest went with a Lumberjack match. What did Truth expect? He isn't sure, but he gives kudos to DP for keeping it secret. Miz got his cheap shots in, of course, because that's what Miz does.
But what a HUGE show tonight! Braun, the returning Jinder Mahal, and the 13-time Women's Champion, Charlotte Flair! Stick around after this quick little break for the Monster Among Men!
Braun Strowman joins Raw Talk!
We're back, Braun is at the table with his shirt off and very sweaty after what he did. Kevin thought he'd be smiling a bit more after what he did to Lashley and McIntyre this close to Backlash and their Triple Threat match. How is Braun feeling? How do you think he's feeling? Look at what he did tonight. He did what he said he was gonna do, and finally, "the powers that be" woke up and realized that Braun is back at top of the food chain. Sunday, Braun knows he's up against not normal men, and there is nowhere else in the world you're going to see a Triple Threat like this. Time and again, Braun has said it, but this is King Kong VS Godzilla VS The Incredible Hulk.
This is three titans that are going to prove who is the alpha being of Raw, and Braun is so fired up that he is trying not to curse, but he will lay down for nobody! Tonight was just a sample! Lashley and McIntyre have NO idea what is coming down the line when the Strowman Express rolls into Backlash. Braun vows to walk out THE WWE World Champion. Kevin says he must feel disrespected, we've seen Lashley and McIntyre have their time in the sun, and they've been leaving Braun out. Braun says it isn't about disappointment or disrespect but paying dues. Sometimes you lose, but you learn from that.
Braun has felt Lashley's Hurt Lock and Spear, those are devastating. The Claymore, Lord knows Braun's taken more of those than he wants to admit. Double black eyes on multiple occasions, so Braun knows to avoid all of those moves as best he can. In the end, whoever he scoops onto his shoulder and hits with the powerslam, shoulders on the mat, 1-2-3, new champion! Thanks for cutting into his time, he knows there are more guests, he has to go shower anyway, see you later. Truth says Braun might be Truth's favorite next time! Truth likes that fire! Kevin admits it's hard to vote against that right now. Truth feels amped right now.
But Kevin is curious, he wants Truth to get off the fence for once. Truth says nothing's wrong with being on the fence. Alright but just once. Truth might go with Braun. Is that a yes or no? Truth says he'll go with Drew, Braun, then Lashley. It is hard to pick this Clash of the Titans! Kevin is intrigued by the strategy of a Triple Threat. You could lose without being involved, so there has to be strategy. Truth agrees. Who does Kevin pick? Kevin says he's an impartial analyst by default. Impartial, huh? Like delivering mail? Um, that's parcel, but anyway, the Modern Day Maharaja is back on Raw! He'll be on Raw Talk, after the break!
Jinder Mahal, with Veer & Shanky, joins Raw Talk!
Kevin says he is honored to have Mahal here, and Mahal says he is happy to be here with Veer and Shanky. Mahal is so happy to be back, he can't stop smiling. He knows that he will once again be WWE World Champion, and if he so feels like it, when a referee is near, he could become WWE 24/7 Champion again. Truth says Mahal has high hopes there. Mahal says Truth is champion for today, but… Truth wants Mahal to take it easy. Let's talk about what they have on the horizon. Mahal's got V and "Shanky-Shank" here with him now, let's just- Mahal tells Truth not to do nicknames. It is Veer and Shanky. Alright, putting some pop on it, some swagger.
Mahal tells Truth to show some respect. Veer is a man who grew up in a small village and became a national track star. And not only that, but such an impressive baseball player, he was the first Indian born player in the MLB, and the inspiration for Million Dollar Arm the movie. Shanky is not only 7 foot tall, he is an accountant so he is a smart giant, and a protégé of the Great Khali. And now with the Modern Day Maharaja, they will all rise so that Mahal may become WWE World Champion again. Truth interrupts Kevin to point out that Mahal is the one not showing respect. Truth was just giving them a chance to have the floor. That jacket Mahal is wearing looks like furniture.
Veer gets mad but Mahal has him stand down. Their story will be told in due time. Now it's about the Modern Day Maharaja. Right, Truth won't give spoilers. Mahal came back from a knee surgery, was rebuilding himself, and was looking for someone to watch his back. He found not just one but two of the finest to represent the 1.4 BILLION of India! Kevin asks what the 1.4 billion fans can expect then. Mahal physically looked great defeating Jeff Hardy, so what's next for him? Custom suits, Rolex watches and the greatest conditioning in the world! And then, WWE World Champion, maybe WWE United States Champion, and Veer and Shanky can even be tag team champions. Or maybe… 24/7 Champion.
Truth likes that, that's a good joke. Kevin warns Truth, there are still refs around. But what are Mahal's thoughts to Backlash and the Triple Threat? Mahal has history with McIntyre, he's come across Lashley and Braun in the past, but they're at the mountaintop Mahal wants to get to. How does he feel about that match? Mahal's thoughts are, that it doesn't really matter. Coming out of Backlash, whoever is champion, whether it be Mahal's good friend McIntyre, the All Mighty Lashley, or Braun, "their days are numbered as champion." And he'll have V and Shanky-Shank by his side, right? Mahal says he doesn't need them for that match, because they are united as they represent India.
That is something that a lot of cultures don't do. These three stick together. They're always together backstage, and when one is in the ring, they all show up together. Kevin thanks Mahal for his time, and Mahal thanks Kevin. The Maharaja is excited to be back, he and his new allies head out, and we see The Queen making her way back to gorilla!
Charlotte Flair joins Raw Talk!
Kevin welcomes her to the show, and then asks where her head is at. She sees Rhea Ripley get the title opportunity at WrestleMania 37, beat Asuka for the Raw Women's Championship, and Charlotte comes back to then get herself suspended and fined. How is Charlotte feeling about that? She feels great! She's back on top! And Charlotte is going to be on a PPV that still has the name "WrestleMania" in it, which is funny in a way. Kevin is trying to buy this. After everything that happened, how can she feel good? Charlotte says people are trying to hold her back. The suspension, the fine, the bias, all of it.
Do you know what it feels like to be jealous? Because Charlotte doesn't, she's never been jealous of anyone. That's just the thing. But then with what happened in the Six Woman Tag, Charlotte going after Asuka after the match, why? Because Asuka deserved it! But then later on, Charlotte obviously had something to do with Asuka VS Rhea Ripley becoming a match, and then she was there to watch it. Truth, stop siding with Charlotte! It's the North Carolina connection. Charlotte isn't cocky, she's confident, and people admire that. Truth agrees, there is a difference. Like cousins or something.
Kevin asks if Charlotte is manipulating Sonya, or in cahoots with her. Manipulating? Kevin, please be polite as you ask things. That's what she did when she asked if Asuka and Rhea could have a match. So she's admitting that she suggested making that match? Well she wanted to see that. You can never get enough Rhea VS Asuka. Truth agrees again. Kevin notes that Charlotte has beaten both Asuka and Rhea, each on a WrestleMania, so what is her strategy now? Walking in, feeling confident, walking out champion. That's all? Well, taking every opportunity in the match, since it's a Triple Threat.
Then what is the mindset shift going from 1v1 to 1v1v1? Again, seizing opportunities. Maybe Rhea and Asuka are going after each other, she can get in and do something. As a 13-time champion, which she lost count on so she says, what goes through her mind seeing Rhea with the title? Truth says Rhea looks good with it. Charlotte admits, Rhea does look good with the belt. "But I'd look better." That's the Queen for you. Kevin looks forward to this match, wishes her luck and thanks her for her time. Charlotte and Truth do a little dance and Charlotte heads out. Kevin says this is it for Raw Talk, and he says we'll all see them Sunday for Backlash!
---
My Thoughts:
Can we all agree Peacock TV sucks? It sucks, right? Right. I couldn't find this episode under the Raw Talk tab or Recently Added. I had to use the SEARCH function, which maybe should've been obvious, but if in a span of 24 HOURS, the official tab didn't have the episode, that is still bad form. Still a good episode, with Braun having a lot of energy despite literally just having come off a strong and physical finish to Monday Night Raw and with Mahal keeping Truth on his toes about the 24/7 title. I do like that we got quick introductions to Veer (Rinku Singh) and Shanky, and that Mahal is spinning this not as a leader and his henchmen, but three equals with Mahal simply as the one speaking for them. Chances are it'll end up the usual leader and henchmen, but time will tell.
Charlotte's segment was good, too. She was her usual self, didn't really add too much more than what we could understand from Raw itself. She pretended to innocently suggest this, want to see that, but then admits to becoming an opportunist so of course she is pulling the strings. I kinda wish Asuka or Rhea was on this one so they could give us their feelings about Charlotte doing all that, maybe Asuka could share thoughts on what happened with Shayna in the Six Woman Tag and how Alexa was ringside. Honestly, Charlotte should've been asked about that, herself, just to plant seeds of Alexa VS Charlotte. Guess it'll just have to "come as a surprise" this Sunday or next Monday.
News From Cook's Corner 5.10.21: Setting Wrestling Back Thirty Years
Opinions, contracts and free ideas! Steve Cook puts in the good work this week to bring all the wrestling news!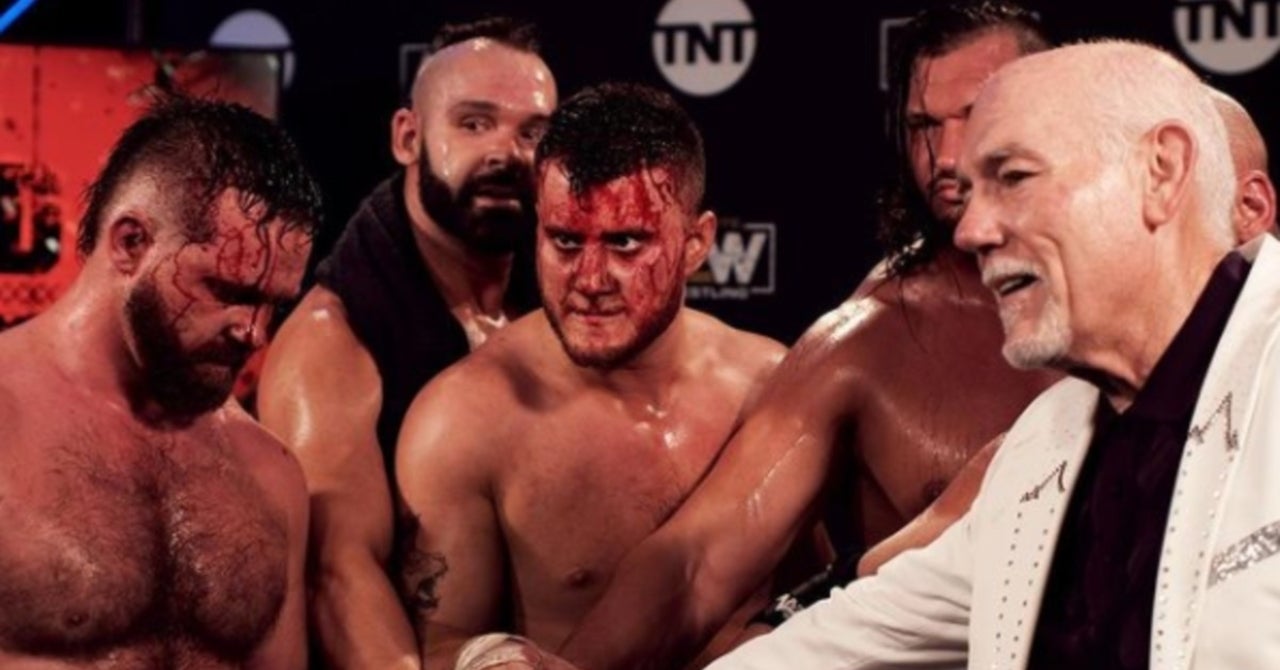 Hi, hello & welcome to News From Cook's Corner! There's a lot going on in the world of wrestling, but this is the time of year when my thoughts start to turn to other things. The best postseason in sports is about to start up, and the Nashville Predators are going to be part of it! Maybe not a significant part of it, as they play the Carolina Hurricanes in the first round, and that bunch of jerks has had the Preds' number this season. Doesn't matter though, once the postseason starts the series record is 0-0 and anything can happen.
Hockey's one of my more recent fandoms. I watched a little bit as a kid, but didn't really delve into it until early last decade. The Voodoo Penguin & I were doing a sports podcast on offtheteam.com during one of my hiatuses from wrestling writing, and the otters wanted to hear us talk about hockey. Good percentage of Canadians on the website. At first I let Pengu handle that portion of the show, but then I decided I needed to have opinions as well. So I decided to follow the Nashville Predators, whose games I could watch on Fox Sports South, and who Jeremy Lambert told me was a good pick. Still not sure if he was trying to help or hinder me on that one, but it's worked out well for the most part.
Eventually, I started writing about the Preds' big matchups on the dearly departed Ultimate Sports Blog, and I used that as a springboard to start writing for Predlines. That's right, your boy wrote about hockey pretty regularly for a couple of years there. That kind of tailed off when my wrestling work picked back up. The Predators' Stanley Cup window closing gave me less to be excited about…and to be quite honest, I'm not enough of a hockey expert to intelligently write about it for a site with any kind of a wide reach. It was fun to talk to people from Finland about the Preds, though.
Also, I did just win my third straight OTT Fantasy Hockey Championship. Fourth in five years. So maybe I'm not giving myself enough credit.
Sometimes I think about getting back into the hockey writing thing. It would take a lot of study for me to feel as comfortable about my hockey expert takes as I do about my wrestling expert takes, or even my opinions on baseball & football, all of which are picked up from over thirty years of observation. We'll see if things slow down for me on the wrestling front. I'll stop there before I get too cryptic referencing current issues & my future here & elsewhere.
Here's some wrestling news & stuff!
Blood & Guts Set Wrestling Back Thirty Years
AEW had their big Blood & Guts match last Wednesday. Everybody saw it, everybody had their opinions about it. Including WWE management. PWInsider heard from a member of management saying that the match set the business back thirty years. They also heard from a wrestler that loved it and wished they could do something like that. Ringside News heard from somebody on WWE Creative saying it set a bad image for the industry.
None of these things surprise me. From what we know about the thoughts & opinions of certain members of WWE management, we know that they're going to hate a bloodbath. That's just not Vince McMahon's bag these days, or Bruce Prichard's. Obviously blading right on camera in front of God & everybody isn't a good look even if you like blood with your rasslin. I'm not even sure they would care about the finish looking fake as all hell, but that probably didn't help things.
It also doesn't surprise me that wrestlers would love it and want to take part in something like that. People of my age & slightly younger that grew up watching this stuff saw Steve Austin bleeding buckets every month on PPV. We saw ECW. Understandably, a good percentage of people that get into the business wanting to be a pro wrestler want to do all the things that their childhood heroes did. Including bleeding buckets and taking bumps off of high places.
It's all good soundbites that make for good clicks, but nothing that should surprise anybody. Or really affect your opinion on the match, which is what matters. Not Vince's, not Bruce's, not Jericho's or Cornette's. Yours.
Oh, and I can no longer keep track of whether setting things back thirty years is a good or a bad thing. Thirty years ago, the Reds were coming off of a World Series win. I wouldn't mind going through that again!
Where is Bryan going?
This one came as a bit of a surprise. Largely because we've been conditioned to not care about match stipulations where a WWE Superstar has to leave a TV show if they lose. They just pop up on the other show! When Daniel Bryan had to beat Roman Reigns or leave SmackDown, most of us figured he would pop up on Raw soon enough, or maybe even NXT. No big deal.
Turns out that it might actually be something of a deal. Fightful reported last week that Bryan's WWE contract actually expired, and he's currently a free agent. If I was a younger man, I'd be getting all excited about this. I'd be doing Top 5 columns on who I'd like Bryan to wrestle in a prospective future that didn't involve WWE. Unfortunately, I'm an old man that has a pretty good idea where all this is going.
Bryan will take some time off, which he deserves to do. He's a father of two little girls that's put in more than enough time wrestling for our pleasure. Then, he will return to WWE because…well, why wouldn't he? Say what you will about WWE and how they utilize certain performers, but I can't really argue that they've done Bryan wrong since his return to in-ring action. Sure, things could always be better, and they could have let him be the WWE & Universal Champion for the past several years uninterrupted. And sure, there are likely plenty of people out there that Bryan would love to wrestle, and places that either he hasn't been to or hasn't been to in awhile.
Will he scratch that itch? I know a lot of you would like to see it. Heck, I would too because it'd ne something interesting to talk about. But at the end of the day, WWE will be his home. Don't let yourself get all hot & bothered by the idea of something else happening. Think about the great things that are actually happening in life, not the ones you make up in your mind.
OK, so here's one that I'm making up in my mind…
Free Idea for Ring of Honor
Here's something I've been thinking about for a little while now, and Bryan theoretically being available to do things just increases my thought that this should happen. Samoa Joe recently got released by WWE. CM Punk doesn't seem to be doing anything. And now we have Bryan.
Originally, I thought that there wouldn't be a more fitting trio for a first Ring of Honor Hall of Fame class than Joe, Punk & Homicide, who recently came back to the company. Add Bryan to that group, and it's a perfect foursome.
Book it, Lizardman! It's going to be the twentieth anniversary next year. Time y'all did something to honor your past. We might have scoffed when TNA started doing theirs, but that was like a decade ago. Now is the time.
Japan has COVID
The attention of the world will turn to Japan as we reach the summer months. As we know, the Summer Olympics are set to take place in Tokyo. Delayed last year due to the pandemic, athletes across the world are excited to finally compete for a gold medal while fans across the world are excited to cheer their countries on in a bit of national pride & escapism.
Unfortunately for the athletes and the fans, the pandemic that caused the event's postponement in 2020 still has quite the foothold across the world, including Japan. For evidence, look no further than New Japan Pro Wrestling. NJPW's Wresting Dontaku events were marred by nine wrestlers testing positive for COVID-19. Fortunately, the wrestlers involved are only experiencing mild symptoms or are asymptomatic.
The company had already postponed a pair of stadium shows in Yokohama & Tokyo due to the Japanese government's state of emergency being extended through the end of May. Shows scheduled at Korakuen Hall this week have been cancelled, and the next show on New Japan's schedule that hasn't been cancelled or postponed yet is set for May 22 in Aichi. Three Korakuen Hall shows follow in the days after.
It'll be interesting to keep an eye on New Japan and other wrestling feds over there over the next several weeks, and not just because every match that takes place in Japan is automatically two stars higher than equivalent matches anywhere else. Hey, I don't make the rules on that.
AEW Going Full Capacity
While shows in Japan are getting cancelled, American promotions are going full speed ahead. All Elite Wrestling announced that their Double or Nothing show happening on May 30th will have tickets available for the full capacity of Daily's Place, which is just over 5,000. Will they have that many? It's a great question. The Blood & Guts show drew 1,600 fans to Daily's Place, which was a bit below the 2,500 that AEW was hoping for. Double or Nothing does have the advantage of being on a holiday weekend, and AEW will be holding another TV taping on Friday & a fanfest on Saturday to try & draw people in for the whole weekend.
Will it work? I mean, maybe. If there are enough people in the surrounding area that love them some Orange Cassidy, maybe a match between him & Kenny Omega draws people that might be on the fence? It'd be something different. Dr. Britt Baker's coronation as AEW Women's Champion could draw a pretty good house. I get the feelling the house won't quite be full, but it'll look & sound good enough on PPV.
I do wonder how interested wrestling fans are in going back to shows. Me, I had dose one of the vaccine this past Tuesday, and am getting dose two on the 25th. Once that's all done, Chairshot management can fly me out for live coverage whereever. I'm ready for it. Give me the blood, the sweat & the beer of live rasslin!
Tessa & Daga Aren't Heading to AEW, We Swear
After reports came out last week that Daga & Tessa Blanchard were in talks to come to AEW, Dave Meltzer poured some water on the fire & reported that they're not close to being signed right now. AEW has apparently taken heed of the online heat and opted to keep Tessa off their radar. Which had to be a tough thing for Dave to report, as he's a pretty big fan and has probably talked Tony Khan's ear off about it.
I'm still expecting them to pop up somewhere in 2021. It's gonna happen, people will be mad for a few minutes, then they'll move on to something else. I just wish we'd fast-forward this deal so we can move on already.
The Return of the Greatest Authority Figure in the History of our Great Sport
No, not Mr. McMahon. Not Eric Bischoff. Not even Teddy Long, though it was nice to see him on this week's SmackDown. Nah, we're talking about the ringleader of Lucha Underground, who's apparently now the ringleader of Azteca Underground.
OMG!!! It's Dario Cueto!!! #MLWFusion pic.twitter.com/CM2lDF384m

— 𝐉𝐚𝐯𝐢𝐞𝐫 𝐃𝐫𝐚𝐕𝐞𝐧 (@WrestlingCovers) May 6, 2021
Dario Freaking Cueto is back in pro wrestling, via MLW. They're going full steam ahead with this Azteca Underground business, and you can't really do something like it without having Dario involved. It's a good reason to be interested in MLW & what they're doing, and I for one like having multiple wrestling promotions to be interested in.
The only downside is that Dario being here means that Salina De La Renta is gone, which is a shame because I haven't gotten to know her too well. From what I've seen she seems like somebody I'd like to get to know too well.
My contracts up !!! Thank you @MLW world, I'll never forget where I came from.

… but where am I headed ???

Tag your favorite promotion, we looking for GOLD 😏🥂 pic.twitter.com/HQvDR8Anam

— Natalia Class (@salinadelarenta) May 7, 2021
So hopefully she'll pop up somewhere else. We can only hope!
OVW's New Championship Grinds My Gears
Our friends down at Ohio Valley Wrestling have been making some waves lately. They're expanding their TV footprint across the Commonwealth of Kentucky. Their live weekly show on FITE is expanding to two hours. Lots of stuff going on down at Davis Arena in Louisville.
When you're growing and expanding your wrestling company, you need more reasons for your wrestlers to fight. New championships! They debuted one last week on TV, and it got rave reviews from the wrestling media.
@KySportsRadio @TheRealAlSnow @MMelchor

Watched this week's episode of @ovwrestling, and let me just say this….

That new Kentucky Heavyweight title belt is pretty sharp. That thing looks fantastic. pic.twitter.com/sUq3KCRWCr

— RyanKBoman (@RyanKBoman) May 10, 2021
A Kentucky Championship. Now that's pretty cool. I don't think the Commonwealth has ever had its own wrestling championship. There have been plenty of Southern Championships, and Tri-State Championships, but never a Kentucky Championship. Kudos to OVW for establishing this.
However, there is one thing about this new title that just doesn't sit right with me. I'll be honest with you guys…I'm past caring too much about belt designs. I know it's a hot topic among 75% of pro wrestling fans, who all go crazy every time a new belt is introduced and either talk about how great or how terrible it looks. At this point in my life, I really don't care too much about all that. I've accepted the fact that the Winged Eagle & the Big Gold Belts are part of my childhood, and nothing these companies produce today will ever match them in my mind's eye. It is what it is, and I'm not going to waste my time worrying about it.
Except when it comes to this new Kentucky Championship. Since it's representing the state I've called home for almost thirty-seven glorious years, it means a little more to me. I also have a good amount of loyalty to the city of Louisville, where OVW is based and where I spent four of the best years of my life. So this title needs to look like something that represents me, the state & the city.
Instead, it represents the University of Kentucky. We know why it's this way. Matt Jones, one of the fellas owning OVW these days, is mostly known as the creator of Kentucky Sports Radio. For those of you outside the state that aren't familiar, it's basically the sports equivalent of Fox News, with UK sports teams & fans playing the role of the Republicans. Jones made a nice chunk of change off of these delusional bluenecks, which I'd resent if he wasn't using for something useful like keeping OVW going.
But man, when I lived down there and was a younger man that was even more territiorial about these things than I am now, I really disliked people that insisted on rooting for UK and wearing their stuff all the time while living in Louisville. Some of them would even go to Louisville games wearing UK gear, which I never understood. Why not spend your money on going to UK games instead? Nah, you gotta wear your blue & white to the Louisville game, and put your blue & white on a Louisville promotion's championship.
A damn shame is what it is. The only thing we can do now is have a U of L fan win it and slap a big ol' Cardinal sticker on it.
Thanks for reading! Until next time, keep your stick on the ice.