Bobby's Good, Bad & Ugly Review Stomping Grounds 2019
Do we get a BAD filler show, or does WWE Stomping Grounds surprise us?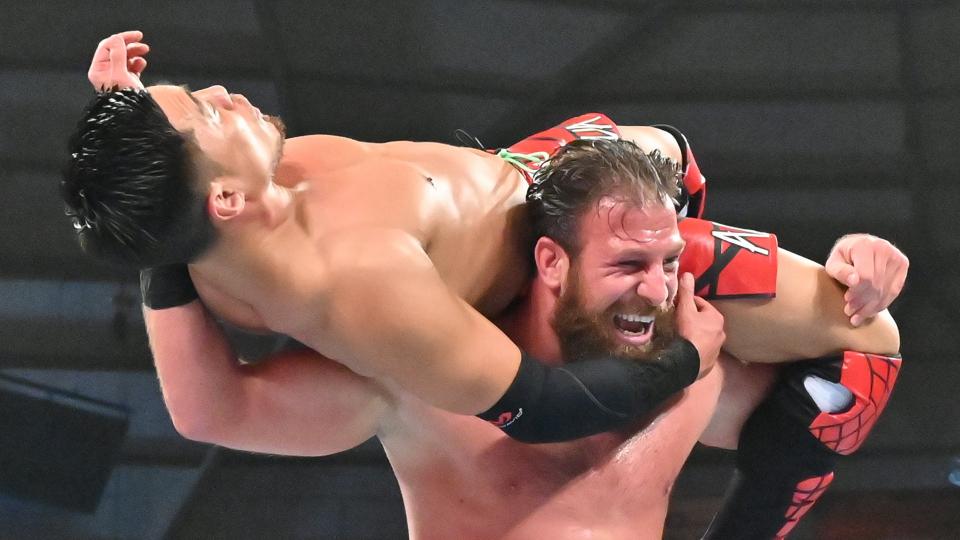 Do we get a BAD filler show, or does WWE Stomping Grounds surprise us?
Welcome back to a fresh out of the box "Good, Bad and Ugly."  Missed you guys, and in lieu of a Pre-show prediction of Good, Bad and Ugly, let me fill you in right here.  On paper this a strong, fantastic PPV.  The matches have a ton of potential with some of the best WWE has to offer. 
Having said that, this is looking like another "BAD" filler PPV given the hype and writing as of late.  That means that it will most likely be predictable, disappointing, and a total disappointment overall.  Will it be a sad state of affairs that will just upset everyone as usual?  Or will we see the full potential of this high caliber talent shine and shock the world?  Let's get to the action!
GOOD
205 Live Cruiserweight Championship- Tony Nese(c) v Tozawa v Drew Gulak
Getting past the fact that this is just a pre-show spot, it seems that 205 Live has been getting some more attention by the fans.  It is being recognized as a talent filled show with unprecedented matches.  This was action packed.  We had a ton of high spots, suplexes, high risk feats, and all out action.  It was non-stop and amazing.  The crowd was completely fired up with the threat of these underdogs stealing the show before the show.  Tozawa shined here showing what he is made of. Nese and Gulak did a lot of their usual impressive, innovative combos and twist.  It is completely trash that they are promoting the PPV that we are already watching during a stellar Championship Match.  Maybe do all of that crap during the absolutely horrendous commentary that fills up the whole pre-show instead of interrupting possibly the Match of the Night.  Bravo to these disrespected, incredible talents.  The crowd loved it, we all loved it!  Hopefully 205 Live will continue to grind and finally get their well-deserved recognition.  Gulak wins the hard fought match, and is the New Cruiserweight Champion!  Fantastic Match!  WWE doesn't deserve 205 Live. 
WWE Raw Women's Championship- "The Man" Becky Lynch (c) vs. Lacey Evans
The energy was Good, the crowd was into it, however as always with both Lynch and Evans, we had some issues.  However Lacey Evans is vicious, believable and really can turn it on after she heats up.  There were some really high moments in this fight, as well as some not so Good.  Evans really did shine, Lynch did not have a guaranteed win by any means and stood up to her classy foe.  Evans put up a great fight, and looked amazing doing it, but it was The People's Champ, The Man Becky Lynch who took the victory with a "disarmer" retaining the Raw Women's Championship.  Even with it's faults, Good match.  Evans with some polishing could be a tremendous force, and it hopefully won't be the last time we see her in the Championship realm. 
"The New Day" Big E & Xavier Woods vs Owens & Zayn
Owens was an absolute freak-show to start the match.  I was blown away.  Sami Zane continued the impressive assault on Woods.  This was incredible all around.  As the pressure mounted, we could feel Big E getting fired up waiting to pounce.  The wait was worth it, as the might Big E went ballistic on his opponents.  This story was masterfully told, and was very well done.  Both teams were stellar!  This was a great match all around, action packed, unique and full steam action.  KO and Zane Win via KO pin-fall on Woods.  Fantastic match!  Blown away.
United States Championship- Samoa Joe (c) vs. Ricochet
Joe is a respected guy, a veteran and having any gold is a tribute to that.  Ricochet is one of the best WWE has period.  He can do anything in the ring, and it just looks fantastic.  As expected Joe kept Ricochet down, brutalizing him in his usual style.  Ricochet countered with his out of this world acrobatics expected of him.  This was back and forth, jocking for position and one hell of a Championship caliber match.  Ricochet would not quit, and finally hit his "630" for the victory and his first of many, Championships.  Meet your new United States Champion, Ricochet.  Another Good one. 
SmackDown Tag Team Championships- Daniel Bryan & Rowan (c) v Heavy Machinery
Heavy Machinery looked focused and seriously ready for this match.  Daniel Bryan and Rowan got a hero's welcome being in Bryan's home state.  Again the crowd was hot for this one.  Great energy throughout the event.  It was a little annoying how behind they were, almost hijacking the show with Daniel Bryan chants and total hatred to Heavy Machinery.  The match was slow at times, and could have used something but the actual action was well done.  Rowan should NEVER do a dropkick, and was dreadfully boring, but on the other hand, Daniel Bryan and both members of Heavy Machinery did well in there.  The crowd who was really Good for the most part, in a way ruined this match.  A very hot ending, Daniel Bryan retains with a small package on Tucker to retain.  This had some okay moments at best but definitely not deserving of the Bad treatment.  Heavy Machinery did very well though and deserve a lot of credit for their performance.    
WWE SmackDown Women's Championship- Bayley (c) vs. "The Goddess" Alexa Bliss w/ Nikki Cross
Oh the potential in this one.  It is always nice to have Little Miss Bliss around, in any capacity.  Bayley is a great champion as well, in any sense of the word.  They went at it, it looked personal and solid.  Bliss' ribs were battered and bruised.  Bliss is a tough girl she just keeps going.  As expected Nikki Cross got involved and awkwardly at that as Bliss was about to come off the top but was distracted.  She got double knees on the landing resulting in Bayley retaining.  This was a Good match, and represented the Women's Division well.  The ending was mediocre but aside from that, we had a Good, not Great match.    
Roman Reigns vs. Drew McIntyre w/ Shane McMahon
These are two very big guys.  Both physically and in respect to their WWE status'.  Drew McIntyre is going to have gold someday, there is no doubt about it, and of course this feud with the Big Dog isn't hurting him.  It's physical, and personal and it showed.  Roman was on fire throughout, flying through the air, red hot.  McIntyre intense as always, gave it right back to the Big Dog.  This was a classic battle of the titans and main event worthy.  We may have found the perfect match for Vince McMahon's dreams of Roman being over.  Either giant could have won, but neither would quit.  Shane made his presence count and finally interfered when there was nothing left but Reigns still would not quit.  Roman Reigns finally had enough and took out both men for the impressive, hard fought victory.  This was legit, and really impressed me on many levels.  Great match! 
BAD
WWE Championship Steel Cage Match- Kofi Kingston (c) vs. Dolph Ziggler
On paper this looked to be a decent match.  Two very talented guys for a belt in a cage.  The feel however was cold and slow.  It seemed to lack any kind of feeling.  Maybe the crowd was tired, or it was the action, or lack of it.  Even when Kofi made a comeback, it was just flat.  In contrast as the match neared the end, they started to show some life, a lot of back and forth and a devastating SOS by Kofi.  Dolph and Kofi battled, scratch and clawed to the door, and did all they could to get the upper hand.  Dolph could taste victory and nearly escaped, but it was Kofi Kingston, unexpected who dove through the door onto the outside to retain his WWE Championship.  Honestly, this match had a couple of Good moments but was overall a little flat and boring.  It really wasn't a Good match.  Score one for the lonely Bad column. 
WWE Universal Championship- Seth Rollins (c) vs. Baron Corbin w/ Special Guest Referee Lacey Evans
Say what you will, and I have said a lot, Corbin is one hell of a heel.  Get him his old gear back, and you have a winner.  A genius move making Lacey Evan's referee was some rare great writing.  Corbin proceeded to jump Rollins and hit him with a chair before the bell rang.  Corbin continued to beat down the Champ, and the crowd was just bored with it.  This match had some really subpar moments for sure.  Of course Evans changed the rules against Rollins and made it hard on the Champ even not counting to 3 off a Frog-splash.  Although there are certain charming aspects of this angle, it started to get old and corny really quickly.  Corbin proceeded to then beat the hell out of Seth Rollins with a chair and Evans proceeded with making it No DQ.  Evans would not count for Rollins even slapping him in the face multiple times, kicking him and giving him a low blow.  The Lass Kicker had enough and sprung out on her rival beating her ass all around the ring area.  Corbins hated rival Referee John Cone came in to officiate, Rollins hit the stomp, 1-2-3 Rollins retains.  Aside from Becky Lynch's run in for the save, and a couple of decent moments, this wasn't Good, especially for the Main Event.  Good ending to a Bad match. 
UGLY- Not tonight.
FINAL
Good- 7
Bad- 2
Ugly- 0
Overall – Good!  Surprisingly Good.  I had little to no expectations much like a lot of you, and to fairly say the least, we had a decent night of action that ended at a reasonable time. The worst matches with the last one, and they were borderline on the Bad list.  Good show WWE! 
Another Good night of WWE action.  We have a lot to go forward on and hopefully some fresh stuff coming in weeks as we approach Extreme Rules and SummerSlam in the near future.  Everything is open to have some big things happen and I for one hope to see some old faces that never get any love, finally emerge.  Until then, hope you enjoyed, see you on the next Good, Bad and Ugly.