Chairshot Wrestling News Shuffle: Goldberg, Undertaker, NXT Contracts, RAW Preview and More! (6/10/2019)
News Involving Goldberg, Undertaker, NXT Contracts, RAW Preview and More!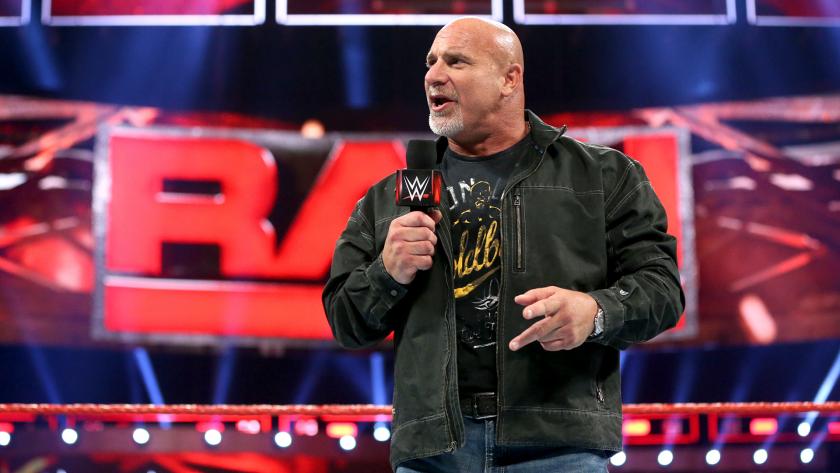 News here! News involving Goldberg, Undertaker, NXT Contracts, RAW Preview and More!
Goldberg/Undertaker Fiasco
Many who watched Super ShowDown on Friday had the (dis)pleasure of watching Goldberg take on the Undertaker. Many of you also may have saw the various botches that occurred throughout the match up. According to Wrestling Observer radio, Goldberg legitimately suffered a concussion during the match after running into the middle turnbuckle and slicing his head open. After the match, Goldberg would collapse ringside. Wrestlers and fans alike were very critical of the matchup, including Matt Riddle.
I love Pro Wrestling so much and that's why I get mad at certain people because they're unsafe, dangerous and a liability to everyone else, I've worked hard to get where I am and this is only the beginning!
PS @undertaker is a stallion and is a true legend pic.twitter.com/WotacyNOre

— matthew riddle (@SuperKingofBros) June 8, 2019
Jason's Take
If you haven't yet watched the match, don't. While many blame Goldberg for the poor match, there was also a spot where Undertaker tombstoned Goldberg directly on his head. Both of these men were two of the biggest legends in the 90's and early 2000's, but honestly it is time to let both wrestlers retire, or put them in an ambassador role. Goldberg does have a history of injuring wrestlers, and Undertaker has a history of wrestling like a 90 year old man. Both men are tarnishing their legacies.
Vince McMahon Sees The Light?
Wrestlers and fans have all been critical of Vince McMahon. Whether it's storylines that make absolutely no sense, or changes to scripts for RAW during the show. Most recently, Jon Moxley aired his grievances with the company on the Talk Is Jericho Podcast. In the latest edition of the Wrestling Observer Newsletter, Dave Meltzer reported that other wrestlers backstage feel the same way as Moxley. While there are some backstage who do not care for him personally, they feel he hit the nail on the head with his comments. One of the interesting things Meltzer stated was that even Vince McMahon himself realizes there needs to be change.
Jason's Take
Not the best reporting from Meltzer. Obviously, wrestlers are upset with the way things are occurring in WWE, with all the various reports of wrestlers wanting their releases, or speaking out against the company. Does Vince McMahon actually realize things need to be changed and if so, what does he do to fix it ? Can it be fixed at all ?
Wrestlers Unhappy About Saudi Arabia Trip
The last two shows WWE has done in Saudi Arabia have caused mixed feelings for many that are in the company. Daniel Bryan had chosen not to go on either trip, and Kevin Owens pulled out of Super ShowDown. According to Meltzer, feelings are mixed regarding this most recent trip.
"From what I've heard, I know there were people who went there who had a good time. One person told me they had a good time and they were happy and a couple of others were just like 'this really sucked.' Basically, most of the people knew they shouldn't have gone."
Jason's Take
More A+ reporting from Dave Meltzer. Of course some wrestlers will be happy with the trip, and some wont. Regardless, WWE is getting paid a lot of money for these shows, and Vince McMahon never seems to be one who can turn down a buck or two.
News On RAW
WWE.com has posted a preview on Monday's RAW, as we are on the road to Stomping Grounds.
– What's next for Seth Rollins after stopping Brock Lesnar's cash-in attempt at Super ShowDown?
– Shane McMahon and Drew McIntyre will celebrate McMahon's win over Roman Reigns.
– United States Champion Samoa Joe will be the guest on Miz TV.
– The Revival will challenge Zack Ryder and Curt Hawkins for the Raw Tag Team Titles in a WrestleMania rematch.
– More WWE 24/7 Championship craziness and more
WWE Worried About NXT Stars Jumping Ship?
WWE has competition for it's stars services. According to Meltzer, the fear of AEW is real. Meltzer stated that contracts for NXT stars are now five years, which is a change from the three year contracts originally offered to NXT signees.
Jason's Take
This make's sense for the WWE, as they take the time and money to invest in building a talent. Rather than the talent leaving after three years when they start to become an established name, they will be locked in longer.