Chris King: How To Make EC3 The Next Big Star
What happened to EC3…and more importantly how can it be fixed?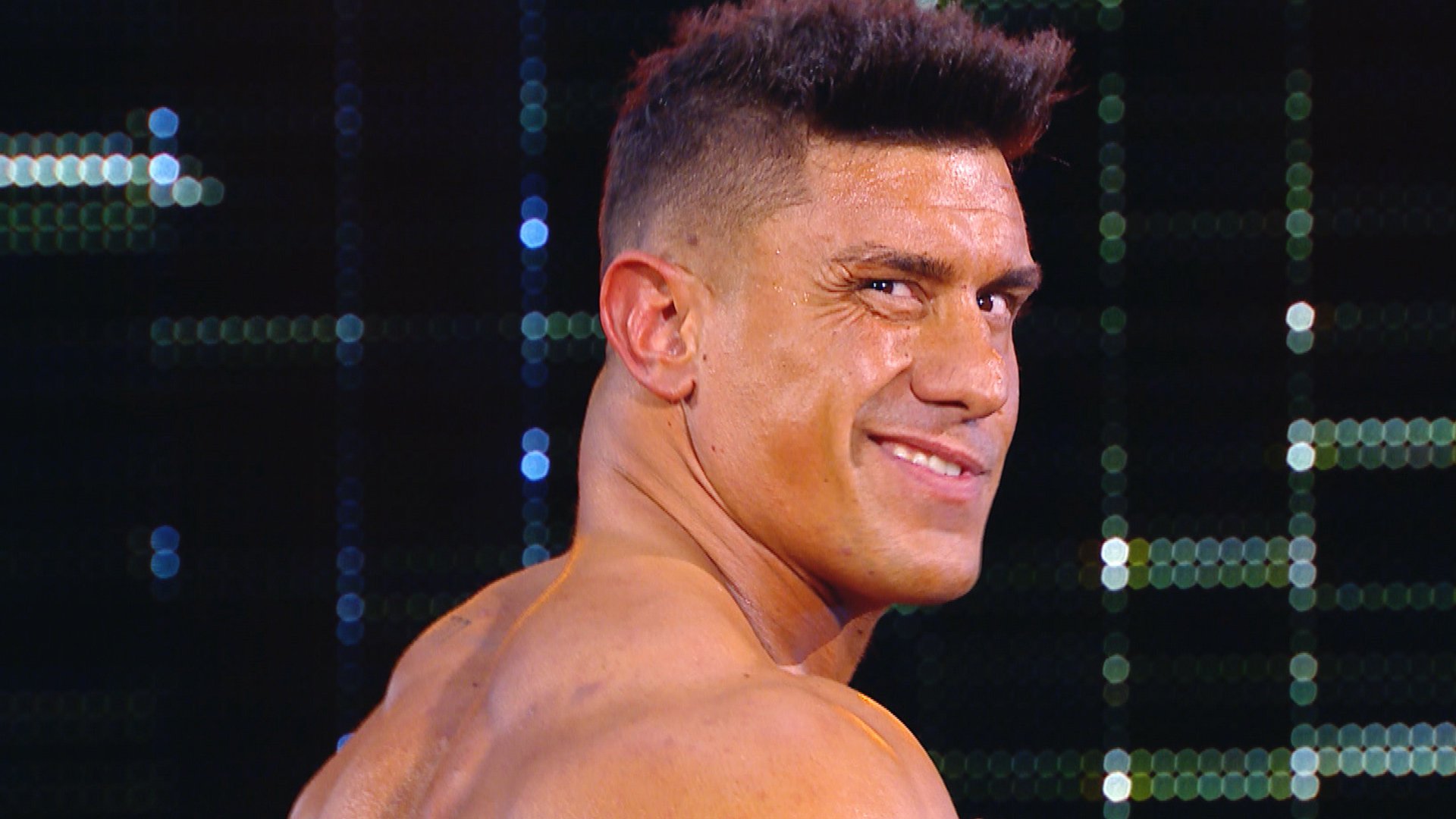 Chris King takes a look at the tumultuous run for EC3 since returning to WWE, and how it can still be repaired.
EC3 is a tremendously talented wrestler; he has a great look with a ripped body he also possesses impeccable mic skills and can deliver a promo as no one else can. Unfortunately for him; he's never been utilized to his highest potential in WWE, he's been regulated to the mid-card division as an enhancement talent. He's wrestled for many promotions throughout his seventeen-year career and still is stuck in the same position since he left in 2013.
He began wrestling for several promotions in the Ohio region; he made his debut for Pro Wrestling Ohio in 2002 where he feuded with Josh Prohibition and former NXT champion Johnny Gargano. In 2003, he would answer a tryout dark match for WWE's "Heat" prior to Monday Night Raw under the persona "Mike Hunter" and lost to Rodney Mack. On August 26th edition of Raw EC3 would appear in a backstage role; depicting a police officer for Shane McMahon, who was arresting D-Generation X (Triple H and Shawn Michaels).
In 2007 Hunter debuted in Ohio Valley Wrestling (the developmental territory for up and coming WWE superstars); similar to his lackluster run currently he would round up a slew of losses, to Tony Braddock, Mike Mondo and competed in a gauntlet match, to get a title shot for MVP's United States Championship in a losing effort. Later that year Hunter performed for Firestorm Pro Wrestling on their inaugural show titled "Destroy, Erase, Improve," where he participated in a nine-month six-man round-robin tournament.
The culmination of the tournament occurred on September 12, 2008 at "Something to Die For," where he became the inaugural Firestorm Pro Heavyweight Champion, he vacated the championship to head over to yet another WWE developmental territory; now coined as Florida Championship Wrestling that would morph into the juggernaut, known as NXT in 2011 that we've come to love. After losing to Drew McIntyre in his debut he altered his name to "Derrick Bateman" on February 19, 2009. During his tenure Bateman only claimed one championship; in 2010 alongside Johnny Curtis in a triple-threat match to capture the FCW Tag-team Championships.
In 2010 FCW talent competed on a seasonal weekly program as rookies; to become the next "breakout star" with the aid of WWE Pros from Raw and SmackDown. Bateman would be a participant in the fourth and fifth season which amounted to nothing, on May 17, 2013, he was released from his contract. Once again faced with disappointment he went back to the drawing board; what he didn't know was this was a blessing in disguise.
EC3 Is Born In Total Nonstop Action/IMPACT Wrestling
In August 2013, Baterman wrestled one dark match in a losing effort to Jay Bradley for Impact Wrestling tv tapings in his hometown of Cleveland, Ohio. In late September TNA began airing vignettes hyping a new star named Ethan, that have joined the fold. He was deemed the spoiled nephew of TNA Owner Dixie Carter. He debuted at Bound for Glory pay-per-view as a heel; and began destroying jobbers over the next few months Norv Fernman, Shark Boy, and even TNA official Earl Hebner.
EC3 would stay in the company throughout 2018; battling some of the greatest superstars in the history of professional wrestling, Kurt Angle, Bobby Lashley, Drew Galloway (McIntyre), and Sting to name a few. He became a two-time TNA Heavyweight Champion and a Grand Impact Champion before being released on January 13, 2018.
EC3 Makes An Impact In NXT/WWE
At NXT Takeover: Philadelphia, EC3 is spotted in the front row and has officially signed with WWE.
On May 2, 2018, he made his official television debut after General Manager William Regal's "huge" announcement of the North American Championship. EC3 being the entitled individual he is, expected Regal to award him the new championship. Championships we're not just "handed" in NXT, so he would have to earn it at NXT Takeover: New Orleans.
EC3 vs. Adam Cole vs. Killian Dain vs. Lars Sullivan vs. Velveteen Dream vs. Ricochet battle in a six-man Ladder Match to become the inaugural champion; all six competitors beat the holy hell out of each other in one of the wildest and high-octane action-packed ladder matches I've ever had the pleasure of watching. Cole would prevail with the North American championship, and EC3 would transition into a feud with Dream.
The feud kick-started as Dream and EC3 joined forces to clash with Ricochet and Aleister Black in day two of the 2018 United Kingdom Championship Tournament; in the middle of the contest Dream walked out on his tag partner, and ever since then the two "egocentric" superstars have been at each other's throats. Two would face-off at NXT Takeover: Brooklyn IV, both men vying for the spotlight at the company's biggest platform. Dream come up with the victory that would continue his ascension in NXT. A few weeks later EC3 would return to television and be accused of attacking then-NXT champion Black by Sullivan. His final matches in the black and gold brand would occur in October; as he lost the contest with Sullivan. He then went on to defeat Cole on October 24th, after his victory "The Undisputed Era" delivered a post-match beatdown injuring his knee. On January 9, 2019, Cole would defeat him in his final match in NXT.
EC3 would make his main roster debut; after weeks of consistent backstage footage of admiring himself in the mirror, as a guest on "A Moment of Bliss" where he was portrayed as a babyface. He was quickly interrupted by Dean Ambrose who had one foot out the door and was challenged to a match. EC3 defeated him in under two minutes; the next week Ambrose returned the favor and used a small package to gain the victory.
After that, he was demoted to "Main Event" a smaller television show. Recently he has been seen chasing after the Brand-new 24/7 Championship since it's inception on May 20th. Along with other enhancement talents including Eric Young, "The Good Brothers" (Karl Anderson and Luke Gallows), and many others. Talk about blatant disrespect, how does one with such charisma and talent get used so poorly in the largest wrestling promotion all over the world?
Moxley and Jericho Talk EC3
On May 28, 2019, Jon Moxley (formerly Dean Ambrose), the newest signee for AEW, was a guest on Chris Jericho's Talk is Jericho; where he discussed a plethora of topics, one of the questions that was asked by Jericho if Moxley felt like WWE purposely attempted to bury him on his way out?
"Well… so after that they did the weird press release, then they put me against EC3, debuting from NXT. Great talent, a great friend of mine, excited to work with him. They have EC3 come in as a babyface, defeat me in two minutes. I dunno if this is before or after the press release, uh… it's at like the same time. The crowd does not like this, because it's transparent what's happening and this is not a… this is not good for EC3, because now he's gonna get the backlash.
So it was an unfair position for him to be put in. So we get to that weekend, I'm working with EC3 on house shows, now I'm the biggest babyface on the show. I'm a heel, I'm thumbing him in the eye, I'm making fun of the town, it doesn't matter, they're…Jericho: Because you're the bigger name and you're the underdog now.Mox: Yeah, they're violently rejecting him as a babyface and they're cheering the hell out of me. It's got nothing to do with him, it's like an anti-WWE…"
After listening to Moxley's comments on the situation, EC3 had a response: "Thank you. The feeling is mutual. Good Luck."
On this past Monday's Raw EC3 was trapped in a cramped elevator along with others with the four-time 24/7 champion R-Truth for practically the whole show; and he was entertaining as hell, however, on Tuesday morning sent out a cryptic tweet: "Our mistrust of the future makes it hard to give up the past."
The Rebuilding Process
First things first: EC3 needs to get the hell away from the WWE 24/7 Championship (it means absolutely nothing). He needs to become a wild-card and perform on both Raw and SmackDown Live. The best spot for him at the moment would be; challenging for either the Intercontinental or United States Championship.
So the WWE Universe can get a fresh look at him in a new light; they need to go back to the well and begin with some backstage promos, so he can remind the fans who he is and what he's about and for the love of God let him talk. The WWE Universe would love to see him as the cocky and arrogant heel he played in TNA and giving him some creative freedom couldn't hurt him worse than he is currently. After having a successful run with either mid-card championship he could easily challenge Seth Rollins and Kofi Kingston to prove he's better and better representation for the title.
If they play their cards right and start giving him the right opportunities with the right superstars that aren't going to kill his momentum; as WWE did with Ambrose, EC3 had the ability to be one of the best talents to sign with WWE in quite some time. I don't see him winning the next Men's Royal Rumble Match but I can picture him with either the Universal or WWE Championship by the middle of next year. At some point WWE has to wake up and save their talent; before they all leave and follow in the footsteps of Ambrose, who is already achieving so much success in NJPW and AEW!
King's WrestleMania Rewind: Charlotte Flair vs. Asuka from WrestleMania 34
Chris king is back with one of the most underrated matches in WrestleMania history–Charlotte Flair vs. Asuka!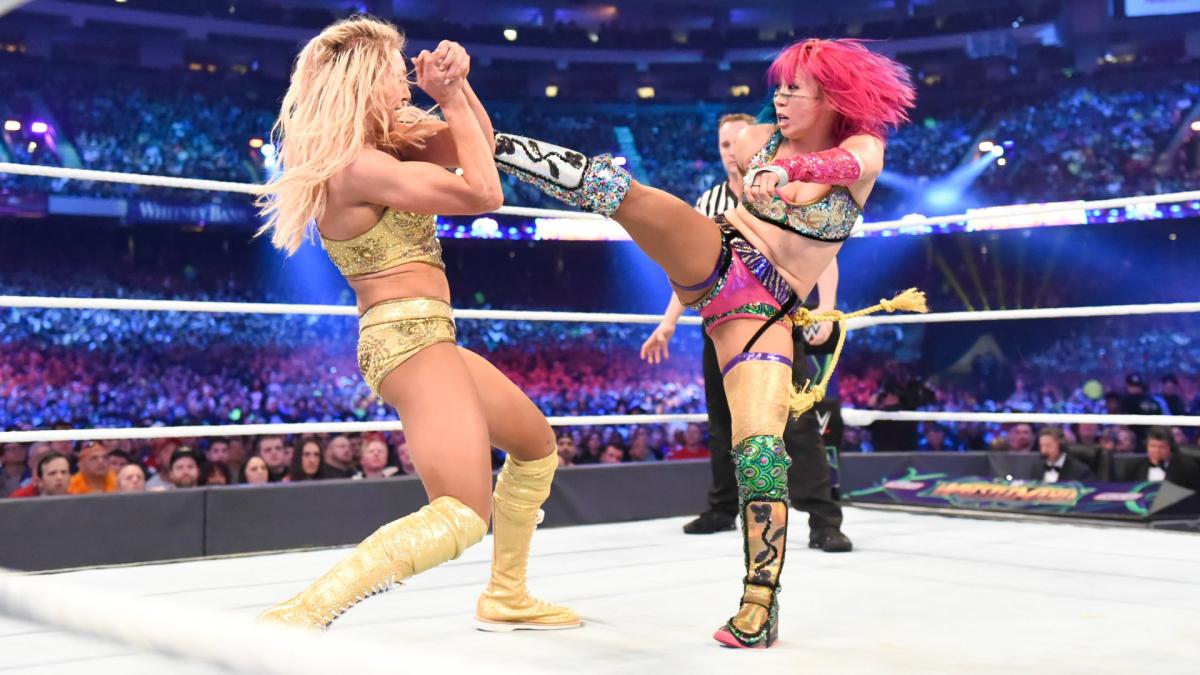 Chris king is back with one of the most underrated matches in WrestleMania history–Charlotte Flair vs. Asuka!
We look back at Charlotte Flair vs. Asuka at WWE WrestleMania 34. 'The Empress of Tomorrow' put her unprecedented and historic undefeated streak of 914 days on the line against 'The Queen's' SmackDown Women's Championship.
For years, this was considered a dream match while Asuka dominated the roster in NXT, while Flair won numerous championships on the main roster on both Raw and SmackDown. The Empress made her long-awaited debut on the September 11th episode of Raw and began to tear through the competition.
Asuka outlasted all twenty-nine other women in the historic first-ever Women's Royal Rumble match to challenge for the title of her choosing. At Fastlane, she made her choice.
The WWE Universe was so excited for this match myself included. Both superstars delivered a fantastic performance on the Grandest Stage of Them All executing counter after counter. Asuka showed off some nasty-looking kicks to her opponent, and Flair hit a thunderous Spanish Fly off the top rope. Flair was seconds away from defeat at the hands of The Empress but she locked in Figure Eight and Asuka was forced to tap out.
I can't even begin to explain how shocked I was at this outcome, as nearly everyone expected The Empress to continue her undefeated streak and walk away with the women's title. This controversial decision was the downfall of Asuka's momentum. She would ultimately win the SmackDown Women's Championship at the 2018 TLC pay-per-view in the triple-threat ladder match.
Fast forward to this year when Asuka has recently returned with her Japanese-inspired persona Kana. Kana is dangerous and ruthless and is heading into a championship with Bianca Belair at WrestleMania 39. The Empress has regained all her momentum and is highly favored to walk away with the Raw Women's Championship. Let's hope that Asuka and Belair can tear the house down and deliver an A+ grade match both women are fully capable of.
King: Dominik Mysterio Needs To Do This At WrestleMania
Chris King is here with what WWE should do with Dominik Mysterio at WrestleMania in his long-awaited match against his father Rey Mysterio Jr.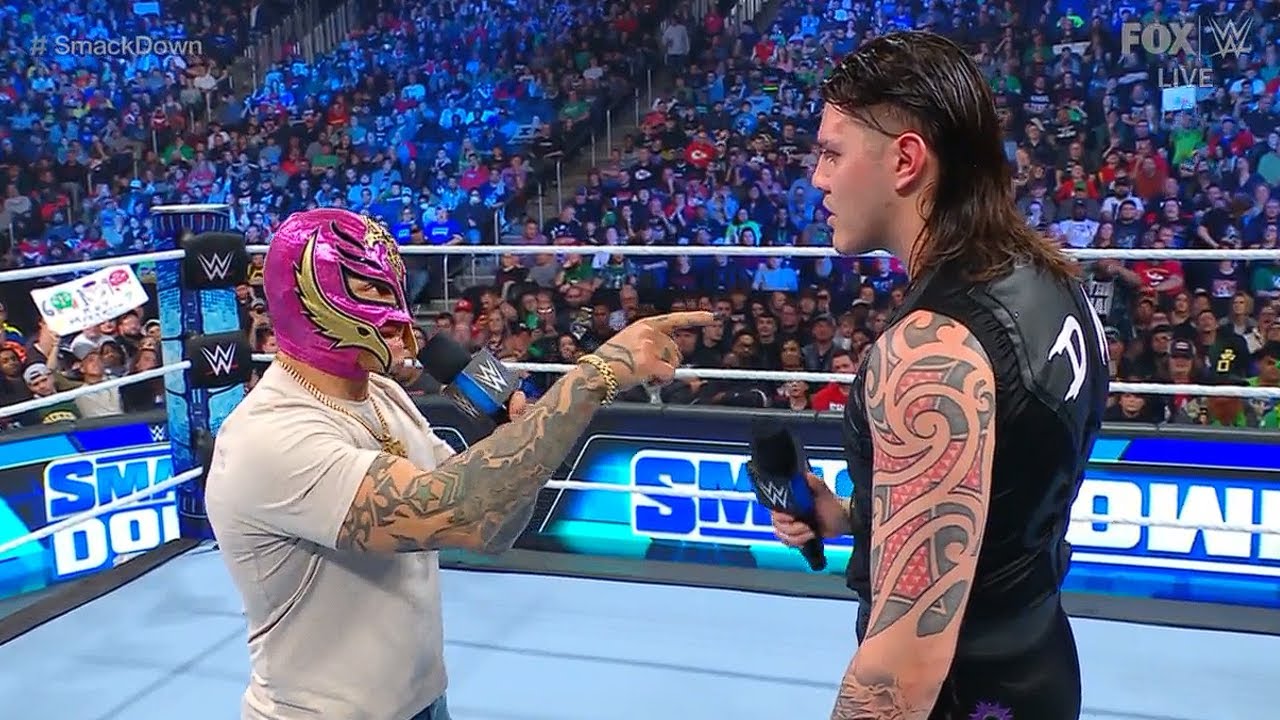 Chris King is here with what WWE should do with Dominik Mysterio at WrestleMania in his long-awaited match against his father Rey Mysterio Jr. 
On this week's episode of Friday Night SmackDown, Rey Mysterio finally snapped and beat some sense into his disrespectful punk-ass kid Dominik. The member of the Judgement Day came out to push his father again for a match on the Grandest Stage of Them All, this time with his mother and sister at ringside. The ungrateful punk told his mom to "Shut Up," as a father even I wanted to jump through the screen and whoop his ass.
Back in October of last year, Mysterio made the emotional decision to possibly quit the company but, instead, Triple H persuaded the Lucha libre superstar to move over to SmackDown to avoid his son. This came after Dominik shockingly turned on his father at Clash at the Castle. Mysterio did everything he could to refuse his despicable son's challenge for Mania but, a man can only be pushed so far. Mysterio will be inducted into the 2023 WWE Hall of Fame and I expect Dominik to embarrass his father during his speech to further this personal feud.
Yes, the WWE Universe hates Dominik and wants to see him get the ever-loving crap kicked out of him but, this feud is missing a special ingredient to capitalize on the biggest heat possible. Throughout this feud, Dominik has made mention of the legendary Eddie Guerrero on several occasions going back to the "iconic" 2005 feud.
I know WWE might not want to go this route but, Dominik MUST come out to Eddie Guerrero's theme at Mania. The disrespectful punk needs to come out in a lowrider to garner nuclear heat. It doesn't matter if The Judgement Day comes out and causes interference for Dominik to get the win, all that matters is that both superstars get the biggest payoff of this nearly year-long feud. Just imagine the Roman Reigns heat after he defeated The Undertaker and multiply that by ten. Dominik portrays the perfect heel and he truly is the missing ingredient that The Judgement Day needed to grow and evolve into a top faction.