Chris King: Shane McMahon And The Corporation 2.0
Is it time for a new Corporation in WWE?
Shane McMahon is positioned as a top WWE heel. Now is the time to form The Corporation… or more accurately The Corporation 2.0.
In the late 1990s The Corporation reigned supreme as judge, jury, and executioner; under the leadership of the sinister 'McMahon Family' the evil Mr. McMahon and what do you know…Shane McMahon. The sole purpose of the existence of the stable was to prevent certain WWE superstars they've preordained as not "Best for Business", their prime target was 'Stone Cold' Steve Austin in his relentless pursuit of the WWE World Heavyweight Championship. Two decades later, it appears we're witnessing a resurrection of one of the most powerful factions in WWE history. As much as a mega push for the bosses son is not warranted by any shape or form, below I will explain how this could potentially be manifested into a vehicle for many of enhancement talent sitting on the sidelines.
The Beginning Stages For Shane McMahon — And The Shocking Betrayal
To set the scene to where this began we need to go back in time to WWE Crown Jewel; in the 'World Cup Tournament' where superstars of the highest caliber competed in an eight-man elimination tournament, to determine who was "The Best in the World". Miz, Seth Rollins, Dolph Ziggler, Rey Mysterio, Bobby Lashley, Jeff Hardy, Randy Orton, and WWE Hall of Famer Kurt Angle, faced the daunting task of making all the way to the finals to win the Huge"Best in the World Trophy".
The Miz had advanced to the finals after defeating a wounded Mysterio; he was scheduled to face a former rival of his past, Dolph Ziggler but something appeared to be terribly wrong. Miz hobbling into the ring, and could barely put any weight on his leg. Miz mustered up the strength to attempt to make it in to start the contest, but he was in no condition to walk let alone represent the SmackDown Live brand.
Then-SmackDown Commissioner Shane was left with only one decision; to forfeit the match on behalf of the fallen warrior and handover the prestigious label of "The Best in the World"…..What if there was another option? Perhaps fighting for his fellow employee in his place….Yes, Shane won the whole dang thing….He celebrated as if he had competed in the entire tournament itself. On the next episode of SmackDown Live; Shane dedicated the "Best in the World Trophy" to all of the SmackDown Live roster, he was humble and appreciative with sincere motives.
On December 25, 2018-Christmas edition of SmackDown Live; Miz pleaded one final time to form what he proclaimed "The Greatest Tag-team in the World" Shane finally obliged after Miz shared openly about his true motives, "I've never heard his dad throughout his career tell him he was proud of him and Shane understands what that feels like since he's the son of Vince McMahon". Shane was touched and declared that what he said truly resonated with him, he'll give this thing a shot…The WWE Universe responded with a resounding YES, YES, YES!
The dynamic duo went on to defeat Then-SmackDown Tag-team Champions The Bar at 2019 Royal Rumble pay-per-view, and became The New Tag-team Champions! At the following month's pay-per-view; Elimination Chamber they defended their titles against one of the most versatile tag teams in the WWE The Uso's, but were no match for the experienced duo and lost their titles.
They would request their rematch at WWE Fastlane inside Miz's hometown of Cleveland, Ohio and with his proud dad in the front row. The unthinkable would occur, as Miz attempted a top-rope Frog splash and was caught and was surprisingly rolled over into a three-count. In a shocking turn of events; Miz was extremely apologetic for letting his partner and friend down, what happened next was despicable as both Miz and Shane left ringside after an embrace with Miz's father. Shane would ruthlessly attack Miz from behind with a devastating blow to the back of his head; and apply a triangle choke and incapacitate his tag team partner, Shane then walked right up to Mr. Miz and squeeze his hands around his "Potato face".
On March 19, 2019-edition of SmackDown Live Shane explained his heinous assault from 48-hours prior; claiming it was a glorious feeling choking Miz out, and attacking his father was the icing on the cake. Shane also set the record straight that winning "The Trophy" didn't make him "Best in the World", being a McMahon did! A few weeks later Shane toppled Miz by a technicality in a falls-count-anywhere match against at WrestleMania 35; as Miz's built-up frustrations proved to be the catalyst for his downfall, he would perform a death-defying superplex fifteen-feet above with both competitors on the ground Shane would drape his shoulder to gain the victory.
On the Post-Mania-SmackDown Live Roman Reigns was drafted to the Blue brand; after The CEO of WWE Vince McMahon proclaimed that Elias another draftee was SmackDown Live's "greatest acquisition in history", Reigns marched to the ring and proceeded to deliver a jaw-breaking Superman Punch to his boss…. Shane would not receive this kind and would demand Reigns to meet him face-to-face the following week. Once he appeared; Shane threw the mic down, threw his dukes up, and prepared to take out his adversary.…. Reigns approached the wily Shane, Elias jumped him from behind and both men left him laying in a heap.
---
Time to pick up a new Chairshot shirt!

Get yours at:
https://www.prowrestlingtees.com/related/thechairshot.html
---
The Next Step: Recruitment
At Money in the Bank pay-per-view Reigns made short work of Elias; on May 21, 2019-edition of SmackDown Live both competitors would clash in a rematch from the pay-per-view Reigns again would gain the opportunity, post-match Reigns dished out a small amount of retribution. Right as he was about to walk out tall with his head held high in victory, 'The Scottish Psychopath' Drew McIntyre dropped him with a ferocious Claymore and the show ended with Shane, Elias and McIntyre standing tall. WWE commentator even called McIntyre "Shane's new insurance policy."
In the following weeks, another duo would be added to the group; on June 3, 2019-edition of Raw The Revival (who were feuding with The Uso's Reigns' cousins) paired up with McIntyre and battled Reigns and The Uso's in a six-man tag-team match. The next night on SmackDown Live The Revival would finalize their alignment with Shane, Elias, and McIntyre when they attacked Reigns for the second time in one week.
They were soon rewarded for their devotion; they were included in the Triple-threat-Tag-team match where the current Raw Tag-team Champions Curt Hawkins and Zack Ryder would defend against The Revival and The Uso's. In typical 'heel' fashion after The Uso's had done all work, The Revival swooped in and won the Tag-team titles. With the cohesive unit growing rapidly each passing week; I believe we need to start asking ourselves, are we witnessing the rebirth of one of the most villainous factions in WWE history? This time under the leadership and guidance of the self-absorbed and egocentric Shane McMahon.
The Mission for Shane McMahon and The Corporation Remains The Same Throughout History
Throughout WWE history in nearly every stable has one common denominator; it materialized into a vehicle or a launchpad for up-and-coming talent, to scratch the surface of reaching their true potential. If you look back in 1997, 'The Nation of Domination' allowed Rocky Maivia to become one of or the largest heel in the company. Without his inclusion and the future leadership of the faction, we may have witnessed the transformation of The Rock. In Evolution; led by HHH and WWE Hall of Famer Ric Flair, Randy Orton and Batista have gone on the record to publicly announce they owe their success to both of their mentors. I can continue to go down the list, but the outcome will be the exact same.
In 2013, The Authority the corporate sellout HHH, Stephanie McMahon, Kane, Big Show, and Randy Orton enlisted the services of The Shield. Roman Reigns, Dean Ambrose and Seth Rollins as mercenaries; three young and hungry superstars, to handle their dirty tactics. In order for The Corporation 2.0 to become as successful as a plethora of other factions were; they need to petition some more muscle, and who better than the dangerous and destructive AOP. AKAM and REZAR have not achieved any success; since their main roster debut on the Post-Mania-Raw in 2018, outside of defeating Rollins in a 2-on-1 handicap match for the Raw Tag-team Championships. AKAM suffered a terrible knee injury earlier this year, leaving his partner with nothing to do in the meantime. Since both monsters are healthy and running on full capacity, now would be the perfect opportunity to add them into the fold.
Another superstar that would be a tremendous addition is EC3; going back to his days in TNA as the spoiled and entitled nephew of Dixie Carter, we could finally witness EC3 mold right into his element. The process is so simple a child could write the script; on this past Monday he was the "Big" reveal as Baron Corbin's special guest referee for his Universal Championship match this Sunday, Rollins brutally assaulted EC3 with repeated chair shots and took him out of the picture. On next week's Raw he can run into Shane; demanding retribution for the mistreatment, I can easily see EC3 sipping wine in Shane's private VIP lounge. This would allow EC3 to proper exposure, and will help with his ascension as one of WWE's top heels in the company.
I don't agree that Shane's mega push is warranted by any stretch; however if WWE can use it as a launch pad for enhancement talent; that rarely gets any TV time and sit on the sidelines, then I have no doubt in my mind that the Corporation 2.0 will be equally successful or possibly even more than The Corporation was in 1998-1999.
King's WrestleMania Rewind: Eddie Guerrero vs. Rey Mysterio (WrestleMania 21)
In the next WrestleMania Rewind, Chris King takes us back to WWE WrestleMania 21, and Rey Mysterio vs Eddie Guerrero in a battle of tag team champions!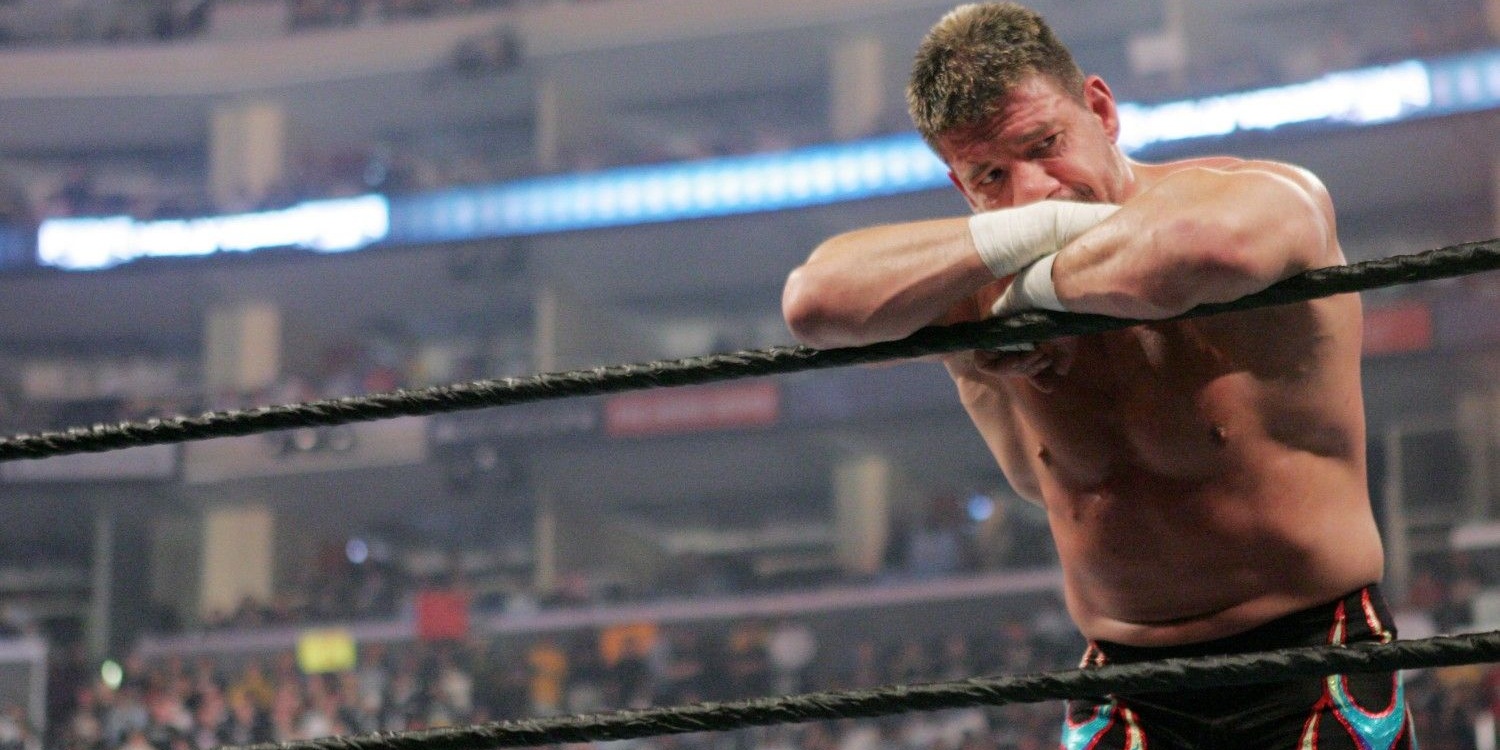 In the next WrestleMania Rewind, Chris King takes us back to WWE WrestleMania 21, and Rey Mysterio vs Eddie Guerrero in a battle of tag team champions!
Chris King is back with his third edition of WrestleMania Rewind. This week he's bringing us back to some 'Latino Heat.' We're rolling back to WrestleMania 21 where Eddie Guerrero faced longtime friend and rival Rey Mysterio.
This would be Guerrero's last Mania match caused by his unfortunate death. Over on SmackDown, Mysterio and Guerrero would become the tag team champions at No Way Out where they defeated MNM.
Chavo Guerrero would get into the head of Latino Heat by making him believe Mysterio was trying one-up his tag team partner. Chavo went as far as to tell his uncle to stop using the Guerrero name.
Guerrero would finally give in to his nephew's manipulation and went on to challenge Mysterio to a one-on-one match at WrestleMania 21. I For the first time in history, both tag team champions would face each other. Guerrero vs. Mysterio was the first match on the stacked card. Both partners threw everything at each other including the kitchen sink in a battle of one-up-manship.  In an incredible high-octane match that saw both superstars delivering counter for counter, Mysterio pulled off the win with a surprise pin roll up.
A few months later, what once was a friendly battle turned into a nasty fight involving the custody of Mysterio's real-life son Dominik Mysterio. After several torturous weeks, both former tag team champions would face off in a ladder match with the custody of Dominick on the line. I forgot how amazing this rivalry was and it's definitely worth a watch. Sadly, we would lose Latino Heat in November of 2005. There will never be another Eddie Guerrero. Viva La Raza!
King's WrestleMania Rewind: Stone Cold VS. Scott Hall (WrestleMania X8)
Chris King is back with another WrestleMania Rewind, looking at the NWO's Scott Hall battling Stone Cold Steve Austin at WWE WrestleMania X8 from Toronto!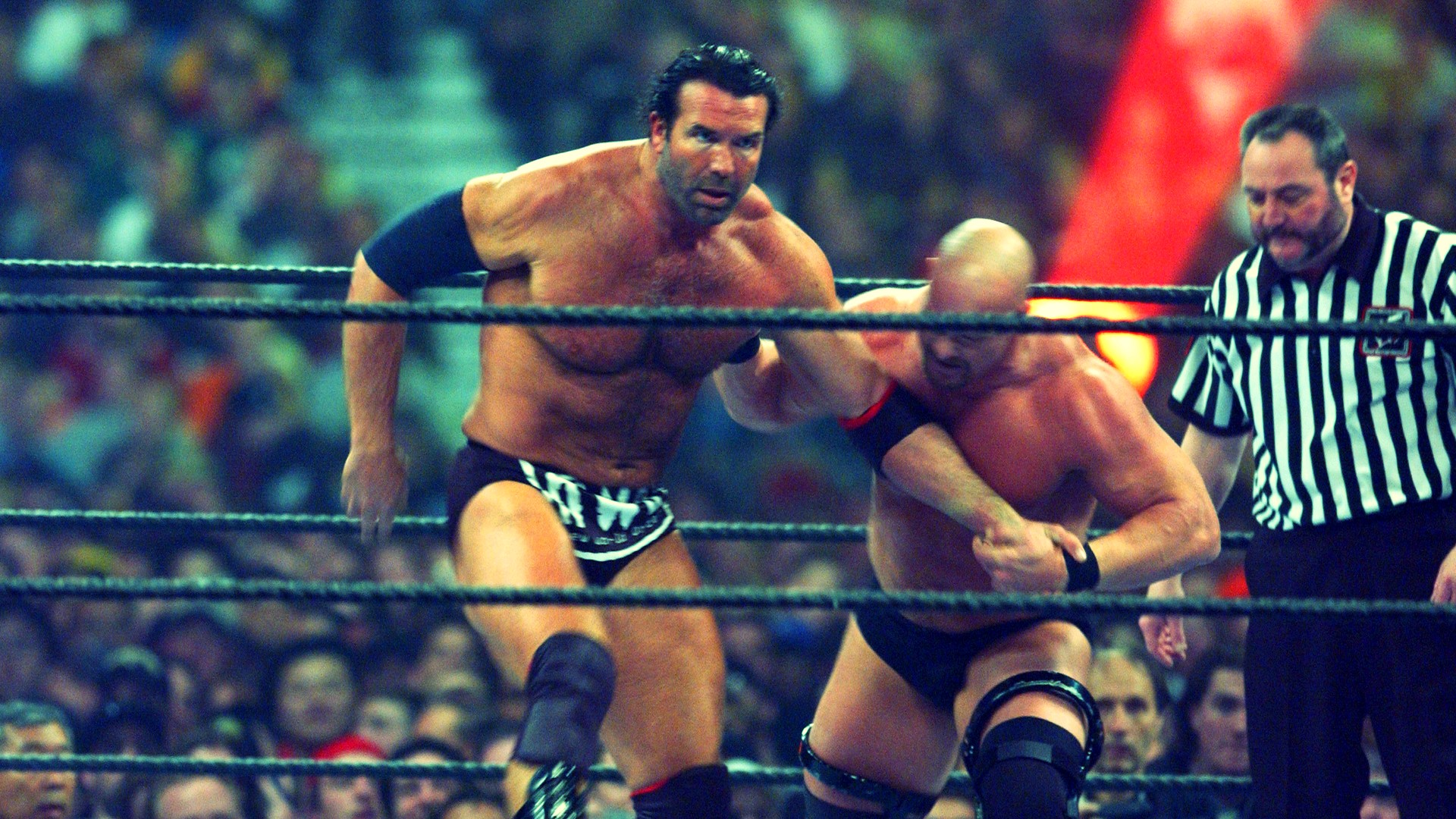 Chris King is back with another WrestleMania Rewind, looking at the NWO's Scott Hall battling Stone Cold Steve Austin at WWE WrestleMania X8 from Toronto!
Chris King is back this week with another edition of WrestleMania Rewind, where he is rewatching all the past Mania matches and feuds. This week you're in for a treat as we look back at 'Stone Cold' Steve Austin vs. Scott Hall at WrestleMania X8.
In late 2001, Vince McMahon bought out his competition WCW and acquired the rights to a plethora of talent including Booker T, Eddie Guerrero, Chris Benoit, and the iconic trio known as NWO. Hulk Hogan; Kevin Nash, and Scott Hall were hell raisers, and what better way to make a name for yourself than take out the two top superstars in the WWE The Rock, and Stone Cold?
The NWO cost Austin his chance at becoming the Undisputed Champion at No Way Out during his match with Chris Jericho. Adding insult to injury, the NWO spray-painted 'The Texas Rattlesnake' with their brand logo just like they did in WCW. As you can imagine, Austin was pissed and out for revenge against the group and primarily Scott Hall.
Hall would challenge Stone Cold to a match at WrestleMania 18. Both superstars beat the living hell out of each other leading up to this highly-anticipated match for who runs the WWE.
The glass broke and Stone Cold made his iconic entrance, and black and white NWO covered Halls' entrance alongside Kevin Nash. With the odds stacked against 'The Toughest S.O.B' could Austin or NWO prove their dominance? Sadly the NWO  broke up that very night when Hulk Hogan came to the aid of his adversary The Rock after their 'iconic' dream match. Stone Cold would ensure the victory with the Stunner. Hall would perform an Oscar-worthy sell over the finisher.
What a time to be a wrestling fan in the 2000s when nothing was impossible for WWE. Who would've thought WCW would go out of business and Hogan would make his long-awaited return to WWE?