Cook: Is Andy Ruiz Jr A Future WWE Superstar?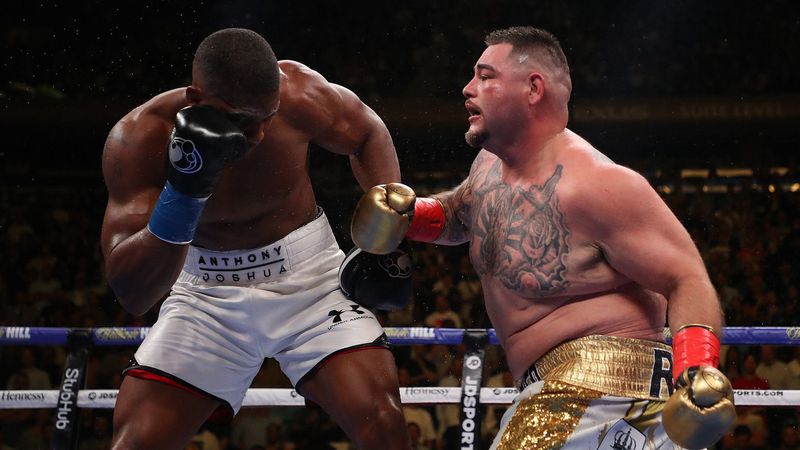 In the wake of Andy Ruiz Jr knocking out Anthony Joshua, Steve Cook weighs in on Ruiz's top money-making prospect: a career in WWE!
The eyes of the pro wrestling world were on Bridgeport, Connecticut last weekend for NXT TakeOver XXV. NXT has become the breeding ground of future WWE Superstars, and from most accounts last Saturday night's card was another example of the brilliance of Triple H & his recruits. Johnny Gargano & Adam Cole BAY BAY tore the house down. Velveteen Dream & Tyler Breeze were out there taking selfies after their match. The Street Profits got their big win in an NXT Tag Team Championship ladder match and got to take their picture with The Game. Some would say that the future of WWE was on display last Saturday. They may be right. However, I can argue that it was on display just over fifty miles southwest of Bridgeport, Connecticut, thanks to Andy Ruiz Jr.
The Garden sees another epic moment.
Madison Square Garden has seen every major WWE Superstar walk through its doors. Its status as a pro wrestling venue is second to none. But if you go back before the days when Don King & Bob Arum made sure every major fight took place in Las Vegas, the Garden was the top boxing venue across the world. Parts I & II of the Muhammad Ali/Joe Frazier trilogy took place in the Garden. The New York State Athletic Commission ran boxing for many years, and most of the major fights were held in the Garden. Jack Dempsey, Sugar Ray Robinson, Roberto Duran, Mike Tyson, Evander Holyfield & Lennox Lewis, among many others, saw their names on MSG's marquee.
Anthony Joshua was ready to see his name in those same lights and become a superstar. The 2012 Olympic gold medalist from the United Kingdom had cut through the heavyweight division like a hot knife through butter since going professional. He'd collected the IBF, WBA (Super), WBO & IBO heavyweight championships over the past four years, with 21 of his 22 victories coming via knockout.
He had some great accomplishments, and now he was ready to have a fight outside the UK. Joshua was ready to make his mark in America & establish himself as the next opponent for Deontay Wilder or Tyson Fury in a fight that would determine the best heavyweight in the world. Of course, some would say he should have just taken on Wilder or Fury instead of having a tune-up fight, but it's a lot easier to say that now.
Andy Ruiz Jr. is no tomato can. A 32-1 record with 22 wins via KO is nothing to sneeze at. Sure, he doesn't look like the athlete of the day, and he did take the fight on short notice due to Joshua's original opponent failing a drug test. He had just won a fight on April 20, making for a quick turnaround time.
The odds were against Andy Ruiz Jr, but there's a reason they have the fights anyway. Just when you don't expect it, the impossible happens.
Andy F—ING RUIZ JR. #JoshuaRuiz pic.twitter.com/bjjNhWlbTD

— DAZN USA (@DAZN_USA) June 2, 2019
To be honest, something like this was just the shot in the arm the heavyweight division needed. The "death of boxing" narrative has been around for most of the twenty-first century, mostly because people don't care about the heavyweights. There hasn't been that Ali or Foreman or Tyson or Holyfield to get the people interested. We had Money Mayweather & Manny Pacquiao, but outside of them, boxing didn't draw much interest here.
It's been getting better.
A large reason is the proliferation of boxing telecasts on television. Premier Boxing Champions started it with programs on every major American network & every major sports cable channel. Top Rank has started airing cards on ESPN. DAZN has built a lot of its programming strategy around boxing, hoping that having the major fights on their streaming service will generate subscriptions.
Boxing used to be all over the networks in the glory days. People ten or twenty years older than me can tell you about watching Muhammad Ali fights on ABC with Howard Cosell on the call. When I was a kid, the only good fights were carried by HBO or Showtime on PPV for $59.99. My parents wouldn't buy WWF PPVs for $39.99, so boxing wasn't going to happen either.
Boxing needs to be more accessible. The red tape surrounding the sport with its various promoters & sanctioning bodies will always be immense, but properly promoted stars can overcome that mess.
Also, we're in an era where everything is more accessible because it's the Internet. Andy Ruiz Jr has become a megastar overnight with his victory over Joshua. His flabby body standing over the Englishman has gotten attention from folks who wouldn't be otherwise interested in the sweet science. People will seek out Ruiz's next fight on DAZN or whoever has his rights.
If I was in WWE's scouting department, Andy Ruiz Jr. would definitely have my attention. Boxing & wrestling are far from the same thing, but Ruiz has some qualities that would translate well to sports entertainment.
Relatability.
The first thing most of us notice about Ruiz? He looks like a regular guy. He comes off like a humble, hard-working dude going up against the establishment's choice for a champion. Dude is like the Mexican Rocky. Speaking of which…
Viva Mexico!
Ruiz is Mexican-American, having been born just miles from the border. He's proud of his heritage, as part of his post-fight interview shows.
For Mexico 💪🇲🇽#JoshuaRuiz pic.twitter.com/T03uysNy36

— DAZN USA (@DAZN_USA) June 2, 2019
How long has Vince McMahon been looking for another top Hispanic draw? Pretty much since the death of Eddie Guerrero, to be honest. Alberto Del Rio didn't get it done. Andrade needs some work connecting with the audience. Rey Mysterio's great to have, but Father Time is up against him. Ruiz had over 100 amateur fights before going pro, but from the looks of things seems to have plenty of gas in the tank.
Believability.
Who have WWE's biggest stars been over the past couple of years? Many of us might not like it, but it's tough to make an argument for anybody besides Brock Lesnar & Ronda Rousey. Brock's part-time appearances always draw interest from people who love him & people that can't stand him. Ronda's impact on the Women's division has become readily apparent to anybody that didn't already understand it ever since she took a leave of absence. What have the women been doing since she left? When's that next Evolution PPV scheduled for?
Exactly.
Lesnar & Rousey are part of a rare breed: Their effect on WWE programming has little to do with whatever WWE Creative has them do. The fact of the matter is that people buy into these two because we know that they're legitimate badasses. Sure, Rousey got knocked out a couple of times at the end, and Lesnar got beat as well, but we've seen them beat people up for real. We know Lesnar is a freak of nature, and we know that Rousey can make almost anybody in her class tap out.
I think we Internet wrestling fans tend to overlook the importance of legitimacy in our pro wrestlers. Casual fans want to see people that can whip some ass. Steve Austin, Rock, Hulk Hogan, John Cena…all of these guys at least looked & acted like they could hold their own in a fight. If you want to go back to the territory days, the NWA Champion was always somebody who would do well in a shoot.
Ruiz can knock your block off. Vince McMahon could work with that. He could see the appeal right away, even if there's some cosmetic issues. I'm not sure Vince sees the appeal in Johnny Gargano or Adam Cole as a top guy. Heresey around these parts, but it's true. Gargano & Cole are hard workers & traveled across the world to hone their craft…but they never beat anybody up for real.
Maybe Ruiz ends up being a flash in the pan. Joshua could get a re-match and do what people thought he was going to do the first time. Ruiz might run into somebody else better the next time out. If/when that happens, I think a proper wrestling company at least has to make a phone call to gauge interest.
The Destroyer could sell out some arenas in whichever combat-based venture he chooses.