Cook's Tale of the Tape: Heyman vs. Bischoff
With the newly announced executives, Cook takes a look at the tape. Who is ahead on points at the moment?
With the newly announced executives, Cook takes a look at the tape. Who is ahead on points at the moment?
There was a column I wrote recently where I was asking people what year it was. This is another column where I'm asking this question.
If you're like me and grew up during the 1990s, you remember who the top wrestling brokers of the era were. (Apologies to Jim Cornette, who made the mistake of running in a poorer area of the USA.) Vince McMahon ran the WWF, Eric Bischoff oversaw WCW, and ECW came from the mind of Paul Heyman. The Monday Night War Era is seen by people of my age as the best time for professional wrestling. As much as people want to tell me that the in-ring product is so much better now, and as poorly as some of that 1990s television has aged, some of us still have a hankering for that era.
So one can see Vince's decision-making process here. Surely he's heard the feedback from most of the WWE Universe regarding the current direction. They aren't happy. With all of this possible competition afoot, and with new network deals on the horizon, there is some pressure to provide a product that makes most of the fans happy.
When were we happiest? During the 1990s!
So now we have Paul Heyman as Executive Director of Raw, and Eric Bischoff as Executive Director of SmackDown. Between you readers & me, I think this means that they are on-air authority figures. Many people are thinking this means that Heyman & Bischoff will have say over creative direction. I've even seen some people suggest that Bischoff will be making deals with the Fox execs. I just don't see it. Everything I know about WWE tells me that they're giving proven on-screen characters some on-screen power.
Which is fine.
I'm not expecting a ton of changes to result from this, though if we do see a ton of changes it wouldn't be the worst thing in the world. Raw with Heyman's creative input…well, it couldn't be much worse than what they trot out most weeks. Same with SmackDown & Bischoff. Do I really think either show will get out there without Vince's tacit approval & adjustments? Hell to the nizzaw. I really believe that way too many of you are making way too big a thing of this.
With all of that being said, we at the very least are seeing something of a resurrection of one of wrestling's greatest rivalries. Bischoff vs. Heyman. Two wrestling geniuses. Who was better?
Let's go to the Tale of the Tape!
Stars Made
Heyman: I mean, look at all the guys still getting booked now because they got big in ECW. Rob Van Dam. Sabu. Tommy Dreamer. Heck, Sandman's still making appearances. Raven became Raven under Paul E's guidance, and Mick Foley & Steve Austin got to explore their characters more than they ever did in WCW. This is the part where I need to mention how many of the "cruiserweights" made their first appearance in ECW.
Bischoff: Goldberg.
Advantage: Heyman
Network Relations
Bischoff: Kept TimeWarner very happy for years & years thanks to Monday Nitro's incredible ratings.
Heyman: Well…
Advantage: Bischoff
Second Act
Heyman: WWECW
Bischoff: 2010-2012 TNA
Advantage: Push. Both were awful.
Hair
Do you even have to ask?
Advantage: Bischoff
WWE Authority Figure Success
Bischoff: Served as Raw General Manager from July 15, 2002 until December 5, 2005. Still remembered as the best Raw GM.
Heyman: Served as SmackDown General Manager from October 2003 until March 2004. I think we all agree that Teddy Long was the best SmackDown GM. HOLLA HOLLA HOLLA!
Advantage: Bischoff
Best Promo
Do you even have to ask? If you do, let's take a look at one of my favorite Paul Heyman promos.
Let me know if Eric Bischoff did anything in this realm. I seriously doubt it. If Paul Heyman had been the true voice behind the Invasion instead of Shane & Stephanie, the possibilities would have been endless. They only let him cut loose a couple of times, and he brought gold every time he did. Heyman definitely deserves to be in the conversation with Bobby Heenan & Jim Cornette as the best manager promos of all time.
Advantage: Heyman
Public Image
Heyman: We've all completely forgotten about Paul's failings with ECW. He was just an awesome creative mind. We've also forgotten about his connection with Brock Lesnar. Obviously Paul would never focus his attention single-mindedly on one person, even he was that one person's agent for most of the past fifteen years on & off television.
Bischoff: Oh God WCW what the hell man he's Vince Russo's best friend and Hulk Hogan's best friend. He's got no damn idea.
Advantage: Heyman
Best Wrestling Match:
Heyman: Tuxedo Match vs. Jim Cornette at Great American Bash 1989
Bischoff: vs Ric Flair Starrcade 1998
One of these matches knew their role & what they were there for. The other thought it was a semi-main event of a major show.
Advantage: Heyman
Final Score: Heyman 4, Bischoff 3, Draw 1
It's a close call, but the numbers tell us that Paul Heyman has a slightly better chance of guiding a wrestling product in 2019 than Eric Bischoff does. Remember, the numbers never lie!
King's WrestleMania Rewind: Stone Cold VS. Scott Hall (WrestleMania X8)
Chris King is back with another WrestleMania Rewind, looking at the NWO's Scott Hall battling Stone Cold Steve Austin at WWE WrestleMania X8 from Toronto!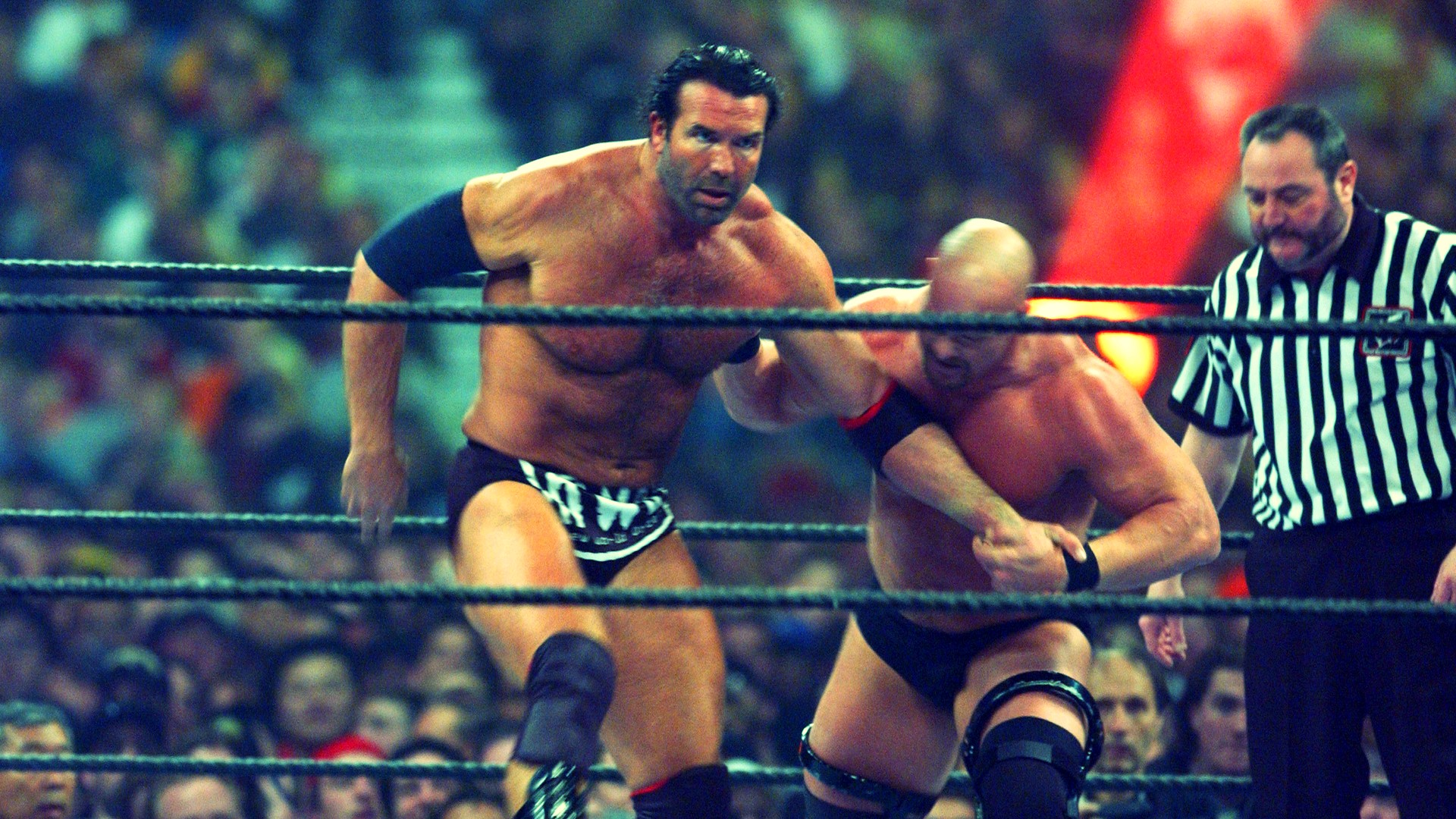 Chris King is back with another WrestleMania Rewind, looking at the NWO's Scott Hall battling Stone Cold Steve Austin at WWE WrestleMania X8 from Toronto!
Chris King is back this week with another edition of WrestleMania Rewind, where he is rewatching all the past Mania matches and feuds. This week you're in for a treat as we look back at 'Stone Cold' Steve Austin vs. Scott Hall at WrestleMania X8.
In late 2001, Vince McMahon bought out his competition WCW and acquired the rights to a plethora of talent including Booker T, Eddie Guerrero, Chris Benoit, and the iconic trio known as NWO. Hulk Hogan; Kevin Nash, and Scott Hall were hell raisers, and what better way to make a name for yourself than take out the two top superstars in the WWE The Rock, and Stone Cold?
The NWO cost Austin his chance at becoming the Undisputed Champion at No Way Out during his match with Chris Jericho. Adding insult to injury, the NWO spray-painted 'The Texas Rattlesnake' with their brand logo just like they did in WCW. As you can imagine, Austin was pissed and out for revenge against the group and primarily Scott Hall.
Hall would challenge Stone Cold to a match at WrestleMania 18. Both superstars beat the living hell out of each other leading up to this highly-anticipated match for who runs the WWE.
The glass broke and Stone Cold made his iconic entrance, and black and white NWO covered Halls' entrance alongside Kevin Nash. With the odds stacked against 'The Toughest S.O.B' could Austin or NWO prove their dominance? Sadly the NWO  broke up that very night when Hulk Hogan came to the aid of his adversary The Rock after their 'iconic' dream match. Stone Cold would ensure the victory with the Stunner. Hall would perform an Oscar-worthy sell over the finisher.
What a time to be a wrestling fan in the 2000s when nothing was impossible for WWE. Who would've thought WCW would go out of business and Hogan would make his long-awaited return to WWE?
King's WrestleMania Rewind: Seth Rollins vs. Kevin Owens (WWE WrestleMania 36)
Chris King takes a look at the most underrated WWE WrestleMania matches, and starts off with Seth Rollins battling Kevin Owens at WrestleMania 36!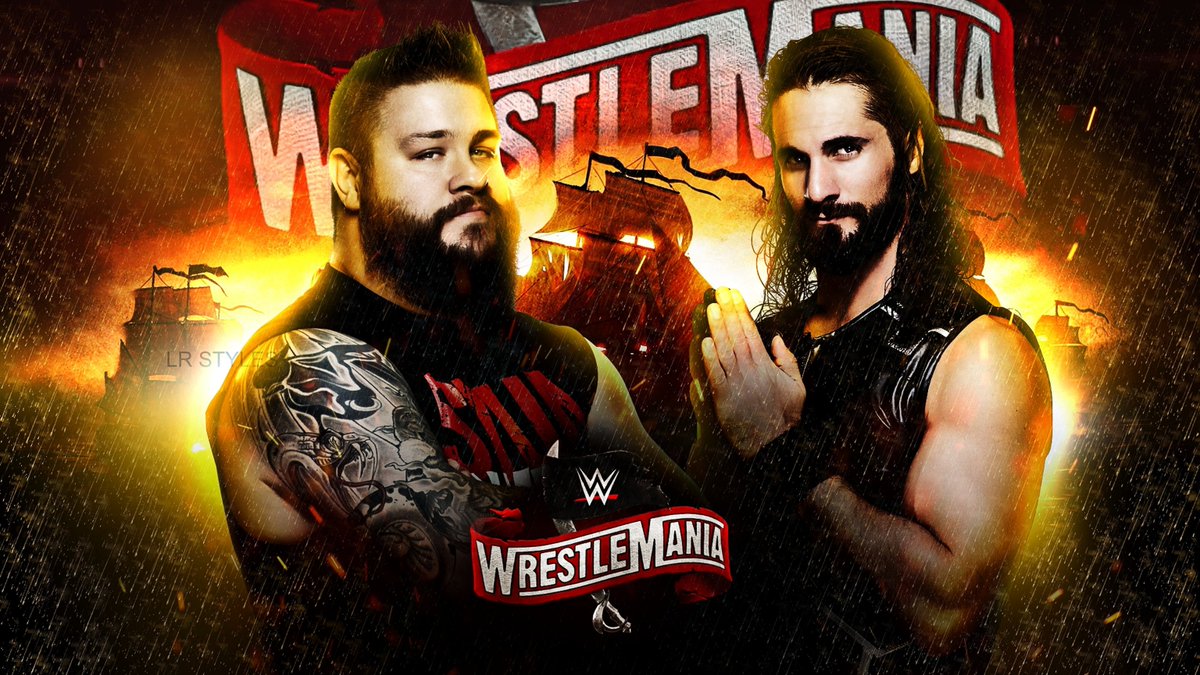 Chris King takes a look at the most underrated WWE WrestleMania matches, and starts off with Seth Rollins battling Kevin Owens in the WWE Performance Center at WrestleMania 36!
Chris King is starting a new series heading into WrestleMania season dubbed WrestleMania Rewind. Each week he'll be going back and sharing his insight over underrated matches at the Show of Shows. First up, is Kevin Owens vs. "The Monday Night Messiah" Seth Rollins at WrestleMania 36.
At the 2019 edition of Survivor Series, Rollins sacrificed himself during the men's traditional match allowing SmackDown to ultimately gain the victory. The following night the self-proclaimed Messiah, berated the whole roster but KO was not having any part of it. Owens quickly became a huge barrier in Rollins' cause for the greater good. The Authors of Pain attacked Owens with Rollins' character in question.
Owens finally had enough of his rival's mind games and torment and challenged Rollins to a match on the Grandest Stage Of Them All. Rollins mockingly accepted his challenge and the match was made official for night one of WrestleMania. Owens came out of the gate beating the holy hell out of the Monday Night Messiah trying to achieve his long-awaited moment at Mania but, Rollins tried to steal a disqualification victory by using the ring bell.
Owens hellbent on revenge provoked Rollins into turning their encounter into a no-disqualification contest where the fight could be taken all over the empty arena. The highlight of the match, was when KO used the WrestleMania sign to deliver a thunderous senton bomb through the announce table. Owens would secure the victory with a Stunner in an incredible match. Despite having no crowd during the pandemic era, both KO and Rollins put on an intense performance under the brightest lights.
In my personal opinion, this was a great feud that helped both superstars in their transformation as compelling characters for years to come.