In This Corner: WWE, Best In The World?
Seth Rollins says that WWE is the best wrestling on the planet. Is he right ?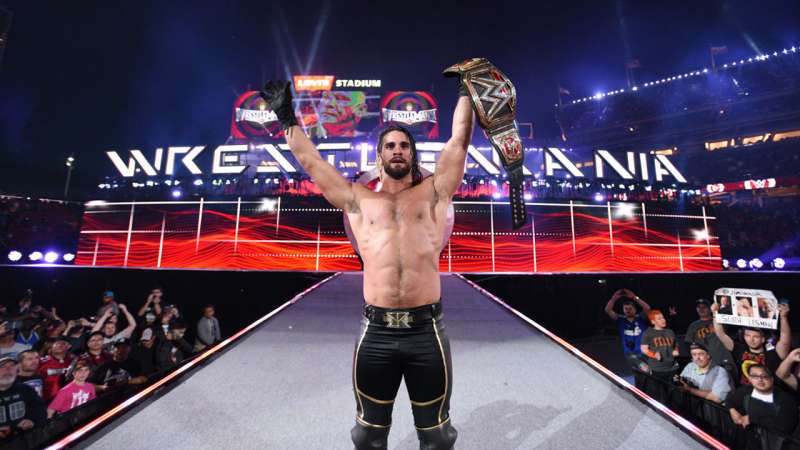 Seth Rollins says WWE is the best wrestling on the planet. Is he right ?
The term "best in the world" gets thrown around a lot in the history of WWE. While the term is usually associated with CM Punk, Chris Jericho and Shane McMahon have used the term for themselves as well. Most recently, Seth Rollins set the Internet on fire when he took to Twitter proclaiming that WWE was the best pro wrestling on the planet.
Best pro wrestling on the planet. Period. https://t.co/Frd8occDhd

— Seth Rollins (@WWERollins) June 23, 2019
This Tweet has sparked a spirited debate among fans and wrestlers from other companies as well. The most vocal wrestler has been Will Ospreay. One of my favorite responses is below, but you can read the whole exchange via Bleacher Report.
You love adding stuff don't ya. I mean the original question was

"Find anyone else alive who does what I do as well as I do it as often as I do it"

No talk of money. No talk of Ricochet. You said anyone.

Here I am.

Just as consistent, just as good.
Hope the back heals up. https://t.co/dfwkKVlyR4

— ᵂⁱˡˡ ᴼˢᵖʳᵉᵃʸ • ウィル・オスプレイ (@WillOspreay) June 25, 2019
So, is WWE truly the best wrestling on the planet? My short answer is yes, yes it is. But how do I truthfully answer that question? Let's examine.
How long have you been a wrestling fan ? I am going to assume (I know, I shouldn't do that) that most of you have been wrestling fans for a long period of your life. With that in mind, who do you feel is the greatest wrestler of all time ? Many will answer Ric Flair, Shawn Michaels, or Bret Hart. Those are three former, multi time world champions and multi time hall of famers. They are three of the best technical wrestlers in the history of wrestling.
When I am asked that question, I always answer Hulk Hogan. Why ? The man generated more money, more pay per view buys, more merchandise sales, more sell out attendances, headlined 9 straight WrestleMania's, and had a run that has never been matched. (Sorry Steve Austin fans, yes, i know he generated tons of money, but if you take Hogan's money in the 80's and value the dollar during the 90's, it would be more than Steve Austin). Now, I know what you are all thinking, Hogan can't wrestle. You would be right if you said Hogan is no Flair, Michaels or Hart. So how can I say that Hogan is the best wrestler of all time ?
What is you definition of wrestling? What type of wrestling do you like? Many fans like the technical ability of a Will Ospreay. They like pure wrestling matches, and don't care for cheesy story lines. On the other hand, many are fans of the entertainment style of the WWE. They like creative story lines (some may debate the "creative") and showmanship of WWE.
Many have shunned Rollins for defending WWE. But do you blame him? Regardless of what Dave Meltzer says, not ever wrestler in WWE is going to be disgruntled with the company. I think Rollins made a great point with the following Tweet:
I mean if you wanna talk numbers we can compare bank accounts too.

P.S. That's counting a month off with a broken back…👍🏼 buddy.

— Seth Rollins (@WWERollins) June 25, 2019
What makes a wrestler the best? Fans calling you the best wrestler in the world? Holding a "fictional" belt in a promotion and it being pre-determined that you are going to win or lose said title? Headlining cards with thousands of fans every night of the week ? Or, is the old wrestling saying true: the only thing real in the business is the money and the miles? Obviously, money makes the world go round. If Ospreay says he wouldn't want to change places with Rollins, he is lying. Even Chris Jericho, MR AEW, makes sure to point out that AEW is paying him the with the biggest contract he has had in his career.
In all honesty, until the Twitter war between Rollins and Ospreay began, I only had a vague idea of who Ospreay was. Gasp! A wrestling "fan" who has no idea who an indie darling is. But following international, independent promotions isn't my thing. And that leads me to my theme of this post:
If your idea of wrestling is a promotion that has weekly TV shows that garner millions of viewers, air on national networks, has their own network, runs a pay per view every month, and stresses entertainment, then WWE is the best wrestling in the world. WWE has been the #1 promotion in America since about 1999, and was throughout most of the 80's and early 90's. Tons of fans online bash WWE, but still tune in every week to watch.
If pure wrestling, athleticism, less story driven wrestling is your idea of wrestling, than WWE is not the best wrestling in the world. You can hold on to the hope that AEW will change the face of wrestling in America.
To sum it all up, wrestling is every where, watch what you like.