Joe's Lucha Libre Weekly: News & Analysis (6/5/19)
Joe Dinan brings you up to date on the happenings in and around the world of Lucha Libre!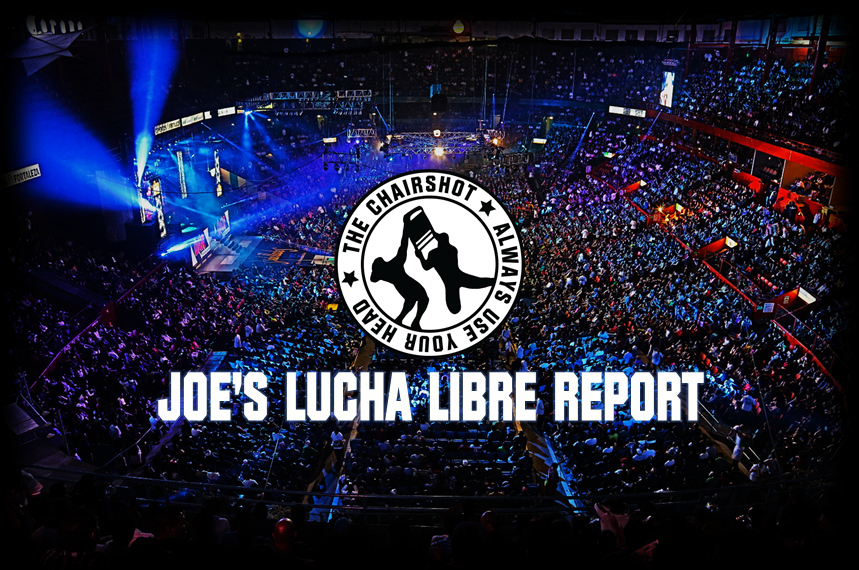 Joe Dinan brings you up to date on the happenings in and around the world of Lucha Libre!
CMLL
On the Puebla Show we had the Puebla exclusive tag team tournament which saw Volador and Mephisto triumph over Niebla Roja and El Terrible. It was a fine match. I don't know why they did the tournament again for Puebla. Maybe just for fun. On the Tuesday Show it was a decent undercard. One thing that stood out to me and probably me only was how jacked Drone was and how I think it's silly how he usually dresses in a full body suit. He should show off his physique more. I associate body suits with really large overweight guys like Kraneo or LA Park or the older legends who return. The Tuesday main event was Rush vs Angel de Oro and it was a really good match. Rush is one hell of a worker when he feels like working and Oro is also very good. Rush won with the Rush Driver which is basically the Jay Driller move that Jay Briscoe uses.
Friday was the Juicio Final which means Final Judgement. It is one of their 4 main big shows of the year. We had a retirement match between Metalico and Virus. The loser was to retire and Metalico lost. This was around 20 minutes but it was really solid. The fans were super into it and Metalico was obviously emotional after. The next apuesta match was Kaho Kobayashi vs Amapola in a hair vs hair match that Amapola won. I was personally devastated that Kobayashi lost because she had some nice hair, but luckily for her she's still cute bald. Euforia and Gran Guerrero won the tag team titles from Diamante Azul and El Valiente. Ultimo Guerrero defeated Mascara Ano 2000 in a hair vs hair match in the main event which saw a lot of interference during the match and after. My guess is they're going to build towards one of the new Dinamitas getting revenge against Ultimo Guerrero. Also coming up for the next three weeks is the Familia Tournament which sees family members teaming. The final week of the tournament will apparently see Matt Taven return to face Volador with the ROH title on the line. I can only hope Volador wins.
AAA
Pretty much no news out of AAA other. It's all in my last week edition. The only news is they have a show on the 9th, so that's gonna be a nice day for wrestling fans who watch a lot of product. Konnan mentioned on his podcast that since the Lucha Brothers are going to be working AAA more regularly that Killer Kross is going to be working a program with Pentagon soon in an effort to get Kross over as a destroyer. Kross has been undefeated for 3 years in AAA but has been directionless for most of that. When Vampiro was booking he had no clue what he was doing. Kross would just come out and randomly beat people up and that's it. With Konnan here Kross is more of a character on the show, teaming up with Los Mercenarios occasionally in order to take out victims. Recently he has been feuding with Puma King and that's been helping. Konnan mentioned that it's difficult to get him over because in America you'd just do squash matches to show how brutal he is, but in Mexico the fans don't really take an interest or care in squash matches. It's usually either tag matches or trios matches with teams or intertwining feuds, championship matches, multiman matches, or apuesta matches. So you have to get creative to get certain individuals over.
That's all this week. Pretty much a slow week for news. Oh and based of Mr. Moxley's interview I'd suggest non English speaking talent to avoid WWE for now.