Mathew's Top 10 Joshi Wrestlers (Excluding Stardom)
Did your favorite non-Stardom wrestler make the cut? Check out Mathew's Top 10 and find out!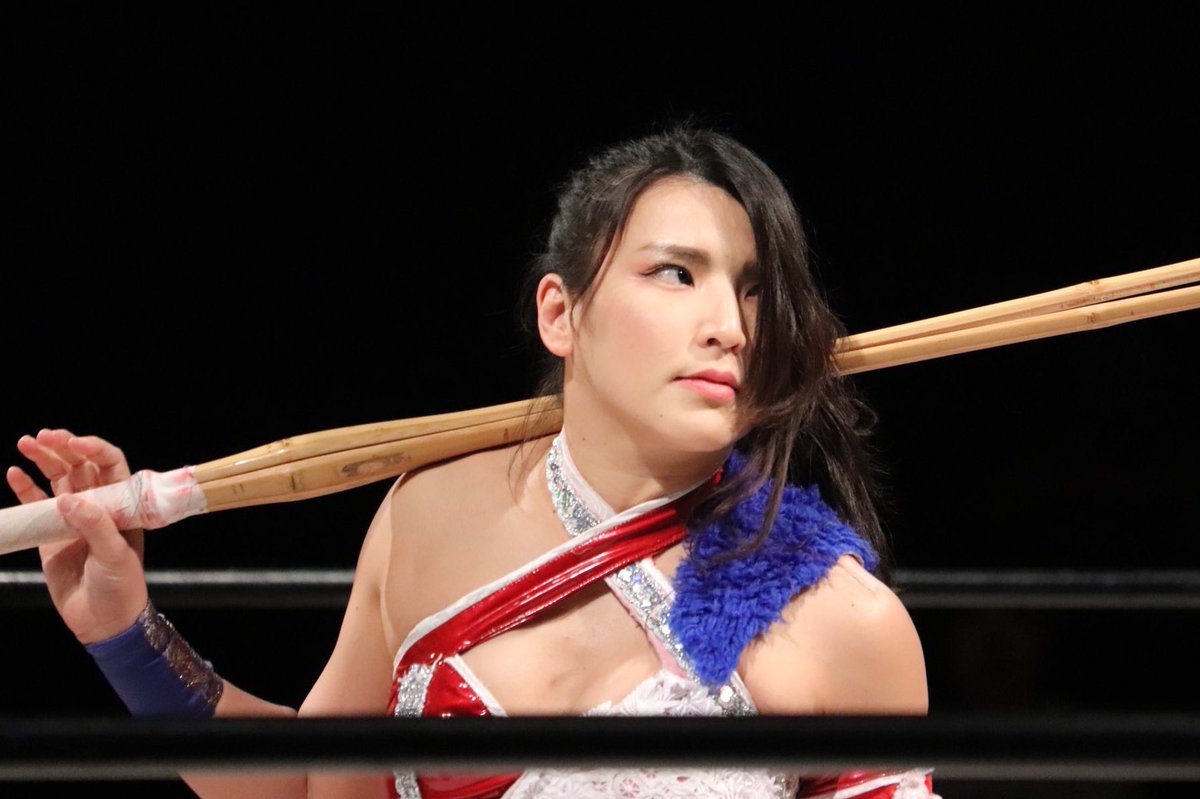 Did your favorite non-Stardom wrestler make the cut? Check out Mathew's Top 10 and find out!
I've wanted to do this one for a while and I'm gonna use this time to get to it.
You normally see me cover Stardom along with a few shows in the Joshi scene from time to time, but this countdown list is going to focus on the wrestlers that aren't apart of the Stardom roster. Let's be honest, if I did add Stardom on this list then that would be almost half and that's not fair since there are so many talented Japanese women from various promotions and they deserve recognition.
I'm also going by active members instead of all-time to keep up with the current scene, so let's get right to it as I talk about my Top 10 Joshi wrestlers.
10. ASUKA (Freelancer)
– No, not that Asuka, this is a different ASUKA. ASUKA was able to make history in the short amount of time she's been around professional wrestling in her three-year career and it's still going. Asuka was originally from Pro Wrestling WAVE until the end of 2018. She was the first transgender wrestler to main event their biggest show and also the first transgender wrestler to win their biggest title, the Regina Di WAVE Championship. She's only twenty-years-old and has so much to offer as she represents her community while having the agility of a young Jushin Liger. I only knew her around 2017 but that was when she was also coming out of her shell in the wrestling world and what a big impact she has left so far. She definitely is someone worth keeping an eye on.
9. Takumi Iroha (Marvelous)
– Twenty-six years old and only six years in the wrestling business, Takumi really is something else. She comes from the Marvelous promotion and is considered their top star in the promotion and for good reasons too since she's just dynamite. Amazing how she started in Stardom and years later, she would make a better name for herself wrestling in various promotions and winning different titles as well. She recently won SEAdLINNNG's top title, the Beyond the Sea Championship when she defeated the first champion and owner of the promotion, Nanae Takashi. A very talented woman with some fantastic strikes to top it off as she's someone you would wanna book for your promotion for a couple of shows.
8. Tsukasa Fujimoto (Ice Ribbon)
– The ace of Ice Ribbon and the only one to hold their top title, the ICExInfinity Championship for a total of six times and has had some incredible reigns as the champion. Thirty-five years old and wrestling for only ten years as she was trained by some of the best people like Nanae Takahashi, Manami Toyota, and Emi Sakura. Hardly sloppy in the ring, can work with most styles, these are great qualities to look for in a wrestler in general and Tsukasa is no exception to that.
7. Hikaru Shida (OZ Academy/AEW)
– While she is now considered AEW, she still left an impact in the Japanese scene and is also considered OZ Academy for the time being, so she counts to being on here. This ten-year veteran made sure the world knew who she was when she just performed globally, not bad from someone who started in Ice Ribbon back in 2008. She won major titles from Ice Ribbon, WAVE, OZ Academy, RCW, and Sendai Girls. She was also the one that got knocked out by Naomichi Marufuji on one of her produced shows in 2017 in under two minutes but she wanted a rematch a year later and while she lost, she took her punishment like a champion and still give the fans a great show on her 10th anniversary. Now that she has joined AEW, the fans overseas are sure to get something special with her around as she could be the top star of that division.
6. Hiroyo Matsumoto (Freelancer)
– Otherwise known as the Lady Destroyer and she might be the best Freelancer in the Joshi scene. She's wrestled in almost every promotion for Joshi wrestling, became more noticed when she recently joined WWE's Mae Young Classic in 2018 where she lasted until the second round. Hiroyo is strong, fast, technically sound in the ring, and has had many great matches in all of the promotions she's worked for and you knew you were going to get your money worth since she was that talented. She may not look like much but believe me when I say that she's an absolute monster and can just wreck you if she wanted to. Surprised nobody has snatched her up for an exclusive contract because she would be the top star in an instant, but I think she enjoys going to various promotions and performing on a high level that she definitely does make do with what she has, so nothing wrong with that.
5. Miyu Yamashita (Tokyo Joshi Pro-Wrestling)
– The star of TJP and for good reasons. She only has about five years of experience with only a background in karate, but she was able to hold the TOKYO Princess of Princess Championship two times for a grand total of 746 days and during those times that she was a champion, she's had great title defenses on top of it to make her a worthy champion of that company. She was also the SHINE Champion when she went to a title or title match during WrestleMania weekend. She's like the Shotaro Ashino of TJP. just great in the ring and while not many follow the promotion, people would mostly keep an eye on her from how talented she is. I really hope she gets future opportunities to fight other people from various promotions soon because she would have a lot of dream matches built up that you'd be crazy not to do any of them. Great talent and somebody please get her some special bookings on the double, she's worth your time!
4. Chihiro Hashimoto (Sendai Girls)
– Meiko Satomura's prized pupil in Sendai Girls and that woman is Chihiro Hashimoto. If you look at her at first glance, you would think she would be a powerhouse but she's also very technical in the ring. Chihiro has been wrestling for three years also and Meiko went full speed for Chihiro to make her the top star of her promotion and even be known as one of the best of the next generation of Joshi wrestlers. A four-time Sendai Girls World Champion with a combination of 777 days and each title defense would always leave you satisfied and wanting more of her at the end of things. With very little years under her belt, there's plenty of room for her to grow in the upcoming years of her career and she might be another one that'll be considered an all-time great when she does decide to hang it up. Powerful and wrestling-sound, Chihiro has the tools and can back it up at the same time and she's just getting started.
3. Sareee (World Woman Pro-Wrestling Diana)
– I'm gonna level with you on this one, I'm fairly new to her despite being in the wrestling business for eight years, meaning she wrestled since she was fifteen-years-old, but I was able to become a fan of her the moment I saw her. She's currently wrestling for World Woman Pro-Wrestling Diana and was known as an underdog of sorta. For about a year now, she was able to have big moments in her career when she defeated Aja Kong to become the promotion's World Champion for the second time, defeating Meiko Satomura clean during a Sendai Girls show in an amazing match, and was able to defeat Chihiro in a title for title match to win the Sendai Girls World Championship, making her a double crown champion with two of the biggest belts in the Joshi scene. A lot of the veterans like Meiko and Nanae are high on Sareee and have faith in her being another won to be the future of professional wrestling as a whole. She has a lot more to prove and plenty of time to do it as this is now her time to shine from here on out.
2. Arisa Nakajima (SEAdLINNNG)
– Aside from Nanae Takashi, I believe Arisa Nakajima is one of the best that SEAdLINNNG has to offer. Arisa is both intense and physical in the ring and while not many have seen a lot of her matches, she always left a big impression on people that have watched her matches and gave them something memorable. While most will be known for their stiff kicks in the ring, she's more known for her elbows and they're just as deadly as any stiff kick that you see in most matches these days. Made her career in JWP and is now looking to stand out in her new home and hopefully a future Beyond the Sea Champion when the time is right. Killer instinct and a veteran in the business with thirteen years of experience, she's someone that will amaze you in that ring.
Before I get to my final one, here's a small list of honorable mentions down below.
– Nanae Takahashi (SEAdLINNNG)
– Emi Sakura (Gatoh Move)
– Mika Iwata (Sendai Girls)
– DASH Chisako (Sendai Girls)
– Aja Kong (OZ Academy)
– Yuka Sakazaki (Tokyo Joshi Pro-Wrestling)
– Riho (Gatoh Move)
– Yuu (Freelancer)
– Mayumi Ozaki (OZ Academy)
– Saori Anou (Actwres girl'Z)
– Miyako Matsumoto (Ice Ribbon)
1. Meiko Satomura (Sendai Girls)
– I think it's obvious that she would be at the top of the list for everything she has done throughout her career and still performs at such a high level. The creator of Sendai Girls, Meiko Satomura would go down in the history books as one of the greatest females and wrestlers in general of all time with her incredible wrestling ability and her contributions to the business as a whole. She was also the first female to win DDT's top title, the KO-D Openweight Championship but that reign didn't last long, unfortunately. She's held big titles in her own promotion, Stardom, AAAW, and in Fight Club Pro. Meiko has been wrestling for almost twenty-five years and she still wrestles as if she's half her age while also being lethal at the same time. She made a big impact in Japan, the United States, and just globally as a whole that she's earned every accomplishment that she has received. My favorite Joshi wrestler and one of my all-time favorites. If you haven't seen her before, then something is wrong with you.
Thank you all for taking the time out of your day for reading my list. I'm sure there's quite a few that I'm missing on here but there are just so many talented women in the Japanese wrestling scene that it's so hard to put them all in as they all deserve praise. If you have time in your day for more, definitely look up all of these women since they're worth your time.