McLeod: Keep the Horsewomen in NXT
Should Shayna Baszler and the other Horsewomen be brought up as a package deal?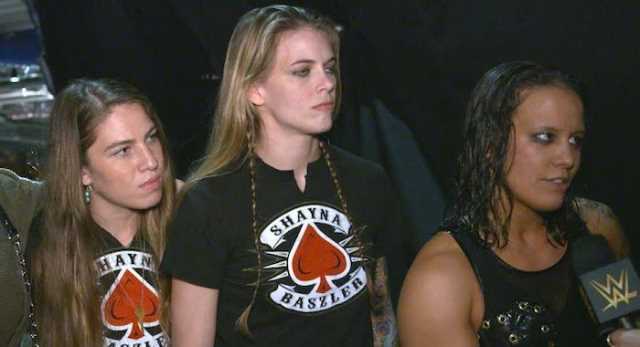 Should Shayna Baszler and the other Horsewomen be brought up as a package deal?
This week's NXT was very much filler featuring matches from a Bel Air live event. We kicked off with the Horsewomen represented by Duke and Shafir taking on Io Shirai and Candice LeRae.
A short match which was thrown out after Baszler and all of the competitors brawl around ringside. The sole purpose of this match was continuing the issues between Io & Baszler but it made something clear to me. The other Horsewomen should stay in NXT.
Watching them in this match it was clear they still had a way to go. Baszler had some indie experience before coming to WWE while Ronda quickly adapted to wrestling. The other Horsewomen by comparison seem to have been rushed into having matches.
They aren't the worst in the ring but there were spots that made their inexperience very apparent. At first it looked like they aren't complete confident in matches yet. When Shayna comes out you can tell that she has the confidence in herself both in ring and as a character.
Them as the backup for Baszler over the last several months has been a great dynamic. Having them occasionally beating people down also helped to make them look dominant all the while hiding their limitations.
It feels like I say this all the time but Baszler is main roster bound sooner rather than later. I could see her dropping the title in Toronto and have her go to the main roster after SummerSlam. They seem to be trying to make the Raw after SummerSlam as big as the Raw after Mania and Baszler would seem like.
She's been ready to go up for a while but the same can't be said be said for her fellow Horsewomen. I think WWE's desire to have their four Horsewomen against the MMA version would cause them to call all three of them up to the main roster together.
However it doesn't look like Ronda is going to be back anytime soon as she is currently trying to start a family. Also Sasha Banks contract status is in doubt so there doesn't seem to be any rush. If Banks isn't coming back then what's the point in calling Duke & Shafir up for a match that isn't going to happen.
All you would have to do is explain that the Horsewomen are trying to divide & conquer WWE with Shayna on the main roster while they stay in NXT. Keep them working on the live events while training at the performance centre and we should soon start to see some development.
People seem to forget with all the top indie talent that have years of experience already that NXT is still a developmental brand. People like Duke & Shafir aren't the complete package yet but with time they could be. After a few months you could bring them back into the title picture to try bring the Women's title back to the Horsewomen.
People also forget that for almost a year Baszler was dominant in NXT without the other Horsewomen's help. You could almost mirror that on the main roster with Baszler running through the women's division but when she faces a challenge from someone like Becky bring up the Horsewomen.