Mcleod: Why The NXT Breakout Tournament Is A Good Idea
Most of us enjoy tournaments. But why is a tournament for relative unknowns a good thing? Scott let's us know what he thinks!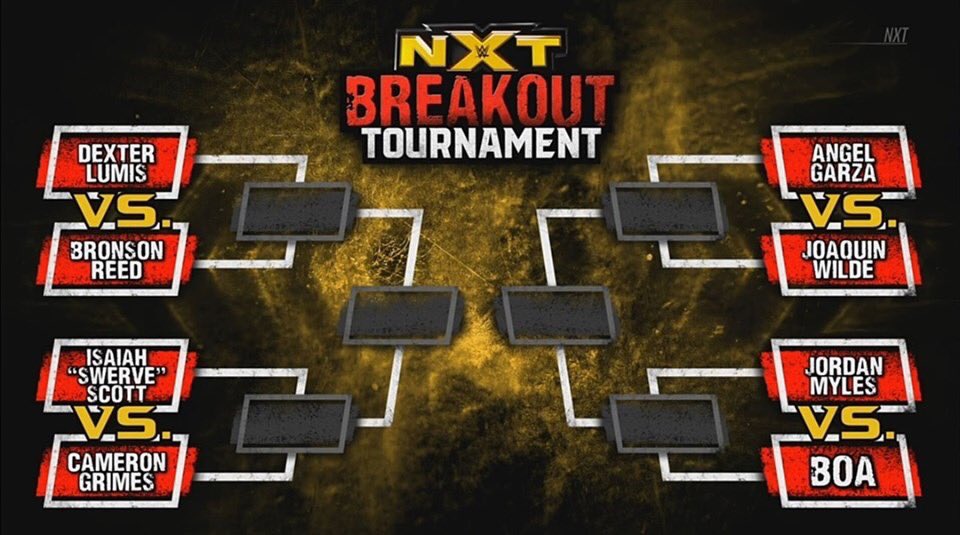 Most of us enjoy tournaments. But why is a tournament for relative unknowns a good thing? Scott let's us know what he thinks!
This week saw the beginning of the first round of the NXT Breakout tournament with Angel Garza(formerly Garza jr) defeated  Joaquin Wild(formerly DJZ). The tournament continues next week when Isaiah "Swerve" Scott(formerly Shane Strickland) takes on Cameron Grimes(formerly Trevor Lee).
In the coming weeks we will also see Bronson Reed(formerly Jonah Rock) take on Dexter Lumis(formerly Samuel Shaw) and Boa taking on Jordan Myles(formerly ACH) to fill out the first round.
William Regal explained the tournament as the Performance Center has more people than ever before. Not hard to believe as it seems like WWE has been signing up anyone on the indies who has even a little bit of a buzz in the last few years. The one whose been featured before this is Myles taking part in Worlds Collide over Mania week.
I love the idea of this tournament because WWE has so many people under contract at the moment that the list of people who aren't being featured on main roster is longer than those who are. NXT despite only being an hour long does a better job of utilising it's roster. Better they make use of them rather than just signing them so no one else could have them.
These 8 guys despite making their NXT debut are already being better utilised than half the main roster because of this tournament. The finals are expected to be at Takeover Toronto which will be a major showcase for the two finalists. Whichever title they challenge for and whether they win or not will say a lot about who NXT sees as a future star of the brand.
It's a good way to introduce new people to the NXT audience who hasn't seen them before. Each of these guys have made their name in various indies around the world so while Full Sail is usually a smart crowd but depending on what indies you follow you might be less familiar with certain guys.
There were a lot of call ups at the start of the year and expect there will be more very soon. The likes of Johnny Gargano, Shayna Baszler and the Undisputed Era once Cole drops the NXT title I believe their time is coming to an end. With that in mind the tournament came at a good time.
One of the things I love bout tournaments is it gives the fans a story to follow whether the tournament is over several nights or a single night. With the prerecorded interviews with each man that were played before the matches to let fans know more about them and allows you to choose who you want to invest in.
Also if this week is any indication the matches are going to be outstanding. Wild was clearly the underdog who told this story of his near death experience back in 2017 while Garza was clearly the cocky heel. I was especially impressed by how good the match was considering it was only the first match of the first round.
It set a high bar for the rest of the tournament. I think this is a tournament that they should maybe do annually to show the talent they have at the Performance Center and shows the fans why they were so keen to sign these guys.