(NOAH) WEEKLY NEWSLETTER VOL.39 ~ 16TH JUNE 2019
The second Mitsuharu Misawa Memorial show is now in the books! Titles changed hands, and Global Jr League participants were announced! Read up with all of the Pro Wrestling NOAH happenings!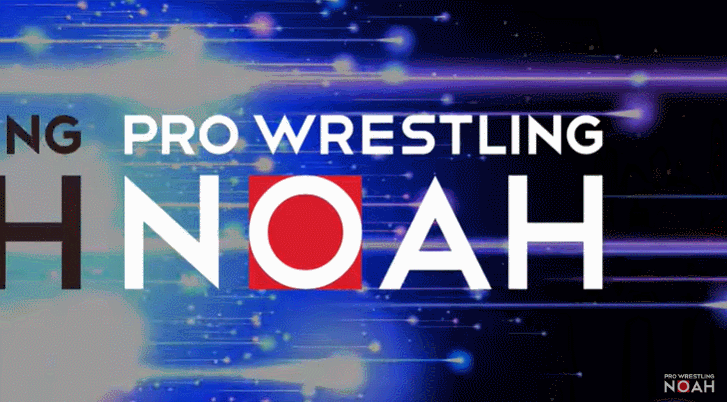 The second Mitsuharu Misawa Memorial show is now in the books! Titles changed hands, and Global Jr League participants were announced! Read up with all of the Pro Wrestling NOAH happenings!
CURRENT TOUR RECAP

NOAH held the ten year anniversary event of Mitsuharu Misawa's death in Osaka. The venue was more than just a popular choice in a metropolitan area, it was the last arena that Mitsuharu Misawa had visited on 11th June 2009 before the accident in Hiroshima on the 13th.
The usual ceremony was carried out beforehand; his spirit was welcomed to the ring as the GHC Heavyweight champion, Spartan X played and the fans threw green and white streamers which had his name on it. The roster stood around the ring, ironically, Takashi Sugiura was standing next to Kaito Kiyomiya in a fusion of the old and new NOAH.
The event was sold out, standing room only quickly filled, and one fan said that when coming back from the bathroom, they couldn't get back to their seat.
Kinya Okada (who has been missing due to an injury that NOAH have never specified) returned to his hometown to face Yoshiki Inamura. Inamura had warned Okada that while he may have the power of the local fans on his side, he should not expect to win.
Okada didn't win, but Inamura was left saying that he felt his power. Now the feud between the two of them can begin.
Akitoshi Saito was understandably the most emotional during the event. I don't think he slept well the night before, especially since he was up to see the dawn (and awake before it), but he had also caught a rainbow which he took as a good omen. After his match, he broke down hysterically as he faced Misawa's portrait.
Chris Ridgeway and Hitoshi Kumano finished their partnership, with Ridgeway thanking Kumano for teaming with him and teaching him along the way, but he was a singles wrestler and that is where he is heading now, especially since Global Junior League is coming up. During the match, he and Kenoh had a kick war, but Kenoh's focus was on Kaito Kiyomiya who he squared up with at the beginning.
As far as Kiyomiya goes, no challenger for the championship has come forward yet. As for Ridgeway, he was going to have another role to play in the evening.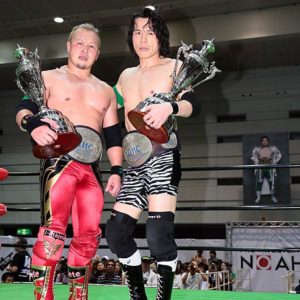 Stinger defeated HAYATA & YO-HEY and bought their dream of a third consecutive victory to a halt. After the match (in which the audience were whipped up into a fever by the close falls and the drama, plus YO-HEY using the rarely seen Bamboo Dragonfly), Yoshinari Ogawa made a short speech to the fans. He asked everyone to "never forget that there was a wrestler called Mitsuharu Misawa".
After the match (which was one by Kotaro Suzuki using Misawa's Tiger Driver 91, which Ogawa said sarcastically he had stolen, much to Kotaro's indignation), Stinger introduced their new member.
Their new member in all ways is a far better fit than YO-HEY (who no one really knew why he would want to betray RATELS, and it was never really said) both in terms of style, temperament and skill set. Their new member, is Chris Ridgeway. Fans were a little shocked at first, but they knew it is a good thing, especially as there is a lot to learn from Stinger, especially Yoshinari Ogawa.
YO-HEY later posted that he was disappointed to lose, and he found the league tiring. After having a lung injury, and coming back so soon, this is not surprising.
According to an article from Tokyo Sports, Kotaro Suzuki is still seeking a single match with Naomichi Marufuji.
Naomichi Marufuji was defeated by Shuhei Taniguchi, who made him tap to his modified camel clutch in seventeen minutes and 52 seconds. Marufuji had expected to defeat Taniguchi, but after losing via submission (which is rare, and not even Ogawa could do this), he reflected that he needed to find himself after losing to both Go Shiozaki (on the 9th June) and now Taniguchi.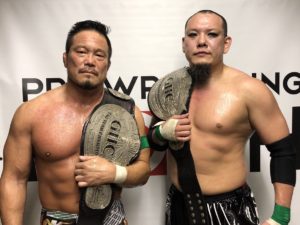 AXIZ (Katsuhiko Nakajima and Go Shiozaki) clashed with The Sugiura Army (Takashi Sugiura and KAZMA SAKAMOTO) in the main event. It was a brutal match, but ultimately The Sugiura Army prevailed when Sugiura won via TKO by using the front neck lock choke on Nakajima.
After the match, AXIZ limped into the interview area (Shiozaki supporting Nakajima), with Nakajima asking for a rematch.
Sugiura granted it, but he warned that he wasn't going to choke Nakajima this time, he was going to make him submit, or he was going to pin him.
AXIZ will get their rematch for the tag belts on the 27th June

EVENT RECAPS
Post match promos ~ Global Junior Tag League 2019, Korakuen Hall
Final night of Global Junior Tag League\Mitsuharu Misawa memorial
Post match interviews ~ Global Junior Tag League 2019, Osaka

NEWS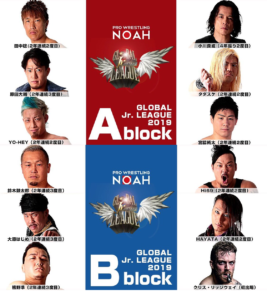 GLOBAL JUNIOR LEAGUE RETURNS
Hot off Global Junior Tag League, the juniors get about three dates of being friends (or not) with each other, before Global Junior League starts on the 27th June at Korakuen Hall. The league will run for ten dates, and finish on July 27th at Culttz Kawasaki. There will be a small "NOAH The Spirit" interim date in between.
The participants for this year have been announced as such:
BLOCK A: Minoru Tanaka, Daisuke Harada, YO-HEY, Yoshinari Ogawa, Tadasuke, Junta Miyawaki
BLOCK B:  Kotaro Suzuki, Hajime Ohara, Hitoshi Kumano, HI69, Chris Ridgeway, HAYATA
CURRENT CHAMPIONS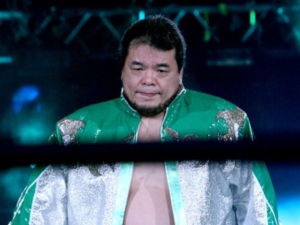 THE TESTAMENT OF MISAWA
On the 10th anniversary of Mitsuharu Misawa's passing, Line News carried out in depth interviews with Akitoshi Saito, Naomichi Marufuji, Kotaro Suzuki and Yoshinobu Kanemaru about what happened on the night of the 13th June in Hiroshima, and as a result what happened was probably the most revealing and comprehensive account.
In an interview with Tokyo Sports shortly before his death, Misawa spoke candidly to them. He knew that he was not going to reach his next birthday, he knew that his body was falling apart (he had bone spurs in the neck, and visual problems in one of his eyes), but he couldn't retire. Not just yet. He had one final task to complete (namely putting Go Shiozaki over). and then it would be done.
It seemed that Misawa had known this even before the interview with Tokyo Sports, around about 2007 or so, he had written a letter to the opponent who would face him in the ring for the last time, and handed it to a trusted source to deliver the letter when his premonition came true. The letter was given to Akitoshi Saito, who has kept it with him on tour for the past ten years, and had read it each day. The letter is not one of recriminations, but one of apology. Misawa wrote in it that he forgave his opponent, and he wanted him to carry on wrestling.
The article weaves the stories of Marufuji, Saito, Kotaro and Kanemaru together. It starts from the accident, with Kanemaru noticing that Misawa wasn't moving, Kotaro taking charge, Marufuji's mad dash to Hiroshima when he heard the news (despite a knee injury), and understandably Saito's shock. The article explores individual memories of Misawa, the fallout of his death, and then where they are ten years later.
The article is a long one, and often an emotional one, but I urge you to read it. It is not just a story of wrestling and wrestlers, it is a story of loss, strength in adversity, and the triumph of human spirit.
TOUR TIDBITS
~ 50 Funky Powers have neon blue and purple streamers
~ Naomichi Marufuji said that he wants to get "public broadcast" back (he means either a streaming service or a weekly show like NOAH once had)
~ Kenoh told "the assholes of Osaka" to go home and get a dictionary if they didn't know what "Kongoh" meant (FYI, it means "diamond")
~ Junta Miyawaki turned 22 on the 14th June.
On the way back from Osaka, Masao Inoue fell victim to Takashi Sugiura's camera, and was photographed at the urinal (there is disturbingly a whole gallery of these, and this one had Kotaro Suzuki in the background). However, Sugiura didn't stop there, and Inoue was filmed getting onto the bus (which seemed pretty empty as I guess most people had either gone home via the Shinkansen or stayed in Osaka) with an ice cream cone.
Marufuji joined in the fun by photographing Inoue, to which Sugiura told him to quit stealing his subject. Marufuji replied (and please bear in mind they were on the same bus and in close proximity to each other) that since Inoue was so interesting, maybe Sugiura would like to switch seats?
Sugiura said that he assumed Marufuji was being funny, as Inoue had never been interesting.
BROADCASTS
The 13th June Mitsuharu Misawa memorial show from Osaka, will be shown on the 22nd at 10pm on Samurai TV. This will be the final night of Global Junior Tag League 2019.
Riki Choshu's Power Hall (featuring Go Shiozaki and Yoshiki Inamura) will be broadcast live on the 26th June on Samurai at 6.30pm
The opening night of Global Junior League (Thursday 27th June 2019, Korakuen Hall) broadcast at Friday 5th July on Samurai.
LINKS
Ogawa & Kotaro gain their first victory in Junior Tag League
Sugiura chokes Nakajima to take the GHC Tag Championship
Shiozaki's answer to that ten years, to have a match that Misawa would approve of
"Iron-Man" Kobashi sends encouragement to favorite pupil, "KENTA! Use your instincts, and go wild!"
Naomichi Marufuji about KENTA'S New Japan entry, "Don't you ever be buried"
10 Years after Misawa's death, Noah's full house, and a limited resurrection of the green mat
PICTURE CREDITS: Noah GHC, LINE News, PKDK
GIFS taken from Battlemen on Samurai TV
Newsletter by Hisame
King's WrestleMania Rewind: Charlotte Flair vs. Asuka from WrestleMania 34
Chris king is back with one of the most underrated matches in WrestleMania history–Charlotte Flair vs. Asuka!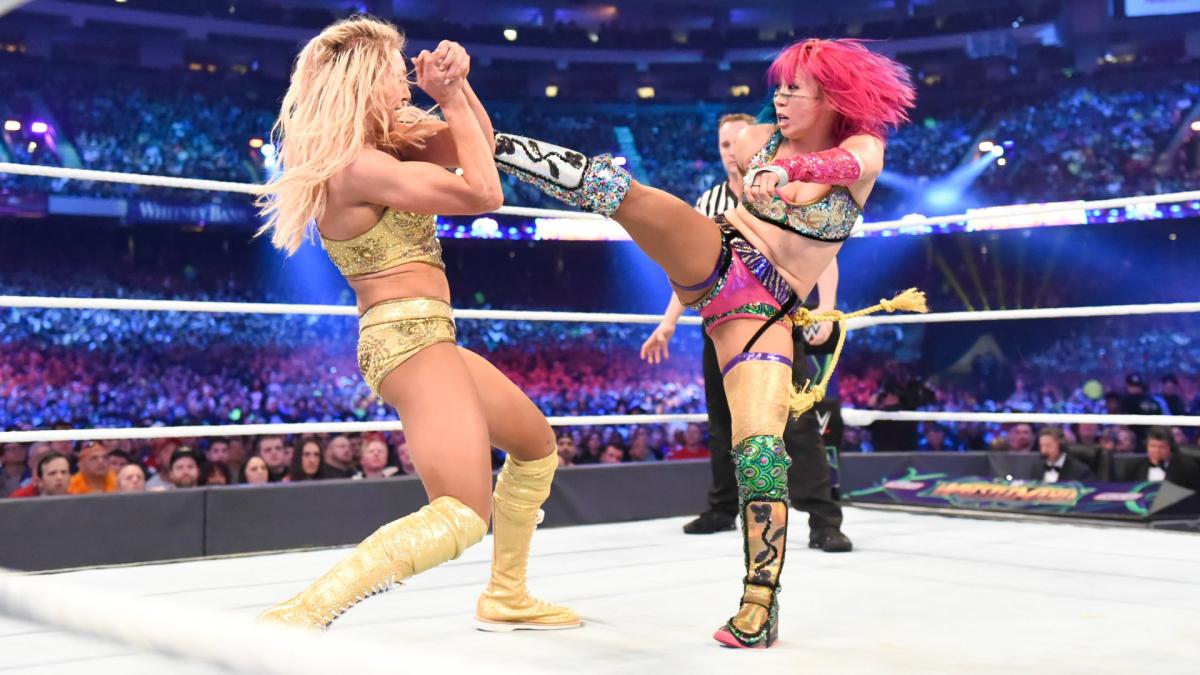 Chris king is back with one of the most underrated matches in WrestleMania history–Charlotte Flair vs. Asuka!
We look back at Charlotte Flair vs. Asuka at WWE WrestleMania 34. 'The Empress of Tomorrow' put her unprecedented and historic undefeated streak of 914 days on the line against 'The Queen's' SmackDown Women's Championship.
For years, this was considered a dream match while Asuka dominated the roster in NXT, while Flair won numerous championships on the main roster on both Raw and SmackDown. The Empress made her long-awaited debut on the September 11th episode of Raw and began to tear through the competition.
Asuka outlasted all twenty-nine other women in the historic first-ever Women's Royal Rumble match to challenge for the title of her choosing. At Fastlane, she made her choice.
The WWE Universe was so excited for this match myself included. Both superstars delivered a fantastic performance on the Grandest Stage of Them All executing counter after counter. Asuka showed off some nasty-looking kicks to her opponent, and Flair hit a thunderous Spanish Fly off the top rope. Flair was seconds away from defeat at the hands of The Empress but she locked in Figure Eight and Asuka was forced to tap out.
I can't even begin to explain how shocked I was at this outcome, as nearly everyone expected The Empress to continue her undefeated streak and walk away with the women's title. This controversial decision was the downfall of Asuka's momentum. She would ultimately win the SmackDown Women's Championship at the 2018 TLC pay-per-view in the triple-threat ladder match.
Fast forward to this year when Asuka has recently returned with her Japanese-inspired persona Kana. Kana is dangerous and ruthless and is heading into a championship with Bianca Belair at WrestleMania 39. The Empress has regained all her momentum and is highly favored to walk away with the Raw Women's Championship. Let's hope that Asuka and Belair can tear the house down and deliver an A+ grade match both women are fully capable of.
King: Dominik Mysterio Needs To Do This At WrestleMania
Chris King is here with what WWE should do with Dominik Mysterio at WrestleMania in his long-awaited match against his father Rey Mysterio Jr.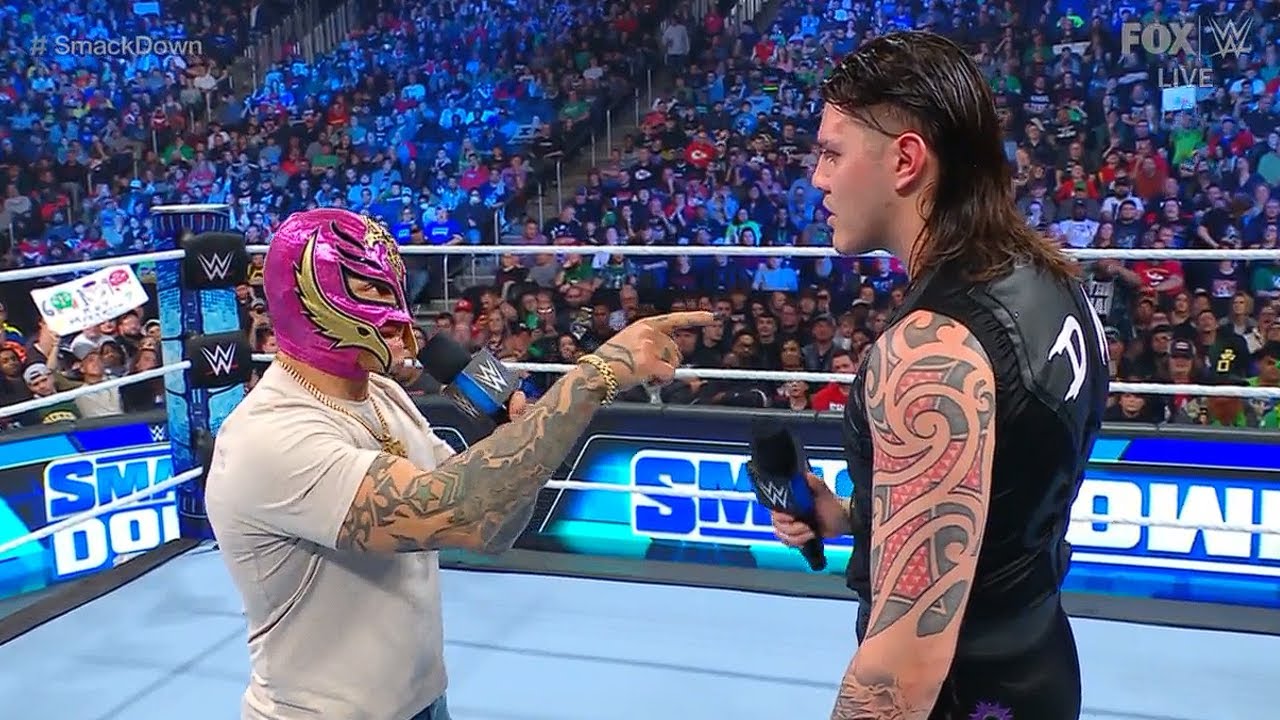 Chris King is here with what WWE should do with Dominik Mysterio at WrestleMania in his long-awaited match against his father Rey Mysterio Jr. 
On this week's episode of Friday Night SmackDown, Rey Mysterio finally snapped and beat some sense into his disrespectful punk-ass kid Dominik. The member of the Judgement Day came out to push his father again for a match on the Grandest Stage of Them All, this time with his mother and sister at ringside. The ungrateful punk told his mom to "Shut Up," as a father even I wanted to jump through the screen and whoop his ass.
Back in October of last year, Mysterio made the emotional decision to possibly quit the company but, instead, Triple H persuaded the Lucha libre superstar to move over to SmackDown to avoid his son. This came after Dominik shockingly turned on his father at Clash at the Castle. Mysterio did everything he could to refuse his despicable son's challenge for Mania but, a man can only be pushed so far. Mysterio will be inducted into the 2023 WWE Hall of Fame and I expect Dominik to embarrass his father during his speech to further this personal feud.
Yes, the WWE Universe hates Dominik and wants to see him get the ever-loving crap kicked out of him but, this feud is missing a special ingredient to capitalize on the biggest heat possible. Throughout this feud, Dominik has made mention of the legendary Eddie Guerrero on several occasions going back to the "iconic" 2005 feud.
I know WWE might not want to go this route but, Dominik MUST come out to Eddie Guerrero's theme at Mania. The disrespectful punk needs to come out in a lowrider to garner nuclear heat. It doesn't matter if The Judgement Day comes out and causes interference for Dominik to get the win, all that matters is that both superstars get the biggest payoff of this nearly year-long feud. Just imagine the Roman Reigns heat after he defeated The Undertaker and multiply that by ten. Dominik portrays the perfect heel and he truly is the missing ingredient that The Judgement Day needed to grow and evolve into a top faction.