(NOAH) WEEKLY NEWSLETTER VOL.39 ~ 16TH JUNE 2019
The second Mitsuharu Misawa Memorial show is now in the books! Titles changed hands, and Global Jr League participants were announced! Read up with all of the Pro Wrestling NOAH happenings!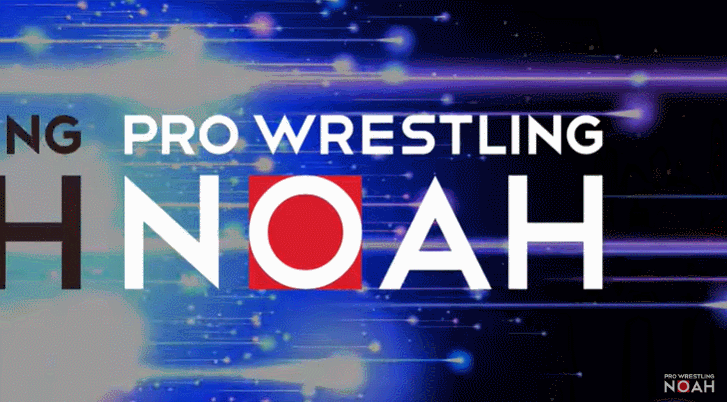 The second Mitsuharu Misawa Memorial show is now in the books! Titles changed hands, and Global Jr League participants were announced! Read up with all of the Pro Wrestling NOAH happenings!
CURRENT TOUR RECAP

NOAH held the ten year anniversary event of Mitsuharu Misawa's death in Osaka. The venue was more than just a popular choice in a metropolitan area, it was the last arena that Mitsuharu Misawa had visited on 11th June 2009 before the accident in Hiroshima on the 13th.
The usual ceremony was carried out beforehand; his spirit was welcomed to the ring as the GHC Heavyweight champion, Spartan X played and the fans threw green and white streamers which had his name on it. The roster stood around the ring, ironically, Takashi Sugiura was standing next to Kaito Kiyomiya in a fusion of the old and new NOAH.
The event was sold out, standing room only quickly filled, and one fan said that when coming back from the bathroom, they couldn't get back to their seat.
Kinya Okada (who has been missing due to an injury that NOAH have never specified) returned to his hometown to face Yoshiki Inamura. Inamura had warned Okada that while he may have the power of the local fans on his side, he should not expect to win.
Okada didn't win, but Inamura was left saying that he felt his power. Now the feud between the two of them can begin.
Akitoshi Saito was understandably the most emotional during the event. I don't think he slept well the night before, especially since he was up to see the dawn (and awake before it), but he had also caught a rainbow which he took as a good omen. After his match, he broke down hysterically as he faced Misawa's portrait.
Chris Ridgeway and Hitoshi Kumano finished their partnership, with Ridgeway thanking Kumano for teaming with him and teaching him along the way, but he was a singles wrestler and that is where he is heading now, especially since Global Junior League is coming up. During the match, he and Kenoh had a kick war, but Kenoh's focus was on Kaito Kiyomiya who he squared up with at the beginning.
As far as Kiyomiya goes, no challenger for the championship has come forward yet. As for Ridgeway, he was going to have another role to play in the evening.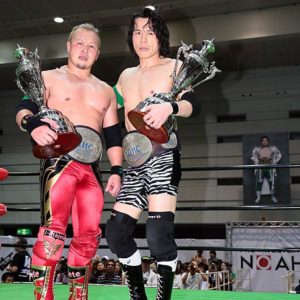 Stinger defeated HAYATA & YO-HEY and bought their dream of a third consecutive victory to a halt. After the match (in which the audience were whipped up into a fever by the close falls and the drama, plus YO-HEY using the rarely seen Bamboo Dragonfly), Yoshinari Ogawa made a short speech to the fans. He asked everyone to "never forget that there was a wrestler called Mitsuharu Misawa".
After the match (which was one by Kotaro Suzuki using Misawa's Tiger Driver 91, which Ogawa said sarcastically he had stolen, much to Kotaro's indignation), Stinger introduced their new member.
Their new member in all ways is a far better fit than YO-HEY (who no one really knew why he would want to betray RATELS, and it was never really said) both in terms of style, temperament and skill set. Their new member, is Chris Ridgeway. Fans were a little shocked at first, but they knew it is a good thing, especially as there is a lot to learn from Stinger, especially Yoshinari Ogawa.
YO-HEY later posted that he was disappointed to lose, and he found the league tiring. After having a lung injury, and coming back so soon, this is not surprising.
According to an article from Tokyo Sports, Kotaro Suzuki is still seeking a single match with Naomichi Marufuji.
Naomichi Marufuji was defeated by Shuhei Taniguchi, who made him tap to his modified camel clutch in seventeen minutes and 52 seconds. Marufuji had expected to defeat Taniguchi, but after losing via submission (which is rare, and not even Ogawa could do this), he reflected that he needed to find himself after losing to both Go Shiozaki (on the 9th June) and now Taniguchi.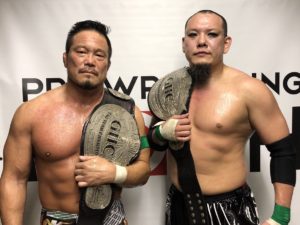 AXIZ (Katsuhiko Nakajima and Go Shiozaki) clashed with The Sugiura Army (Takashi Sugiura and KAZMA SAKAMOTO) in the main event. It was a brutal match, but ultimately The Sugiura Army prevailed when Sugiura won via TKO by using the front neck lock choke on Nakajima.
After the match, AXIZ limped into the interview area (Shiozaki supporting Nakajima), with Nakajima asking for a rematch.
Sugiura granted it, but he warned that he wasn't going to choke Nakajima this time, he was going to make him submit, or he was going to pin him.
AXIZ will get their rematch for the tag belts on the 27th June

EVENT RECAPS
Post match promos ~ Global Junior Tag League 2019, Korakuen Hall
Final night of Global Junior Tag League\Mitsuharu Misawa memorial
Post match interviews ~ Global Junior Tag League 2019, Osaka

NEWS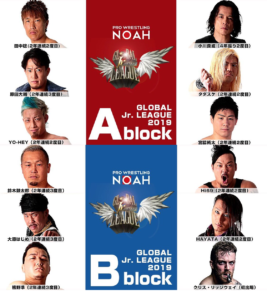 GLOBAL JUNIOR LEAGUE RETURNS
Hot off Global Junior Tag League, the juniors get about three dates of being friends (or not) with each other, before Global Junior League starts on the 27th June at Korakuen Hall. The league will run for ten dates, and finish on July 27th at Culttz Kawasaki. There will be a small "NOAH The Spirit" interim date in between.
The participants for this year have been announced as such:
BLOCK A: Minoru Tanaka, Daisuke Harada, YO-HEY, Yoshinari Ogawa, Tadasuke, Junta Miyawaki
BLOCK B:  Kotaro Suzuki, Hajime Ohara, Hitoshi Kumano, HI69, Chris Ridgeway, HAYATA
CURRENT CHAMPIONS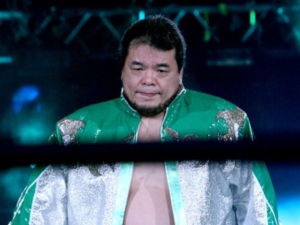 THE TESTAMENT OF MISAWA
On the 10th anniversary of Mitsuharu Misawa's passing, Line News carried out in depth interviews with Akitoshi Saito, Naomichi Marufuji, Kotaro Suzuki and Yoshinobu Kanemaru about what happened on the night of the 13th June in Hiroshima, and as a result what happened was probably the most revealing and comprehensive account.
In an interview with Tokyo Sports shortly before his death, Misawa spoke candidly to them. He knew that he was not going to reach his next birthday, he knew that his body was falling apart (he had bone spurs in the neck, and visual problems in one of his eyes), but he couldn't retire. Not just yet. He had one final task to complete (namely putting Go Shiozaki over). and then it would be done.
It seemed that Misawa had known this even before the interview with Tokyo Sports, around about 2007 or so, he had written a letter to the opponent who would face him in the ring for the last time, and handed it to a trusted source to deliver the letter when his premonition came true. The letter was given to Akitoshi Saito, who has kept it with him on tour for the past ten years, and had read it each day. The letter is not one of recriminations, but one of apology. Misawa wrote in it that he forgave his opponent, and he wanted him to carry on wrestling.
The article weaves the stories of Marufuji, Saito, Kotaro and Kanemaru together. It starts from the accident, with Kanemaru noticing that Misawa wasn't moving, Kotaro taking charge, Marufuji's mad dash to Hiroshima when he heard the news (despite a knee injury), and understandably Saito's shock. The article explores individual memories of Misawa, the fallout of his death, and then where they are ten years later.
The article is a long one, and often an emotional one, but I urge you to read it. It is not just a story of wrestling and wrestlers, it is a story of loss, strength in adversity, and the triumph of human spirit.
TOUR TIDBITS
~ 50 Funky Powers have neon blue and purple streamers
~ Naomichi Marufuji said that he wants to get "public broadcast" back (he means either a streaming service or a weekly show like NOAH once had)
~ Kenoh told "the assholes of Osaka" to go home and get a dictionary if they didn't know what "Kongoh" meant (FYI, it means "diamond")
~ Junta Miyawaki turned 22 on the 14th June.
On the way back from Osaka, Masao Inoue fell victim to Takashi Sugiura's camera, and was photographed at the urinal (there is disturbingly a whole gallery of these, and this one had Kotaro Suzuki in the background). However, Sugiura didn't stop there, and Inoue was filmed getting onto the bus (which seemed pretty empty as I guess most people had either gone home via the Shinkansen or stayed in Osaka) with an ice cream cone.
Marufuji joined in the fun by photographing Inoue, to which Sugiura told him to quit stealing his subject. Marufuji replied (and please bear in mind they were on the same bus and in close proximity to each other) that since Inoue was so interesting, maybe Sugiura would like to switch seats?
Sugiura said that he assumed Marufuji was being funny, as Inoue had never been interesting.
BROADCASTS
The 13th June Mitsuharu Misawa memorial show from Osaka, will be shown on the 22nd at 10pm on Samurai TV. This will be the final night of Global Junior Tag League 2019.
Riki Choshu's Power Hall (featuring Go Shiozaki and Yoshiki Inamura) will be broadcast live on the 26th June on Samurai at 6.30pm
The opening night of Global Junior League (Thursday 27th June 2019, Korakuen Hall) broadcast at Friday 5th July on Samurai.
LINKS
Ogawa & Kotaro gain their first victory in Junior Tag League
Sugiura chokes Nakajima to take the GHC Tag Championship
Shiozaki's answer to that ten years, to have a match that Misawa would approve of
"Iron-Man" Kobashi sends encouragement to favorite pupil, "KENTA! Use your instincts, and go wild!"
Naomichi Marufuji about KENTA'S New Japan entry, "Don't you ever be buried"
10 Years after Misawa's death, Noah's full house, and a limited resurrection of the green mat
PICTURE CREDITS: Noah GHC, LINE News, PKDK
GIFS taken from Battlemen on Samurai TV
Newsletter by Hisame
Chris's WWE 205 Live Grades & Analysis 7/16/19
At Extreme Rules, The New Drew Gulak successfully retained his Cruiserweight Championship against The Premier Athlete Tony Nese. Who will be his next victim and challenger for his title?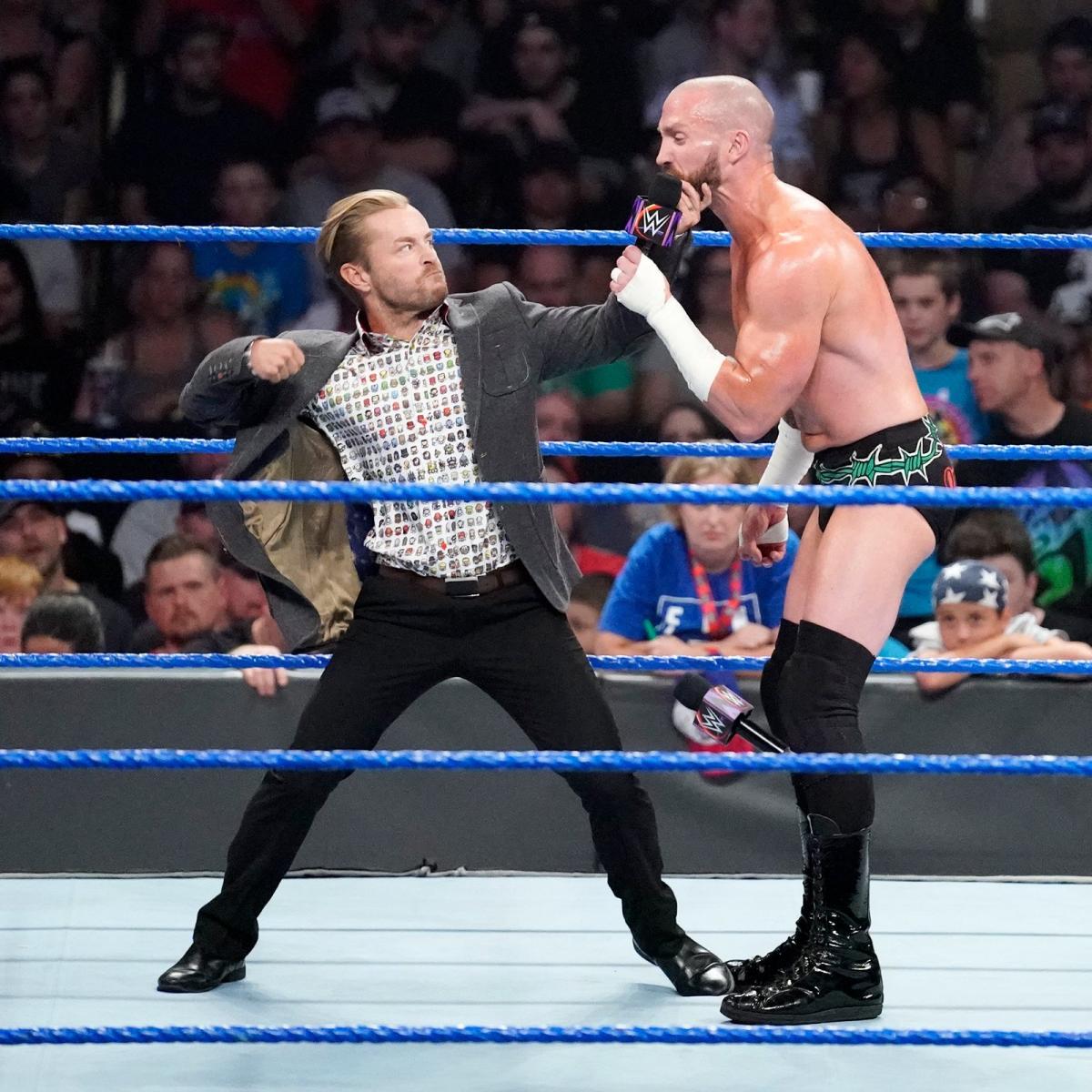 At Extreme Rules, The New Drew Gulak successfully retained his Cruiserweight Championship against The Premier Athlete Tony Nese. Who will be his next victim and challenger for his title? 
Chris's Grades For 205 Live:
Akira Tozawa vs. Samir Singh
Winner: Akira Tozawa–C
Mike Kanellis vs. Jackson James Winner: Mike Kanellis–B
Chad Gable vs. Jack Gallagher II Winner: Chad Gable–A+
Analysis: 
The show opens with a bone-chilling promo from the ruthless Drew Gulak in a dark room. He claims Tony Nese may be The Premier Athlete, but he lacked the killer instinct to take his championship. Nese could never lead 205 Live, it ends with a stern warning to all the roster. "Now that everyone knows what pain and punishment await them", who will step up next?
We go live as Vic Joseph, Nigel McGuinness and Aiden English welcome us to Westchester, MA. Akira Tozawa flanked by The Brian Kendrick make their entrances. Tozawa will be in one-on-one action against…Samir Singh.
The Bollywood Bozo's make their entrance dancing per usual. The bell rings and Samir goes right on the attack with kicks and punches. Tozawa now delivers a hard chop, followed by a fakeout straight right! Samir turns things around as he shoves Tozawa into the turnbuckle, followed by a hard Irish Whip into the corner… first count of the match. Headlock is applied now to keep him grounded…Tozawa hits another monstrous fireman's carry over the shoulders!
Samir rolls outside and Tozawa blast him with his Flying Senton in the barricade. Tozawa up top, Sunil looks to interfere and Kendrick prevents it. Samir runs head-first into the turnbuckle, Tozawa with the surprise roll-up 1-2-3. Kendrick climbs on the apron and gets dropped face-first by Sunil. Now a post-match attack from The Bollywood Boyz to Tozawa. Before Sunil get blast Tozawa with the Boscar award, Kendrick makes the save, and the babyfaces stand tall with Tozawa holding up the award!
Last week it was Tozawa coming to Kendrick's aid, this time the roles were reversed. This all leading to a tag team match I'm pretty sure next week! Decent match with Tozawa able to show-off his exhilarating high-octane offense and Samir with aggressive heel tactics.
Tonight we get another stellar video package of Humberto Carrillo, where he gives an in-depth look into achieving his childhood dreams by making it to the WWE. When he first arrived since goals were to carry on his Lucha libre wrestling style. The video referenced two of the all-time great Latino superstars, the late Eddie Guerrero and Rey Mysterio. He owes it all to where he comes from and his nature. Carillo has been here a year and now the only thing on his mind is the WWE Cruiserweight Championship.
WWE needs to utilize these on Raw and SmackDown Live. Instead of not giving talent tv time, they could use this time to reintroduce them to the WWE Universe so when they return they have a reason to care… commercial.
We're back live as poor Mike Kanellis is making his entrance void of his wife Maria Kanellis, who's watching on backstage. Jackson James is already in the ring. The bell rings and James gets blasted with a devasting big boot, hard knife edge chops in the corner. Mike is unloading all his frustrations on this young man. He hits a massive Spinebuster!
Maria gives a smirk…James's chest is red now as he gets a breather in the corner. Mike with a running clothesline…James collapses to the mat. Mike's not through, back-to-back Ferocious Lariats… Power of Love 1-2-3! Mike tosses James out of the ring like a sack of laundry.
An angry Mike grabs the mic and proclaims "Did you think that is what I was going to get fined over?!" That wasn't it at all! He summons the GM Drake Maverick to the ring. Maverick wastes no time telling him they could have settled this in his office. He needs to share this with the WWE Universe. He said "Two months his contract expired and he could've gone anywhere and you know it, Drake! But I chose to stay here in WWE for two reasons: to prove to his wife that he's as good as he says he is by becoming WWE Cruiserweight Champion and to KICK YOUR ASS!"
Maverick then apologizes for his foul mood and told him to look in the mirror, he's not where he wants to be because of himself. He asks Mike if he feels he's more deserving of the 205 Live roster who's been busting their ass since it's inception in 2016? Maverick brings up Mike's humiliating loss to Zack Ryder from Raw.
Mike throws a jab at Maverick's lackluster sex life with his wife. He continues to push his buttons until Maverick snaps! Mike should know not to call anyone's wife's names or he's going to get his ass kicked, and that's exactly what happened! Mike suckered him, hook, line and sinker, Maverick looks both pissed and disappointed in himself for fighting as the GM, Mike is smiling on the ramp… commercial.
We return and the commentary team is hyping Next Week's Monday Night Raw with a star-studded list of Hall of Famers and legends return in Tampa, FL. Now we get a recap of last week's brutal main event last week, where Ariya Daivari and Oney Lorcan obliterated each other in the first-ever Anything Goes Match!
Hell Yeah, it's main event time and ladies and gentlemen what a main event we have! Jack Gallagher is out first, we get a recap of  Jack Gallagher/Chad Gable last month that ended in a countout. Chad Gable makes his entrance with the good ole American Alpha music, man good memories. If you don't what I'm talking about, Gable and Jason Jordan were a terrific tag team down in NXT go check it out!
The bell rings and a handshake from both competitors, tie-up, Gable drop toe hold and cartwheels over Gallagher to bring him back up. Gallagher utilizes an armlock…counter, Gable with a snapmare into a headlock. Gallagher back up now… armlock again, then it's reversed, cartwheels out. Gallagher matrixes his way out of a headlock, fireman's carry to the mat. Gallagher headscissors to a stand-off. Gallagher now uses the same offense on his opponent, Gable counters into a slam position… arm-drag by Gallagher! A stalemate as the WWE Universe cheers!
Gable takedown into a headlock, Gallagher off the ropes… Shoulder tackle, he sends Gable crashing into the ropes and flips over to stack Gable up for the first two-count of the match. Gallagher back to the arm, both men back up…off the ropes, Gable with a stunning arm-drag, followed by a schoolboy pin for a two. Gable hits another arm-drag and back to isolating the arm. Gallagher flips him over his back and locks in a leg submission. Back-to-back pinfall attempts to break the hold… nope. Gable deadlifts Gallagher over his shoulders and drops him with one arm, what a way to break the hold!
Gable with stiff uppercuts and strikes that rocks Gallagher. Gable's focus has turned to the ankle so he can eventually lock in the Ankle Lock. Gable with a hard Irish Whip to Gallagher, a second time…nope, up and over…off the ropes, Gable with a massive Overhead Belly-to-belly, two! Gable is methodically injuring the knee now, hits a deep dragon screw.
Gable like a shark smelling blood is relentless on the attack of the ankle. Now with more torque and Gallagher is writhing in pain. Back up now…Gable with more uppercuts goes to the well too many times and Gallagher gets the backslide pin, two!. Gallagher hits a stellar dropkick and is finally showing signs of life. Gallagher is throwing bombs now, he delivers a magnificent hanging Suplex, two! Gallagher runs, Gable sidesteps…German lock into a roll-up, and a Suplex…nope Gallagher reverses into an armlock, and then the Kimura. Gable counters into a pin, two!
Gallagher up top and hits a missile dropkick, Gable runs toward the ropes and Gallagher pulls the rope down. Gallagher runs to hit a flying maneuver, Gable back on the apron gets knocked back down…One more attempt by Gallagher baseball slides under the ropes. Gable gets driven into the barricade. Here's the nasty side of Gallagher. Third time's a charm with the suicide dive attempt…nope Gable catches him and lands a Devastating Release German Suplex on the hard floor!
The official is on the eight-count and Gable doesn't want a repeat of their last encounter. So he brings him back, Gallagher with a surprise cradle roll-up for a long-two! Gallagher wants a half Nelson slam…nope Gallagher right back into the double-arm lock, Gable reverses into a tiger driver for a two! He transitions into the Ankle Lock as Gallagher gets close to the ropes…nope now Gable locks it in while on the mat!
Gallagher is writhing in pain but cleverly reverses with hard right hands. Gable throat chops him, off the ropes with a rolling flip kick… Gallagher off the momentum drills him with the Extraordinary Headbutt, and drapes his arm for a two! Both competitors slap back and forth to their feet, followed by stiff right hands. Gallagher is blasting Gable in the corner… Gallagher runs the corner and misses a dropkick, Gable catches him and delivers a Canadian Rack for a two and he is stunned! Gable up top moonsault…nope, knees. Gallagher a dropkick in the corner 1-2…feet on the rope!
Gallagher positions Gable on the turnbuckle for a massive back body drop…floats over crossbody, Gable running on fumes with the O'Conner roll into a Ferocious German Suplex Pin 1-2-3! Gable offers his hand in good sportsmanship and Gallagher looks like he wants more, but Gable pounds his chest to show respect!
Wow…Just Wow, what a freaking match! Gallagher always impresses me, he needs to be in the running for a title shot in the near future. Since arriving on the main roster, I never felt Gable never truly reached his full potential until now. Gable has had only two matches on 205 Live, but he's already proven that this is the platform for him. Two back-to-back physical encounters with one of the toughest competitors on the brand and Gable is headed for great things in the future!
Saint Louis Anarchy Circus Maximus Preview
July 19th is fast approaching which means that Saint Louis Anarchy's Circus Maximus is just days away. Circus Maximus is the biggest show of the year for the promotion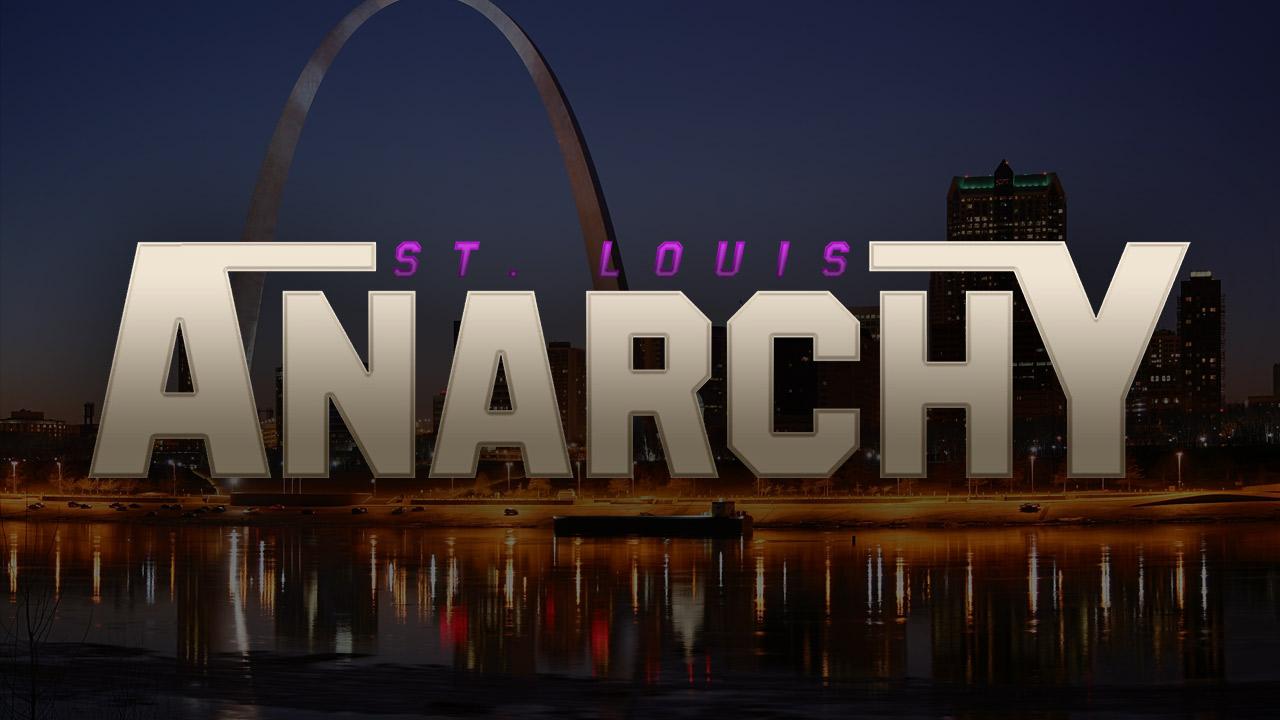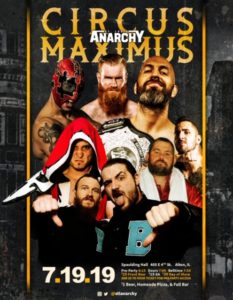 July 19th is fast approaching which means that Saint Louis Anarchy's Circus Maximus is just days away. Circus Maximus is the biggest show of the year for the promotion. Last years Circus Maximus was the return of Anarchy and it blew every expectation out of the water so this year a lot of hype around it and has a lot of lead up to it.
Every Anarchy show has a pre-party and if you're going to an event its best not to miss these. Every pre-party is unique and memorable. We've had beer pong, a rap battle, a magic show, and even a bear paternity test (which was a lot cooler than it sounds). Circus Maximus's preparty event sees Everett Connors reading fortunes and a scramble that includes the likes of Slade Porter, Sage Phillips, Brad Mercury, Sean Orleans, Briar Mercury, and Victor Analog. You don't want to miss this as the antics of the pre-party usually are what set the tone for the entire show.
Everett Connors was set to face Chuck Mambo who unfortunately had to pull out of the show but, make no mistake, whatever match Connors ends up with will be memorable. Connors has spent the last year being one the most charismatic members of the Anarchy roster and leaves every show looking more like the star he is. Plus, who knows what antics he and Raul will get up to.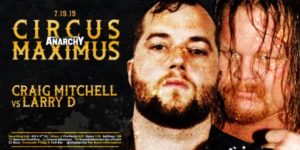 Chicago standout Craig Mitchell is set to face the veteran Larry D in what should be a violent fight. Mitchell has spent the last year carving out his name within the wrestling scene and has been at Anarchy since the beginning of 2019 where he has been able to show everyone that not only can he wrestle but he can fight. Larry D is easily one of the most respected men within Anarchy and indie wrestling overall. Watch any of his matches and you'll see they are not for the weak of heart. This should be interesting because if there's anyone who can step up to Larry it is Mitchell.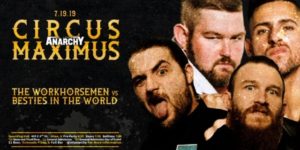 In what is being billed as a tag team dream match, we see the Besties in the World take on the debuting Workhorsemen (Anthony Henry and James Drake). If you haven't seen The Workhorsemen then you are in for a treat. I've been lucky enough to see them many times and they are always improving their teamwork. This match is should prove to be fun and hard hitting as Henry & Drake are not of the joking kind.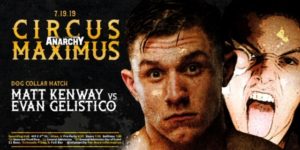 Matt Kenway has been on a tear of the Saint Louis Scene since late 2017. He's proven time and time again that when given the opportunity he will knock it out of the park. Evan Gelistico made a surprise return in May to avenge Buddy Shepherd and to finally take down Kenway who has been antagonizing him since last July. These two men are set to meet in a dog collar match. Expect this to be violent as neither man is looking to back down from proving they are the one to end the other.
Circus Maximus is a diverse show as we are not only getting tag team action, but we are also getting trios action. The most hated men within Anarchy, Jake Dirden, Christian Rose, and Thomas Shire (who I am not sure is still hated but we'll see) are set to meet The Gym Nasty Boys and Gnarls Garvin. Garvin is replacing Mikey who is out with a knee injury. Make no mistake, this match will be an all-out war as Shire, Dirden, and Rose attempt to continue the hot streak their team has been on since last July when they formed their alliance and to prove that they are in fact the most dominant men within Anarchy.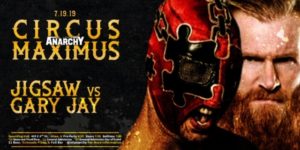 Gary Jay is one of "the" men of Anarchy (we've been over this) and at Circus Maximus he takes on the debuting Jigsaw. Jigsaw is one of the best wrestlers anywhere in the world and his debut being against Gary shows how highly thought of he is. I don't know what to expect out of this but if it's anything like the rest of Gary's matches this year, be prepared to spend the next few months talking about it.
Kody Lane has been quietly making a name for himself within Anarchy and the Midwest wrestling scene overall. Jaden Newman is the uncrowned king of Chattanooga and southern wrestling as a whole. This match will be two young up and comers trying to prove just how far they've come and trying to get the Anarchy faithful invested in them.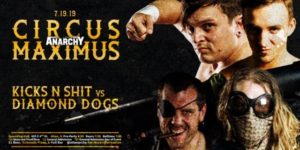 Kicks n Shit (Chip Day and Logan James) look to make an example out of Diamond Dogs (Luke Langley and Graham Bell). Kicks n Shit have been jiving and gelling but not winning and that can't be. Diamond Dogs on the other hand won their last match at Anarchy (it was the dark match with Billie Starkz in May). Expect both teams to show out as they want to be at the top of the tag team division of Anarchy.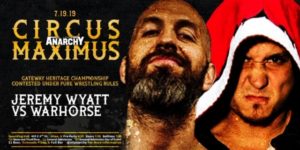 Finally, the main event sees Warhorse Jake Parnell take on the Monarch Jeremy Wyatt for the Gateway Heritage Championship. Parnell and Wyatt each have a win over each other, so this match is anyone's for the taking. Wyatt is coming into this as confident as ever while Parnell is as a determined as ever. You won't want to miss it.
Watch it live in person at Spaulding Hall in Alton Il or on IWTV. Either way, this show will be memorable and in year when its Circus Maximus 2020 will have a new bar set as this is the year show of the year.