(NOAH) WEEKLY NEWSLETTER VOL.40 ~ 23RD JUNE 2019
NOAH is in a tiny transition between tournaments this week. Hisame brings us the updates in preparation for the Global Junior Tag League!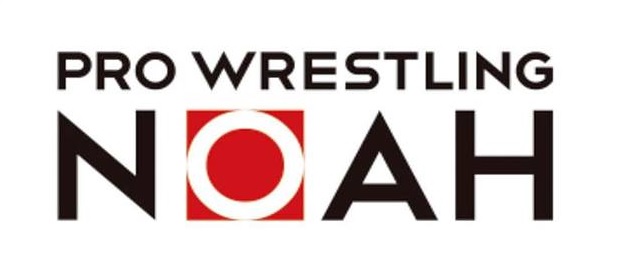 NOAH is in a tiny transition between tournaments this week. Hisame brings us the updates in preparation for the Global Junior Tag League!
In between "Global Junior Tag League" ending on the 13th June, and "Global Junior Tag League" starting on the 27th June, NOAH held a small interim tour of only three days. In the past these tours would have names like "Navigation with Spirits", "Navigation to The Future" (or my personal favorite "Navigation on Stormy Seas"), but sadly LIDET have done away with these, and now all the interim tours are simply "NOAH The Spirit".
It should be mentioned that all the tours have had excellent attendances with full houses each night, and this has given a tremendous morale boost to NOAH.
Yoshiki Inamura and his "rival" Kinya Okada faced off on the first night in Aizu, with the more experienced Inamura picking up the win. The rest of the tour was Inamura teaming with Kongoh, and Okada having matches with seniors like Daisuke Harada & Masao Inoue.
Junta Miyawaki faced his seniors (and lost to them) starting with Hi69 in Aizu on the 19th, Naomichi Marufuji on the 22nd and Atsushi Kotoge on the 23rd. Kotoge's unanimated lack of expression and unusual calm demeanor is starting to scare people…
Miyawaki showed his first element of defiance, by refusing to shake hands with Marufuji. It's rare for Miyawaki to act in this way towards his seniors (I can't imagine this happening to Misawa had he asked Marufuji for one at that age and at that point in his career, then again 2001 was a very different world).
Hitoshi Kumano had his first singles match ever with Takashi Sugiura on the 22nd June in Nagano, and said that he was so happy about facing his hero, he couldn't sleep. Nothing was going to mute this excitement, even the fact that he lost to him.
RATELS entered into their usual squabble about Global Junior League (this happens every year, with Tadasuke threatening to poison everyone last year, but this year he yelled out to whoever was listening, that he would win), with Daisuke Harada saying he was going to win in the backstage interview. 
Naturally, this did go down well with the others, with Tadasuke walking off over it, and then coming back to point and yell at Harada that it was HIS victory that would happen.
On the 22nd June, YO-HEY lost to Yoshinari Ogawa, and Tadasuke became irate and started yelling. Harada got into the ring to try and calm the situation, but this only made Tadasuke angrier and he left (still shouting), although he later apologized and said he was disappointed.
RATELS seemed to have patched up their differences by the 23rd, but again no one wanted to trust each other, and in their post match interview, when they went to do their handshake they all jumped back into a defensive pose with their fists raised. Even HAYATA (who is in Block B), and was smirking at the others arguing with each other, joined in.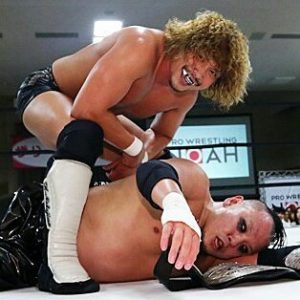 Kaito Kiyomiya, Shuhei Taniguchi (and various other partners) faced Kongoh each night. The record stands with Kiyomiya having two victories over the group in three nights, the third was when Kenoh pinned Hi69 following the foostomp.
On the final night of tour, Kaito Kiyomiya spoke on the microphone, and hinted that he and Taniguchi may team up together to take the tag belts. One of his dreams was to hold both championships.
AXIZ and The Sugiura Army also had their last three pre-matches (although Sugiura took time out to take on Hitoshi Kumano), with a elbow brawl breaking out between Shiozaki and Sugiura on the last night. Katsuhiko Nakajima seemed to have quickly shed his politeness in asking for a title match, and was photographed in the usual grinning poses over a fallen opponent.
EVENT RECAPS
Aizu (19th June 2019)
Post match interviews
Nagano (22nd June 2019)
Post match interviews
NEWS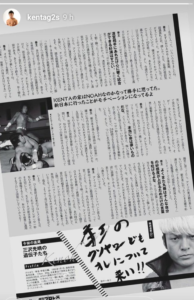 "COME AT ME YOU BASTARDS": Kenoh's column (June 2019)
Kenoh's tri-weekly column was back to talk about the Misawa Memorial show, his rants against others, his shock at Atsushi Aoki's death, and KENTA'S return to Japanese wrestling (albeit New Japan), or as he put it "that man has returned".
Kenoh (who says he respects KENTA, despite his rant) says that he will make NOAH a place that KENTA will want to come home to, as well as making him regret that he ever chose New Japan over "his home". Naturally, Kenoh wouldn't be able to keep his ire at Marufuji supporting KENTA out of it, and said that Marufuji's message of support to him was Marufuji saying "anything to be popular".
Both Marufuji and KENTA responded to Kenoh in different ways.
In usual talkative style, Marufuji posted a picture of Kenoh's article with graphics over it, with a message that didn't really translate too well but basically saying there was nothing wrong with being supportive, and hinting at a secret (and for good measure he called him "Kenoh-kun", which he knows will wind him up)
KENTA, in usual quiet style, made no comment, and simply posted a picture of the column to his Instagram story.
CURRENT CHAMPIONS
TOUR TIDBITS
~ Go Shiozaki got stuck in his jacket
~ YO-HEY wouldn't let HAYATA leave during the post match interview in Aizu
~ Hitoshi Kumano said he is aiming to have a body that does not lose to the heavyweights, but would cause havoc amongst the juniors
~ Takashi Sugiura photographed Masao Inoue at the urinal (again)
~ Yoshinari Ogawa held a training session for the roster at Takaoka, Toyama before the event started. He taught Kaito Kiyomiya and the new trainee.
~ IPW have mentioned that Daisuke Harada will be defending the IPW Junior Heavyweight title, but have said that NOAH will make the announcement.
~ Naomichi Marufuji's search for a tag partner continues.
~ In Aizu, AXIS wore t-shirts with "AIZU" on them.
~ Hitoshi Kumano can be considered the unofficial third member of AXIZ.
BROADCASTS
Riki Choshu's Power Hall (featuring Go Shiozaki and Yoshiki Inamura) will be broadcast live on the 26th June on Samurai at 6.30pm
The opening night of Global Junior League (Thursday 27th June 2019, Korakuen Hall) broadcast at Friday 5th July on Samurai.
LINKS
"The long days of summer are just around the corner: the stories behind the famous photograph of June 2000"
Global Junior League: Mini interview with YO-HEY
Global Junior League: Mini interview with Minoru Tanaka
The Mitsuharu Misawa Memorial Ten Year Event, and "The Future of Noah", presented by 22 year old Kaito Kiyomiya
"It's been ten years since Mitsuharu Misawa died" ~ Keiji Mutoh's memories
PICTURE CREDITS: Noah GHC, KENTA, PKDX
GIF CREDIT: Noah GHC
Newsletter by Hisame