NXT Minus 6: Free Kona Reeves!
What six things stood out to Bradley Jay?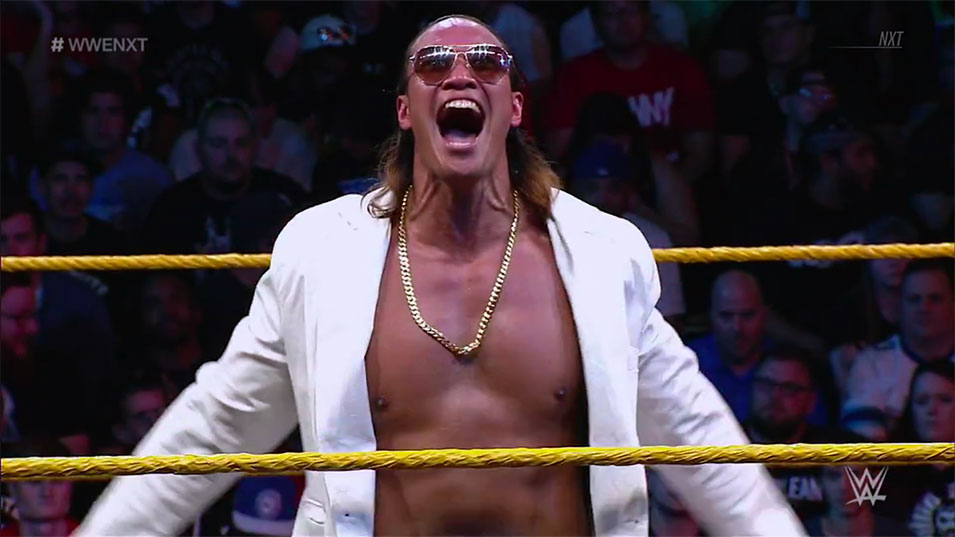 Bradley Jay checks in with his NXT Minus 6, focused on this week's edition of WWE NXT!
This week: Vibranium, Wade Barrett, Rhyno and a whole lot of your new favorite heel. It's NXT!
6. I feel bad that Kona Reeves lost his match. That's right. I said it. If voting was today, he would be the 2019 NXT Most Improved Wrestler. He knows his role. He knows his character. He's turning into a fantastic heel. Feed him a jobber. Let Kona win. Free Kona Reeves!
5. Every time I see the Takeover clip of Montez Ford springboard from the top rope onto the ladder, I lose my mind. He is what happens when your mom is a puma and your dad is a bungee cord. We need to check his DNA for Vibranium. And if you roll that clip back a few seconds, you'll see Angelo Dawkins deliver a nuclear spear, maybe the best since Rhino. Our military could use him to shoot down enemy aircraft.
---
Time to pick up a new Chairshot shirt!

Get yours at:
https://www.prowrestlingtees.com/related/thechairshot.html
---
4. As if you need another reason to love The Street Profits, what's the first thing they do after their Takeover title victory? They celebrate with the cameraman, who apparently has been in NXT as long as Dawkins. They really do bring the swag like nobody can.
3. Is Mia Yim a street smart Blasian Baddie? Is she a plucky underdog? I don't think she knows and I'm starting not to care. There's not a planet in this or any other solar system where she's better than Bianca Belair. She's average. Her bandwagon has left the station & I'm not on it.
2. Keith Lee is on the edge of becoming NXT's Wade Barrett. His first major feud was derailed when Donovan Dijak got hurt, but how hard is it to find something else for the premier big man in wrestling today? His match with Kona was excellent, 3 stars and 1 Ridiculous for the leapfrog. And let Kona win. Free Kona Reeves!
1. Drew Gulak steps into the running for burn of the year. KUSHIDA is a "Back to the Future cosplayer." I didn't know that was a thing, but I love it. I'm looking forward to the Philadelphia Stretcher giving Special K his first loss in NXT next week. And let Kona win. Free Kona Reeves!
That's right, I said it. Free Kona Reeves!