Sarpraicone: Atsushi Aoki's Top 5 Matches
Puroresu, and wrestling in general lost a great wrestler earlier this week. Mathew Sarpraicone gives us some highlight matches of his career. RIP Atsushi Aoki.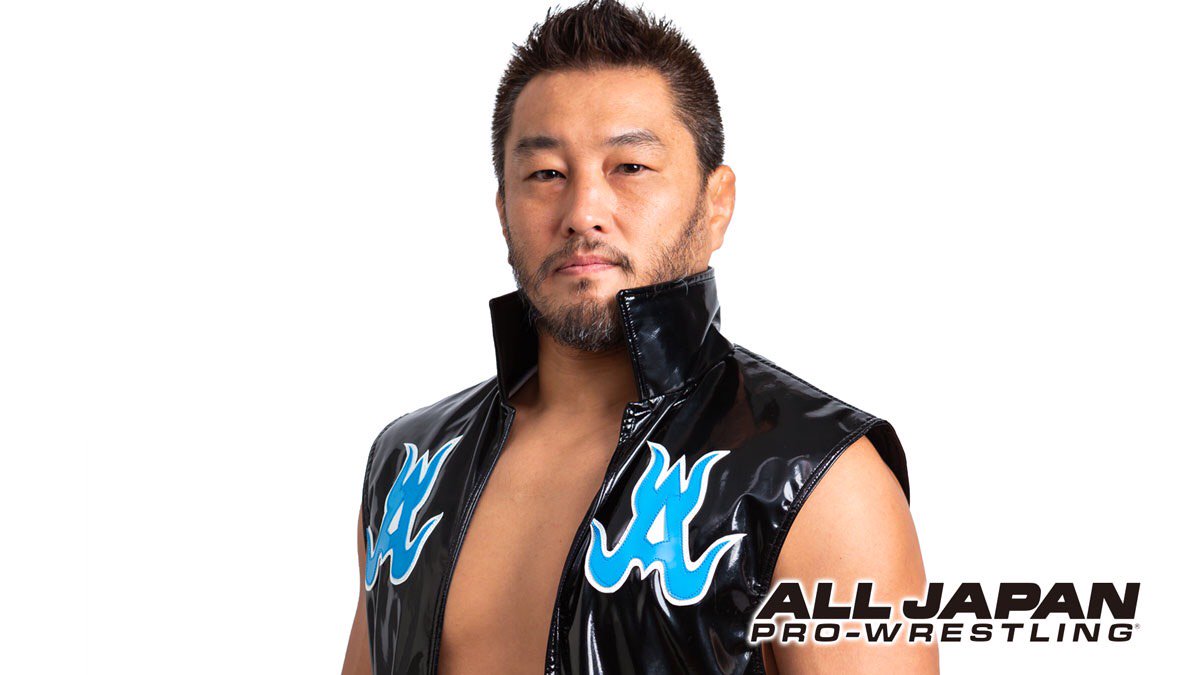 Puroresu, and wrestling in general lost a great wrestler earlier this week. Mathew Sarpraicone gives us some highlight matches of his career. RIP Atsushi Aoki.
I originally had something else in mind but due to what happened earlier in the week, I thought it would be appropriate to talk about him.
On June 3rd, AJPW wrestler and now former World Junior Heavyweight Champion, Atsushi Aoki has passed away due to a motorcycle accident, he was only 41-years-old.
It's a real tragedy to hear about someone you've been currently following pass away, especially when he just wrestled the night before and recently won the title a couple of weeks ago on top of that.
So I would like to talk about my top five matches in his career as he's had a memorable thirteen years in the business and I'm not gonna waste any more time and just get right into it.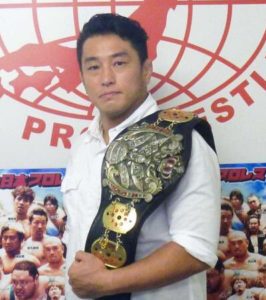 5. Atsushi Aoki vs. Koji Iwamoto (AJPW Super Power Series 2019 5/20/2019)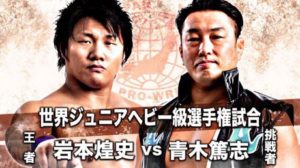 His last singles match before his tragic death as he fought the current AJPW World Junior Heavyweight Champion, Koji Iwamoto for the championship and the two would just have a clinic of a match. Aoki was coming in hot from his matches at the Champion Carnival and was fighting someone who would be considered a future ace of that division while Aoki still held onto that title. They had another great match last year but I thought this was the one that was the better of the two. Aoki would defeat Koji to win his fourth World Junior Heavyweight Championship and now it would also be considered his last one as well. Aoki really has shown in 2019 how much of a reliable guy he is and how good he was in the ring for someone at his age. Solid fifteen-minute match and a proper conclusion for it at the same time to top off his last big match.
4. Atsushi Aoki & KENTA vs. Roderick Strong & Eddie Edwards (NOAH Autumn Navigation 2010 10/30/2010)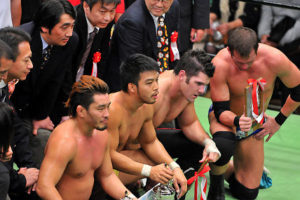 This was the finals of the Nippon TV Cup Junior Heavyweight Tag League as Atsushi Aoki teamed up with the legendary KENTA to take on two familiar people, Eddie Edwards, and Roderick Strong. This was when we started to see Aoki shine like a star in the junior heavyweight division in his professional career and teaming up with one of the best NOAH had to offer along with a younger Roderick and Eddie just made a great junior tag match. A lot of stiff shots, athletic ability, the last few minutes where they would really bring it home. When Aoki and KENTA won the tournament at the end of it all, I believe this was when more people were starting to buy into Aoki after being in the business in five years. This match would show that he's got a bright future ahead of him and years later, he definitely did.
3. Atsushi Aoki & Kotaro Suzuki vs. Naomichi Marufuji & Taiji Ishimori (NOAH The Navigation in June 2012 6/13/2012)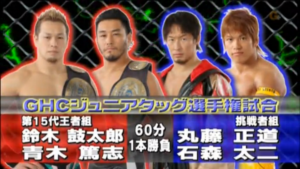 This one was another classic junior tag match for NOAH as this was during their 3rd annual Mitsuharu Misawa Memorial Show and had the GHC Junior Tag Team Championships on the line with Aoki and Kotaro defending again current NJPW star, Taiji Ishimori and one of the all-time greats in Japan. Naomichi Marufuji. Thirty minutes of great wrestling and seeing Marufuji and Kotaro having an amazing sequence at the beginning of the match, you knew what you were going to be in for. Taiji was the star of this match-up and most of them were as well as all four of them did a great job entertaining the crowd in what was considered a mediocre show. Aoki and Suzuki were able to retain the titles to prove why they were the best junior tag team NOAH had to offer and it was the right call in the grand scheme of things. Very enjoyable match and definitely worth the half hour of your time.
2. Atsushi Aoki vs. Ultimo Dragon (AJPW Super Power Series 2014 5/29/2014)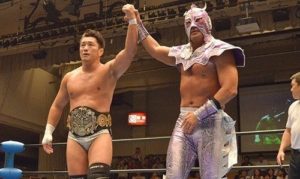 This was a big moment for Atsushi as this would be the beginning of his rise as a singles competitor in All Japan Pro Wrestling. Out of a mediocre show, this was one of the silver linings of it all as he would fight the AJPW World Junior Heavyweight Champion and one of the greatest of all time, Ultimo Dragon as the two would fight for the championship. I like this one mostly for the fact that this was his step as a future junior ace and to do that, he would have to take the belt away from the legend. It might not be the greatest match of all time for some people but I enjoyed it for what it would lead to in the long run. Aoki would defeat Ultimo to win his first singles title in his wrestling career and he would hold the title for 302 days with five successful title defenses as this was the first step of being their ace of the junior heavyweight division. Solid match and a great story that leads to more for the winner of the match and I'm sure it's something that he'll never forget.
Before I get to the number one match, here are the honorable mentions that I really enjoyed but didn't make the cut for the final five.
 Atsushi Aoki vs. Seiki Yoshioka (AJPW Excite Series 2019 2/7/2019)
 Atsushi Aoki vs. KENTA (NOAH 10th Anniversary New Navigation 2010 8/22/2010)
 Atsushi Aoki vs. Kento Miyahara (AJPW Champion Carnival 4/4/2019)
 Atsushi Aoki & Kota Ibushi vs. KENTA & Taiji Ishimori (NOAH Summer Navigation 2009 (7/12/2009)
 Atsushi Aoki & Hikaru Sato vs. Isami Kodaka & Yuko Miyamoto (AJPW Giant Series 2015 10/23/2015)
1. Atsushi Aoki & Jun Akiyama vs. Daisuke Harada & Takashi Sugiura (NOAH Naomichi Marufuji 20th Anniversary Show, Flight 9/1/2018)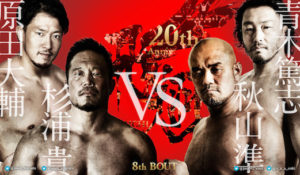 What else can I really say about this one except for the story, great wrestling, and just the history behind this match was enough to make me wanna fall in love with it. On January 26th, 2013, both Jun and Aoki would leave Pro Wrestling NOAH as they would jump ship to join All Japan Pro Wrestling, leaving Daisuke and Takashi to stay in NOAH as they would try to help revive their promotion. Both Aoki and Daisuke were able to become the aces of their respective junior divisions while Jun and Takashi were able to help carry their companies into newer heights and away from their dark ages, but there was still a lot of bad blood that needed to be let out and how would you do that? Beat the ever loving crap out of each other. All four of these men did not hold back on each other and that was the way it should be to help sell the emotion of the match and pretty much what exactly they bottled up just for this moment over the past five years. Best part about it was that there was no winner as it ended in a time limit draw of thirty-minutes and it was the right call to do since it didn't really need a clear winner, but more of they needed it to express their feelings in that ring and that's one of the great things about professional wrestling since you just express those emotions to create art in a match like this. My favorite match involving him and just so much was told in the time frame that they used as it was all worth it. Part of me wished that Jun and Aoki has one short run in NOAH to fight Takashi and Daisuke in singles action, but I'm content with what we got at the end of the day.
I hope you all enjoyed this little countdown as I'm sure there were better matches on here that he has had in his career, but these were ones that I personally enjoyed. If you're not familiar with him and wanna watch some of his stuff, then you're in luck as someone on Twitter has made a google drive with just matches involving Aoki and I'll even post a link so you all could watch other stuff that involved Zack Sabre Jr, Shuji Kondo, Bryan Danielson. Jun Akiyama, and just a few others but these are some to look out for. You can find more of his current stuff on AJPW TV if you subscribe to their streaming service and it's well worth your time and money. Atsushi has had a wonderful career for the past thirteen years and while his time with us has been taken away so soon, he has left us with his art in that squared circle. Thank you, Atsushi Aoki, and may you rest in peace.
Thanks to @KENTAsleep for putting together this Google Drive Collection:
Here are 35 Atsushi Aoki matches all with links.

Please feel free to reply with any match links and I'll add them, and sign up to #ajpwtv to view his more recent work.https://t.co/oJmpX856ud#noah_ghc #ajpw pic.twitter.com/9ydRyMhbBi

— Patrick (@KENTAsleep) June 4, 2019