Steve Cook's Top 5: STOMPS!
Given the current Universal Champion, and the name of the most recent PPV, stomps make sense. Steve Cook thinks so too! Check out his Top 5!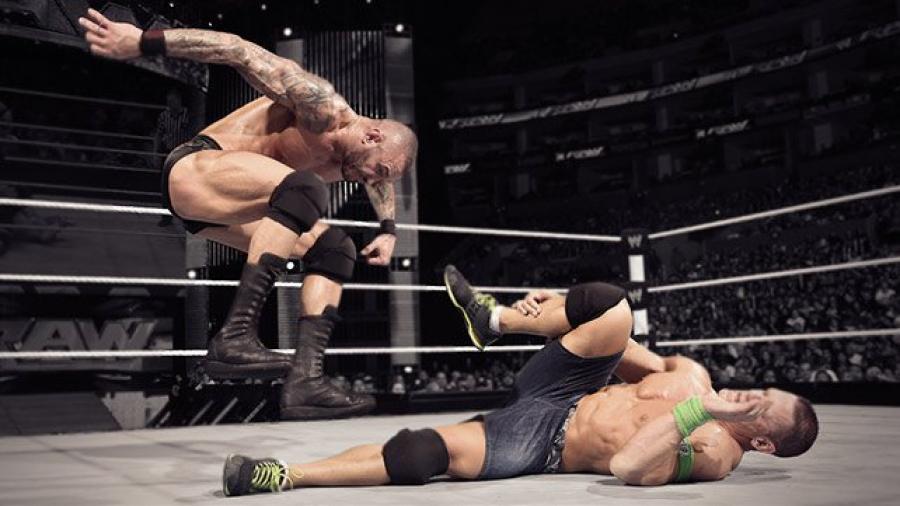 Given the current Universal Champion, and the name of the most recent PPV, stomps make sense. Steve Cook thinks so too! Check out his Top 5!
I've been sitting here all week thinking of things to write about relating to WWE Stomping Grounds.
The other Chairshot writers have taken every take possible on Shane McMahon, and he's not even on the show. Most of the matches are lame rematches from Saudi Arabia, and I get yelled at every time I talk about that area of the world. The show is in Tacoma, Washington, and the only interesting wrestler from that state is Daniel Bryan so it's not like we can make a top 5 out of that.
OK, there might be two. Jack Evans has been billed from Parkland, Washington. But a Top 2 column would be even lamer than the column I've cooked up for today.
It's Stomping Grounds Sunday, so we're talking about stomps! Yeah buddy! Top 5 Stomps for ya!
5. Shawn Michaels Tuning Up The Band
HBK was known for his finishing superkick known as Sweet Chin Music. Sometimes he'd just blast somebody with it, but often he would set up the move by repeatedly stomping the mat. If you go to 18:30 & 27:00 of that classic match up there you'll see it. The fans would get all excited since they knew what was coming. It seemed to me like Michaels was telegraphing the move, and sometimes people would manage to avoid it after the band was tuned up. But as far as fan excitement while a finisher was set up goes, few finishing moves can compare to Sweet Chin Music.
4. Seth Rollins' Stomp
The current Universal Champion is known for stomping his opponents into oblivion, so you knew he would have a place on this list.
Back on the indies, he would do some crazy stomps in the corner before hitting the Buckle Bomb, which I'm pretty sure was banned after he killed Sting with it. Not the best of ideas hitting a Social Security recepient with it.
3. Super Dragon's Curb Stomp
I'm guessing that Super Dragon's work hasn't aged well. I haven't watched any of his matches in a very, very long time. But back in the mid-2000s, he was a guy that got a lot of hype, and for good reason since he curb stomped fools.
Yes, he wore a mask & pajamas. But he was still a fearsome man. Just ask any fans that tried to get frisky with him.
2. The Garvin/Orton Stomp
How can you not love a man that tries to stomp every single joint on a person's body? Well, after watching most of Randy Orton's career, I can kind of understand. But back when Ronnie Garvin did it, it was pretty awesome.
I'm pretty sure Bristol falls in the old Southeastern territory region, so that's a perfect choice of song.
Honorable Mention: Rhea Ripley's Entrance Stomp
I wish I had a better YouTube video available of this, or a GIF or something. If NXT UK gets more popular we can make it happen. Just take my word for it that it's a pretty badass entrance stomp on television. I'm still very high on the 22 year old Australian and buying all of her stock. I'm not as high on the guy that tried to take his shot here and got nothing in return.
1. The Mongolian Stomper's Stomps
When somebody is nicknamed "The Stomper", you have to respect their stomps. Archie Gouldie was a legend in Calgary & Knoxville, which are two random places to be a legend in but it happened. The Stomper was a legit top heel in the territories he frequented, mostly because he would stomp the bejeezus out of whoever was in his path.
Interesting story behind the headgear shown in some portions of that video. The gimmick was that Stomper had an inner ear problem, so the more noise the fans made, the more difficulty he would have doing things. What a great way to get heat! Jim Cornette has told tales about how Stomper would lose matches in seconds in more podunk places to make sure he would get out of the building alive. I'm not even sure if I believe these stories, but they sound really good!
As I said in a recent 411 column, Cornette would have named a Smoky Mountain Wrestling show Stomping Grounds and put Stomper in the main event against more current heels and it would have worked.