The WWE TV YouTube Experiment (RAW: June 17, 2019)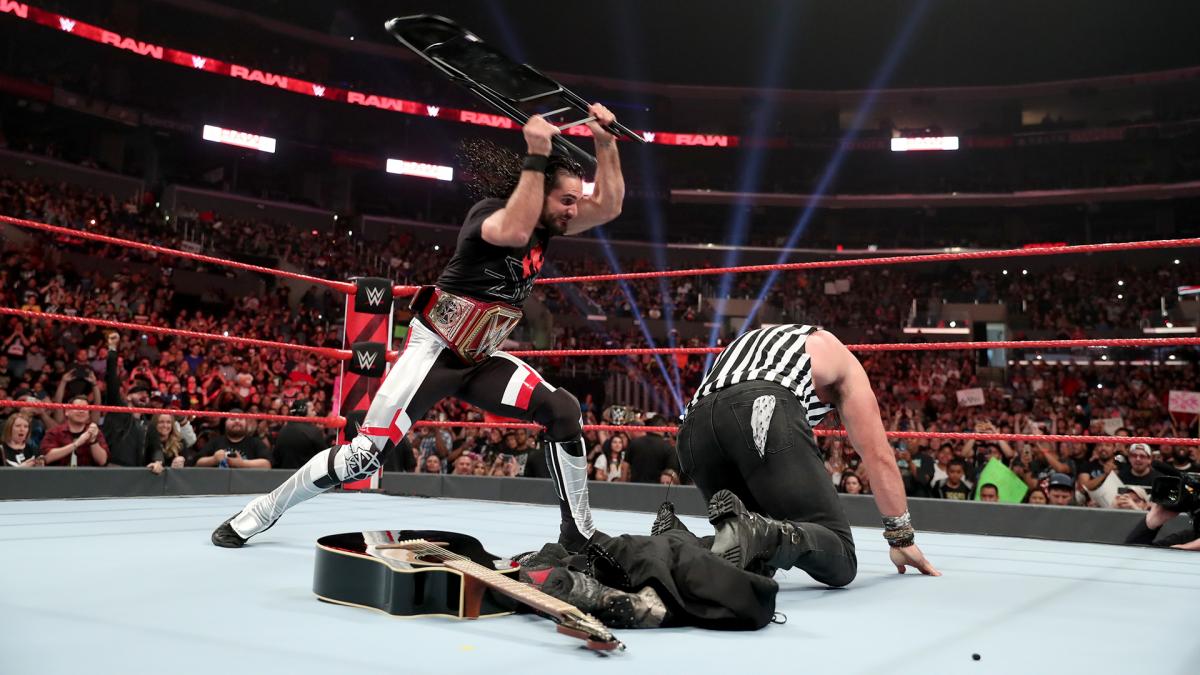 __________
The WWE TV YouTube Experiment
Week 1, Episode 1
Monday Night RAW/ June 17, 2019
Los Angeles, California
As you can read in my introduction column, I'm doing an experiment to see if WWE's YouTube content is any good. If it's worth watching, if it's enough to make me want to get back into watching WWE (I'm 11 months clean and sober), or if it's just not worth my time. Every week I will only watch the video clips WWE posts to their official YouTube channel, and I'll write a review, so to speak, of the show based on that alone. It's an experiment. Seriously. I have a hypothesis and everything! Go check out the big introduction if you haven't already, and then come back and read along with me!
I welcome and greatly encourage feedback, especially because my only exposure to WWE (for the most part) will be the YouTube clips. I won't be reading recaps or reviews. So please, by all means, if you have any opinions, positive or negative, about what I'm about to write, let me know. I thrive on criticism (constructive or otherwise — tell me I'm a batshit crazy moron if you want). That all aside, I don't want to be insanely long-winded, so I'm going to get right into it.
__________
Total Number of Clips: 18
Total Time: 45 minutes, 43 seconds
__________
Seth Rollins blasts Elias with a steel chair (2 minutes, 22 seconds)
Good start! Based on what I know, Seth Rollins and Baron Corbin have been feuding over the Universal Title. Seth is defending the belt on Sunday at Stomping Grounds, and Corbin promised that the match would have a special guest referee. In this clip, Elias is in the ring making fun of Los Angeles and reveals that Corbin chose him to be the ref on Sunday. Out of nowhere, Seth Rollins appears out of the darkness and lays Corbin out with a chair (very cool visual) and declares that anybody who decides to take Corbin up on the offer to referee the match on Sunday is going to take a steel chair up the ass. Something like that.
This was a very simple and effective start to the show. Rollins showed a ton of fire, and coming out of the darkness with the chair shot, as I mentioned, made for a really cool visual. I am interested in watching the next video clip! (1 for 1)
__________
Fatal 5-Way Elimination Match (2 minutes, 42 seconds)
Another great clip. A quick peek at the results shows that the match was about 14 minutes long, and they crammed it into 2 and a half. Not a bad thing, as the idea of the YouTube clip is to get across the story being told. The story here is that Ricochet beat Cesaro, Bobby Lashley, Braun Strowman and The Miz in order to earn a shot at Samoa Joe's United States Championship this Sunday. Strowman was dominant. He caught Cesaro springing off the ropes and nailed him with the powerslam and followed up by scooping Lashley up, thwarting an attempt at a spear and hitting another powerslam, except instead of driving him into the mat, he threw him onto Cesaro. Moments later (according to the clip) he hits Lashley with a second powerslam and pins him. Cut ahead in time, and Cesaro is hitting the Gotch Neutralizer on Braun, which allows Ricochet to kill Braun with a massive 630.
I don't know if there's a deeper backstory or if Lashley and Cesaro were just mad that they were eliminated fair and square. Not only did they attack Braun after being eliminated, but after the 630, they piled on and helped Ricochet secure the pin! Is Cesaro a heel? Is Braun? Lashley? I know Ricochet is a babyface and unless things have changed very recently, The Miz is a babyface as well. Either way, that gave Ricochet the chance to win the match, as moments later (the magic of editing!) he hits a second 630, this time on The Miz, and pins him to win the match. He doesn't have long to celebrate, however, as Joe hits the ring and blindsides him. Ricochet saves himself by ducking a clothesline and sending Joe to the floor and wiping him out with a dive.
When you only show 2 and a half minutes of a 14-minute match, you're due to get all action. It was fun. Since I'm essentially coming into this as almost a newcomer, this clip told me that Braun is a dominant beast, Cesaro is strong as hell, Ricochet is good at flipping, and the Miz… maybe sat ringside until the very end. I don't know. He was only in the clip for about 5 seconds. Oh, and Joe is an asshole. An enjoyable clip that gave me a little bit of an idea about 4 of the 6 men involved. (2 for 2)
__________
Becky Lynch catches Lacey Evans by surprise (4 minutes, 21 seconds)
I don't really know much of the backstory here. Lacey has been a thorn in Becky's side. I know that she interfered in the title match with Charlotte to cost Becky the SD Women's Title and according to the promo here, Lacey has been attacking Becky from behind. Becky cuts to the chase and calls Lacey out, and Lacey obliges. She talks about how she's a classy lady (I gather that's her usual promo) and before she can get into the ring, Becky attacks and hits her with the Bexploder and leaves.
Some of the segment was definitely cut for time, but it got the message across. Becky is tired of Lacey's schtick, but Lacey is keeping it up because she knows it pisses Becky off. Becky caught Lacey by surprise and got the upper hand before their match on Sunday. I'm hoping that what I saw here isn't indicative of what Becky has become because her promo was super generic and she didn't seem like she wanted to be there. The fire that I remember seeing in clips since she became "The Man" was not there. It seems like Lacey would be a perfect foil for her, so maybe the edit hurt the segment or maybe missing the entire feud up to this point has cost me some context. In any event, it wasn't bad by any means. It was average. I love Becky and I'm interested in seeing what Lacey can do, so I'm in. (3 for 3)
__________
Seth Rollins takes out Baron Corbin with a steel chair (1 minute, 5 seconds)
This was a quick one. Baron Corbin cuts an awkward promo about Elias no longer wanting to be the referee. I assume it's because he's afraid Seth will hurt him, even though he could, I dunno — leave the arena and avoid Seth until Sunday? In any event, Corbin stumbles over his lines and tries to be smarmy and cocky (I think) but just comes across like a goof who is struggling to remember his lines. He had about 35 seconds to fill with 6 sentences, and he sounded like a 5th grader practicing for his first ever role in a school play. Slow down! Enunciate! Take a breath and pause between your sentences, dude. I understand the character traits he was trying to get across, but he did that poorly.
It's tough to judge this one. It was barely a minute long, and while it featured a brutal 35-second mushmouth performance from Baron Corbin, it ended with him getting hit with a chair. I can't be mad. (4 for 4)
__________
The Viking Raiders vs. Russ & Randy Taylor (52 seconds)
Hey! A full match! Erik hits a sweet running knee on one of the dudes and pulls the other into the ring to hit him with an exploder. Ivar tags in. Erik hoists the guy up for a German and Ivar springboards into a clothesline to assist and add extra impact. A springboard Doomsday German, perhaps. Erik presses the legal man into the air and Ivar catches him with a powerslam (the move is now called the "Viking Experience" — good to know) and that's that, in 32-seconds.
The Raiders looked awesome and the other guys got in zero offense, which is exactly how it should be. If I'm a fan who has never seen these two guys before, I get two things from this clip. One, I want to see these guys again, because they look awesome. Two, their names are stupid as shit. Still, this was good. (5 for 5)
__________
R-Truth and Carmella try out some new disguises (1 minute, 9 seconds)
While the Taylor Brothers — why not call one of them Brad or Mark, by the way? Missed opportunity — lay in the ring, still recovering from being destroyed by the War Raiders, the cameras pan the audience. Carmella and Truth are in disguise, but everyone quickly realizes who they are and a cavalcade of people come running down the ramp. Truth tries to hide under the ring only to find a confused Titus O'Neil, and the distraction lets he and Carmella run through the crowd to get away.
I haven't been following the 24/7 Championship saga very closely, but what I have seen has been entertaining. Nothing really happened here, but it was a minute long and happened in the same televised segment as a good squash match, so there's zero to complain about. (6 for 6)
__________
Drew McIntyre brutalizes old friend Heath Slater (2 minutes, 17 seconds)
Heath Slater walks into a room with a little buffet. Shane McMahon is there with The Revival and Drew McIntyre. Drew looks like he would rather be anywhere else in the world. Slater asks for a raise, and because he's an asshole, Shane gives him a sliver of hope and then denies the raise and tells him to get to steppin'. As Slater leaves, he makes the sign to Drew to follow. Quick cut to the hallway, as Drew feigns trying to help Heath and offers him some money, but beats the crap out of him instead.
Now I'm not familiar with the storyline — so correct me if I'm wrong. I know Shane McMahon has been winning matches left and right over top talent, and I'm assuming that Drew has been helping him cheat to win. Whether I knew that or not, here's what I gathered from this: Shane McMahon is the asshole boss, The Revival, who go unnamed, are a couple of silly lackeys, and McIntyre is just Shane's bodyguard/hired gun. If that's actually the case, that fucking sucks.
The Revival running in and scooping up all of the cash was funny. I enjoyed that. Again, I don't know the story, so maybe Drew is getting sick of Shane's power trip. That would explain his body language. If that's not the case, as I said, that sucks. So Shane is getting a bunch of big wins, the tag team champions are bumbling lackeys, and Drew is a possibly unhappy bodyguard? Gross. Now, if Drew wins on Sunday against Roman, that's a big deal. Shane doesn't have a match, so maybe he's proven his point and is going to step aside and be Drew's manager and the authority-like leader of the group of Drew and The Revival. I would be all for that. Again, I don't know much about what's going on, so I'll catch up as time goes by. As a standalone segment, this was fine, but because I don't like Drew as a "heavy" and I know enough about this story as it currently stands, I just didn't like it. (6 for 7)
__________
The New Day crash "The Kevin Owens Show" (5 minutes, 0 seconds)
Baron Corbin is the guest. Sami and Kevin don't want to get hit by chairs, so they both opt out of being the guest referee for Baron Corbin's Universal Title match on Sunday. Corbin figured that would be the case, so he has EC3 waiting in the wings. EC3 comes out, and as expected, he gets lit up by Seth Rollins with a chair shot from behind and gets another shot while he's on the ground, just for good measure. I'm enjoying this running gag. It's funny, but at the same time shows that Seth isn't going to let Corbin try to make believe he's still the "Constable" and yield power that he doesn't actually have.
The New Day make their way out for no discernible reason (which I'm cool with, of course) and challenge Corbin, Owens, and Zayn to a match. EC3 agrees to sanction the match just like Stephanie McMahon sanctioned her marriage to Triple H, and that's that. Renee Young made the obvious "Weekend At Bernie's" joke (and now the Tweet makes sense!) but it was too obvious, and she didn't try to make it topical. If you have to go that direction, why not say "Weekend At Dixie's"? It's a 3-second line that most people aren't going to pick up on anyway… how many people watching RAW do you think actually saw that movie?
This was fun and felt way less than the 5-minute runtime of the clip. It's the 8th clip so far and the longest of the night. The Nick Marsico from a year ago would probably complain about the lack of compliance to the "wildcard rule", but I think it's actually a funny gag to have more than the allotted 3 (I think that's how many it's supposed to be) pop up on the opposite show every week. It's humorous to me whether it's their intended purpose or not, so I'm all for it. Plus, The New Day is a welcome addition to any show, any time. Fun, silly, and furthered the night's running storyline, as well as the build for the title match on Sunday. Plus, Baron Corbin said less than the other segment he was in, and didn't stumble over his lines! Everybody wins! (7 for 8)
__________
The New Day vs. Baron Corbin, Kevin Owens & Sami Zayn (2 minutes, 52 seconds)
Woods rolls up Sami for the first fall (why not tell us it's 2 out of 3 falls in the description?). Cut to the second fall and Owens hits a superkick on Big E, but doesn't get the pin. Cut again, still in the second fall I assume, to Kofi almost pinning Corbin, but Corbin comes back with a SWEET looking Deep Six. Clip again, and Corbin accidentally clotheslines Sami. Owens doesn't like this and superkicks Corbin, allowing Kofi to get the pin with Trouble in Paradise.
Can't really get any gauge as to whether this was a good match or not, but it got the story across. It's an ineffective and lazy story, though. I get that the gimmick for the night is that Baron Corbin is having a really shitty night leading up to his title match at the PPV, but did he need to look like a chump AND get pinned? I love the New Day, but they didn't have three other guys who could have benefitted from being in this spot? Why not Ryder, Hawkins, and Cedric Alexander? Great segment to lead into the match, but the match was worthless. (7 for 9)
__________
Paul Heyman has a reminder for Seth Rollins (3 minutes, 22 seconds)
Hey, it's Paul Heyman! He puts over both Seth Rollins and Daniel Bryan, which is cool, and teases that Brock is going to show up. We know he isn't around. I like that he completely disregards that Baron Corbin has any kind of chance at winning the title, as he addresses everything directly at Rollins.
This was definitely clipped big time — there's no way Paul Heyman spoke for less than 3 and a half minutes. It got across the point, though, and proves that 3 and a half minutes is all that he needs to cut an effective promo. Brock is watching and Brock is waiting. Be scared, because he's always got the advantage in any situation, but having that briefcase gives him even more power, so the Universal Champ should be scared.
I love heady-handed Michael Cole ending the segment by pointing out that Brock Lesnar's steel chair attack on Seth is what drove Rollins to go on a chair-swinging rampage. I don't think Heyman meant that when Brock returned, he was coming with a chair. He was specifically reminding us, without actually saying the words, that Brock recently kicked the shit out of Seth with a chair. He implied that Seth is on a rampage because of what Brock did and Cole (at Vince's command, I'm sure) heavy-handedly drove that point home by literally saying it. Stupid line from Cole aside, this was good. (8 for 10)
__________
Seth Rollins dissuades Eric Young (1 minute, 22 seconds)
Corbin asks Eric Young to be the guest referee, and Eric says he'll think about it. Clearly Seth Rollins overheard because he approaches Young. EY backs off, trying to say he only agreed to think about it because he was tired of talking to Corbin (which is a 100% plausible story), but Rollins beats the piss out of him with a chair anyway.
Nothing wrong with this. Chair-swinging lunatic Rollins is fun. I'm glad Sanity they disbanded Sanity for this. Totally worth it. (9 for 11)
__________
The Usos vs. Luke Gallows & Karl Anderson (2 minutes, 51 seconds)
Oh my god, Gallows and Anderson have been around for 3 years? Holy shit. Cole mentions that they were "part of a club" with AJ Styles and namedrops the IWGP Heavyweight Tag Titles. Well that was odd. Gallows and Anderson completely dominate but pause to "Too Sweet" each other. Gallows gets caught with a double superkick, and that's the end.
Based on what I read going through the results so I could put these videos in order, I saw that AJ gave the Good Brothers a pep talk backstage and told them to get their crap together. They didn't, and acted cocky, and it cost them the victory. That works for me. Maybe this time they'll actually follow through on this storyline. This is like the 3rd or 4th time they've done the "You're supposed to be the most dominant team in modern Japanese wrestling history! What the fuck are you guys doing?" storyline. I hope they don't just drop it after 2 weeks like they have in the past. The match was heatless, but was literally shorter than the length of this clip, so I can't complain. They didn't do a boring 10-minute match to tell a 3-minute story. That was smart. There's promise here. (10 for 12)
__________
Roman Reigns storms into Shane McMahon's VIP room (5 minutes, 1 second)
Shane and Drew talk smack, but Drew mentions Roman's family, so THE BIG DOG makes his way to their (really sweet, actually) VIP room. Roman threw one of the dudes from the Revival at least 50 feet down a hallway and into a loading door on the way. Good god. Roman kicks the crap out of Drew and puts him through a catering table then chases Shane to the ring, where the Best in the World eats a Superman punch and spear. And the crowd was cheering for Roman the whole time! That's gotta be a positive thing.
This was fine. It looks like they clipped out whatever Roman said to start the segment, since this video started with him in the ring, but it probably wasn't important. Drew sort of looked like an idiot when he kept talking even after Roman was halfway to the backstage area. Shane already saw that Roman was coming — Drew mentioned something about a movie Roman is going to be in, so I guess they just had to shoehorn that in there. Now I don't know anything about this rivalry, but it seems like Drew talking about how he's going to disfigure Roman's body to the point that his family wouldn't recognize him was big time overkill. That was graphic for no good reason, and he could have made the same point 30 other ways. But hey, they cheered for Roman and it looks like Drew might not just be a lackey after all, so I'm cautiously optimistic. (11 for 13)
__________
Rumors spread about Bayley (38 seconds)
Um. OK.
Watch the video. Whatever. Was this really something that needed to be documented? (11 for 14)
__________
The IIconics vs. Alexa Bliss & Nikki Cross – WWE Women's Tag Team Title Match (2 minutes, 36 seconds)
Not much to say about the match. Bayley was at ringside, probably because of the mean social media post that Charley Caruso showed her in the previous clip. Nikki Cross did most of the work for her team and controlled the match for the majority of what was shown. Alexa Bliss pushed Bayley down, and the IIconics take advantage of the 2-on-1 situation, with Billie rolling up Nikki to retain the titles. Bayley stopped Alexa from getting back into the ring to break up the pin.
The match looked fine. It's not really possible to judge based on under 2 and a half minutes of wrestling, but the IIconics looked okay in the ring. Nikki Cross is great and if she gets the chance, she will be a fantastic babyface when she plays the same role Nia Jax played back when she was Alexa's lackey who thought they were besties. I thought the rule was that you were supposed to wait 7 years before running the same storyline? None of this was bad at all. (12 for 15)
__________
Nikki Cross learns the "truth" about Bayley (38 seconds)
Nikki is upset that Bayley stopped Alexa from saving her, which cost them the tag titles. She's going to be in Alexa's corner at Stomping Grounds.
Bookending the tag title match with 38-second backstage interactions. Works for me, and advances the storyline very quickly and very simply. (13 for 16)
__________
Fear is power in the "Firefly Fun House" (3 minutes, 9 seconds)
The latest iteration of the Fun House randomly has Bray saying that the Earth is flat and that dinosaurs aren't extinct. Okie dokie! Or, Yowie Wowie, I guess. Bray, all his friends, and Cultaholic, I guess, want you to "Join Us" and it appears that along with "Let Me In", Bray's new catchphrase may be "Follow the Leader" instead of "Follow the Buzzards".
This continues to be different from everything else on the show, and in a very good way. It looks like they're putting a lot of legitimate effort into this. I hope it translates well once he gets out of the Fun House and into the arena. (14 for 17)
__________
Seth Rollins vs. Daniel Bryan (3 minutes, 26 seconds)
Rollins hits Bryan with a suicide dive, but upon his second try (he and Bryan both do the multiple dive spot, don't they?) he's caught by Erick Rowan, who nails him with a sweet-looking Iron Claw modified choke slam (guess you can't really call it a chokeslam, but whatever). The match is thrown out after a brawl ensues involving a bunch of mostly random people. The New Day come out to help Seth, which… good guys helping good guys, I guess… Sami and KO followed, which makes sense since they have Woods & Big E at the PPV. The Revival aren't doing anything on Sunday (except for interfering in the Roman/Drew match I would assume) but they ran down as well. And The Usos, who also aren't on the card for the PPV, also ran down, since… they're pals with The New Day. What a random bunch of nonsense. The Usos take out all of the bad guys with a stereo dive over the top and the match is restarted. Seth beats Bryan with the Stomp but gets taken out by Corbin with a steel chair on the ramp to end the show.
I don't get the point of the big run-in party. To make things seem chaotic, since the 3rd hour of RAW is down and dirty and gritty now? Are they still pushing that or was that literally a one time only deal? Maybe They'll do Usos vs. Revival on the pre-show. Maybe The Revival will be co-special guest referees. In any event, I'm sure the match was good, but they only showed about a minute of it. Closing the night with Corbin standing tall after blindsiding Rollins with a chair is the type of good, simple booking I like to see. Strong way to close the show. (15 for 18)
__________
Final Analysis
Week 1, Episode 1
For the most part, I liked what I saw. Out of the 18 segments, only three of them got the thumbs down from me. One of them was only 38 seconds long! It took 7 videos for me to find something I didn't like. That definitely makes this a good show in my eyes. Granted this was a curated, truncated version of Monday Night RAW, but nothing got left out. There was some stuff that wasn't necessary and could have been cut entirely and not be missed. An important note: just because I liked a segment didn't mean it was a great segment. Unless something is actively bad, I'm going to give it a pass. I'm an easy grader. RAW was easy to watch and made plenty of sense as a series of clips clocking in at 5 minutes or less.
If nothing else, this proves that RAW could very easily be a 2-hour show and not have to cut anything. It also proves that as a 3-hour show, they could fit so much more and feature more wrestlers. Well, one episode doesn't prove it, but if this becomes a recurring theme over the course of the next 2 months, I think that would prove it. The roster isn't too big for the amount of time they have.
I'll have to see if this becomes a trend — interestingly enough, the runtime of the 18 clips, which featured everything that happened on the show, was 45 minutes. That's the length of an hour-long television show if you exclude commercials. RAW without commercials is roughly 2 hours and 25 minutes, and SmackDown is roughly 1 hour and 25 minutes. If my theory holds up, the runtime of the YouTube clips for SmackDown should be in the range of 35 minutes.
__________
Nick Marsico/ Writer (Kinda)
The Chairshot Dot Com
__________