Tiffany's Takes: Stomping Grounds (6-23-19)
Stomping Grounds is here! Was WWE able to drum up enough interest for the opening PPV of the summer season?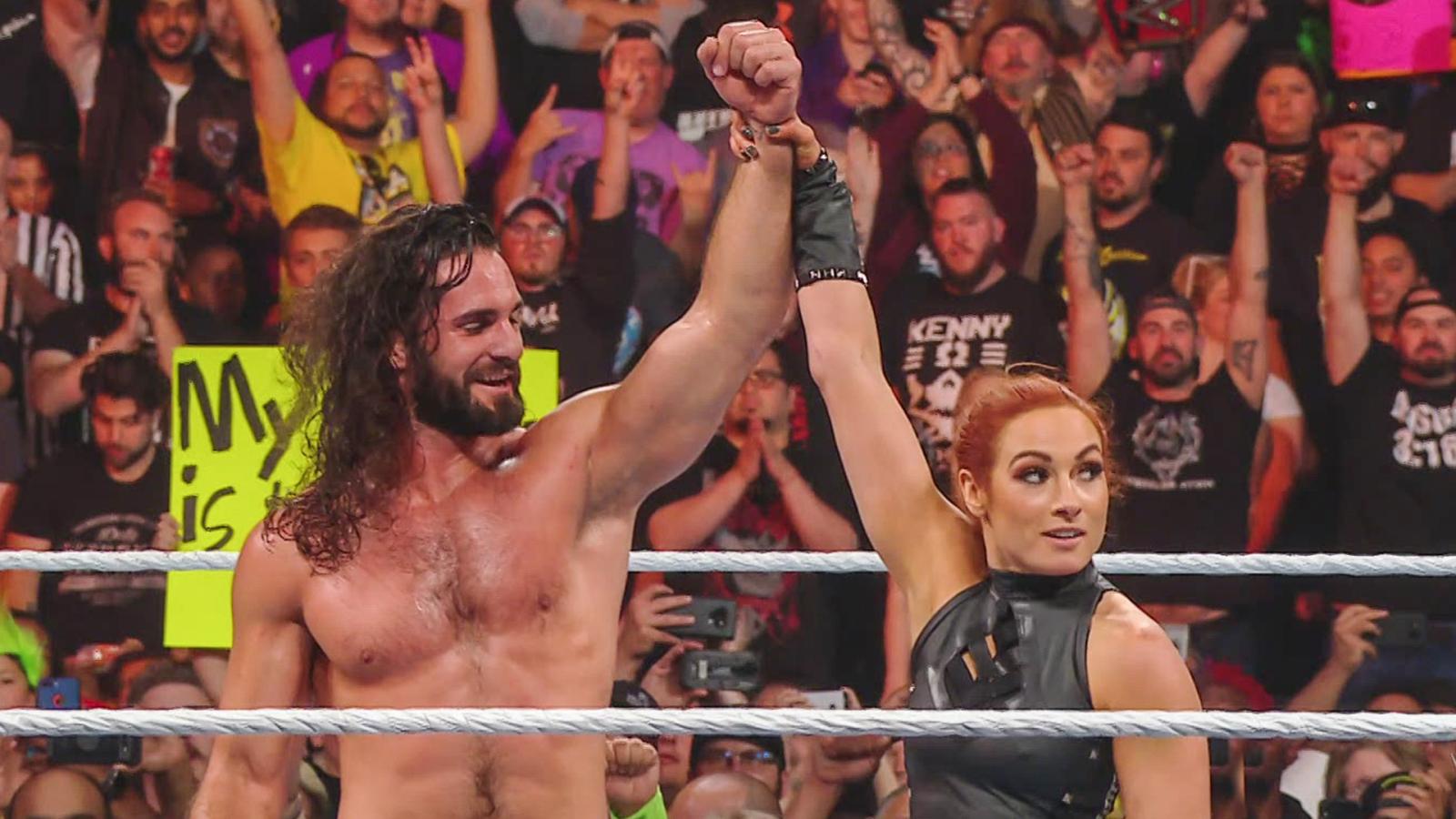 Stomping Grounds is here! Was WWE able to drum up enough interest for the opening PPV of the summer season?
Universal Championship Match – Seth Rollins vs Baron Corbin. Special Guest Referee: I'm not sure who came up with the idea of Lacey Evans being the special guest ref for this match, but it was a 'Better on Paper' idea. I mean, it's brilliant on paper. As a babyface, Rollins would never attack a woman with a chair or intentionally knock her out, but the forcing of his RL relationship with Becky into this storyline is awkward and cringey, especially with Becky basically saving her boyfriend's title for him. I get that they're making Becky look like a badass, but that was just…blah and it makes Seth look like an idiot. That's not the way to book your top champion, WWE.
Steel Cage Match for the WWE Championship: Kofi Kingston vs Dolph Ziggler: Well, it's still not Ziggler, despite his best efforts. That said, of all the matches these two have had over the years, this wasn't their best effort. It was still a really good match, but I've seen these two have barn burner matches and this match didn't even get the barn hot. Hopefully, this is the end of things and Kofi can move on.
New Day vs Kevin Owens and Sami Zayn: Right now, that math is my candidate for MOTN. I'm not really a fan of New Day or Owens/Zayn, but that was a hell of a match! It almost feels like either Big E still isn't 100% and Woods was covering for him, or Woods is getting groomed for a singles run because he was definitely the star of the match. I'm not even mad that Owens/Zayn won since it adds to the New Day/Whiner's Club (Ziggler, Owens, and Zayn) feud and Owens and Zayn needed a win after eating a lot of pins lately.
United States Championship Match – Samoa Joe vs Ricochet: HOLY SHIT, he did it! Ricochet is the NEW United States Heavyweight Champion!!! He and Joe had a hell of a match, the contrast in styles really worked for them, and I thought Joe had it in the bag, but Ricochet stuck it out and now has his first main event championship, four months after his debut, which isn't bad. Congrats man, hope you don't get killed tomorrow because Joe's gonna be pissed!
RAW Women's Championship – Becky Lynch vs Lacey Evans: Scarlett (Lynch) won it again! I'm not a big fan of Lacey Evans as an in-ring talent, I just don't think she's got the skills her spot suggests she should have, but she's been a good foil for Becky over this feud and it was a good match, but I'm more than ready for this feud to be over and for Becky to move on to someone else now that we're heading into SummerSlam season.
SmackDown Women's Championship – Bayley vs Alexa Bliss: Well, what a difference a few years makes! Two years after one of the worst Women's matches in WWE history, Bayley and Alexa Bliss not only had a really good match, but Bayley vanquished the self-proclaimed Goddess and RETAINED her SmackDown Women's Championship! I honestly didn't think Bliss would win, WWE seems determined that the wild card isn't going to involve actual title reigns, which is nice. However, both ladies looked great in this match. Bayley finally looks like a credible champion and Bliss got a chance to shake her ring rust before, presumably, getting a push on RAW. I also loved the build of Bliss vs Cross that definitely seems to be on the way. Drinks all around!
WWE Cruiserweight Championship – Tony Nese vs Drew Gulak vs Akira Tozawa: Wow. I can't believe WWE actually put the title on Gulak. Nese wasn't a great champion, but he had definitely grown on me.
The match was pretty good, I'll give them that, but I'm not thrilled about Gulak as champion, his gimmick mimics too many negative RL things for me to really get behind him. Hopefully, this will be a transitional reign to something like giving Tozawa a better reign than the joke one he had back in 2017.
SmackDown Tag Team Championship – Planet's Defenders vs Heavy Machinery: That…wasn't as bad as I feared. Greenjerks (Planet Defenders) are still the SmackDown Tag Team Champions, but Heavy Machinery really showed what they can do. I didn't think they were going to beat Bryan/Rowan, at least at the moment, but the match definitely delivered because Tucker and Otis got to show that they're more than a comedy act and that makes it a win for everyone.
Roman Reigns vs Drew McIntyre: Thank you, God, he beat him! Roman Reigns fought through the machinations of Shane and McIntyre to win and managed to make McIntyre look good in the process, which is a feat in itself, TBH. I'm not confident that this feud is over, though it needs to be, but if this is going to end up as Roman vs Shane, having McIntyre lose is the best way to do it.
Overall Comments: Well, it wasn't as bad as I feared it would be. I had very little interest in this PPV, but it was actually pretty good. There was very little downtime between matches, which made it move more quickly, which was very nice.
I was a little surprised that the 24/7 title wasn't featured, but Truth might be in hiding after crashing Maverick's wedding.
The two main events did NOT live up to expectations. They were okay, but I was expecting more from everyone and the addition of Seth and Becky's RL relationship was just dumb.
I'm not sold on Gulak as Cruiserweight champion, I'm hoping it's a short reign and we can get someone else.
Ricochet vs Samoa Joe was the match of the night, hands down.
Bayley vs Bliss was excellent and everyone won.
Lynch vs Evans was okay, and I'm not thrilled about the continuation of this feud for the summer. Let's move on, please?!
That's it for Tiffany's Stomping Ground Takes! Tune in tomorrow as I take on RAW!