Tiffany's Takes: WWE 205 Live (6/25/19)
Tiffany checks in on this week's edition of WWE 205 Live as a new #1 contender is established!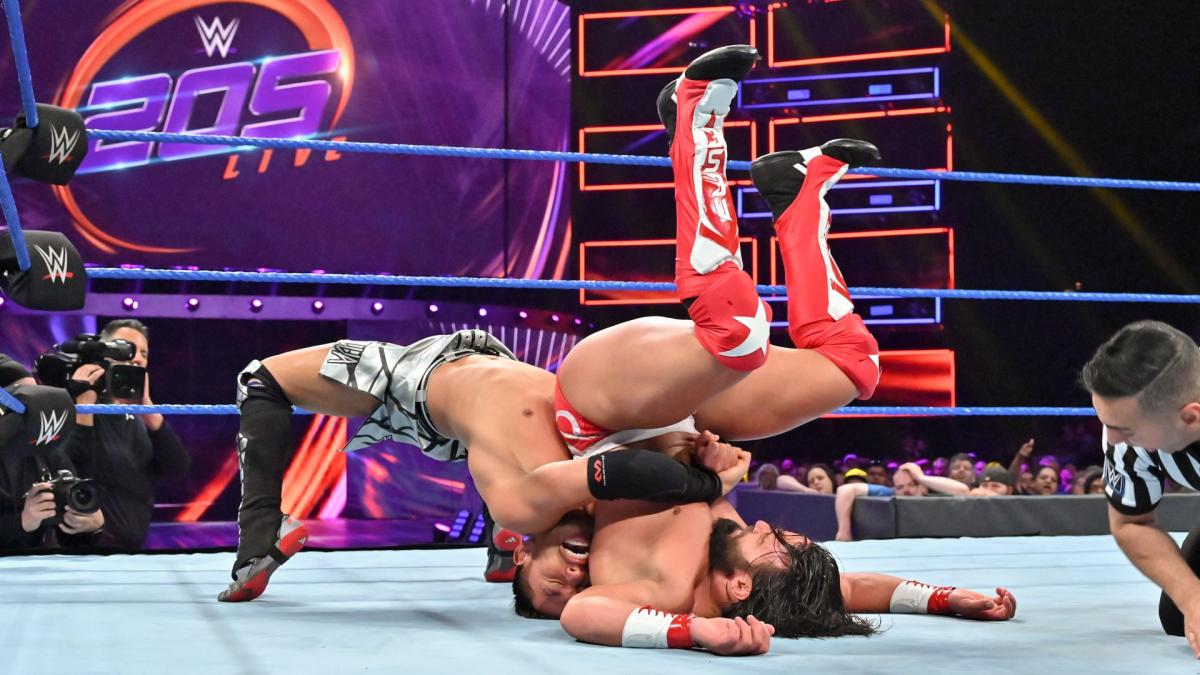 Tiffany checks in on this week's edition of WWE 205 Live as a new #1 contender is established!
Who is Cruiserweight Champion after Stomping Grounds? WWE 205 Live is…well live again this week!
WWE Cruiserweight Championship: Yeah, I'm officially over Gulak as champion. The guy was a joke and a bad Republican stand in for years, now that he's champ, he's claiming that 205 is weak. Get over yourself. Murphy and Alexander were much better champions than Gulak. Even Amore was somewhat entertaining, and the fact that I just typed that makes me queasy. I'm still hoping that Gulak's reign is a short one and we can have a real Cruiserweight Champion.
Is there an actual reason why former champs don't get their automatic rematches in 205? Even RAW and SD realized that doing away with the no rematch clause rule was dumb, but this was in 205 from the start and it's frustrating. That said, we did get the Nese vs Tozawa match we should've had from the start, just not with the title on the line, which stinks. I'm glad Nese won and will get his rematch, but it just felt like a waste of time when he should've had the rematch anyway.
Mike and Maria Kanellis: Okay, first of all, the match with Gallagher was FANTASTIC! I really loved the back and forth. I am a little disappointed that Mike is doubling down on being a heel, but I still loved the match. Kanellis being pissed and storming off after the loss is an interesting dynamic. Maverick being angry about Kanellis leaving and calling him 'unprofessional' is pretty rich considering his own conduct lately. I really can't wait to see where this goes next week.
Humberto Carrillo vs Rob Rollenbeck: I really want to like Humberto Carrillo. He's super talented and looks like a great young babyface, including the babyface, but I'm having trouble seeing a personality in him. He's doing all the good things he needs to do, but it's like something isn't clicking, at least for me. He and Rollenbeck had a great match, but I'm just not feeling it.
Promos: I loved Daivari's promo, even though Daivari's bragging got on my nerves a lot. His anger over a pretty minor in-ring injury is so over the top, it's actually kind of funny. I'm still enjoying this feud and I want  a rematch next week.
Lucha House Party's excuse for losing last week was funny. They lost because they went too easy on Singh Brothers? I mean, Singhs had a handful of tights, and even I'll admit that, but the LHP saying that Singhs won because they went too easy on them is just odd. Funny, but odd.
Overall Comments: This was an okay 205 Live. I had trouble getting into it because, other than the Kanellis issue, nothing about the show really grabbed my attention. The matches were good, and so were the promos, but it's just felt like something is missing.
I'm really interested to see where the Kanellis storyline is going. It could be that Kanellis is moving back to the main roster, but since he barely got any TV time on RAW or SmackDown, that would be a silly thing to do. I'm also interested in how this will affect their already tense relationship with Maverick considering his behavior lately.
I really want to like Carrillo, but I'm just not feeling it.
I want Nese to be a 2x Cruiserweight Champion, I'm tired of Gulak already.
That's it for Tiffany's 205 Takes! Tune in tomorrow for the NXTs.