Tiffany's Takes: WWE 205 Live (6/4/19)
Time to reset the Cruiserweight Championship picture?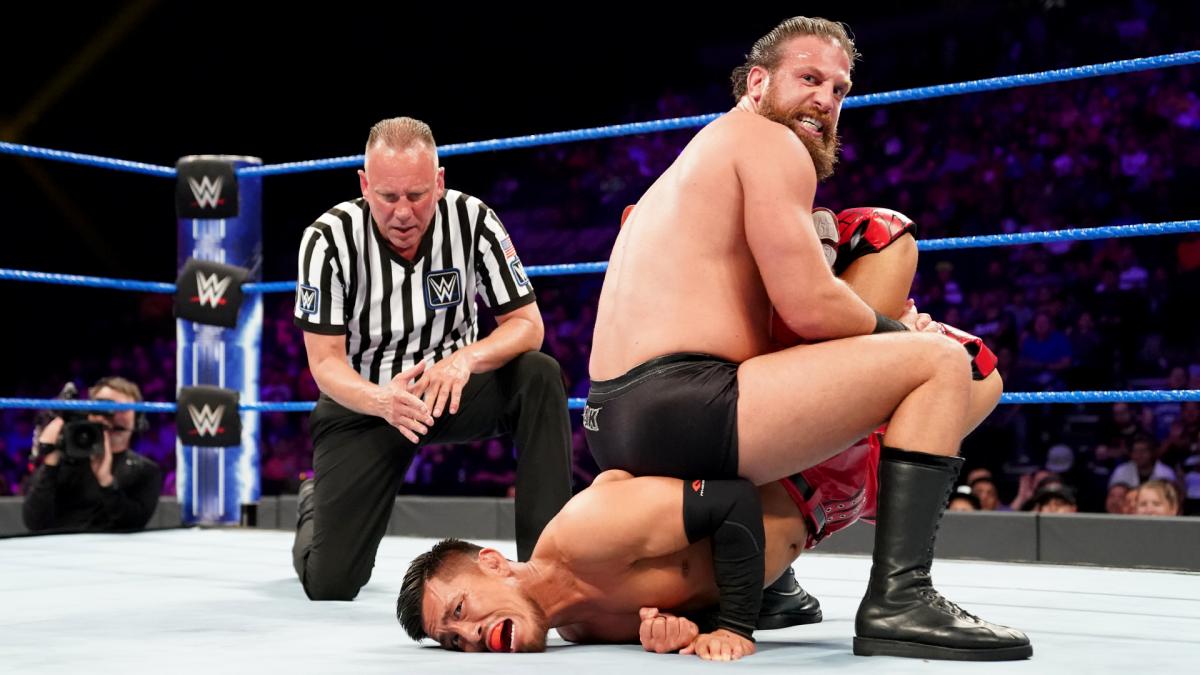 WWE 205 Live looks to reset the Cruiserweight Championship picture, and big wins for Drew Gulak and Oney Lorcan could accomplish just that! See what Tiffany thinks in Tiffany's Takes!
After last week, who will be the one to step up to face Cruiserweight Champion Tony Nese on WWE 205 Live!
WWE Cruiserweight Championship: I'm not sure what kind of champion Tony Nese is, but I like him. I like him saying he still wanted a match with Tozawa and calling out Maverick for letting the Gulak/Tozawa match happen after Gulak's conduct. We'll see what happens, but I'd rather have Nese/Tozawa than Nese/Gulak.
Akira Tozawa vs Noam Dar…Drew Gulak: Well, that heel turn was short-lived. I'm not sure what Gulak's problem is, it's not Dar or Tozawa's fault that Gulak is the most boring person on the show or that he keeps getting his ass kicked. The match between Gulak and Tozawa was fantastic, but it still makes me wonder if this thing of Gulak picking on minority wrestlers is by accident or part of the gimmick, since his gimmick seems to be the wrestling equivalent of a conservative voter.  On the bright side, he's not wearing those godawful, Rock-esque trunks.
Ariya Daivari vs Oney Lorcan: I love high-flying cruiserweight action, but it's always nice to see a solid, mat-based wrestling match to give some contrast to all the flips and that's what we got with this match. I'm not really a fan of either guy, so I had not dog in this fight, but it was really good. It looks like someone is very invested in Daivari long-term because his match with Lorcan was fabulous, even though Lorcan pulled out the surprise win, Daivari put up an incredible effort and has nothing to be ashamed of.
Mike and Maria Kanellis: I'm in Mike Kanellis' corner, but I'm not sure what to think of this storyline since Maria keeps saying their contract is up in two weeks. I did love the shade thrown at Maverick over the 24/7 championship. I REALLY want him to get a title shot, but I'm being reserved about it.
Lucha House Party vs Singh Brothers: Okay, considering that the Singhs didn't get their final best of three match, I'm not sure what Lucha House Party is objecting to, but I still want the match and I want the Singhs to win, dammit!
Overall Thoughts: Another great show from 205 Live! I really enjoyed that. One good thing about 205 is that there's an equal amount of talk and action, so the show moves along. The downside is that the shorter show doesn't give a lot of time for everyone, which has always been an issue. I'm not totally on board with Gulak being back in the title picture, we had enough of that last year with Cedric Alexander and Gulak hasn't been really all that impressive since the end of the feud with Tozawa and Kendrick.
I'm really hopeful that the thing about Mike and Maria leaving in two weeks is a work, it sounds like it is, but after being assured for months that Dean Ambrose leaving was just a work and then watching his last match, I'm not feeling particularly hopeful. I hope that it is because Mike Kanellis has what it takes to be the top guy on 205, he just needs the chance.
That's it for Tiffany's 205 Takes! Tune in tomorrow for my NXT takes!
---
Elisa looks great in her Chairshot gear.
You can, too!
Be like Elisa and get yours at:
https://www.prowrestlingtees.com/related/thechairshot.html