Tiffany's Takes: WWE Raw (6/3/19)
Did WWE get it right this week on Raw?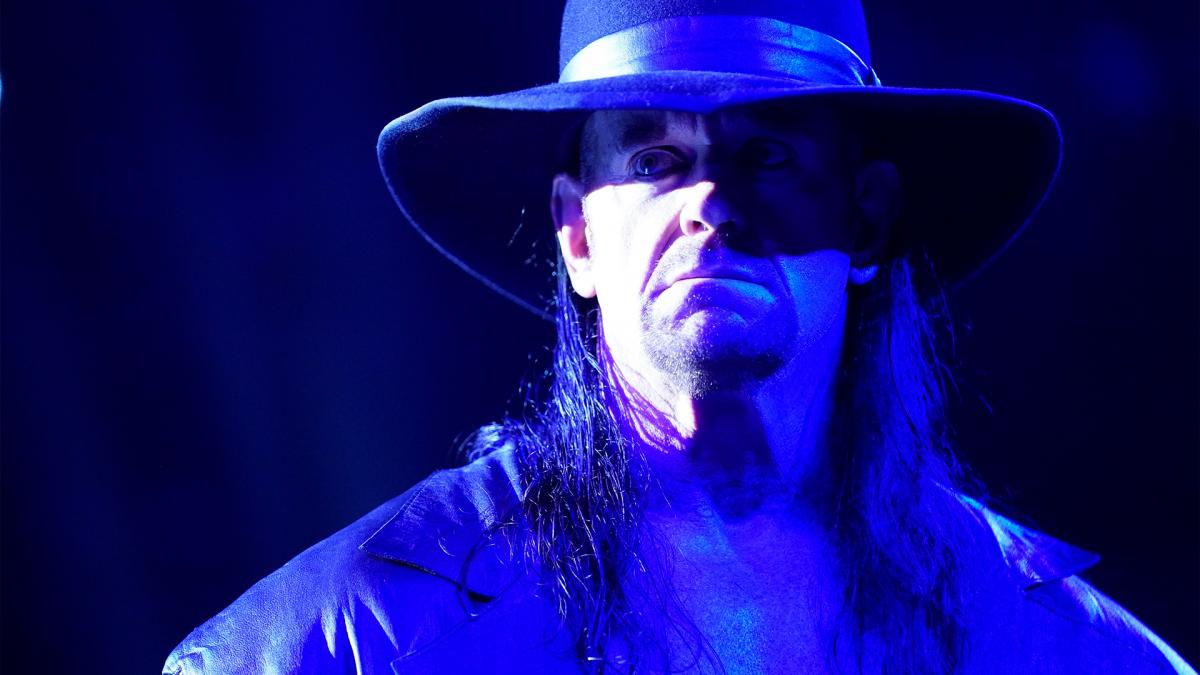 Tiffany takes you on a journey into the last WWE Raw before Super ShowDown on this edition of Tiffany's Takes!
As the Super Show Down in Saudi Arabia looms, can WWE Raw right the ship?
Universal Championship: Well, did you expect any better from Vince or Lesnar? What a trash fire that mess was. I honestly hope WWE doesn't shit the bed again by having Lesnar beat Rollins, but I wouldn't put it past them. I am wondering if we'll get that punishment we were promised.
I will applaud WWE for adding Becky Lynch to give the Seth situation weight. Since Becky and Seth are known to be dating, having her in the ambulance segment makes the situation seem real and serious, rather than Seth going in by himself.
United States Championship: I'm not really sure what to think of this whole situation. I'm guessing this whole thing will re-start when Rey gets back, but it just feels like a big nothing.
The Bloodline vs the Corporation: I think it's safe to say that Shane won't walking ff the plane when he's done in Saudi Arabia. I love that Roman has reformed the Bloodline with the Usos and going up against Shane's 2010s version of the Corporation, but this match was just a meh. No shade to most of the guys on there, I just wasn't feeling it. However, Shane hitting the spear on Roman guarantees that he'll be leaving Saudi Arabia on a stretcher. Although Reigns doesn't need the help, I'd love it if Greg Hamilton helped him to get back at Shane.
---
Time to pick up a new Chairshot shirt!

Get yours at:
https://www.prowrestlingtees.com/related/thechairshot.html
---
WWE RAW Women's Championship: Well, not only is Emmie Slattery not a lady, she's not even a good wrestler. When Charlotte can't make you look good, you've got a problem. That said, it was nice to see the Queen and the Man kind of on the same page, at least in despising Evans. I did love Lynch attacking Evans and saving us from the rest of that match.
Peyton Royce vs Nikki Cross: Is Alexa Bliss turning face? I think she's turning face and I love it. I also love her friendship with Nikki Cross kinda being the catalyst for the turn. Also, never mess with a coffee lover's fix. Both my grandfathers lived on coffee and you didn't want to be between them and the coffeemaker.
I like the IIconics, but their gimmick is so obnoxious and one-dimensional that it really takes away from their talent. However, the match between Royce and Cross was excellent and I really enjoyed it.
Braun Strowman vs Bobby Lashley: Can someone explain the point of this to me? I realize that neither one of these guys is a genius on the mic, but that arm-wrestling contest was just bizarre. Strowman won, but I'm not sure if it should be taken seriously.
Triple H vs Randy Orton: Uh, yeah. I'm not sure why the promos needed to include the wives, but the wives were included and that's a new wrinkle in this, but it was an unnecessary one, but I guess they needed to give some justification for this instead of 'Just for the hell of it'.
Undertaker vs Goldberg: Twenty years ago, the idea of this match would've made me happy. Ten years ago, I would've been happy with this match. Now, I'm not interested. Goldberg was never a great wrestler and Taker can barely move. I'm not getting my hopes up for this match.
Firefly Fun House: As Harry Truman said 'Jesus Christ and General Jackson!'. Whoever came up with this is either a genius or needs a psychiatrist. One bright spot: Vince McMuppet with devil horns. The rest of it needs to be doused with holy water and burned.
24/7 Championship: I've actually lost count of how many times R-Truth has been 24/7 Champion, but my guess is that he's a 3-4 time winner and all in the span of 2 weeks. Seriously, this 24/7 has been really entertaining. I still have a few doubts about it as a long-term thing, but it is a lot of fun to watch and makes use of the catering card.
Lucha House Party vs Lars Sullivan: I'm really not sure what to make of this feud. For company that is so conscious of its public image like WWE, it seems really short-sighted and stupid to have a man, who has made very nasty comments about women and minorities in the past, beat up a trio of Latino wrestlers much smaller than him.
Ricochet vs Cesaro: This was match of the night in my opinion! There's no real story, but this has the makings of a great feud. I thought they'd had more matches than three, but some research says they've only had three matches, but I'm hoping we get more, especially after Cesaro proved to be a sore loser.
Overall Thoughts: So, did RAW manage to right the ship? They made a really good start. This was a good show with sensible storytelling. The Jon Moxley fan in me wants to say that it was because of the Mox's comments on Talk is Jericho last week that has made the difference, but I'm more inclined to think Triple H was in charge this week and that's why things made sense.
The build for the two Attitude/Ruthless Aggression Era matches was lacking. There was no real fire or 'oomph' to the builds, this is just to have them on the card.
I enjoyed Alexa Bliss' seeming face turn and her friendship with Nikki Cross. This could be a fun run. Also enjoyed that a mutual loathing of Lacey Evans has MAYBE started rebuilding the bridge between Becky Lynch and Charlotte Flair.
That's it for Tiffany's WWE Raw Takes! Tune in tomorrow for SmackDown and 205 Live!
King's WrestleMania Rewind: Charlotte Flair vs. Asuka from WrestleMania 34
Chris king is back with one of the most underrated matches in WrestleMania history–Charlotte Flair vs. Asuka!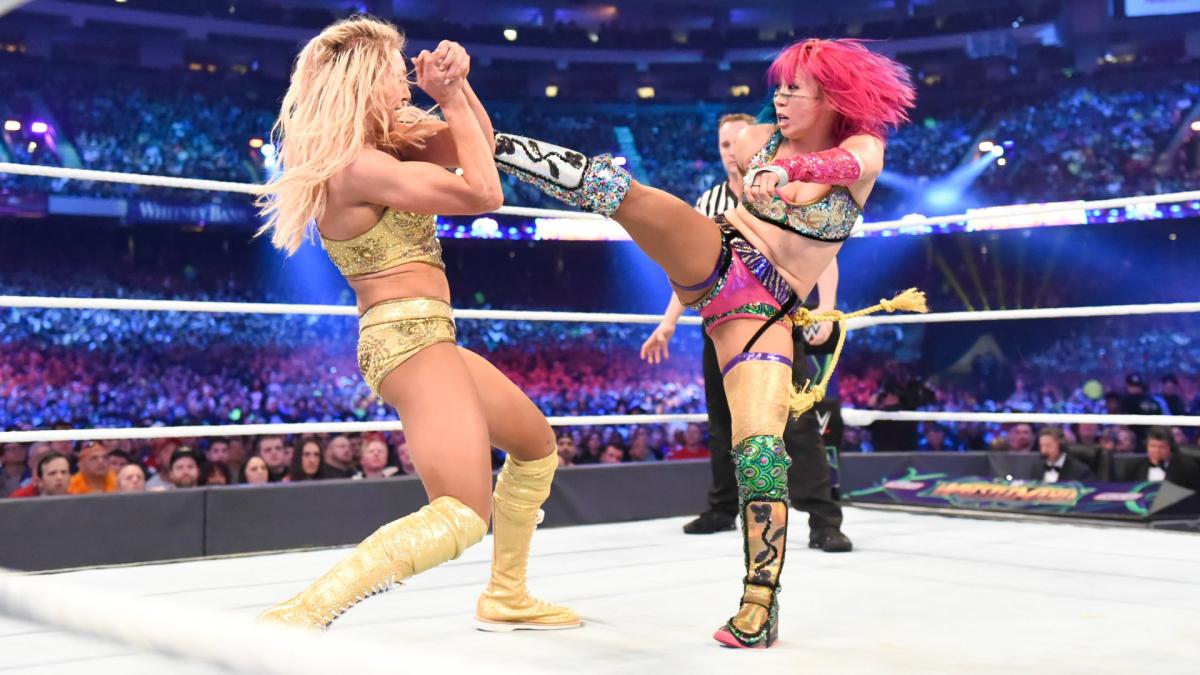 Chris king is back with one of the most underrated matches in WrestleMania history–Charlotte Flair vs. Asuka!
We look back at Charlotte Flair vs. Asuka at WWE WrestleMania 34. 'The Empress of Tomorrow' put her unprecedented and historic undefeated streak of 914 days on the line against 'The Queen's' SmackDown Women's Championship.
For years, this was considered a dream match while Asuka dominated the roster in NXT, while Flair won numerous championships on the main roster on both Raw and SmackDown. The Empress made her long-awaited debut on the September 11th episode of Raw and began to tear through the competition.
Asuka outlasted all twenty-nine other women in the historic first-ever Women's Royal Rumble match to challenge for the title of her choosing. At Fastlane, she made her choice.
The WWE Universe was so excited for this match myself included. Both superstars delivered a fantastic performance on the Grandest Stage of Them All executing counter after counter. Asuka showed off some nasty-looking kicks to her opponent, and Flair hit a thunderous Spanish Fly off the top rope. Flair was seconds away from defeat at the hands of The Empress but she locked in Figure Eight and Asuka was forced to tap out.
I can't even begin to explain how shocked I was at this outcome, as nearly everyone expected The Empress to continue her undefeated streak and walk away with the women's title. This controversial decision was the downfall of Asuka's momentum. She would ultimately win the SmackDown Women's Championship at the 2018 TLC pay-per-view in the triple-threat ladder match.
Fast forward to this year when Asuka has recently returned with her Japanese-inspired persona Kana. Kana is dangerous and ruthless and is heading into a championship with Bianca Belair at WrestleMania 39. The Empress has regained all her momentum and is highly favored to walk away with the Raw Women's Championship. Let's hope that Asuka and Belair can tear the house down and deliver an A+ grade match both women are fully capable of.
King: Dominik Mysterio Needs To Do This At WrestleMania
Chris King is here with what WWE should do with Dominik Mysterio at WrestleMania in his long-awaited match against his father Rey Mysterio Jr.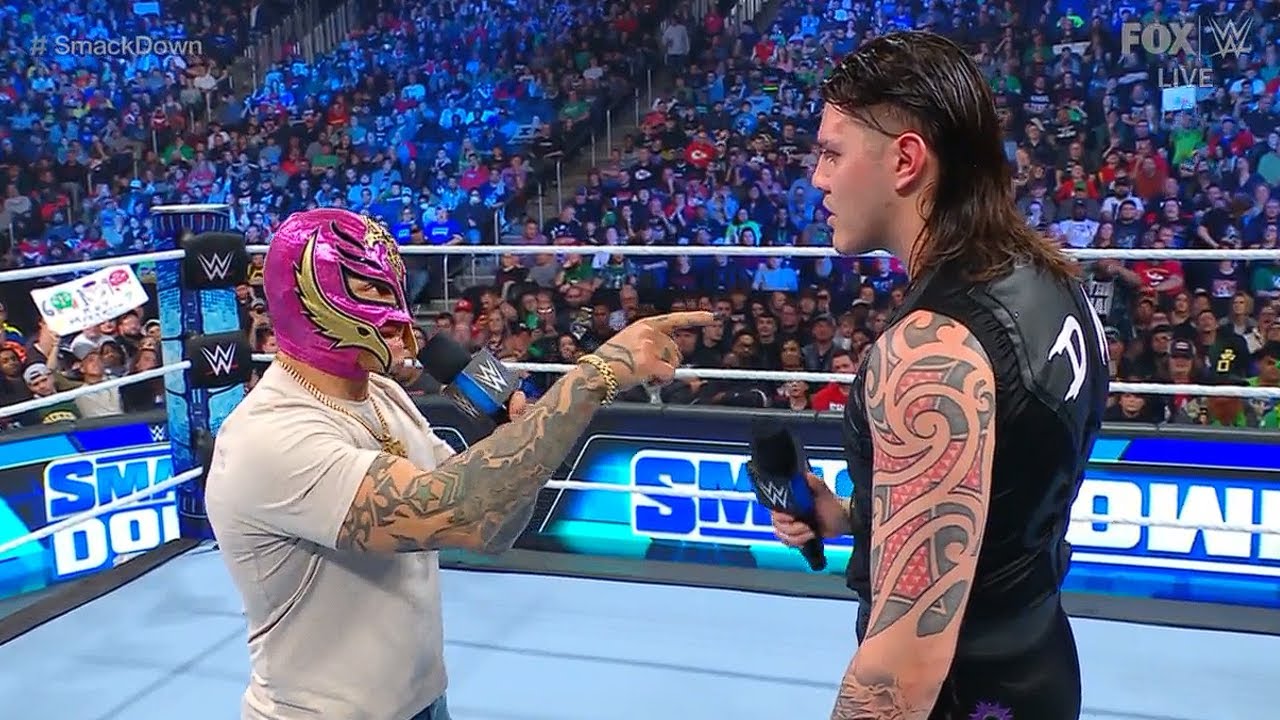 Chris King is here with what WWE should do with Dominik Mysterio at WrestleMania in his long-awaited match against his father Rey Mysterio Jr. 
On this week's episode of Friday Night SmackDown, Rey Mysterio finally snapped and beat some sense into his disrespectful punk-ass kid Dominik. The member of the Judgement Day came out to push his father again for a match on the Grandest Stage of Them All, this time with his mother and sister at ringside. The ungrateful punk told his mom to "Shut Up," as a father even I wanted to jump through the screen and whoop his ass.
Back in October of last year, Mysterio made the emotional decision to possibly quit the company but, instead, Triple H persuaded the Lucha libre superstar to move over to SmackDown to avoid his son. This came after Dominik shockingly turned on his father at Clash at the Castle. Mysterio did everything he could to refuse his despicable son's challenge for Mania but, a man can only be pushed so far. Mysterio will be inducted into the 2023 WWE Hall of Fame and I expect Dominik to embarrass his father during his speech to further this personal feud.
Yes, the WWE Universe hates Dominik and wants to see him get the ever-loving crap kicked out of him but, this feud is missing a special ingredient to capitalize on the biggest heat possible. Throughout this feud, Dominik has made mention of the legendary Eddie Guerrero on several occasions going back to the "iconic" 2005 feud.
I know WWE might not want to go this route but, Dominik MUST come out to Eddie Guerrero's theme at Mania. The disrespectful punk needs to come out in a lowrider to garner nuclear heat. It doesn't matter if The Judgement Day comes out and causes interference for Dominik to get the win, all that matters is that both superstars get the biggest payoff of this nearly year-long feud. Just imagine the Roman Reigns heat after he defeated The Undertaker and multiply that by ten. Dominik portrays the perfect heel and he truly is the missing ingredient that The Judgement Day needed to grow and evolve into a top faction.