Tiffany's Takes: WWE SmackDown Live (6/11/19)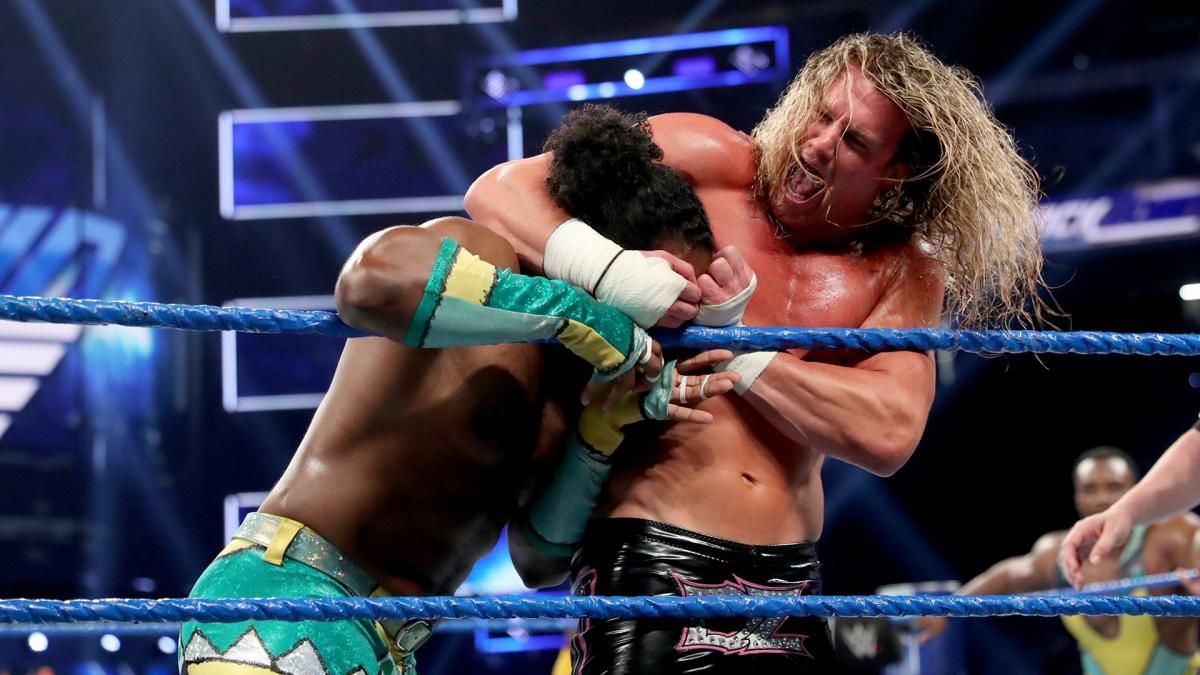 Tiffany's Takes looks at last night's edition of WWE Smackdown! After heating it up in Saudi Arabia, what's next for WWE Champion Kofi Kingston?
WWE Championship: I didn't think it was possible for Ziggler and company to become more obnoxious, but it happened. I'm seriously over this feud and Ziggler pretending that he was so overlooked sitting at home.
I do like that Kingston has been a fighting champion, which is something WWE has badly been needing with all their championships, but it's been SO glaring with the top titles. We need more of the top champs having matches every week!
Intercontinental Championship: I'm not sure where Balor was, but it looks like Andrade's new feud will be with Apollo Crews, going by the interaction between Crews and Vega tonight. Also, what is up with Chad Gable's hair? He looks like a douchebag.
SmackDown Women's Division: Did the IIconics relinquish their 'Obnoxious Wanna-Be' crowns or something? They pick a fight with Ember Moon over Moon's love of anime and then Carmella gets robbed of a fair fight by Mandy. What in the world is going on?I
really want to believe that Alexa is turning over a new leaf but my hopes are dying because she's still being the same petty little brat she's always been and it feels like she's manipulating Nikki Cross to get her way.
I love the new Bayley! If the partnership with Sasha did nothing else, it gave Bayley an edge she was badly needing. The match she had with Nikki Cross was great for both women. Bayley got a badly needed win, Nikki got to show off her skills. It also adds somelayers to the Bliss/Cross thing, but I'm still not sure of Bliss' motives.
Aleister Black: Are we ever going to get Black back in the ring? If he wants a fight so damn bad, maybe he should show some initiative.
Firefly Fun House: Been seeing theories that this week's FFH was a shot at Jon Moxley's interview on Talk is Jericho where he told his side of the story of why he left WWE and I can definitely see why people think that. However, Moxley's living his best life away from WWE and probably doesn't give a rat's ass about Vince's petty BS, so I wouldn't get too worked up about it.
WWE Smackdown Tag Team Championship: Heavy Machinery vs Greeenjerks? Sign me up. I still hate the gear, but we'll worry about that later. I can't say watching HM destroy those two jobbers was fun, but at least the guys had their homemade belts.
WWE 24/7 Championship: Poor R-Truth, that belt is really starting to be a life wrecker. Plus, he keeps getting stuck in things. I love the story of him being in the roll around cart and heading to LA, but since I THOUGHT WWE was in California anyway, I'm not sure why it's going to take them almost a week to get to RAW. Hopefully, Carmella's a faster driver than Mahal.
Shane McMahon: Okay, I don't know why we're re-visiting the Shane/Miz feud, but at least we got a pretty good match out of it. I'm not sure why Roman Reigns has been missing from this feud this week, but at least he was mentioned several times, so he's not out of the mix, he's just not a visible part of the mix.
Overall Thoughts: So, how was SmackDown? It wasn't as good as RAW. I'm guessing that after the Super Show Down, WWE decided to give the boys an easy night, but with Stomping Grounds two weeks away, that's not the smartest thing they could do. SmackDown needs to build their card for Stomping Grounds, and they did an okay job of that, but they needed to put a little more oomph into it.
That said, it wasn't an awful show, just not an exciting one. The 24/7 title continues to be a highlight, but I still have reservations about its long term future, but we'll worry about that later.
That's it for Tiffany's WWE SmackDown Takes! Stay tuned for 205 Live!
---
Elisa looks great in her Chairshot gear.
You can, too!
Be like Elisa and get yours at:
https://www.prowrestlingtees.com/related/thechairshot.html