Tiffany's Takes: WWE SmackDown Live (6/25/19)
See what the Smackdown crew had to offer this week, their first after Stomping Grounds.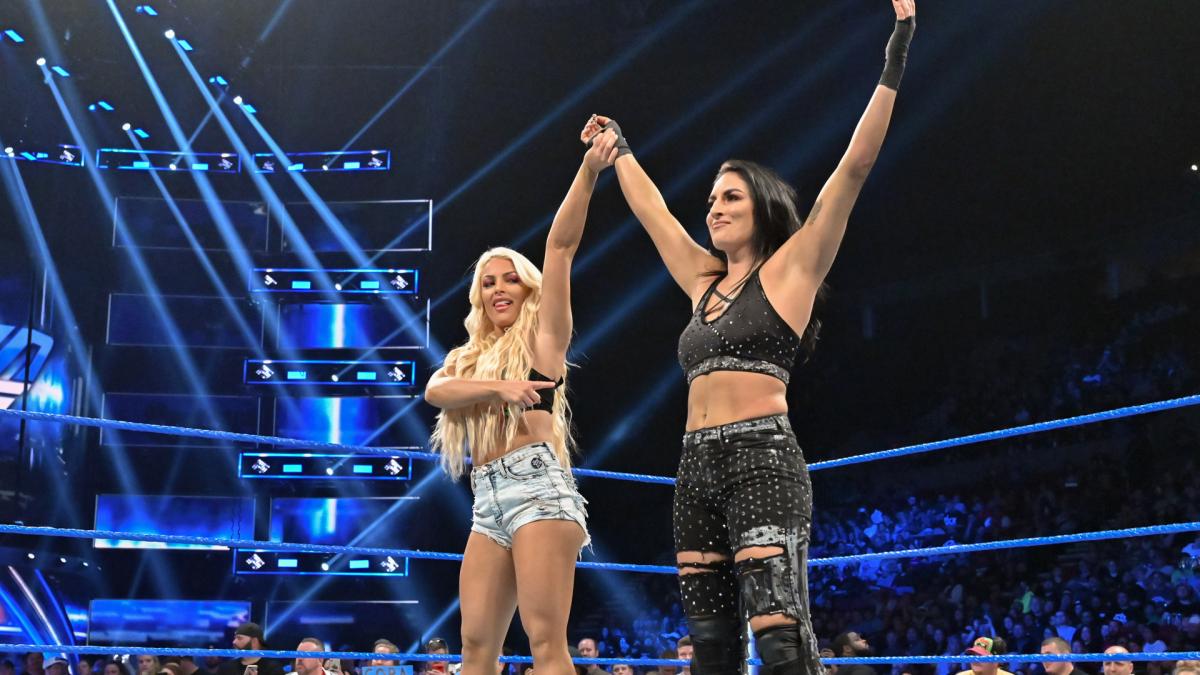 WWE Smackdown is rolling towards Extreme Rules–what was set-up on this week's episode?
See what the Smackdown crew had to offer this week, their first after Stomping Grounds.
WWE Championship: Does Ziggler have memory problems? Why does he insist on claiming Kofi can't beat him when Kofi's done it several times, including his crazy dive win at Stomping Grounds? Like, this is worse than a faulty record, this is Fox News level gaslighting. Seriously, dude, how many times do you need to get beat to get the hint?
The 2-Out-of-3 was really good, but it was also predictable. They've already got Kofi vs Joe scheduled, so Kofi wasn't going to lose to Ziggler. That makes three times Ziggler has lost fair and square to Kingston. Can we move on to something else?
WWE Intercontinental Championship: Yay! It was nice to see Balor back, though I wish I was more interested in his feud with Nakamura. Nakamura's been a big 'meh' for me since his debut and I wanted so much to be dazzled by him. However, I am happy to see Balor back, so that's something.
WWE 24/7 Championship: Oh, Drake Maverick, he never gives up, even when he should. I'm a little surprised that Truth pulled a fast one on him, but we'll see where this goes. It's interesting at least.
SmackDown Women's Division: I love Nikki Cross, but I was disappointed that she and Bayley had another match when it looked like Bayley was going to feud with Liv Morgan, which I very much want to see. Since Nikki got the pin, it looks like Alexa will find a way to get another title shot, which we don't need.
What in the world is WWE doing with Ember Moon. She went from red hot to ice cold and being made to look stupid in her matches to put Mandy Rose and Sonya Deville over. Seriously, Ember is better than this nonsense and it's time WWE gave her a chance.
SmackDown Tag Team Championship: That was a great match, but considering that Woods and E pinned the tag champions on RAW, why wasn't this a title match? Again, it was a great match and it looks like New Day is in line for the titles, but it should've been tonight.
The eight man was good, if inevitable. at least we get to see the tag division tearing it up, which is fun.
The Corporation: I'm not surprised Shane was mad about Taker being back, but his whole take on Taker (no pun intended) was so off, it was laughable. Reigns never needed anyone to fight his battles and Taker isn't at anyone's beck and call, so the whole thing was funny, as was Shane calling himself and McIntyre Roman's biggest rivals.
I am glad that we seem to be moving away from Miz vs Shane, but I'm still puzzled by why Miz only seems to be on SmackDown when he's supposed to be a RAW Superstar, Wild Card or not. Oh, never mind, this is WWE and they take forever to move on from a feud. Guess Miz and Shane will still be feuding for awhile.
Mustafa Ali: I'm not sure what to make of Ali's vignette but I hope it leads to a more worthwhile feud than Jinder Mahal.
Aleister Black: What. The. Hell?! Oh, please don't be what I think it means.
Overall Comments: That was a decent SmackDown. It wasn't quite as good as RAW, but it didn't suck and we got some more build for Extreme Rules.
I think we're getting to the point where Shane needs to be off TV for awhile. It's getting old and the audience is getting tired of him. Let's do something else.
Nikki winning a rematch for Alexa is dumb and makes Nikki look stupid. I want Bayley vs Liv Morgan!
I'm glad to see Finn Balor back on TV, but him vs Nakamura doesn't thrill me.
I think I know who knocked on Black's door, but we'll have to see if I'm right.
Poor Drake Maverick.
That's it for Tiffany's SmackDown Takes! Stay Tuned for 205 Live!