Tiffany's Takes: WWE SmackDown Live (6/4/19)
What did the blue brand do in the go home show for Super Showdown?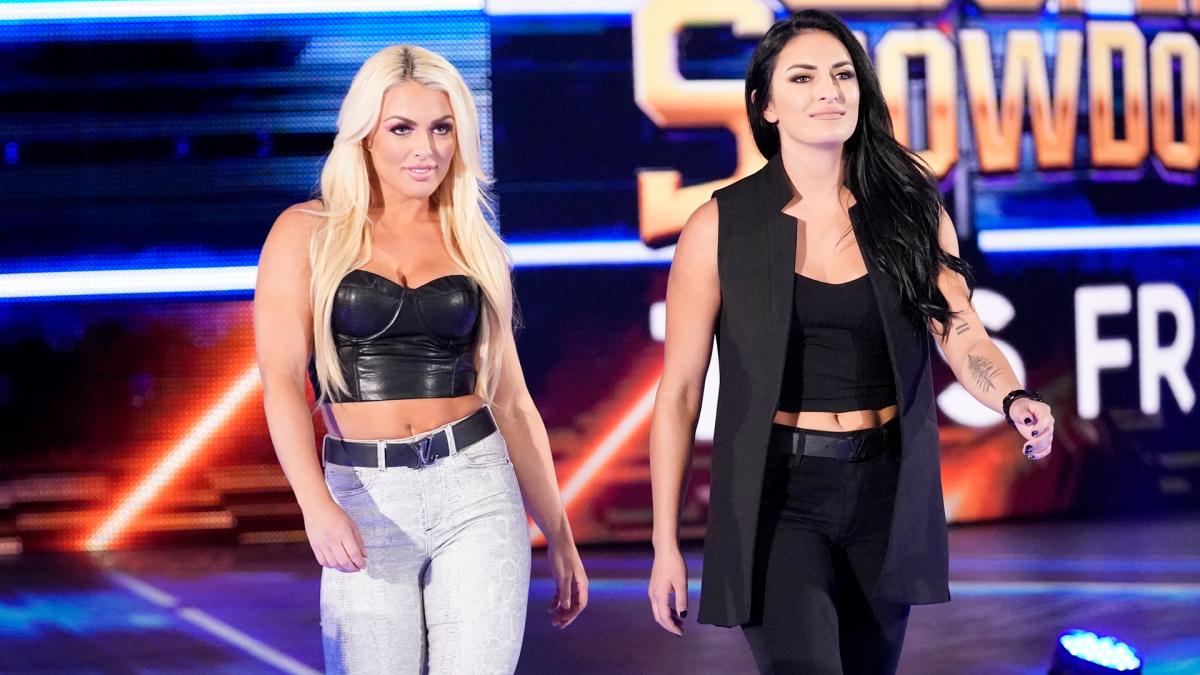 Tiffany's Takes stops by this week's edition of WWE Smackdown–what did the blue brand do in the go home show for Super Showdown?
The countdown to Super Show Down continues, how does SmackDown's card look?
WWE Championship: So, what is the storyline for Kofi/Ziggler? A white guy can't stand that an African-American of equal or greater talent succeeded while the white guy stayed home and pouted? Is that what this is because that's what it looks and sounds like.
Anyway, the match between Kingston/Woods vs Owens/Zayn was great, especially considering that Kingston probably had serious jetlag from being in Ghana last week, which is a video series I highly recommend. It's really a shame that we're not going to get Kingston/Owens or Kingston/Zayn at Super Show Down, but as long as Kingston beats the hell out of Ziggler, it'll be okay.
WWE Intercontinental Championship: Well, we finally got a build for this match at Super Show Down! It was becoming the forgotten match, in my opinion. The one thing that sucked was that Apollo Crews got sacrificed to remind people that this match is happening.
SmackDown Women's Championship: For once, Moment of Bliss wasn't a total trainwreck, thank you God. I'm a little puzzled by Bliss playing the heel, but that might be a layer to the story. I loved the Baymella reunion but I'm tired of Charlotte constantly in the title picture.
Well, this is what happens when you assume. I had something all typed up because I assumed that Charlotte was going to go over AGAIN and I was going to subject you all to a long rant about how much she suffocates the division and I was wrong. Don't get me wrong, I'm not thrilled about Alexa being the #1 Contender over other SmackDown women, but she's not Charlotte, so I'll take it, especially since all three women put on a great match.
---
Time to pick up a new Chairshot shirt!

Get yours at:
https://www.prowrestlingtees.com/related/thechairshot.html
---
Roman Reigns vs Shane McMahon: Shane McMahon is a lunatic and that's why we both love him and despise his existence, right? The idea that he's going to 'soften' Roman up for Friday is hilarious because Shane needed three guys to beat Reigns Monday.
So, Revival and Shane learn to never poke a dog, especially a pissed off one. Even though Shane needed three people to get the better of Reigns again, I think  it's safe to say that Shane and Drew will be sorry on Friday.
24/7 Championship: I've been clear about my reservations about this title, but you can't deny that's it's funny as hell to watch. By my count, Truth is at title reign #5, making him the greatest 24/7 champion in history.
Aleister Black: Are we ever going to get Aleister Black back in a WWE Smackdown ring? Seriously, I love his promos, but I'd rather watch him in the ring.
Undertaker vs Goldberg:  I think I said on Monday, that I wasn't thrilled about this match, mainly because it's ten-twenty years too late to be as memorable as it should be. Don't get me wrong, the face off was cool as hell, but I'm just not into it, WWE waited too long.
Lars Sullivan Interview: It's not often I genuinely feel sorry for someone on TV, but I really felt bad for Kayla Braxton. Being asked to interview someone who has a history of racist comments could not have been easy for her as a biracial woman, but she did it like a trooper. Doesn't disguise the fact that Sullivan is just creepy and gross.
Overall Thoughts: That was actually not a terrible go-home show for WWE SmackDown. It was definitely an improvement over the mess that we've been getting over the last few weeks. Every storyline got a build and we have things starting to form for Stomping Grounds.
One thing I really didn't like was the Lars Sullivan thing. That was just awful. 24/7 continues to be a highlight, even with the limitations.
Bayley will probably go over Alexa at Stomping Grounds and that's okay, but I have to wonder if Alexa will be cleared in time. Yeah, she competed tonight, but she'd definitely got an issue with the injury bug, so I'm not holding my breath.
That's it for Tiffany's SmackDown Takes! Stay tuned for 205!
Saint Louis Anarchy Circus Maximus Preview
July 19th is fast approaching which means that Saint Louis Anarchy's Circus Maximus is just days away. Circus Maximus is the biggest show of the year for the promotion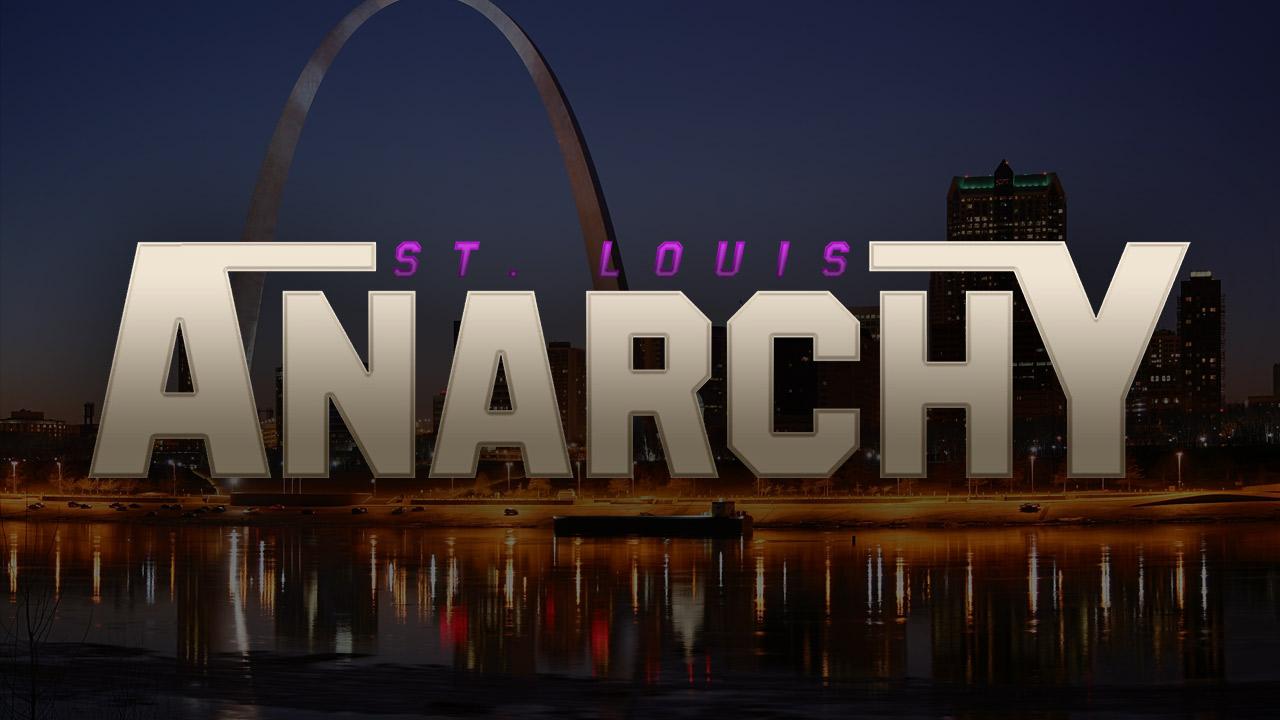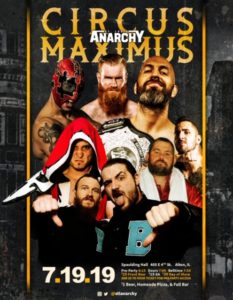 July 19th is fast approaching which means that Saint Louis Anarchy's Circus Maximus is just days away. Circus Maximus is the biggest show of the year for the promotion. Last years Circus Maximus was the return of Anarchy and it blew every expectation out of the water so this year a lot of hype around it and has a lot of lead up to it.
Every Anarchy show has a pre-party and if you're going to an event its best not to miss these. Every pre-party is unique and memorable. We've had beer pong, a rap battle, a magic show, and even a bear paternity test (which was a lot cooler than it sounds). Circus Maximus's preparty event sees Everett Connors reading fortunes and a scramble that includes the likes of Slade Porter, Sage Phillips, Brad Mercury, Sean Orleans, Briar Mercury, and Victor Analog. You don't want to miss this as the antics of the pre-party usually are what set the tone for the entire show.
Everett Connors was set to face Chuck Mambo who unfortunately had to pull out of the show but, make no mistake, whatever match Connors ends up with will be memorable. Connors has spent the last year being one the most charismatic members of the Anarchy roster and leaves every show looking more like the star he is. Plus, who knows what antics he and Raul will get up to.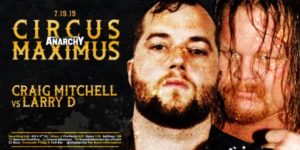 Chicago standout Craig Mitchell is set to face the veteran Larry D in what should be a violent fight. Mitchell has spent the last year carving out his name within the wrestling scene and has been at Anarchy since the beginning of 2019 where he has been able to show everyone that not only can he wrestle but he can fight. Larry D is easily one of the most respected men within Anarchy and indie wrestling overall. Watch any of his matches and you'll see they are not for the weak of heart. This should be interesting because if there's anyone who can step up to Larry it is Mitchell.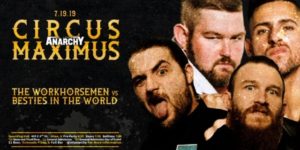 In what is being billed as a tag team dream match, we see the Besties in the World take on the debuting Workhorsemen (Anthony Henry and James Drake). If you haven't seen The Workhorsemen then you are in for a treat. I've been lucky enough to see them many times and they are always improving their teamwork. This match is should prove to be fun and hard hitting as Henry & Drake are not of the joking kind.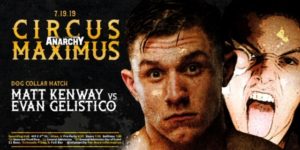 Matt Kenway has been on a tear of the Saint Louis Scene since late 2017. He's proven time and time again that when given the opportunity he will knock it out of the park. Evan Gelistico made a surprise return in May to avenge Buddy Shepherd and to finally take down Kenway who has been antagonizing him since last July. These two men are set to meet in a dog collar match. Expect this to be violent as neither man is looking to back down from proving they are the one to end the other.
Circus Maximus is a diverse show as we are not only getting tag team action, but we are also getting trios action. The most hated men within Anarchy, Jake Dirden, Christian Rose, and Thomas Shire (who I am not sure is still hated but we'll see) are set to meet The Gym Nasty Boys and Gnarls Garvin. Garvin is replacing Mikey who is out with a knee injury. Make no mistake, this match will be an all-out war as Shire, Dirden, and Rose attempt to continue the hot streak their team has been on since last July when they formed their alliance and to prove that they are in fact the most dominant men within Anarchy.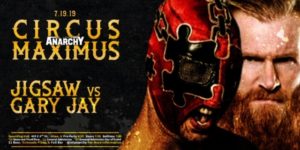 Gary Jay is one of "the" men of Anarchy (we've been over this) and at Circus Maximus he takes on the debuting Jigsaw. Jigsaw is one of the best wrestlers anywhere in the world and his debut being against Gary shows how highly thought of he is. I don't know what to expect out of this but if it's anything like the rest of Gary's matches this year, be prepared to spend the next few months talking about it.
Kody Lane has been quietly making a name for himself within Anarchy and the Midwest wrestling scene overall. Jaden Newman is the uncrowned king of Chattanooga and southern wrestling as a whole. This match will be two young up and comers trying to prove just how far they've come and trying to get the Anarchy faithful invested in them.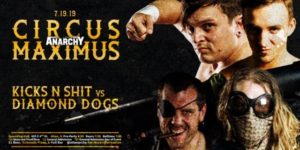 Kicks n Shit (Chip Day and Logan James) look to make an example out of Diamond Dogs (Luke Langley and Graham Bell). Kicks n Shit have been jiving and gelling but not winning and that can't be. Diamond Dogs on the other hand won their last match at Anarchy (it was the dark match with Billie Starkz in May). Expect both teams to show out as they want to be at the top of the tag team division of Anarchy.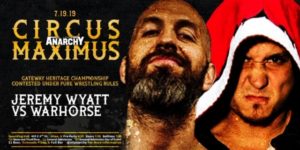 Finally, the main event sees Warhorse Jake Parnell take on the Monarch Jeremy Wyatt for the Gateway Heritage Championship. Parnell and Wyatt each have a win over each other, so this match is anyone's for the taking. Wyatt is coming into this as confident as ever while Parnell is as a determined as ever. You won't want to miss it.
Watch it live in person at Spaulding Hall in Alton Il or on IWTV. Either way, this show will be memorable and in year when its Circus Maximus 2020 will have a new bar set as this is the year show of the year.
Chris's WWE SmackDown Live Grades & Analysis 7/16/19
Following Extreme Rules, The New Day hold all the gold on the Blue brand but for how long? Who will face Kofi Kingston at SummerSlam for the WWE Championship, The Viper perhaps? Could we witness the reigniting of a ten-year rivalry?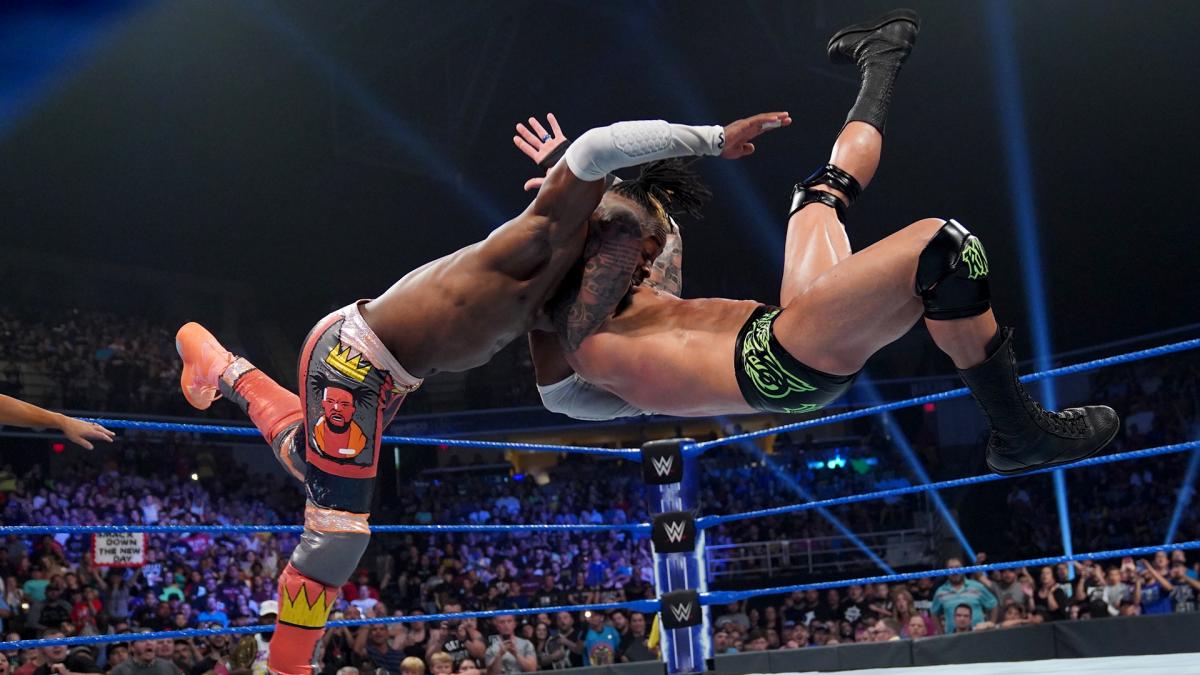 Following Extreme Rules, The New Day hold all the gold on the Blue brand but for how long? Who will face Kofi Kingston at SummerSlam for the WWE Championship, The Viper perhaps? Could we witness the reigniting of a ten-year rivalry?
Chris's Grades For WWE SmackDown Live: 
Aleister Black vs. Cesaro Winner: Aleister Black–B+
Liv Morgan vs. Charlotte Flair
Winner: Flair–B
Ember Moon & Bayley vs. Mandy Rose & Sonya DeVille Winners: Moon & Bayley–B+, The B+ was for the announcement of Bayley vs. Ember Moon at SummerSlam
The New Day vs. Randy Orton, Samoa Joe & Elias Winners: Orton, Joe & Elias–B+
WWE Women's Tag Team Championship Match The IIconics © vs. The Kabuki Warriors Winners: Kabuki Warriors by countout–C
Apollo Crews vs. Andrade w/ Zelina Vega
Winner: Crews by surprise roll-up–B
Kevin Owens vs. Dolph Ziggler
Winner: No Contest 
Analysis: 
The shows opened up with a recap of KO's Pipebomb promo and Stunner, on the self-proclaimed Best in the World last week. We see footage from earlier today with Shane is seen instructing security guards to detain Kevin Owens if things get out of hand.
The egocentric boss tells Owens that tonight there will be an open forum for many mistreated superstars to air their grievances and Shane "is going to listen"… excuse me while I hurl. Owens says he doesn't work for him, his contract is with WWE. Shane gives him a lesson that the McMahon Family controls the company, so "Yes, you do work for me". Owens is given the night off. Two things I see all said superstars with issues are going to get Claymore Kicked straight into next week, and Owens will strike again!
We go to ringside as the entire SmackDown Live roster is on the ramp I guess we're getting the first-ever 'Town Hall' but first a recap of The Undertaker and Roman Reigns' destruction from Extreme Rules! Of course, as long as they are respectful. The Big Dog speaks up first and says "Shane I don't think you get it, nobody respects you…Oh and you can kiss my ass!" Shane's rebuttal is Roman getting fined. I'll be frank I just deleted two paragraphs worth of superstars who aired their grievances, and Shane cut them all off…Liv Morgan and Charlotte Flair bickered and maybe we'll see a match soon.
Buddy Murphy is still a heel and sided with Shane, Apollo Crews got challenged to a match with Andrade, The New Day shut down Elias, and Kofi Kingston got his mic cut off while inquiring why Shane is not giving opportunities to deserving superstars.
Shane closes the thing… Cesaro wants another piece of Aleister Black tonight and gets it! Hell yeah! Owens is standing behind Shane, who botches and falls down… Stunner, this was a complete bore-fest. WWE needs to drastically change things with the upcoming move to Fox if they do long and boring segments to start the show there won't be a SmackDown Live… commercial.
We return and Thank God we get some action as Aleister Black is making his entrance for his Extreme Rules rematch against Cesaro. I don't expect a decisive winner tonight, I think these two will have another exhilarating match though!
We find out several things are happening tonight. First The New Daniel Bryan will give a Career-Altering Announcement, The IIconics will defend the WWE Women's Tag Team Championships against The Kabuki Warriors (Asuka and Kairi Sane). The bell rings and Black and Cesaro trade bombs…Black off the ropes and lands a kick. Cesaro slides outside and Black is gonna fly…Nope, sit-down cross-legged pose…commercial.
We return with Cesaro with a headlock on Black. The action is fast-paced with devastating strikes by both competitors. Black lands his signature springboard moonsault off the ropes for a close two-count. Black knocks Cesaro's mouthpiece out of his mouth with a MASSIVE BLACK MASS 1-2-3! 
Backstage we see Shane's newest suck up Dolph Ziggler and he wants Owens tonight, he claims if it's the main event he can get Owens back here.
We see a recap of a hallucinated Daniel Bryan in his Extreme Rules Post-Match Interview with Sarah Schrieber. Talking about saving the planet, he needs to go somewhere he's never gone before. He knows exactly what he needs to do, yeah go see a shrink lol. Do you remember when I told you we would see Flair vs. Morgan soon? Well, it's coming up next.
This will be Morgan's first match on SmackDown Live since the Superstar Shakeup, and her first as a babyface. She played one before she debuted on the main roster as a member of The Riot Squad. The bell rings and Flair just shoves her down…Wild punches from Morgan.followed by a stunning hurricanrana and a side dropkick! Wow, I'm shocked! Flair just stares as Morgan just smiles and waves at her in his laying down pose. Flair gets the upper hand hits a Powerbomb and locks in the Figure-eight and Morgan taps. Morgan lumps to the announce table and grabs Corey Graves's headset and says "Charlotte was right, and when I come back I'm going to be real"!
I wish this was longer so Morgan can show off more of her in-ring skills, but for what it's worth she did alright in her first match back. The Queen has been MIA for some time, and she needed to get a dominant victory here.
Outside the arena we see Ziggler trying to get Owens's phone number from senior NXT official Drake Wuertz. If you're not familiar with him, he's been the official for a plethora of TakeOver matches, here recently he's been receiving much more exposure on the main roster.
Ember Moon is walking for her tag match against Mandy Rose and Sonya DeVille, I wonder her partner will be? Rose and DeVille are out first, The Shenom is here and…The SmackDown Women's Champion Bayley. Before the bell rings Rose and DeVille attack both opponents.
The match is now underway, Rose hits a high knee and DeVille hits a shining knee… two-count. Moon gets the tag and is firing on all cylinders, bringing the fight to Rose. DeVille comes in and eats a Bayley-2-Belly and Moon hit The Eclipse for the 1-2-3! Post-Match Interview with Kayla Braxton as Bayley is asked who will be her next challenger now that she's done with Alexa Bliss? She thinks for a minute and turns to Moon and she ecstatically accepts by saying HELL YEAH!
The match was fine. I'm seeing a pattern here, because of the extremely long opening segment to start the show, most of the performers are paying the price with shortened matches. This is ridiculous!
Backstage Interview with The New Intercontinental Champion Shinsuke Nakamura who says "I am a storm, and now he's free to rain down his chaos on the entire roster". He's then congratulated by one of SmackDown Live's greatest assets The Heart and Soul of 205 Live Ali. Holy Shit, What A Match That Will Be!
Daniel Bryan and Rowan are coming up next, where do you think he's going? I think maybe NXT. He technically was in NXT before it boomed as a rookie, but many are speculating its to 205 Live either way is Awesome!
We return live as Tom Phillips announces that Owens has been contacted and he's on his way back to the arena. Something smells fishy to me, either he's getting arrested or he's getting a brutal attack from The Corporation 2.0.
It's A New Day, Yes It Is… They've put the SmackDown WWE Championship and Tag Team Championships on Lockdown (Sorry Uce)! After some dancing and celebrating Kofi grabs the mic and tests it. Nope, we're good compared to earlier, Woods gives props to Kofi for beating The Samoan Submission Machine Samoa Joe. Kofi congratulates E and Woods on their victory to become Six-time Champs! E offers Bryan and Rowan their Tag Team Championship rematch.
A distraught looking Bryan and Rowan walk off the stage, but it quickly turns to furious after "New Day" chants break out. Bryan throws the mic down and leaves.
The Samoan Submission Machine wants another title shot but of all people, Elias tells him he's had his chance. The Viper is ready to take back the WWE Championship. Elias says we should all three make a statement to The New Day tonight, New Day pays homage to former Smackdown General Manager Teddy Long back in the day! Orton says Six-man Tag Team Match…Nah he's good. Kofi provokes him to come back by saying maybe he's gone limp! Orton storms down the ramp along with Joe and Elias… commercial.
We're back as the bell rings and Kofi and Elias start it off, tie-up and headlock and a shoulder tackle by Elias. Kofi hits a flying-spinning elbow for the first pinfall of the match. Joe gets the tag and throws hard rights to the WWE champ in the corner, Kofi launches himself into a Lou Thesz Press maneuver. Woods in and Joe eats a highlight reel of splashes and attacks from Woods and Kofi. Tag to E and hits the splash two-count.
Back from a commercial, Woods lands a jaw-dropping missile dropkick all the way ¾ across the ring. Here comes Kofi, flying clothesline…Five Moves of Boom! Cross-body chops, followed by another flying clothesline and the Boom Drop to The Viper.
Kofi Sets up Trouble in Paradise… nope…RKO…nope Kofi hits a beautiful cross-body onto Orton, pin broken up by Elias. Woods and E back in and hit some good offense…Joe drills E with a ferocious lariat, Woods sends him to the outside…Huge Splash, Joe locks in the Coquina Clutch and Woods is out. E makes the save but Elias hits the Knee. Elias back in the ring, Kofi hits Trouble in Paradise… RKO 1-2-3! Yes, sir, my prediction of Kofi vs Orton at SummerSlam is all but confirmed now!
Paige and The Kabuki Warriors are making their way to the arena. Backstage Carmella is searching for R-Truth. HE'S FREAKING GOLD! Truth is hiding in a Washing machine! He's stuck and Mella helps him out. She says she's got a better hiding spot but he'll need a wear a costume z Truth says "good because being the 48/7 European 7/11 24/7 I-75 277 Champion Ain't No Joke!" Truth falls down while exiting the machine…and off they go.
We return live as The IIconics are making their entrance to the ring, their opponents are already in the ring. Greg Hamilton gives the championship introductions, and the match is underway. Sane and Royce start…Slap to Sane. Not wise…Whip tag to Asuka… Headscissors into a Code Breaker and a stunning Blockbuster…Asuka in and nails a shining wizard for almost the victory! They are on fire tonight!
Asuka wants the hip attack…nope tag to Kay and a big boot. Kay starts trash-talking…Huge Roundhouse Kick that sends her outside. Royce check on Kay outside as the official starts the ten-count, Royce grabs Kay off the ropes to ensure the countout victory… Genius! The challengers are not done as the women's champions try to flee with the gold. Royce gets driven into the steps, and Sane and Asuka drives Kay into the barricade. Back in the ring and another vicious kick by The Empress of Tomorrow, followed by The Insane Elbow Drop!
While I know that the charades must end at some point, The IIconics are brilliant cowardly heel champions. I predict a few more weeks of cat and mouse games and then we'll get the title change at SummerSlam. Andrade and Crews are up next.. commercial.
Andrade blasts Crews before the bell rings, now the match is underway. Hard knee in the corner to Crews, stiff strikes from Andrade. Crews answers back with rights of his own Enzugiri…nope stomps to Crews on the mat. Crews gets back up and tries to dodge Andrade but, he gets blasted with a nasty back elbow…Running knees in the corner. Andrade goes for the pin, Crews reverses into his own and gets the 1-2-3! Andrade and Vega are shocked.
Recap of The Fiend's Spectacular debut and attack on Finn Balor!
Owens and Ziggler are up next… commercial.
We return as Ziggler is out first, followed by Owens, I sense a trap…Let's find out!
The bell rings as Owens out of the gate Stunner… nope. Ziggler escapes outside but Owens flies into him! Owens up top, Senton…nope… Fameasser… two-count. Ziggler slows the pace down with a crossface submission and rakes Owens's eyes in the process. Ziggler gets in some good offense now…Ziggler hits a splash in the corner, followed by his signature satellite DDT for a two-count. Owens blasts him with a Superkick, Senton connects two-count. Here comes Shane with a flood of superstars behind him, they surround the ring… Zig-Zag… two-count!
Owens gets drilled shoulder-first into the ring post. Owens slaps him, Ziggler unloads on him in the corner. Owens gets sent to the ring post again, Ziggler with the Superkick…nope… Stunner… pin…nope Shane pulls Owens outside, and eats the second Stunner kt of the night and Owens sprints outta there! Kayla Braxton tries to get a word from Shane he says "He's gonna pay, Kevin Owens you are gonna pay my friend!" 
That's the show folks
Chris's Grade Of The Show–B-