Tiffany's Takes: WWE Super ShowDown (6/7/19)
It's time for the second WWE Super ShowDown. Was WWE hotter than the desert?
Tiffany checks in on WWE's trip to Jeddah in the latest Tiffany's Takes: WWE Super ShowDown!
It's time for the second WWE Super ShowDown. Was WWE hotter than the desert?
Universal Championship Match – Seth Rollins vs Baron Corbin: Well, looks like Brocky from the Block needs to go back to the drawing board, or maybe an orthopedist. That was a surprisingly good match between Rollins and Corbin, especially considering that Rollins is hurt from his beatdown at the hands of Brock Lesnar on Monday. However, the real story is that Mr. Money in the Bank kept his word and tried to cash in on Rollins, but got the surprise of a lifetime when Rollins turned the tables. Seriously, watching Rollins beat the shit out of Lesnar with that chair was the best thing to watch, however, Lesnar should probably get his elbow looked at because it was looking nasty.
Also, did we REALLY need WWE to try and have another Titus moment with Heyman? Was that REALLY necessary. It was so clearly staged, grade school plays were rolling their eyes.
WWE Championship Match – Kofi Kingston vs Dolph Ziggler: I'm not a fan of the way this match was set up or the storyline behind it, but that was a great match. Ziggler and Kingston always put on great matches, and this was no exception. I was a little puzzled by Woods' intervention, since New Day seems set on letting Kingston defend the title without help, but we'll see what happens on Tuesday.
I'm NOT happy about Ziggler getting a rematch at Stomping Grounds. I do not want to sit through another few weeks of Ziggler whining about he was more deserving of that WrestleMania moment sitting at home than Kingston.
Intercontinental Championship Match – Finn Balor vs Andrade: The Demon came to Jeddah with the Intercontinental Championship and walked out with it too. I LOVED this match. Balor and Andrade definitely has a 'fight forever' kind of rivalry. I did NOT envy Balor having all that makeup on during that match, I'm surprised he could still see. I'll give Andrade credit, he definitely gave the Demon more of a fight than most people who have to deal with Balor's alter ego, but Balor is still Intercontinental Champion and we'll have to see who'll step up first.
The Usos vs The Revival: Well, this high school rivalry looks to live another day. Usos beat the Revival in a REALLY great match that let both teams show off why they are the best teams in WWE, however, the damage done by having the Usos kick this feud off by acting like obnoxious kids at the Revival's expense. However, since the Revival are part of Shane's Corporation, maybe this feud will get the serious treatment it needs.
Roman Reigns vs Shane McMahon: What the actual hell was that?! Reigns LOST to Shane McMahon, who can't even walk down the ramp without sweating like the devil in church?! Okay, Shane had a BIG assist from Drew McIntyre (Boringtyre?)because Vince never likes to admit defeat, even when it's been clear for months that the fans have no interest in McIntyre. The fact still remains that Roman Reigns lost to Shane McMahon by pinfall, extending this feud which should've been over by now. Hopefully, this will get resolved sooner than later, but I'm not holding my breath after that match.
---
Time to pick up a new Chairshot shirt!

Get yours at:
https://www.prowrestlingtees.com/related/thechairshot.html
---
50 Man Battle Royal: When I first heard about this show, I thought it was going to be another Royal Rumble, so it being a Battle Royal was a surprise. However, I did like that they had Mansoor, who is from Saudi Arabia, win it, even though no one else in the WWE Universe probably know or care who he is. A very nice way to get the home country crowd happy after a long show.
Lars Sullivan vs Lucha House Party: That happened. It was dumb and nonsensical, but it happened. Let's move on.
Bobby Lashley vs Braun Strowman: I'll give these guys their due, for two guys who aren't good in the ring, they put on a reasonably good match and by 'reasonably good', it wasn't the drizzling shits. Strowman won, maintaining whatever momentum he still has, but I don't think Lashley has had a win in months. I don't know where this feud is supposed to go now, but I'm ready for it to be over.
Triple H vs Randy Orton: Triple H and Randy Orton have had one of the most convoluted relationships in recent WWE history, sometimes friends and allies, sometimes BITTER enemies. If one thing can be said for this decade and half long feud, it's that these two can always have good matches, even if the build for this match was dumb.
I was surprised that Triple H lost, but since no careers were on the line, it's probably not going to mean much storyline wise for now, but it does make me wonder who Triple H will feud with now. Ric Flair is in no shape to wrestle again, the feud with Taker is done, Batista is retired, and he just lost to Orton. Who's next? NO, not HIM, either!
Undertaker vs Goldberg: I have a question: Why are we so determined to see the stars of the 90s continue to go at it even when it's clear that those guys can't go the way we, and they, want them to? Even fifteen years ago, the idea of Undertaker facing Goldberg would've been a WrestleMania worthy match. The match that happened in Jeddah was as far from WrestleMania worthy as the Earth to the stars. Both guys did their absolute best to put on a match worth the name, but it's clear that while Taker can do okay in a match, Goldberg can't. Botches, premature color, Goldberg knocking himself out (his words, not mine) and bad finishes aside, it was an okay match. It couldn't live up to the Dream Match hype at this stage, but both guys tried and that should be applauded. However, I don't want a rematch and hope WWE ends the Seniors' Division before one of these guys REALLY gets hurt.
Overall Comments: So, how was WWE Super ShowDown? It was pretty good. A lot of the matches were much better than I'd expected and the crowd was hot, both literally and figuratively and so were the performers, literally and figuratively.
I'm not surprised the cash in attempt on Rollins failed, I am surprised that no cash-in attempt on Kingston was made. However, considering that Mr. Money in the Bank was holding his elbow and said elbow looked swollen, I'm guessing he was busy with the trainers. I HATED the finish to Reigns vs McMahon. Even though it was a dirty finish due to McIntyre, the idea that Reigns actually lost by pinfall to Shane McMahon is ridiculous. Congrats to Mansoor who got a big win in front of his home nation, always good to keep the crowd on side.
Let's never do Taker vs Goldberg again, 'kay?
That's it for Tiffany's WWE Super ShowDown Takes! I'll be back on Monday for Monday Night RAW!
King's WrestleMania Rewind: Stone Cold VS. Scott Hall (WrestleMania X8)
Chris King is back with another WrestleMania Rewind, looking at the NWO's Scott Hall battling Stone Cold Steve Austin at WWE WrestleMania X8 from Toronto!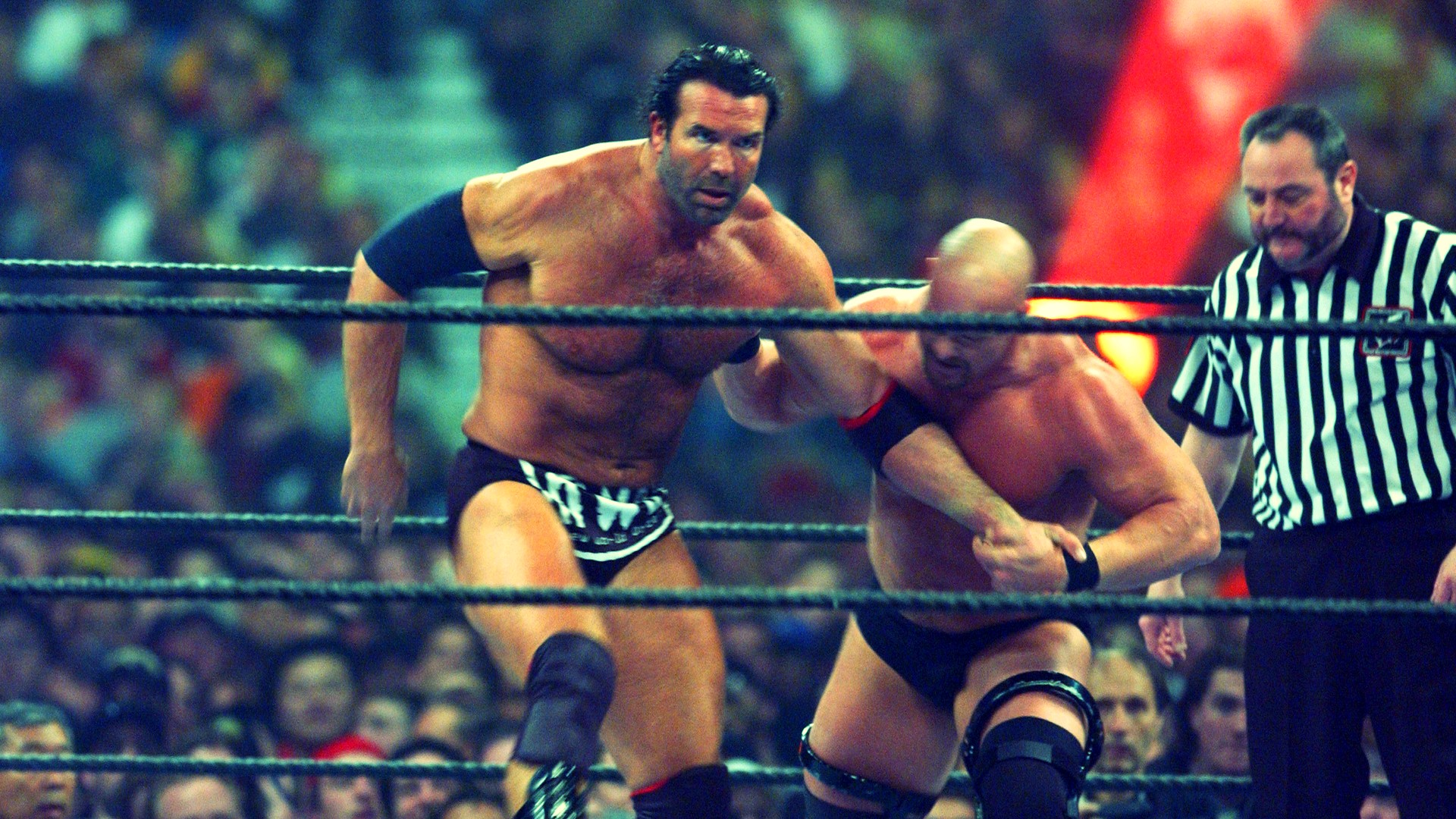 Chris King is back with another WrestleMania Rewind, looking at the NWO's Scott Hall battling Stone Cold Steve Austin at WWE WrestleMania X8 from Toronto!
Chris King is back this week with another edition of WrestleMania Rewind, where he is rewatching all the past Mania matches and feuds. This week you're in for a treat as we look back at 'Stone Cold' Steve Austin vs. Scott Hall at WrestleMania X8.
In late 2001, Vince McMahon bought out his competition WCW and acquired the rights to a plethora of talent including Booker T, Eddie Guerrero, Chris Benoit, and the iconic trio known as NWO. Hulk Hogan; Kevin Nash, and Scott Hall were hell raisers, and what better way to make a name for yourself than take out the two top superstars in the WWE The Rock, and Stone Cold?
The NWO cost Austin his chance at becoming the Undisputed Champion at No Way Out during his match with Chris Jericho. Adding insult to injury, the NWO spray-painted 'The Texas Rattlesnake' with their brand logo just like they did in WCW. As you can imagine, Austin was pissed and out for revenge against the group and primarily Scott Hall.
Hall would challenge Stone Cold to a match at WrestleMania 18. Both superstars beat the living hell out of each other leading up to this highly-anticipated match for who runs the WWE.
The glass broke and Stone Cold made his iconic entrance, and black and white NWO covered Halls' entrance alongside Kevin Nash. With the odds stacked against 'The Toughest S.O.B' could Austin or NWO prove their dominance? Sadly the NWO  broke up that very night when Hulk Hogan came to the aid of his adversary The Rock after their 'iconic' dream match. Stone Cold would ensure the victory with the Stunner. Hall would perform an Oscar-worthy sell over the finisher.
What a time to be a wrestling fan in the 2000s when nothing was impossible for WWE. Who would've thought WCW would go out of business and Hogan would make his long-awaited return to WWE?
King's WrestleMania Rewind: Seth Rollins vs. Kevin Owens (WWE WrestleMania 36)
Chris King takes a look at the most underrated WWE WrestleMania matches, and starts off with Seth Rollins battling Kevin Owens at WrestleMania 36!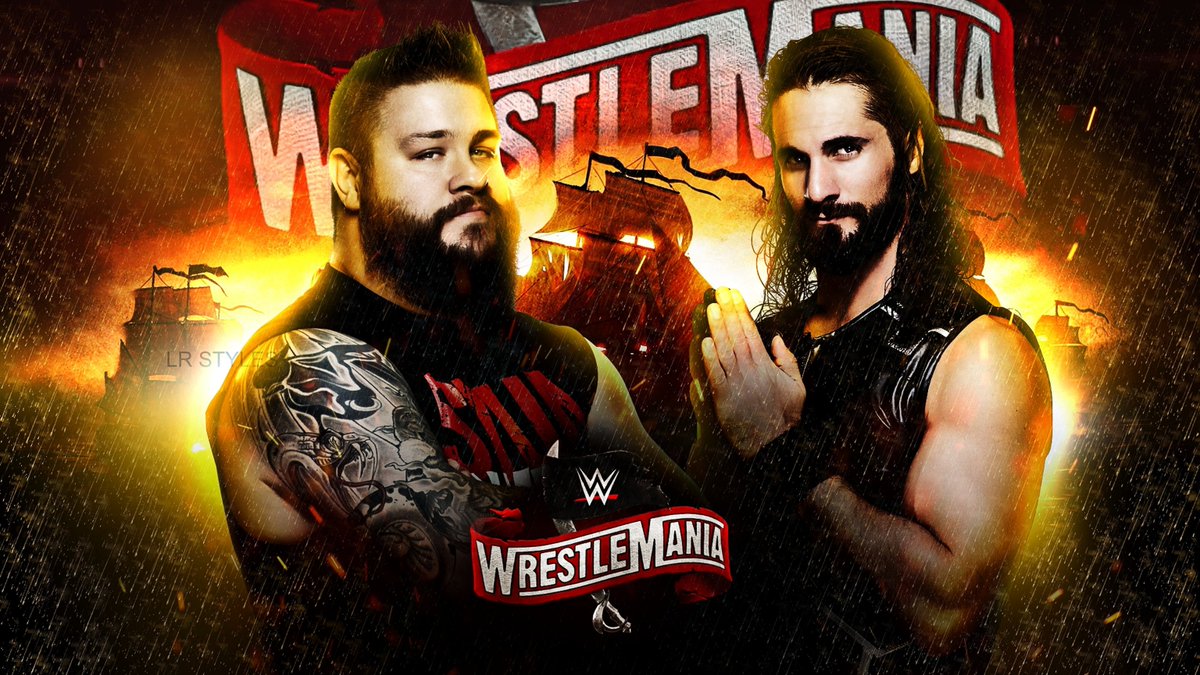 Chris King takes a look at the most underrated WWE WrestleMania matches, and starts off with Seth Rollins battling Kevin Owens in the WWE Performance Center at WrestleMania 36!
Chris King is starting a new series heading into WrestleMania season dubbed WrestleMania Rewind. Each week he'll be going back and sharing his insight over underrated matches at the Show of Shows. First up, is Kevin Owens vs. "The Monday Night Messiah" Seth Rollins at WrestleMania 36.
At the 2019 edition of Survivor Series, Rollins sacrificed himself during the men's traditional match allowing SmackDown to ultimately gain the victory. The following night the self-proclaimed Messiah, berated the whole roster but KO was not having any part of it. Owens quickly became a huge barrier in Rollins' cause for the greater good. The Authors of Pain attacked Owens with Rollins' character in question.
Owens finally had enough of his rival's mind games and torment and challenged Rollins to a match on the Grandest Stage Of Them All. Rollins mockingly accepted his challenge and the match was made official for night one of WrestleMania. Owens came out of the gate beating the holy hell out of the Monday Night Messiah trying to achieve his long-awaited moment at Mania but, Rollins tried to steal a disqualification victory by using the ring bell.
Owens hellbent on revenge provoked Rollins into turning their encounter into a no-disqualification contest where the fight could be taken all over the empty arena. The highlight of the match, was when KO used the WrestleMania sign to deliver a thunderous senton bomb through the announce table. Owens would secure the victory with a Stunner in an incredible match. Despite having no crowd during the pandemic era, both KO and Rollins put on an intense performance under the brightest lights.
In my personal opinion, this was a great feud that helped both superstars in their transformation as compelling characters for years to come.