Andrew's AEW Fight for the Fallen 2019 Ratings & Analysis
AEW has another show! Does this feel more like Double or Nothing, or Fyter Fest?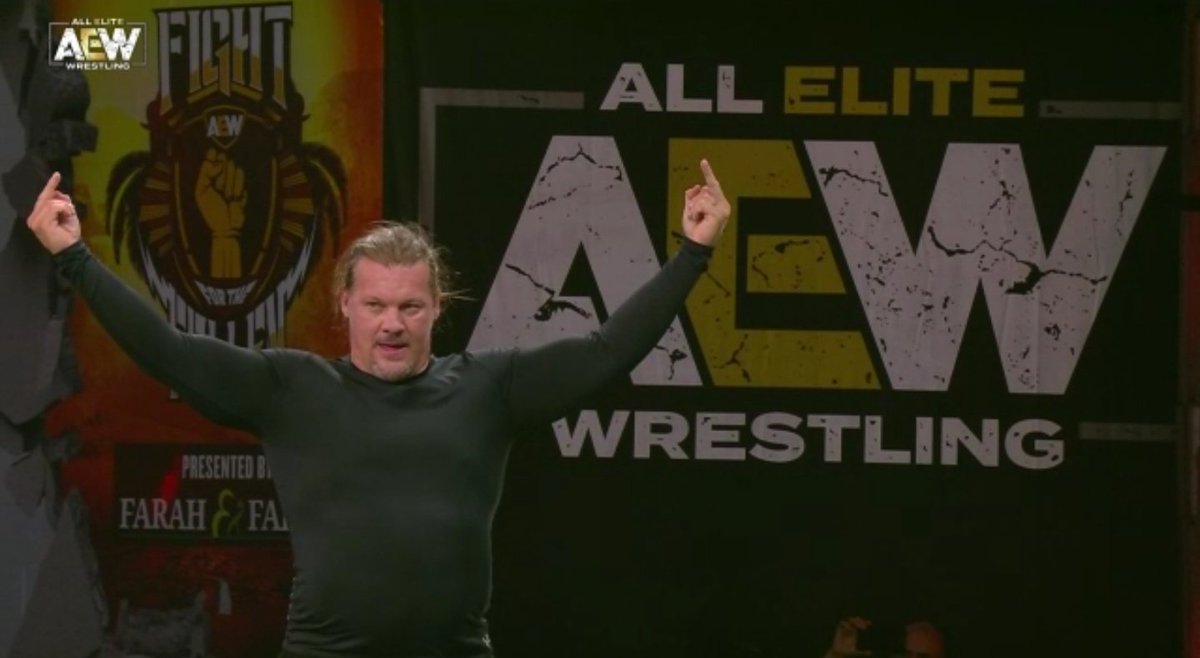 AEW has another show! Does this feel more like Double or Nothing, or Fyter Fest?
So I'm late to the party here since I get to have a life on occasion too, ya know?!
The Brotherhood facing the Young Bucks is all I'm really invested in, but maybe something will surprise.
Time to get to the show!
Ratings:
Peter Avalon w/ Leva Bates vs Sonny Kiss: Kiss wins via Kiss is It @5:10 – * 1/2
Britt Baker & Riho vs Shoko Nakajima & Bea Priestley: Shoko wins via Hurricanrana @15:40 – **
Jimmy Havoc, Darby Allin & Joey Janela vs MJF, Shawn Spears & Sammy Guevara: Spears wins via Death Valley Driver @13:10 – *** 1/4
Allie vs Brandi: Brandi wins via Bionic Spear @11:00 – * 1/2
Dark Order vs Boy and his Dinosaur vs Angelico & Jack Evans: Dark Order win via Fatality @15:15 – ** 1/2
Kip Sabian vs Hangman Page: Page wins via Deadeye @19:00 – ***
SCU vs Lucha Brothers: Lucha Bros win via Spike Fear Factor @15:00 – *** 1/2
CIMA vs Kenny Omega: Omega wins via One Winged Angel @23:00 – *** 3/4
The Brotherhood (Cody & Dustin Rhodes) vs The Young Bucks: Bucks win via Meltzer Driver @31:00 – ****
Analysis:
This Librarians gimmick is terrible and they know it. I say they know it since on BTE even made mention of Leva being a little delusional by saying everyone loves it and the Jackson's weren't expecting that take. Avalon may be an alright hand in the ring, but he's 5 foot nothing, with a porn stache, a bad gimmick and he was Norv Fernum. Sonny is athletic and quite entertaining, but I'm not sure how far that can take him. Some moves like a Twerk-sault and the Ass Ramming corner spot are just not something mainstream fans will embrace. So I'm more curious to see how the character will evolve. As for the match…it was pretty lame.
Britt might've gotten a concussion early on, cause she was talking to the referee often and never seemed quite right, but Bea was a mess. Bea is a hell of a paradox. The better portion of last year in Stardom, she wasn't good in the least bit, but she seemed to figure it out and was quite good in WOS. Plus she's current World of Stardom Champion, so that definitely shows growth. But holy man, she was sloppy as hell in this match. Every time Shoko and Riho got some momentum, Britt and Bea would mess it all up. This could've been a great match, if it wasn't embarrassing to watch at moments.
We've got a mish-mosh 6 man of faces versus heels, but MJF is mad at Spears for the attack on Cody. Then we've got Allin mad at Spears for taking the steam out of his match. Then we've got Joey Janela trying to get himself over, and it was a spot that made me groan. Why would you deliver a Death Valley Driver on the apron, then sell like an idiot, call out Jim Cornette, when the finish is a Death Valley Driver? The match was fast paced and fairly fun, but it made no sense aside from the Allin and Spears interactions.
Brandi does the great heel move with bringing out Awesome Kong as insurance, but neither Brandi nor Allie are strong workers…and it showed. A lot of space between moves, bad connections and the way Allie played off of interference or heel tactics just didn't feel genuine. I do like Brandi winning marred in cheating, it's very on the nose for how she's portraying herself. Plus we get Aja Kong to come out and make the save for Allie and insinuate Aja and Awesome may have a match. Aja may be older, but she's still that old school wrestler type who will rough you up just for fun. That should be good.
Angelico and Evans are nothing but flips. I can't tolerate that team at all. They have generic heel moments with cliche moves. Luchasaurus and Jungle Boy looked like a million bucks. Dark Order is kinda terrible honestly. A few tandem moves looked alright, but generally speaking Dark Order was just boring. Luchasaurus and Jungle Boy weren't hurt by the loss, but they are the ones to care about.
Superbad Sabian and the Hangman was a much better match than I think most initially thought. The pace got slowed down at different points, but the moves made sense and both men really got the story through. Sabian went after the injured knee since he's a flier but also has technical proficiency. Hangman proved himself to still be a resilient babyface for people to rally behind against the egotistical dickhead Jericho.
So when Jericho sneaks up and attacks Page after the match, it just furthered the story and the fan feeling. Simple yes, but it works well.
SCU and the Luchas were just a solid tag team match. I liked Daniels getting involved after being provoked, Scorpio and Pentagon going back and forth with taunts for a while and Aubrey dropping the glove, were all entertaining moments. A little more gimmick than wrestling at times, but we still got a solid match. No complaints at all.
This CIMA/Omega match started off pretty well like it was building towards a big match. It was a lot of Omega trying to prove who he is and CIMA trying to teach people who HE is. However, it turned into a stupid move spamming match. CIMA finishes people with a Meteora, and he did like 12 of them, it was inane. If anyone got annoyed at Omega hitting 20 V-Triggers, this was the same thing. If it weren't for the move spam, this would've been a damn good match. I was definitely disappointed in CIMA for playing into that spam style, when I've seen a good bit of his work and he's usually better than that. Finishers and false finishes for the sake of having them don't build suspense.
We get to the main event that BTE and a lot of the IWC were interested in after Cody's heartfelt promo. The Bucks turned up the visceral aspect by kicking away handshake attempts and spitting at them, so that raised the heat of the match. A bunch of moments in the ring where each team shone with double teams or just stereo spots. Seeing that Dustin and Cody still had some chemistry that it had the Bucks on the ropes was nice. Working on Matt's left arm was great since Matt has definitely gotten better at selling and being the one to get beat up the most. The Meltzer Driver gets hit on Cody, and the Bucks go over.
It looks like the Bucks wanted to have a moment to put the Rhodes' over, but then they admit they must be running short on time as other music hits and the check presentation procession comes out.
Overall Score: 6.5/10
This was better than Fyter Fest, but still had it's own issues. Some matches didn't have the suspense, some spots were shot awkwardly and then we had some sloppy and stupid stuff. Sure no one lubed up and got thrown in a kiddy pool, but there's multitudes of stupid things to do.
So yeah, with the Bucks openly admitting to why things seemed off, that's just comes off as amateurish. Most of the production they can easily get better on by October. But, it's one thing to have a diverse roster and another to have matches/characters that are just so far out there that casual fans won't get it or think are just stupid. There's a reason that "Indy stuff" isn't seen on national TV.