Andrew's G1 Climax 29 Ratings & Analysis: Night 1 Block A
G1 Climax kicks off in Dallas! For the first time on American soil, we get a G1 Climax show! Did it live up to expectations?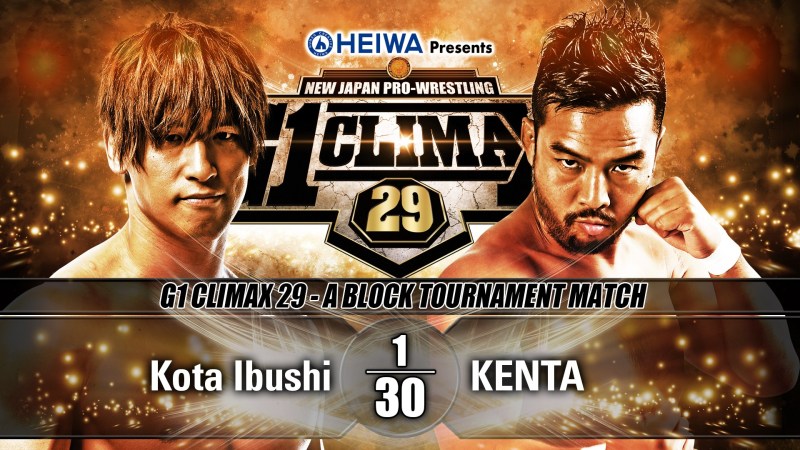 G1 Climax kicks off in Dallas! For the first time on American soil, we get a G1 Climax show! Did it live up to expectations?
This first Night is Block A, and the stories are pretty straight forward.
Will Ospreay is trying to prove himself as more than a Junior. KENTA is trying to re-establish himself as who the hell he used to be. Then we've got the ever continuing saga of Tanahashi trying to regain former glories and Okada cementing himself as the best damn thing since Yu-Gi-Oh Abridged, or something wrestling related.
Yup…
Anyway! Let's get to the first American G1 show in history!
Ratings:
Guerrillas of Destiny vs Roppongi 3k: G.o.D. wins via Super Powerbomb @ 6:45 – ** 3/4
Ren Narita & Jeff Cobb vs Tomohiro Ishii & Shota Umino: Cobb wins via Tour of the Islands @7:30 – ***
Jay White & Chase Owens vs Hirooki Goto & YOSHI-HASHI: Goto wins via GTR @8:40 – ** 1/2
Toru Yano, Juice Robinson & Jyushin Thunder Liger vs Shingo Takagi, Tetsuya Naito & BUSHI: Yano wins via Roll-Up @8:20 – ** 1/4
Block A: Lance Archer vs Will Ospreay: Archer wins via Iron Claw Hold @18:15 – *** 3/4
Block A: EVIL vs Bad Luck Fale: Fale wins via Bad Luck Fall @11:35 – ** 1/2
Block A: Zack Sabre Jr vs SANADA: SANADA wins via Japanese Leg Clutch @21:25 – **** 1/4
Block A: Kota Ibushi vs KENTA: KENTA wins via Go 2 Sleep @20:50 – **** 1/2
Block A: Hiroshi Tanahashi vs Kazuchika Okada: Okada wins via Rainmaker @22:10 – ****
Analysis:
The match started off quick with RPG 3k going at the Guerrillas before the bell, but it got turned around shortly after. SHO was on the receiving end of the majority of the offense, but YOH got the good hot tag for a big crowd pop. The match wasn't that long so it was a lot of "get your shit in" spots, but it made enough sense. Tama hitting a desperation Gun Stun to break up the 3k attempt was the opening that Loa needed to set up YOH for the Super Powerbomb.
Well this was a slightly more intense Young Lion tag match. Cobb and Ishii face off on Night 2 for the B Block and they're starting off hot. This would be a great way to lead up to Cobb beating Ishii in the G1, setting up a NEVER Openweight title match. Cobb may have pinned Umino for the win, but they scuffle afterwards and Ishii draws first blood. So definitely adds a layer to their round 1 match.
Jay White tries to be tactical in his way he handles this match. Avoiding the initial contact with Goto and trying to get the two non-G1 participants to do most of the heavy lifting. Goto does manage to work over White a little bit, but then Chase gets a hell of a run in this match. Stringing together a few moves including Jewel Heist, just for YOSHI-HASHI to interrupt his Package Piledriver attempt. Goto pins Owens, which leaves the question of who's winning next week up for grabs. White is protected, but Goto looks to be rebounding from his awful G1 last year.
This was definitely more of a basic preview match. Shingo and Juice had some back and forth, Naito didn't do a heck of a lot of work, BUSHI ate the pin and put in most of the time. The crowd gets to celebrate with Liger on his retirement tour, Juice and Yano get a little bit of momentum, so all in all, it did what it was supposed to.
Ospreay is many people's favorite for the G1 as well as wrestler of the year. But Archer has a nice story of this being his first G1 in 5 years, it's in his hometown and he started using an Iron Claw ala the Von Erichs. So everything really seemed to be leaning Texas, but this was still a hell of a match. Ospreay hit a Spanish Fly out the gates and tried to stay on Archer. But Archer's size and new moves managed to help him edge out the Junior Heavyweight champion.
Well we had a match between two guys known more for power than style. There was a lot of slugging, EVIL introduced chairs, as is his way, and they bit him. A few decent exchanges but a rather lackluster match is capped off with a referee bump and EVIL trying to use chairs, but it blows up in his face and Fale takes advantage of it. EVIL's disappointment continues, from the Tag Title loss, that was on him…to now losing his first match, because he brought in chairs.
SANADA and Sabre Jr never disappoint. We saw the early story of SANADA trying to get the Paradise Lock on Sabre, while Sabre continued to do a multitude of submissions that I even had no clue what they were. After Sabre counters the Moonsault, you could think it was all but over for SANADA, but he managed to fight out of the Triangle Choke. A nice submission counter sequence saw SANADA defeat Sabre Jr the same way he did last year, with the Japanese Leg Clutch.
KENTA and Ibushi might have been the biggest attraction to this show, even beyond the main event. KENTA's return to Japan in an attempt to prove himself might overshadow Ibushi's own desires. This match was insanely even. They traded strikes, high impact moves and impressive transitions. Thankfully for KENTA, he countered Ibushi's Outside-In German Suplex, and rocked the Golden Star with a hanging Double Footstomp, normal Double Footstomp and went for the G2S, but Kota countered it. A nice strike exchange happened, Ibushi went for a Palm Strike, but KENTA hit a high kick that seemed to do in Ibushi. One Go 2 Sleep later, KENTA wins his first G1 match ever! Amazing match.
Tanahashi and Okada have great history. 5-5-3 in singles matches, the 3 draws all coming in the G1. The pace started off very deliberately since the previous two matches were the type of match where you need to let the crowd recover a little bit. Tanahashi worked over Okada's legs and tried a myriad of veteran tactics with leg picks and small packages, but to no avail. Tanahashi showed how important all this was by breaking out the High Fly Flow, a move which he's reduced the usage of since returning from his latest injury. Okada managed to prevail by catching Tanahashi in his Jumping Tombstone, followed by the Rainmaker. So Tanahashi trying to work over a limb on top of this being the first actual G1 victory for either man added a lot of story weight to something people already knew was big. Damn good.
Overall Score: 8/10
Nearly all of the Block A matches delivered on quality and story, along with the undercard matches setting up Block B nicely. This was the most New Japan show we've had in the United States, and it's about time it wasn't littered with random plugins and awkward main events. Great way to kick off G1 Climax 29.
Also very cool that they announced 3 East Coast Dates in September for Boston, New York and Philadelphia.
Block A Standings:
Kazuchika Okada: 1-0 (2 Points)
KENTA: 1-0 (2 Points)
SANADA: 1-0 (2 Points)
Lance Archer: 1-0 (2 Points)
Bad Luck Fale: 1-0 (2 Points)
Hiroshi Tanahashi: 0-1 (0 Points)
Kota Ibushi: 0-1 (0 Points)
Will Ospreay: 0-1 (0 Points)
EVIL: 0-1 (0 Points)
Zack Sabre Jr: 0-1 (0 Points)