Andrew's G1 Climax 29 Ratings & Analysis: Night 8 B Block
Does Moxley slay his former Dragon Gate USA buddy? Does Naito get the home town rub? Will Jay White ever win?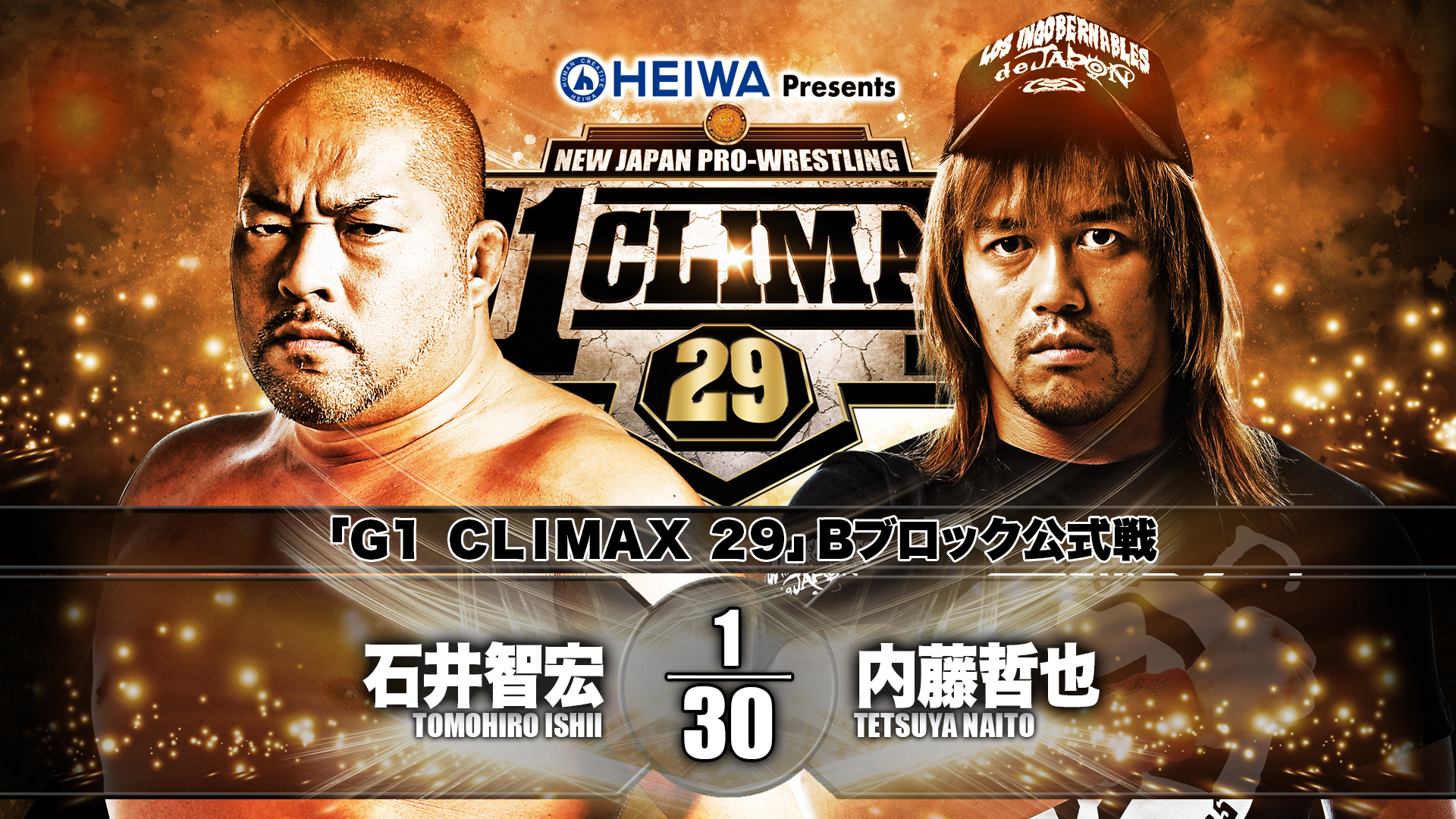 Does Moxley slay his former Dragon Gate USA buddy? Does Naito get the home town rub? Will Jay White ever win?
So there's a few interesting small stories, but this is really all built around Tetsuya Naito.
He debuted his LIJ persona in Hiroshima and he loves the baseball team the Hiroshima Carp, so this is like a homecoming for him.
Can Naito string together a few wins?
Ratings:
Bad Luck Fale, Yujiro Takahashi w/Pieter & Chase Owens vs Yuya Uemura, Tomoaki Honma & Will Ospreay: Yujiro wins via Pimp Juice @9:20 – ** 1/2
Minoru Suzuki, Zack Sabre Jr & Lance Archer vs EVIL, SANADA & BUSHI: Suzuki wins via Gotch Style Piledriver @8:10 – ** 1/2
Kota Ibushi & Ren Narita vs Hiroshi Tanahashi & Shota Umino: Tanahashi wins via Slingblade @7:45 – ** 1/2
KENTA, Clark Connors & Karl Fredricks vs YOSHI-HASHI, Kazuchika Okada & Toa Henare: HASHI wins via Butterfly Lock @8:50 – ***
B Block: Toru Yano vs Juice Robinson: Juice wins via Pulp Friction @4:30 – * 1/2
B Block: Taichi w/ Miho Abe vs Hirooki Goto: Taichi wins via Gedo Clutch @12:10 – ** 3/4
B Block: Jon Moxley vs Shingo Takagi: Moxley wins via Texas Cloverleaf @14:45 – *** 3/4
B Block: Jeff Cobb vs Jay White: White via Blade Runner @15:50 – ***
B Block: Tomohiro Ishii vs Tetsuya Naito: Naito wins via Destino @19:00 – **** 1/4
Analysis:
Well this is one of those moments when Pieter was really the general highlight of what was going on. Ospreay and Fale of course have their match coming up and this is to build toward it, but it was really just a kinda fun normal undercard tag.
This wasn't a direct preview because this match was to further the LIJ vs Suzuki-Gun storyline and not the G1 matches. So for a match that had no tangible consequence, it was still fun. Archer barking at commentary, Sabre acting like Dad's favorite son and Suzuki murdering kids. It's all a good time.
Ibushi and Tanahashi don't really need any hype, and this didn't do much. Narita and Umino got to show their stuff a bit, including Narita going toe to toe with Tanahashi for a little bit. Very basic tag match.
KENTA gets paired up with the LA Dojo boys often, and it just works well. The story here tells itself when the two undefeated fighters are gearing up to butt heads. Now that KENTA has a few matches under his belt, we should get more of a NOAH circa 2013 KENTA. Henare and HASHI were obviously going to get to do most of the work, but that didn't take away from this being fun and the Dojo boys being more and more impressive.
Now that we get to the block matches, we get something that's odd on paper. Yano tries a few tricks with turnbuckle pads and tape, but Juice stays on top of Yano's Shenanigans. The match was slow since Juice tried to stop Yano in his tracks. It didn't really get moving until the end with a few reversals and twists of fortune, but Juice wins and this was 4 and a half minutes I could've done without.
Okay, so I'm an unabashed fan of the Holy Emperor, but this was a bit of a clunker. I love the way it started with Taichi beating up an LA Dojo Young Lion, taking the shirt and stomping on it in front of Goto to fire him up. However, the match didn't keep a good pace. Yes a lot of that was Taichi's stop and start heel tactics, but where we got  Dangerous T to come out and play against Naito and Shingo, we got Gackt wannabe in this one. Taichi winning also makes for an odd situation when Goto started off so strong and "rebuilding" himself.
Moxley and Shingo was a slugfest. Posturing headbutts and just big strong boy strikes kept this match moving. A few awkward spots like the short Suicide Dive that they played off as "blocked" and the overall pacing early hurt the match. Granted, when it picked up in the last third, we saw a great match, multiple signatures, German Suplex no sells and then Moxley pulls out a submission victory. So aside from Death Rider, he also has a Texas Cloverleaf that he could finish people with. Nice way to unveil an alternate finisher.
Jay White is truly coming into his own, but Jeff Cobb has really been hit or miss so far in the G1. White went after Cobb right away and then powdered. All we hear him saying to Gedo is " Okay, that didn't work…" This is a nice way for his character to build because we saw odd flashes of self doubt, cocky Switchblade swagger and just general dismay/confusion. White has also been forced out of his comfort zone cause the cheating and outsmarting from last year aren't working. So he managed to reverse a Tour of the Islands, into Blade Runner after numerous attempts at cheating failed. Finally on the board, Switchblade is looking for the reverse sweep. Does he get it?
I think we all assumed being in Hiroshima, which is Naito's second home town, he wasn't losing to Ishii. Ishii had a loss to give since he's 2-1 going into this, and Naito really needs to keep this momentum. As for the match, it was a great match between two guys who never fail to deliver. That's also not hyperbole, I can't remember a match between these two being bad. Words don't really do it great justice, just watch the match. Naito moving his way into the middle of the pack is exactly what he needed though.
Overall Score: 6.5/10
This was definitely one of those cards that was all about the main event. Yes Shingo and Mox was a damn good match, but the crowd wanted a Naito win and that's what the build was for. So there's nothing wrong with a slow build, but compared to the previous days, this one definitely fell a little flat.
Also, we need more Dangerous T! I don't mind the scumbag heel Taichi, but it's like a tease when we see him actually try and then he goes back to half-assing.
B Block Standings:
Jon Moxley – 4-0 (8 Points)
Juice Robinson – 3-1 (6 Points)
Toru Yano – 2-2 (4 Points)
Tomohiro Ishii – 2-2 (4 Points)
Shingo Takagi – 2-2 (4 Points)
Taichi – 2-2 (4 Points)
Tetsuya Naito – 2-2 (4 Points)
Jeff Cobb – 1-3 (2 Points)
Hirooki Goto – 1-3 (2 Points)
Jay White – 1-3 (2 Points)