Andrew's Impact Wrestling Ratings & Analysis 7/12/2019
Slammiversary was a great PPV! What does Impact bring to the table after a successful event?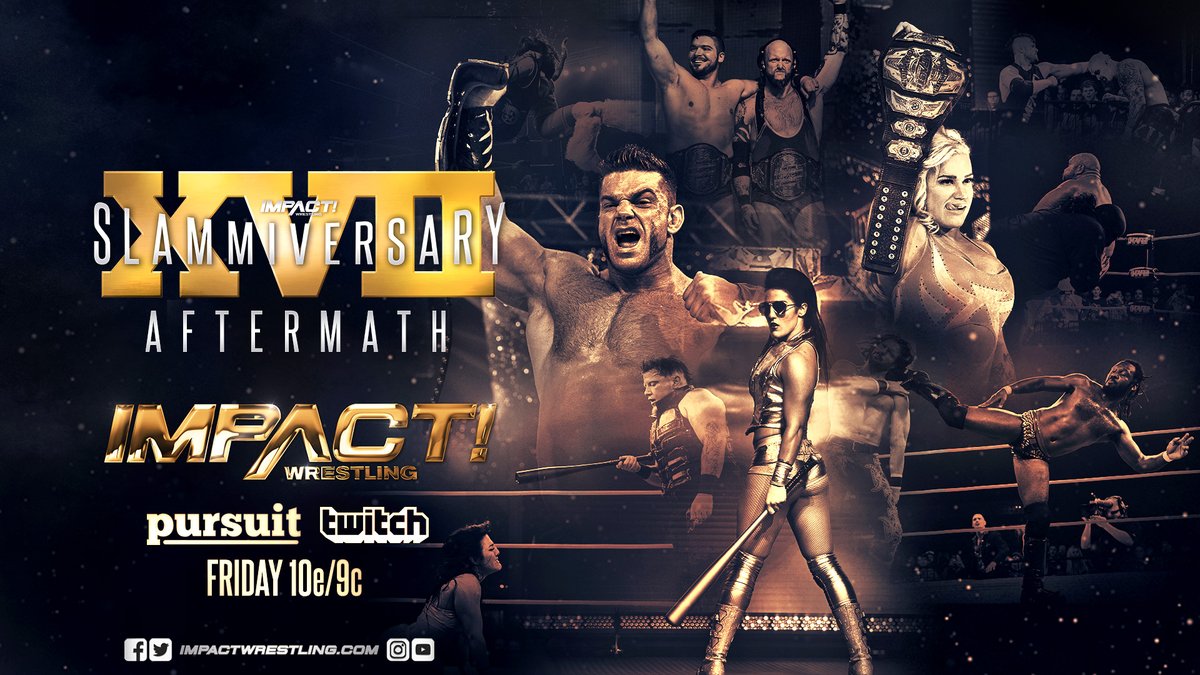 Slammiversary was a great PPV! What does Impact bring to the table after a successful event?
With the news of some people being free agents along with all of the title defenses, we've got some work to do!
Wait…Don Callis and Josh Matthews are in front of a Slammiversary LED screen?
We're getting a clip show? OH- a clip show with 1 new match and the full main event of a A Night You Can't Mist.
Really? You follow up a hot PPV with a clip show.
Talk about not understanding momentum.
Ratings:
IMPACTplus Match: Michael Elgin & Johnny Impact vs The Great Muta & Tommy Dreamer: Muta wins via Shining Wizard – ***
Kiera Hogan vs Jordynne Grace vs Madison Rayne: Grace wins via Grace Driver – ***
Analysis:
Well I must've overlooked something, since this is mostly a clip show. Seems like they're going over the Slammiversary matches with post match comments interspersed from wrestlers.
Surprisingly, Melissa is on the Skype host of Twitch chat duty tonight. She just got married and this is a clip show and she's still around. Points for her.
Ugh – yup just clips of before and after promos for Killer Kross vs Eddie Edwards. I don't really care. These feel like they should be extras for the Slammiversary DVD, not a standalone IMPACT episode.
Jimmy Jacobs weighs in on the Monster's Ball information. Gotta love the Zombie Princess.
To give you an idea of what we've been dealing with:
.@TheTayaValkyrie beat the odds and defeated @WeAreRosemary, @realsuyung & @FearHavok in a VIOLENT Monster's Ball for the Knockouts Championship at Slammiversary!

WATCH HERE: https://t.co/sWu6SEiYN7#IMPACT pic.twitter.com/JKqYkxtmqB

— IMPACT (@IMPACTWRESTLING) July 13, 2019
Oh now we get to hear the thoughts of the Real Deal now. D'lo Brown discusses the tag team match.
The best thing to come from these post match comments was the promo Konnan cut on The North afterwards. Still definitely a waste of time episode, but Konnan is still fire on the stick.
After @OfficialEGO & @Walking_Weapon retained the Tag Team Championships at Slammiversary, @Konnan5150 sent them a very direct message!

WATCH HERE: https://t.co/sWu6SEiYN7#IMPACT pic.twitter.com/CnLDbgmd3E

— IMPACT (@IMPACTWRESTLING) July 13, 2019
Well thankfully they trimmed out the portion of the Night You Can't Mist main event so we didn't see the long stall because of the shitty fan. As for the match, it was a good house show style match. A few moments of awkward spots, physical comedy and Muta slides in with a broom, Kid Ref admonishes him and he decides to just sweep the ring a little like he had no ill intent. Solid match honestly, the fact that Muta goes over after some Misting shenanigans was just a nice moment.
Tommy joins Josh and Don talking about Tessa versus Sami Callihan. The interviews afterwards definitely drive home the fact that Sami has respect for Tessa. It was a well done video package, but this really shouldn't be a stand alone episode.
Petey Williams joins the aftermath show to discuss Swann and Johnny. Nothing really of merit was said or shown, especially since most of us figure Johnny lost since his contract was up. So trying to frame it in a sports way, doesn't really resonate with this generation of wrestling viewer. I mean that more by available information, not hands down "smart" remarks.
So we know where it's going. They talk about Cage and Elgin with Scott D'Amore and it seems like this angle might persist. Since Cage won with a wrestling move and not his usual seek and destroy style, Elgin is taking that as a moral victory. Any matches with those two will be good stuff, but got this has been hard to sit through.
Well this women's Triple Threat was kind of a mess early on. Mistimed spots, competitors or referees out of position, awkward transition and partially missed moves. Granted, they had a good amount of time and kept the intensity up, so it helped to save the match from an enjoyment and storyline perspective. Things culminate with Grace getting the win, but Rayne turns heel. So Hogan and Rayne gang up on Grace, and Hogan walks out exchanging glances with Rayne, but never quite cementing if they will be a team moving forward.
Overall Score: 3.5/10
A clip show with one new match and one match from a show last month. I mean, Jesus this was not a good idea. Yes the video packages were solid, sure they helped to flesh things out a little bit…but holy hell it was a boring show. Plus you have to wonder how people who paid for the PPV must feel when a good bit of the footage was given away during this clip show.
Of course Twitch viewers were the lowest they've ever been since people were not happy with a clip show.
Just a dumb choice coming off the heels of a great PPV.
Andrew's IMPACT Wrestling Results & Match Ratings: 10.6.2022
The GO HOME to Bound for Glory! What kind of last minute changes (if any) happen tonight?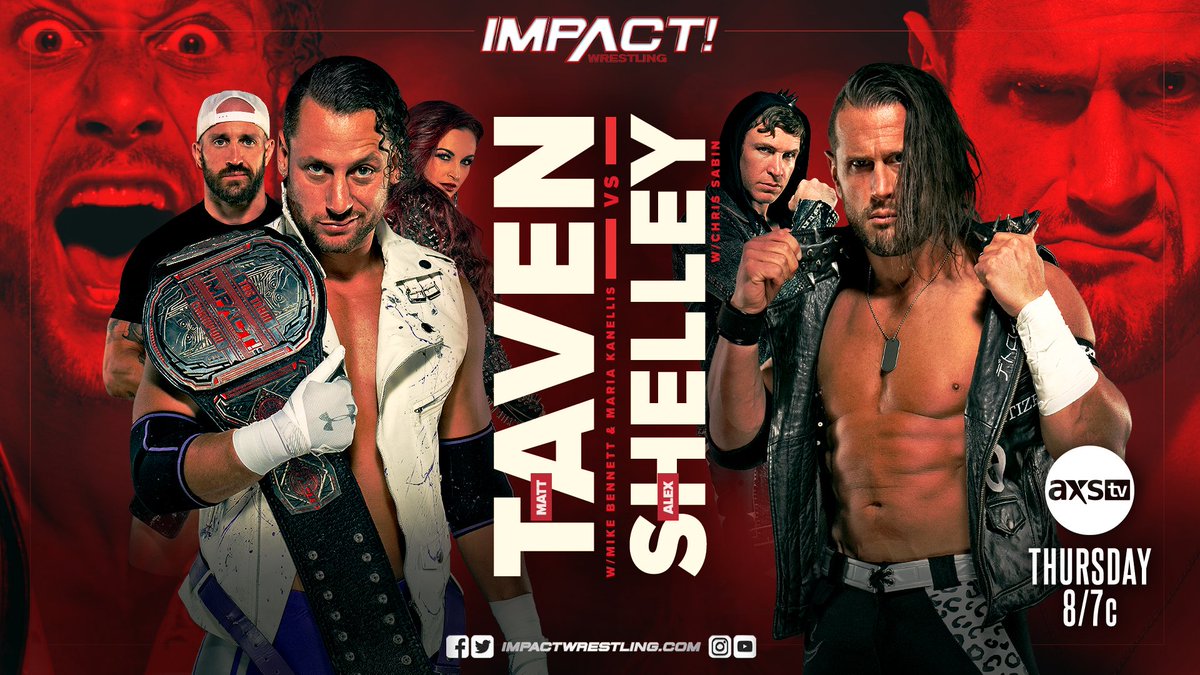 Well we've got the GO HOME for Bound For Glory! It is definitely a little odd for the biggest PPV in the company to be two weeks after Victory Road; but hey the matches look pretty damn good.
Kaz gets a tune up match before his title shot, but you have to think if Kenny King can get a win; he'd make the title match a Triple Threat. As well as a Maclin vs Moose showdown with Sami Callihan as referee.
So we get to see how they hype the PPV and how the rest of the PPV shakes out!
.@Kelly_WP was calling her shot until @SavannahEvansNV and @RealTSteelz SHUT IT DOWN! #IMPACTonAXSTV pic.twitter.com/sMRIm7MZXe

— IMPACT (@IMPACTWRESTLING) October 7, 2022
Ratings:
Kenny King vs Frankie Kazarian: Kaz wins via Chicken Wing – ***
Gisele Shaw vs Mia Yim: Yim wins via Eat Defeat – ** 1/2
Special Referee: Sami Callihan: Moose vs Steve Maclin: Maclin wins via Callihan's Revenge – ***
Swingerellas w/Zicky Dice & Johnny Swinger vs Taya & JesSICKa w/Rosemary: JesSICKa wins via SICK-ishi Driver – N/A
Matt Taven w/Mike & Maria vs Alex Shelley w/Chris Sabin: Shelley wins via Shellshock – *** 1/4
Results:
Kenny King vs Frankie Kazarian
Collar and Elbow/Headlock tie ups start the match before the Rope Run Shoulder tackle spots. A lot of World of Sport style counter wrestling, different take overs, cradles and eventually Kaz takes advantage of an opening with a big Lariat combo.
Kenny baits Kaz into trying his Guillotine Leg Drop on the apron, but pulls his head back in and then Planchas on his head. Leg Lariats, Leg Drops, Rising Knee Strikes, all great offense from King before Kaz tries a few reversals to catch a breath. King charges and Kaz does an Overhead Belly to Belly toss into the corner.
Scoop Slam into the Springboard Guillotine from Kaz for 2. Kaz tries for the Chicken Wing, but rams Kaz face first into the turnbuckle. T-Bone Suplex Hold from King for 2. Royal Flush attempt from Kenny, Eddy Gordo kick into Tiger Driver…only 2! Royal Flush again, but Kaz grabs the ropes and falls back into a Chicken Wing. The Heavy Metal Rebel gets the submission win!
Gisele Shaw vs Mia Yim
Mickie James comes out on commentary to scout Yim a little going into their Bound For Glory match.
Gisele and Mia start off in mostly a stalemate, but Gisele still jaws over at Mickie. After a little counter play, Mia hooks in a Front Neck Choke, but Gisele powers up and slams Mia into the corner. Mia tries an Outside-In Enzuigiri, Gisele blocks it, Stun Guns and then wipes out Mia with a Tornillo.
Commercial break comes back with Gisele leaving her feet when throwing Mia into the corner and then mocking Mickie James. Mia tries to fight back, Final Cut from Gisele for 2. Gisele goes for a stomp, misses, Buzzsaw Kick, misses, and Mia lights her up with Knife Edge Chops. Spinning Rope Assisted Enzuigiri into a Green Killer puts an end to Mia's offense. Rope run strikes leads to Gisele hitting a great Step Over Dragon Kick but Mia responds with a Headbutt as they're both down for a second. John Woo Dropkick from Mia, Senton in the corner for 2, Mia tries to set up and Eat Defeat, but Gisele throws her into the ropes. Backbreaker/Flatliner combo gives Gisele a 2, Mia retreats to the corner a little, Gisele chases and then gets caught with an Eat Defeat.
Impact Flashback Moment: TNA PPV #28: 1.22.2003 Raven attacking Jeff Jarrett
.@Myers_Wrestling has all kinds of people to look out for TOMORROW NIGHT on the #CountdownToBoundForGlory when he puts his Digital Media Championship on the line in an OPEN CHALLENGE!

Get @IMPACTPlusApp: https://t.co/0aHsukqG4g#IMPACTonAXSTV pic.twitter.com/kvieuMkTxN

— IMPACT (@IMPACTWRESTLING) October 7, 2022
Special Referee: Sami Callihan: Moose vs Steve Maclin
Moose comes out all taped up, hits ribs and his mid section. While Maclin looks fine and Sami has a black eye. I like the setup since Moose being banged up before the Gauntlet lends more reason to him not winning yet nit getting hurt by a loss.
Early on, the action in the ring is secondary to Sami Callihan hamming it up. He turns his back on corner strikes, stops counts and chants "WRESTLING" at the crowd. He's really just letting things go, I think even Red Shoes would even think this is a little too rules light.
Sami's very sarcastic and campy delivery of checking on wrestlers and starting occasional counts is great. He also congratulates people on big haymakers with the sarcastic "GOOD JOB". The wrestling is a pretty good slugfest so far, but Sami takes away from the action with his antics; but that's also the role he's purposefully playing. Callihan plays into their desire to beat on each other, but the satire of the "Ref Machine" isn't something I could tolerate often.
Standing 10 count, Sami stops at 4 and tells them to "GET YOUR ASS UP". Which starts a chant, of course. Maclin hits the Crosshairs, and then Sami is hamming it up and takes his sweet time starting a count. Moose hits Go To Hell, but Sami got bounced and started talking to the crowd instead of counting. Light Out miss, KIA miss, round-a-bout, Lights Out, 1-2-FUCK YOU. Cactus Driver '97 on Moose and Maclin. Sami puts Maclin on Moose and counts 3.
.@joehendry WILL MOTIVATE the CALL YOUR SHOT GAUNTLET TOMORROW NIGHT at #BoundForGlory!

Order on @FiteTV: https://t.co/dhhyC3AKtK or https://t.co/nkseDgtd1F#IMPACTonAXSTV pic.twitter.com/xpRwpbgicu

— IMPACT (@IMPACTWRESTLING) October 7, 2022
I am so happy this was a Joe Hendry vignette. 
Swingerellas w/Zicky Dice & Johnny Swinger vs Taya & JesSICKa w/Rosemary
JesSICKa has such great intro music. I'm glad they repackaged her into something somewhat entertaining since Havoc was not worth anything anymore.
JesSICKa throws the one in the corner, Taya hits her with the Seeing Shadows Knees in the corner, Rope Hung Sliding German Suplex and then Jess comes in and hits the SICK-ishi Driver.
It was a squash match, but trying to build JesSICKa is solid.
Matt Taven w/Mike & Maria vs Alex Shelley w/Chris Sabin
A little talking and then Taven lights up Shelley. They start some counter wrestling, Taven grabs Shelley, almost hits The Climax; but Shelley counters it into a Border City Stretch attempt, and Taven powders.
Coming back in, Shelley has control with a Headlock, followed by a soccer kick to the shoulder blades. Shelley tries to speed up, Taven keeps up well and drops Shelley with a Dropkick. Bennett trips Shelley and then Sabin trips Taven in a classic eye for an eye tweener style the Guns love.
After some outside the ring antics, Shelley comes back in, charges Taven in the corner and connects. Tries to follow up but a little over aggression and admonishment from the ref gives Taven a few opportunities. Commercial break and Taven hits a nice Backbreaker for a near fall, into a Bow and Arrow stretch, Side Russian Leg Sweep into Lion Sault from Taven – no one's home!
Slow crawl to their feet, a quick back and forth, Soccer kicks, Border City attempt, but no. Shelley keeps wrist control locomotion chops, arm breaker into – Taven's Leg Lariat. Lion Sault from Taven for 2. Drop Toe Hold into the turnbuckle, Tornado DDT from Shelley. Bennett gets involved, Sabin equals things out, Superkick into Shiranui and Maria  puts the foot on the ropes. Ref sees Maria, but still breaks his count anyway. A little back and forth, Kick of the King into Aurora Borealis, knees up, pinfall counters…only 2! Penalty Kick, Shellshock attempt, Bennet attacks as the referee is distracted. Just the Tip from Taven, Shellshock from Shelley and Shelley wins!
Jordynne doesn't speak well and Scott did carry a lot of the early speaking parts of the contract signing. Masha stayed silent, so hearing the champ/babyface having to brag about their resume is a little corny. Masha only says one thing really, and that's "Masha's Gonna Kill You" and literally flips the table onto Jordynne. 
The cliché contract brawl expected and the fact that Masha hit the Russian Death Device through the table, makes you think Jordynne will retain. 
Overall Score: 6.5/10
Solid in ring work, the video packages were good and got the point across for the bigger matches. Alisha and Eddie kinda mirroring Gisele and Tom Brady is pretty hilarious as well. The finish to the show did hurt it a little. The crowd peaked at the Sami antics, everyone loves when the Guns are in action as tag or singles…and then a color by numbers contract signing is meh.
A few of the fun story beats with Killer Kelly and Tasha, Joe Hendry and Swinger drama is a great way of showing how to weave in lower card stories without a big name or title involved; and to keep it intriguing.
Do I think this would've helped someone on the fence decide to purchase Bound for Glory? No, I don't. But at this point, Impact has a niche audience so at least the card looks promising.
Andrew's IMPACT Wrestling Results & Match Ratings: 9.29.2022
Bound for Glory is 8 days away, but Victory Road just happened. What kind of show do we get with some fallout and penultimate hype?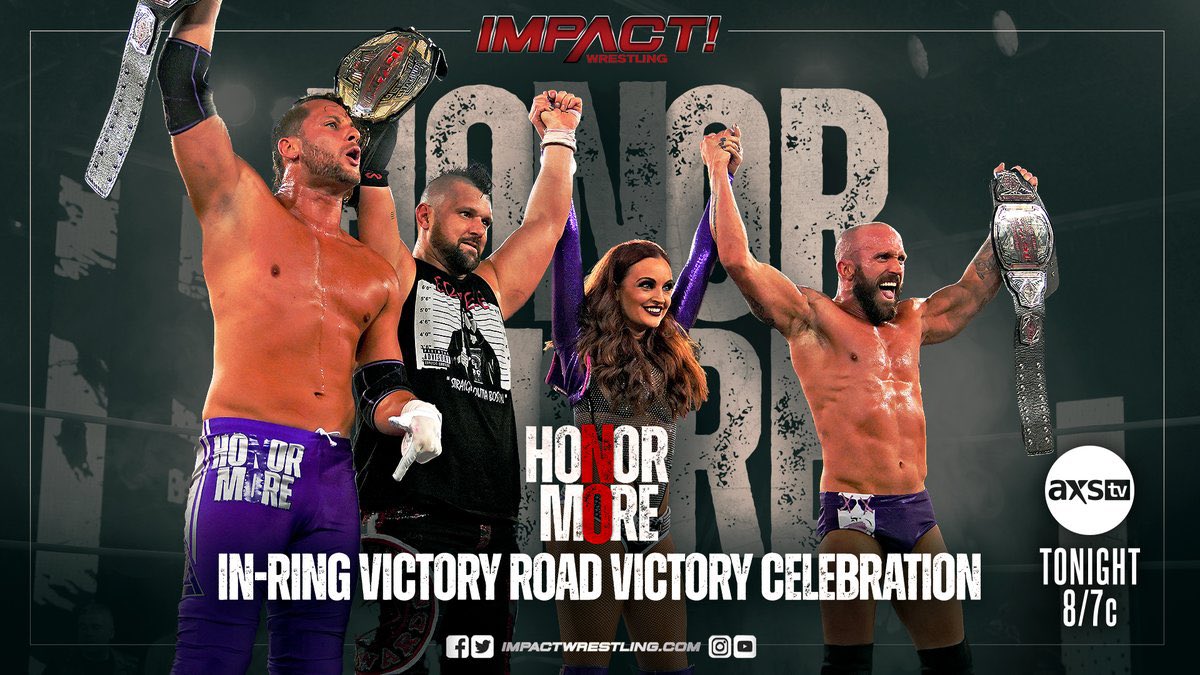 Victory Road just happened, but Bound for Glory is like 8 nights away? You know I forgot that it was such a quick turn around. That makes tonight weird, since there's some fallout, but then there's gonna be a lot of table setting for Bound for Glory.
This episode could be awful. The last week or so haven't exactly set the world afire, so I'm curious if the highlight really is just gonna be the Monster's Ball with Masha and Allie Katch.
*insert joke about possibly gagging and balls and Swinger's Dungeon*
"What's THIS!?"@swinger_johnny @ZickyDice @JohnEBravo1st @FearHavok #IMPACTonAXSTV pic.twitter.com/107u7AmCgP

— IMPACT (@IMPACTWRESTLING) September 30, 2022
Ratings:
Bullet Club (Ace Austin & Chris Bey w/Juice Robinson) vs Trey Miguel & Laredo Kid: Bullet Club win via Finesse & Fold – **
IMPACT Digital Media Championship: Brian Myers (c) vs Crazzy Steve: Myers retains via Roster Cut – ** 1/2
Delirious vs Black Taurus: Black Taurus wins via Destination Hellhole – ** 1/4
PCO & Vincent vs Rich Swann & Heath: Rich wins via Phoenix Splash – ** 1/4
Pick Your Poison: Monster's Ball Match: Masha Slamovich vs Allie Katch: Masha wins via Russian Death Device – *** 1/2
Results:
Bullet Club (Ace Austin & Chris Bey w/Juice Robinson) vs Trey Miguel & Laredo Kid
I don't think I could care less about this match if I tried. Trey and Laredo are worthless. Laredo has eaten so many terrible losses and Trey is just bad. If the BC Juniors don't win…I will really question the booking.
My biggest takeaway early is the commentary tries to put over Trey "turning heads". No he doesn't, he is legitimately hard to watch and everything that Will Ospreay did wrong in his early career; is basically Trey, but with less personality. Oh did you expect play by play? They isolate Laredo, decent tandem attacks, when Trey comes in it's bad offense typical Cruiser garbage with laughable facials and body language.
Just typical crap with Trey. Were there some cool high spots? Sure. Do I care? NOPE.
.@MeanGiaMiller caught up with @AEW's @FrankieKazarian to talk about his match with X Division Champion @SpeedballBailey at #BoundForGlory!#IMPACTonAXSTV pic.twitter.com/BhxRTg14iL

— IMPACT (@IMPACTWRESTLING) September 30, 2022
IMPACT Digital Media Championship: Brian Myers (c) vs Crazzy Steve
Steve starts with some of his quirky mat wrestling, Arm Wringers into Drop Toe Holds and face biting. It shocked Myers early, but he takes a small shortcut and starts trying to slow down the psycho from Decay. Steve bounces off the ropes and Myers does his sliding trip move before commercial.
Back from commercial, Snapmare from Steve and the neck twister into some corner offense of Hip Attacks and Sentons for 2. Myers dodges King Kill 33, lands a few pot shots, Implant DDT for 2. Into the corner, face bite, Upside Down, after the rope break Myers grabs the referee to block Steve. Eye Poke, Roster Cut, AND STILL…
Simple, but entertaining. Plus it continues Myers' arrogant, full of himself for absolutely no reason persona. Oh and he offers up an Open Challenge for Bound for Glory. Maybe Bobby Fish? Someone new? Could be interesting. 
.@joehendry WILL motivate @IMPACTWRESTLING!#IMPACTonAXSTV pic.twitter.com/OvsvBw7tBi

— IMPACT (@IMPACTWRESTLING) September 30, 2022
Delirious vs Black Taurus
Delirious is between gibberish and Stone Cold early on while they're just trading shots. Delirious twists the Nose Ring…in the mask…and Taurus sells it momentarily before stomping the foot and decking him. This is just a weird match. I mean we all know Delirious is weird, but he's not all comedy; and Taurus is supposed to be legit-ish.
Admittedly, with the exception of Victory Road, it has been years since I've watched a Delirious match. So the level of ridiculousness has hit Toru Yano levels, especially after the 10 count Leg Drops. Taurus powders, comes back in, Shoulder Tackle, Blackhole Backbreaker into a Samoan Drop. As soon as Taurus looks in charge, Delirious throws together a combo, eats a Headbutt and then Destination Hellhole.
Sheesh okay after 2 interview segments we get to Honor No More's victory celebration segment. Just a lot of talking and inaction, so this just goes to feed that weird feeling I had coming into the show because of the timing. Eddie does the usual thing where hates on PCO and accuses him of being the weak link, which is a smart story angle since the fans tend to like PCO's gimmick and this makes him more sympathetic to casual observers. 
Oh good Taven is talking now. Wait did I just say that? DAMN YOU IMPACT! Made me like Matt Taven. Maria stirs the pot a little saying that Eddie is a better wrestler than Josh and Moose…by the implications. 
Thank God, Josh Alexander finally breaks up the segment with…more talking. Okay never mind. Jesus since the end of the Delirious match it was like 15 minutes before Josh finally charged the ring and threw down a bit with Honor No More. Rich Swann and Heath make a bit of the babyface save for Josh, but the numbers are still on Honor No More's side. Oh MCMG come down in a tracksuit and dress clothes! Someone wasn't ready to be doing a run in.
PCO & Vincent vs Rich Swann & Heath
Well isn't that convenient that four of the men in the donnybrook were supposed to be in a match anyway.
Rich uses his quickness to try and stay ahead of PCO, but PCO cuts him off in the corner into the Corner Hung Codebreaker, then the leaned against the ropes Leg Drop thing. Vincent throws together a T-Bone Suplex into a Flatliner and keeps the vibes flowing on Rich Swann.
PCO clears out Heath, but PCO's hand gets stuck in the ropes. Vincent eats a flip kick and the Phoenix Splash while PCO and Heath are brawling on the outside after the rope issue with PCO.
.@TheSamiCallihan will be the SPECIAL REFEREE in a match between @SteveMaclin and @TheMooseNation NEXT WEEK on #IMPACTonAXSTV! pic.twitter.com/ILztgFdp4H

— IMPACT (@IMPACTWRESTLING) September 30, 2022
Pick Your Poison: Monster's Ball Match: Masha Slamovich vs Allie Katch
Haymakers and Headbutts start things off as they both hit the ropes and lay out one another with dual clotheslines. Trash can lid duel, Masha gets first contact, but Allie blocks and returns 3 shots. German Suplex from Masha into whipping her with a chain, some choking and then general pulling with the chain in Katch's mouth or around her eyes. Katch claws at Masha's eyes to try and get some space.
Headbutts and Biting from Masha as Allie tries to power out of a Bow and Arrow. More chain choking…I'm not sure if this is a wrestling match or BDSM prep at the moment. Ahh Masha needs more Cowbell but Allie cuts her off with a trash can lid. Allie tries a Piledriver through a door, but Masha turns it into an Air Raid Crash into the opposite corner.
Commercial break, and Allie is getting choked again. Spots get a little redundant, slams, chokes, and blood. OHHH – it's a "Use the Door" chant. I thought it was – nah – I won't say what I thought it was. Chairshot from Masha misses, but a Snap Suplex from Masha onto the chair gets some usefulness. Straight Right to the gut and an Axe Kick allows Masha to hit the Death Valley Driver onto the propped up chair. Masha goes back to biting after it was only 2. Allie cuts off Masha going to the top, Superplex onto the trash can lid, into a Death Valley Driver through the door – but Masha kicks out.
Allie tries a Piledriver on the apron a few times, but Masha blocks. Masha tries for the Release German to the floor but Allie holds on. Dazed strikes, bites and then a Russian Leg Sweep through the table lays both out for a short time. Masha grabs a black bag, it's gotta be tacks for Monster's Ball. Masha eats a few tacks for good show, picks up Allie but Allie fights. Piledriver into the tacks from Allie, only 2. Allie opens a trash can, and empties a bunch of cut up soda cans. Hits Masha with the can, Masha fires, Spinning Heel Kick and then Russian Death Device into the pile of tacks and cans.
Overall Score: 6.25/10
The main event was pretty good, maybe even a little better than I gave it credit for; I'm just sick of seeing some crazy hardcore match so often from Impact. It feels like its weekly, and that's too damn much. Trey is terrible, and that's a hill I'm willing to die on. He sells poorly, he doesn't tell a story with his wrestling and he looks like an idiot pretending to be something he isn't; and that's talented.
Myers is fine with his classic delusional heel style, Delirious gave a bit of a rub to Taurus so I'm guessing he's probably next up in the X Division. But a straight 15 minutes of interviews and talking is just too damn much especially when the surrounding wrestling isn't very good or hearty enough to help people tolerate talking time.
I do however love Joe Hendry. So…yeah. There's always some quirky gimmicks that just resonate well with me, and this is gorgeous.
All in all, decent enough; though next week could be a real banger of a Go Home.