Andrew's Impact Wrestling Ratings & Analysis 7/12/2019
Slammiversary was a great PPV! What does Impact bring to the table after a successful event?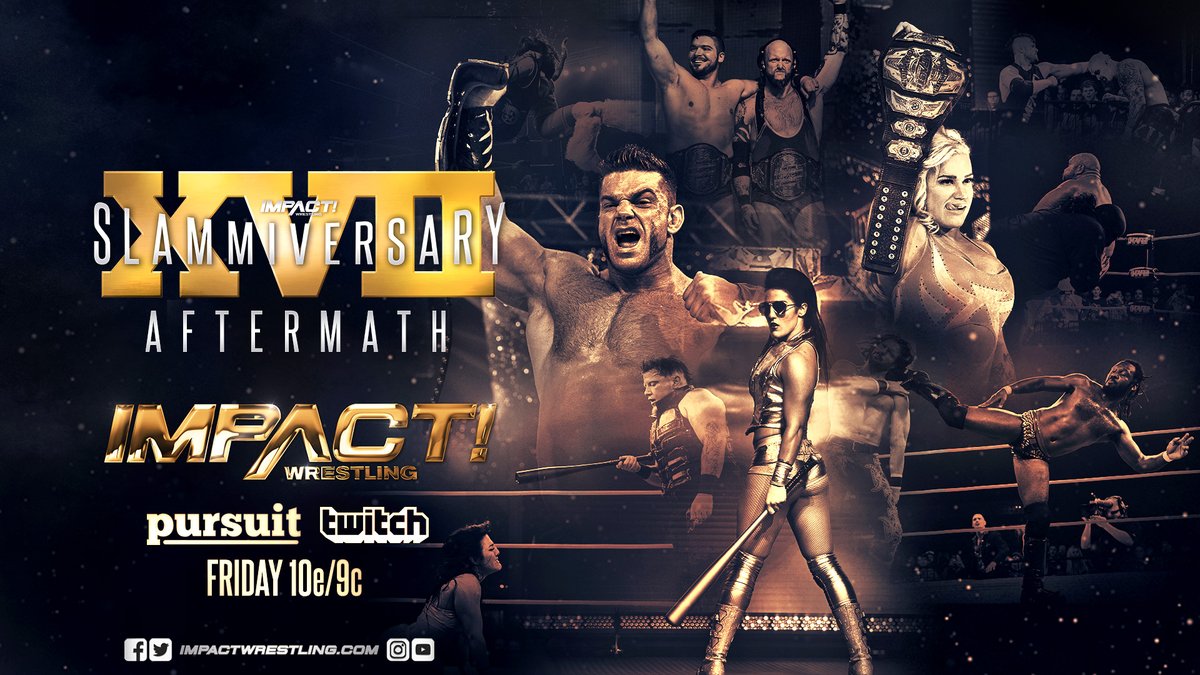 Slammiversary was a great PPV! What does Impact bring to the table after a successful event?
With the news of some people being free agents along with all of the title defenses, we've got some work to do!
Wait…Don Callis and Josh Matthews are in front of a Slammiversary LED screen?
We're getting a clip show? OH- a clip show with 1 new match and the full main event of a A Night You Can't Mist.
Really? You follow up a hot PPV with a clip show.
Talk about not understanding momentum.
Ratings:
IMPACTplus Match: Michael Elgin & Johnny Impact vs The Great Muta & Tommy Dreamer: Muta wins via Shining Wizard – ***
Kiera Hogan vs Jordynne Grace vs Madison Rayne: Grace wins via Grace Driver – ***
Analysis:
Well I must've overlooked something, since this is mostly a clip show. Seems like they're going over the Slammiversary matches with post match comments interspersed from wrestlers.
Surprisingly, Melissa is on the Skype host of Twitch chat duty tonight. She just got married and this is a clip show and she's still around. Points for her.
Ugh – yup just clips of before and after promos for Killer Kross vs Eddie Edwards. I don't really care. These feel like they should be extras for the Slammiversary DVD, not a standalone IMPACT episode.
Jimmy Jacobs weighs in on the Monster's Ball information. Gotta love the Zombie Princess.
To give you an idea of what we've been dealing with:
.@TheTayaValkyrie beat the odds and defeated @WeAreRosemary, @realsuyung & @FearHavok in a VIOLENT Monster's Ball for the Knockouts Championship at Slammiversary!

WATCH HERE: https://t.co/sWu6SEiYN7#IMPACT pic.twitter.com/JKqYkxtmqB

— IMPACT (@IMPACTWRESTLING) July 13, 2019
Oh now we get to hear the thoughts of the Real Deal now. D'lo Brown discusses the tag team match.
The best thing to come from these post match comments was the promo Konnan cut on The North afterwards. Still definitely a waste of time episode, but Konnan is still fire on the stick.
After @OfficialEGO & @Walking_Weapon retained the Tag Team Championships at Slammiversary, @Konnan5150 sent them a very direct message!

WATCH HERE: https://t.co/sWu6SEiYN7#IMPACT pic.twitter.com/CnLDbgmd3E

— IMPACT (@IMPACTWRESTLING) July 13, 2019
Well thankfully they trimmed out the portion of the Night You Can't Mist main event so we didn't see the long stall because of the shitty fan. As for the match, it was a good house show style match. A few moments of awkward spots, physical comedy and Muta slides in with a broom, Kid Ref admonishes him and he decides to just sweep the ring a little like he had no ill intent. Solid match honestly, the fact that Muta goes over after some Misting shenanigans was just a nice moment.
Tommy joins Josh and Don talking about Tessa versus Sami Callihan. The interviews afterwards definitely drive home the fact that Sami has respect for Tessa. It was a well done video package, but this really shouldn't be a stand alone episode.
Petey Williams joins the aftermath show to discuss Swann and Johnny. Nothing really of merit was said or shown, especially since most of us figure Johnny lost since his contract was up. So trying to frame it in a sports way, doesn't really resonate with this generation of wrestling viewer. I mean that more by available information, not hands down "smart" remarks.
So we know where it's going. They talk about Cage and Elgin with Scott D'Amore and it seems like this angle might persist. Since Cage won with a wrestling move and not his usual seek and destroy style, Elgin is taking that as a moral victory. Any matches with those two will be good stuff, but got this has been hard to sit through.
Well this women's Triple Threat was kind of a mess early on. Mistimed spots, competitors or referees out of position, awkward transition and partially missed moves. Granted, they had a good amount of time and kept the intensity up, so it helped to save the match from an enjoyment and storyline perspective. Things culminate with Grace getting the win, but Rayne turns heel. So Hogan and Rayne gang up on Grace, and Hogan walks out exchanging glances with Rayne, but never quite cementing if they will be a team moving forward.
Overall Score: 3.5/10
A clip show with one new match and one match from a show last month. I mean, Jesus this was not a good idea. Yes the video packages were solid, sure they helped to flesh things out a little bit…but holy hell it was a boring show. Plus you have to wonder how people who paid for the PPV must feel when a good bit of the footage was given away during this clip show.
Of course Twitch viewers were the lowest they've ever been since people were not happy with a clip show.
Just a dumb choice coming off the heels of a great PPV.